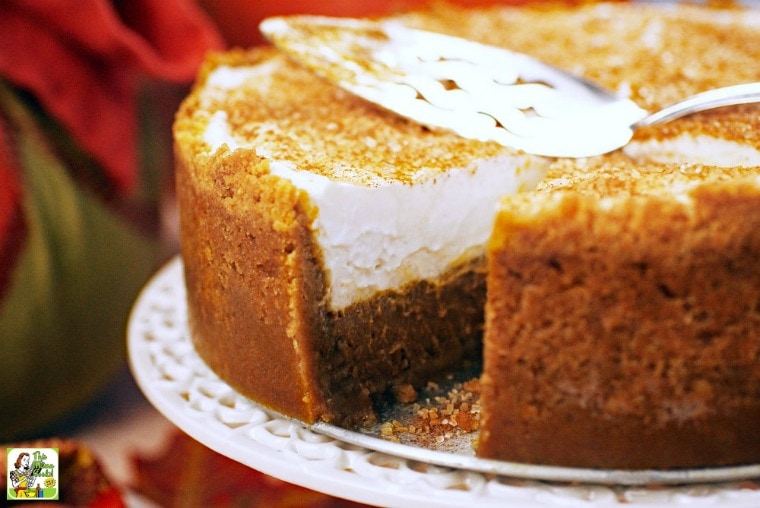 This Gluten Free Dairy Free Pumpkin Pie is a delectable, deep dish coconut milk pumpkin pie that's a must serve Thanksgiving dessert.
Even better, it's perfect for your gluten free and dairy free guests.
That's because it's a pumpkin pie recipe without evaporated milk and the crust is made with gluten free cookies.
Best of all, even those without special dietary needs will rave over this pumpkin pie because it's so creamy and delectable!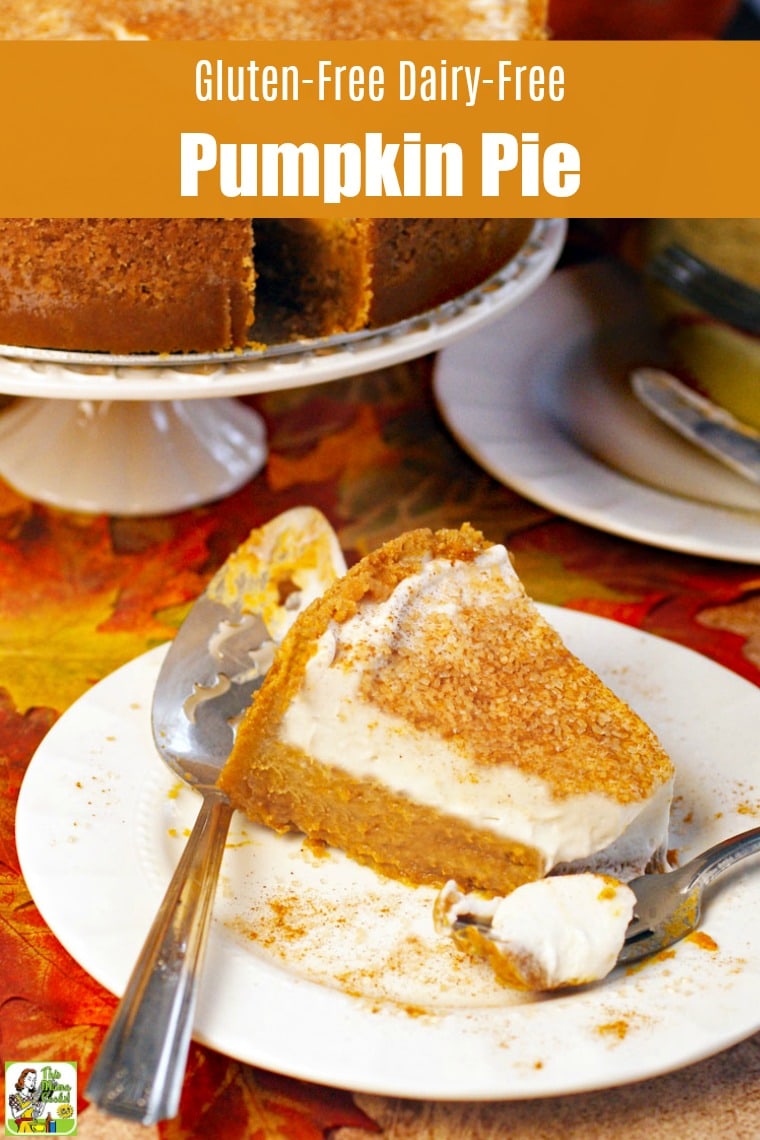 Have Gluten Free Dairy Free Pumpkin Pie, will travel!
I know many of you want recipes that travel well during the holidays for potlucks and family parties.
Luckily, this dairy free pumpkin pie is very road friendly, unlike many pies.
That's because it's made in a deep dish 9 inch springform pan with removable bottom, which doesn't need to be removed until serving time.
Freezing the pumpkin pie overnight and letting it defrost on your way to grandma's house keeps the pie nice and cool.
Just wrap the pie in plastic wrap and keep it in an insulated bag. That way you don't have to worry about keeping it cool on the long drive.
Even if it's still frozen by dessert time, the pie will still be yummy – and a little more fun to eat frozen. (Kind of like my Espresso Chocolate No Bake Pie!)
Also, what I like about this recipe for pumpkin pie with coconut cream is that whipped topping for serving isn't an issue.
You don't have to worry about whipping up a batch at the party with your host's stand or hand mixer or bringing some some non-dairy whipped topping from the freezer aisle.
I designed this homemade dairy free pumpkin pie to have a top layer of whipped coconut cream as the top layer. No need to make more!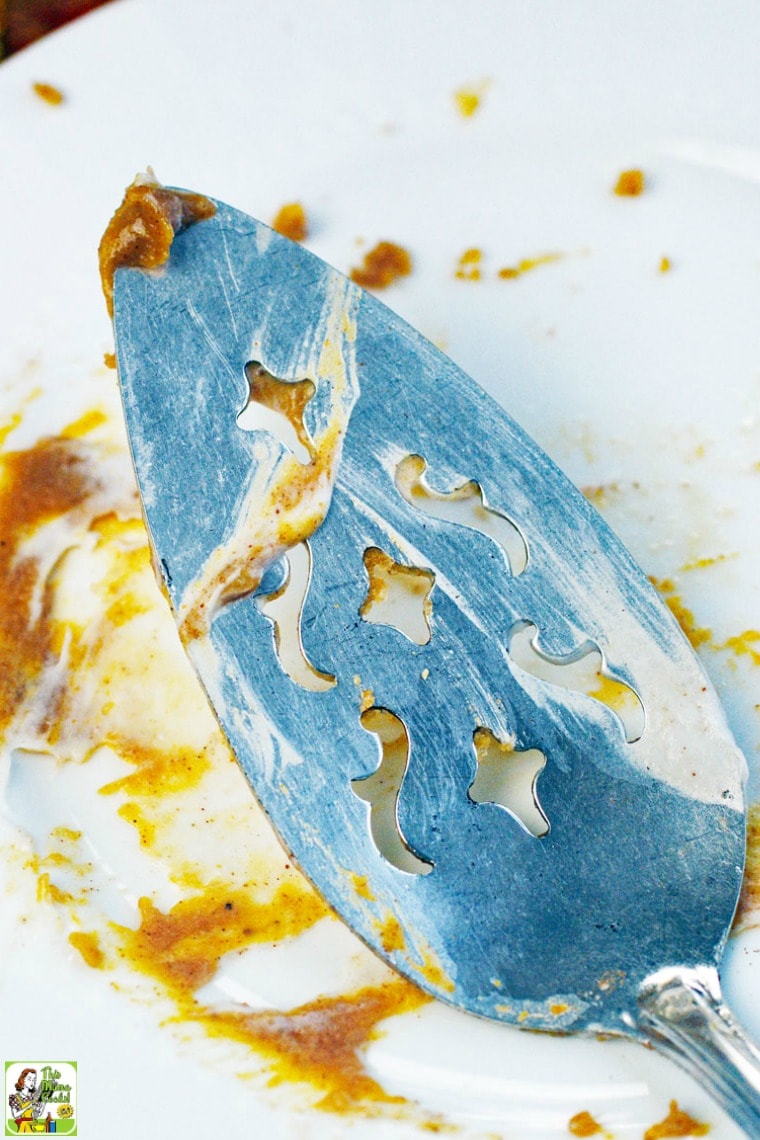 Why this gluten and dairy free pumpkin pie drops the mike!
It's not often that I can't keep myself from eating my own food while I'm photographing a gluten free pumpkin pie recipe.
But this best frozen pumpkin pie amazing. Gooey, creamy, silky, lush, sweet and velvety with a crunchy buttery crust.
After I was done taking pictures, I just sat there and finished my piece. It truly was a, "I'm done – drop the mike, and walk away" experience.
(Though after eating all of that pumpkin and coconut cream richness, I felt more like waddling.)
Speaking of which, I've joined a group called the Fab Food Bloggers, who inspired me to do this "drop the mike" recipe challenge.
Here are a few of their Drop the Mike recipes, which are perfect for Thanksgiving:
Julie Kotzbach: Creamed Spinach with Bacon
Heather Dar Schmitt-Gonzalez: Cranberry Port Ring
Matt Cetta: Pumpkin Pie Bars
Please give them a visit!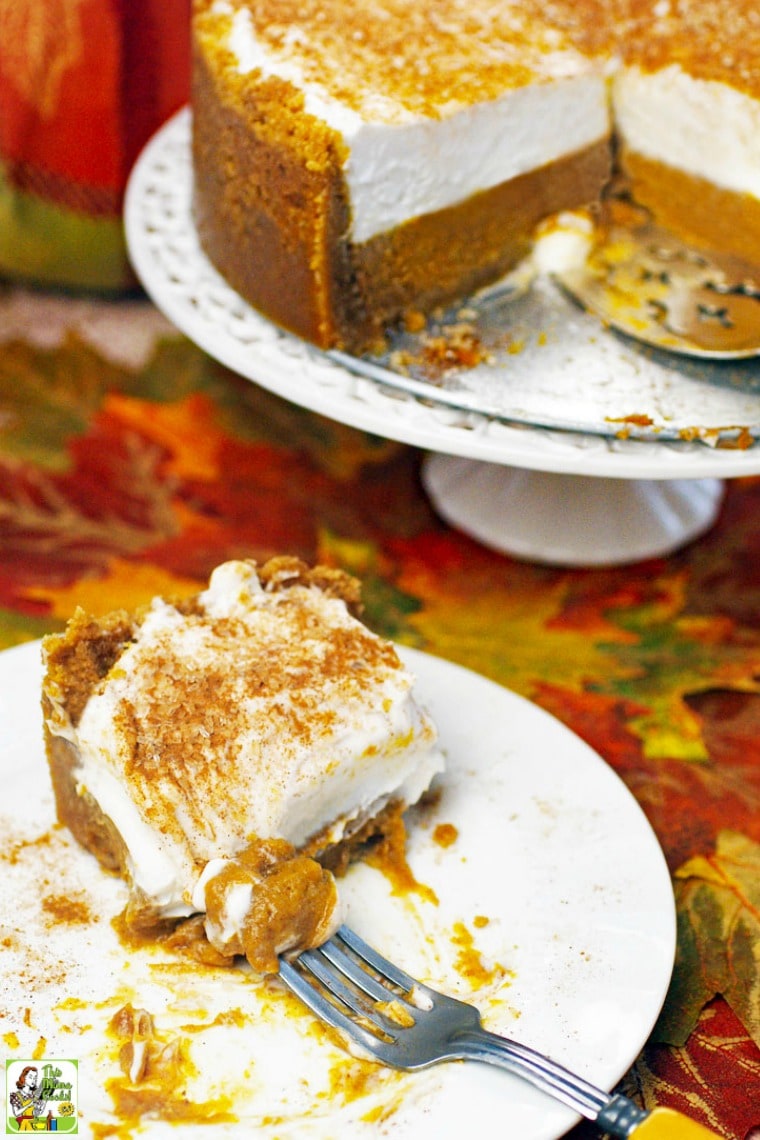 Using coconut cream in the dairy free pumpkin pie filling
I used coconut cream in this dairy free pumpkin pie filling since it's thicker than coconut milk. (That's because it contains less water.)
Some brands may contain thickeners like xanthan gum, which is still OK to use. However, stay away from any brands with added sugar as those are usually meant for making pina coladas.
You can also make this pumpkin pie with coconut milk as long as you use the canned full fat coconut milk. (Not the refrigerated cartons in the dairy section or the shelf-stable cartons in the health food section.)
Pour off any coconut water you'll find after refrigerating overnight. (Save the coconut water for smoothies or soups!)
You won't get as much solid chunks of cream as in a full can of coconut cream, so use less sugar or sweetener. (Or use a couple cans of coconut milk.)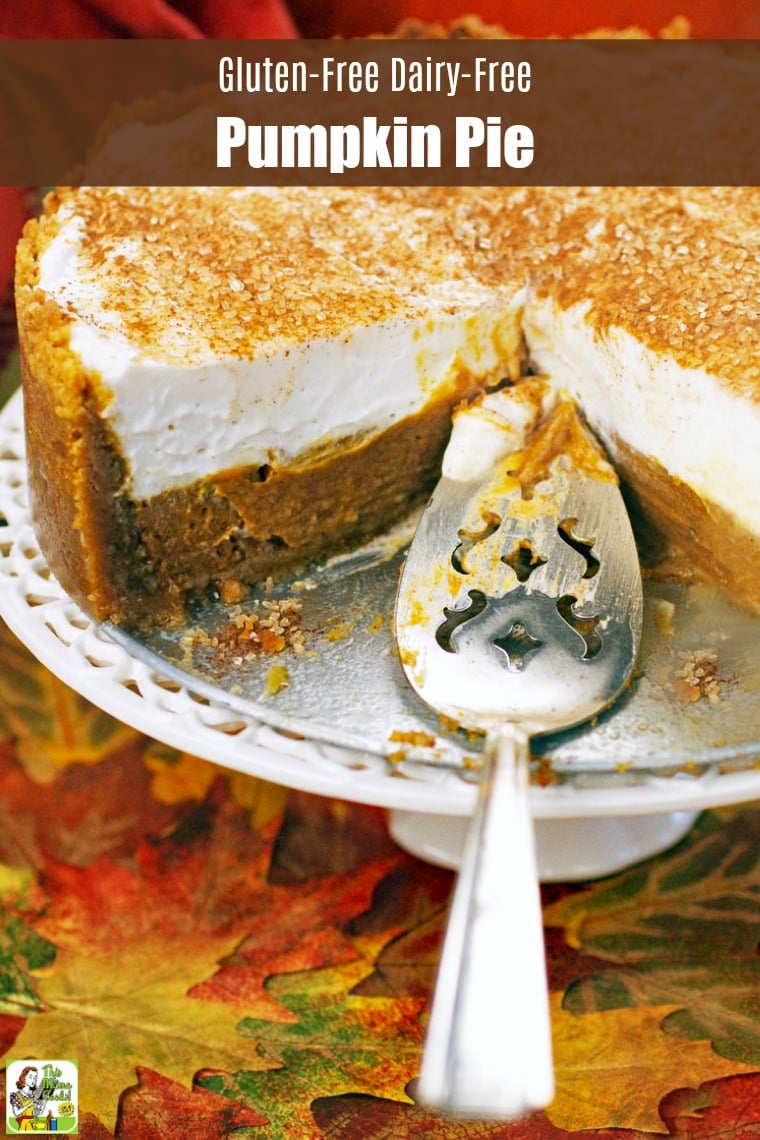 Using sugar substitutes in the gluten free and dairy free pumpkin pie
This isn't a sugar-free pumpkin pie since I used Bob's Red Mill decorative sparkling sugar on top of the pumpkin pie and brown sugar in the gluten free pumpkin pie filling and pumpkin pie crust.
However, you can reduce the calories and sugar by using a natural, no calorie sweetener like Brown Swerve Sweetener, which is Swerve's brown sugar replacement that I like using in my baking.
Instead of the decorative sugar, you could use Swerve Sweetener, granular or powdered. Whatever you think would be more decorative.
Even if you use sugar substitutes, it's still not a completely sugar free pumpkin pie as the gluten free animal cracker cookies or graham crackers used in the crust still contain some sugar as does the soy or coconut yogurt.
It will only be a recipe for sugar free pumpkin pie if you make your own sugar free, gluten free cookies for the crust, which you can do of course. And if you can find some sugar free soy or coconut yogurt.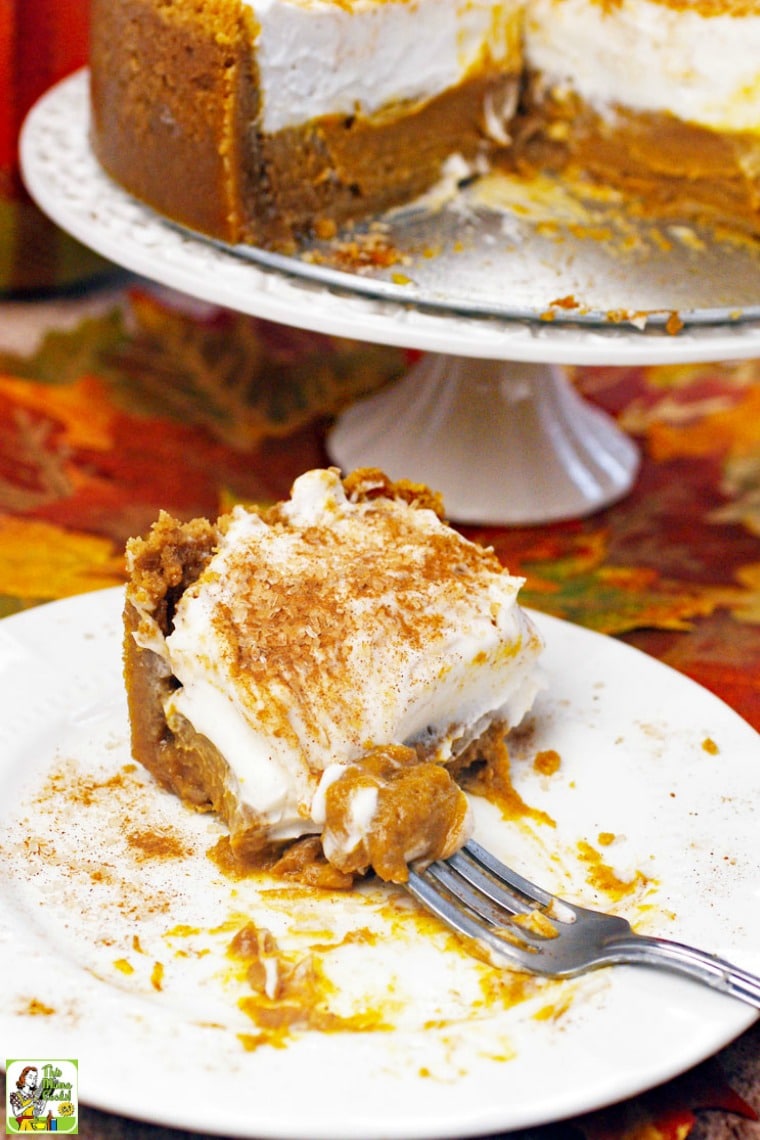 How to make a vegan pumpkin pie
Yes, you can make this a vegan gluten free pumpkin pie with a little work.
Crust: First, find a vegan gluten free cookie for the crust. I suggest Annie's Gluten Free Snickerdoodle Bunny Cookies or Annie's Gluten Free Cocoa & Vanilla Bunny Grahams.
(You can decide if you want all vanilla, all chocolate or a mix. Any version would go well with pumpkin and coconut.)
Butter: Use a vegan buttery spread like Earth Balance and an egg substitute like VeganEgg.
Egg: I have not made an eggless pumpkin pie myself using a vegan egg substitute. So I don't know if baking times will change. Or if the taste or consistency would be different.
Custard-like pie recipes are pretty forgiving, so my guess is that it should be successful if you go 100% vegan with this recipe.
If you give it a whirl, please share your experience below in the comments. I'd love to hear how it went!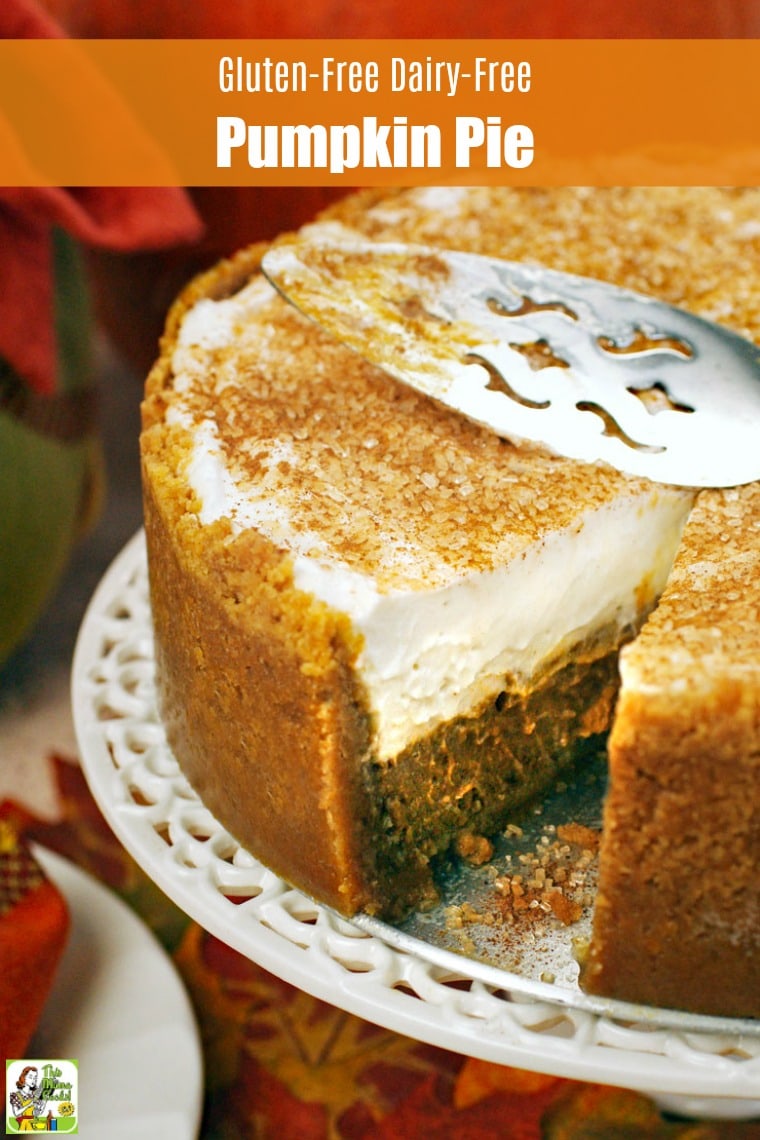 More tips for the non-dairy pumpkin pie
Cool it! Make sure your pumpkin pie layer has been chilled for 2 to 3 hours in the refrigerator before adding the coconut cream layer. If it's warm, the whipped coconut will melt. Disaster!
How to refrigerate the pumpkin pie. Since the pie stays on the bottom of the springform pan, for the leftover pie, carefully replace the springform ring, snap it into place, and then cover the top of the pie with plastic wrap.
That way your pumpkin pie doesn't accidentally get smashed in the refrigerator. Or you waste a bunch of plastic wrap trying to cover the leftover pie, which then gets covered in sticky coconut cream and makes a big mess.
Starting to melt? If you find the whipped coconut cream getting a bit weepy after being out on the counter or table for awhile (or sitting in your refrigerator) just place it in the freezer to firm up. I prefer eating the pie when it's a bit frozen since it's almost like an ice cream cake!
More dairy free gluten free pumpkin desserts
● Dairy Free Pumpkin Fudge
● Pumpkin Gluten Free Scones
Yield: 12 SERVINGS
Gluten Free Dairy Free Pumpkin Pie Recipe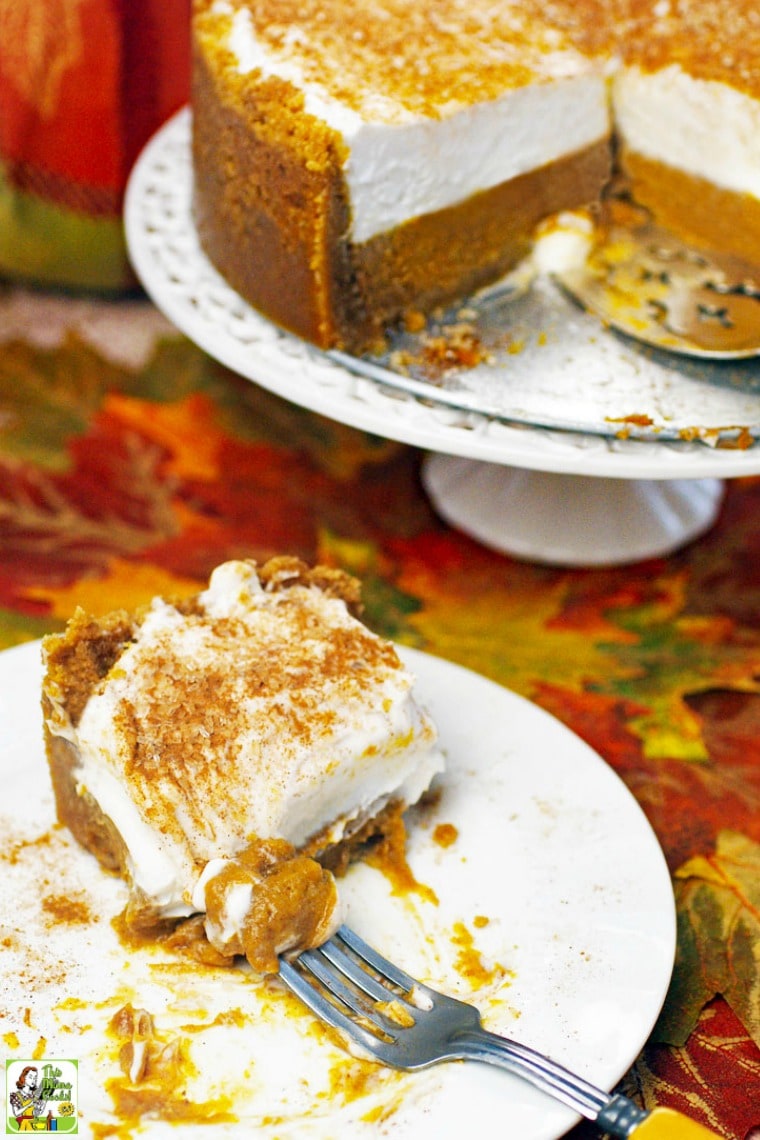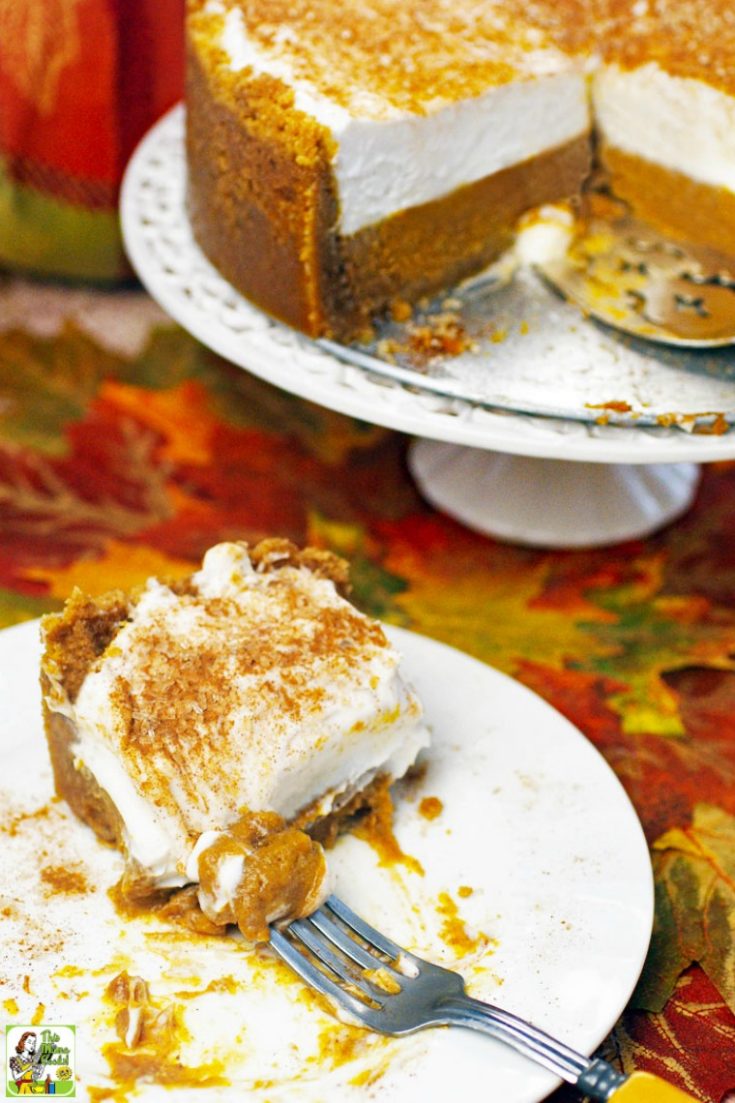 This Gluten Free Dairy Free Pumpkin Pie is a must serve Thanksgiving dessert. This dairy free pumpkin pie is made with coconut cream.
Total Time
1 hour
30 minutes
Ingredients
For the gluten free pie crust:
12 ounces gluten free animal cracker cookies or graham crackers
3/4 cup packed brown sugar
3/4 cup vegan or dairy free buttery spread, melted
For dairy free gluten free pie filling:
1 15-ounce can pumpkin puree
2 large eggs
3/4 cup soy or coconut vanilla yogurt
3/4 cup packed brown sugar
2 tablespoons pumpkin pie spice
1 teaspoon gluten free vanilla extract
1/2 teaspoon fine sea salt
For dairy free whipped coconut cream layer:
2 14-ounce cans coconut cream, chilled in refrigerator overnight
1/2 cup sugar
2 teaspoons gluten free vanilla extract
2 teaspoons decorative sugar
1/2 teaspoon cinnamon
Instructions
For gluten free pie crust:
Preheat oven to 350 degrees F.
Put cookies in blender or food processor and pulse until the cookies are crushed into fine crumbs. Put the crumbs into a medium-sized bowl.
Add brown sugar and whisk until combined and there are no lumps.
Add melted buttery spread. Stir until the mixture is crumbly.
Place the cookie crumb mixture into a 9-inch springform cake pan. Using the flat bottom and sides of a drinking glass, pack down the crumbs on the bottom and up the sides of the cake pan.
Bake the crust until set but not browned for 10 to 12 minutes. Remove from the oven and let cool on a wire rack for 15 minutes.
For dairy free gluten free pie filling:
Blend pumpkin puree, eggs, yogurt, brown sugar, pumpkin pie spice, vanilla, and salt in a blender.
Place the cake pan on a baking sheet.
Pour the filling in the pie crust evenly to the edges.
Bake until the filling is just set, about 35 minutes. The center may appear soft but will firm up when cooled. Let the pie cool on a wire rack to room temperature. Loosely cover with plastic wrap and refrigerate until chilled for 2 to 3 hours.
For dairy free whipped coconut cream layer:
While pie is cooling in the refrigerator, place the bowl and wire whip beater from your stand mixer in the refrigerator or freezer to chill.
Prepare the coconut whipped cream by spooning the chilled coconut cream into the chilled bowl. Add sugar and vanilla.
Whip on medium-high like you would whipping cream until it's light and fluffy and there are no little chunks. Do not overbeat.
Carefully spoon coconut cream on to pumpkin pie layer and smooth top with a spatula or back of a large spoon.
Mix decorative sugar and cinnamon together and sprinkle on top. Save extra cinnamon sugar for garnishing individual pieces if you wish.
Refrigerate pumpkin pie until the serving time if you like a mousse-like pie. You can also freeze it for several hours if you prefer a firmer freezer like pie. Both are pumpkin-licious!
Recommended Products
As an Amazon Associate and member of other affiliate programs, I earn from qualifying purchases.
Nutrition Information:
Yield:
12
Serving Size:
1 slice
Amount Per Serving:
Calories:

679
Total Fat:

30g
Saturated Fat:

17g
Trans Fat:

0g
Unsaturated Fat:

12g
Cholesterol:

32mg
Sodium:

424mg
Carbohydrates:

99g
Fiber:

2g
Sugar:

79g
Protein:

5g
Nutritional information is automatically calculated per the ingredients list. Serving size may not be accurate. Please double-check with your preferred nutritional app for the most accurate information.
Originally published on November 19, 2015 and September 5, 2016. Updated with new pictures and information.