Last Updated on October 5, 2021 by Anne-Marie
Nothing could be easier than making a crockpot baked beans recipe. Make this as a one-pot barbecue cookout dish or as a terrific easy dinner year-round. Why wait for summer?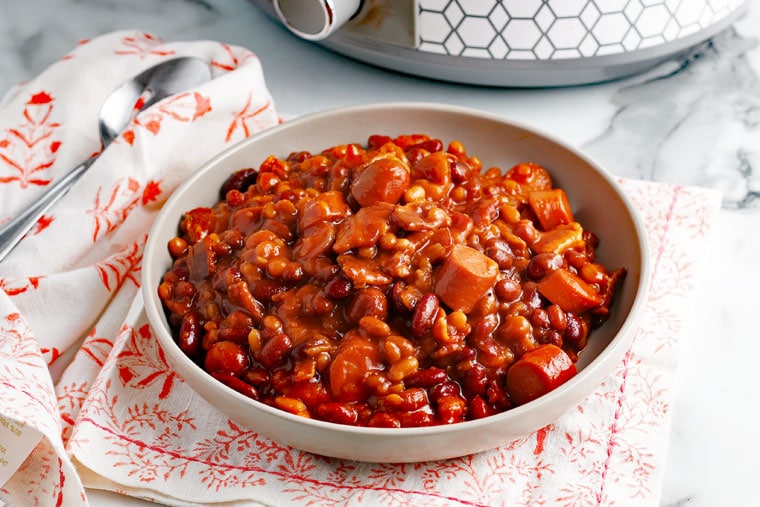 Why this recipe works
These baked beans are a combination of bacon, canned kidney beans, your favorite pork and beans, canned chili beans, and BACON. Plus a sweet, tasty sauce.
Serve these slow cooker baked beans with corn on the cob and a delicious side dish of creamy coleslaw.
Enjoy any time of year for as a restaurant-style barbecue beans and franks dish.
Why you should slow cook baked beans
Traditionally, baked beans are cooked on the stove top by first sautéing some bacon and onions.
Then dried beans are added along with some broth or water.
Then the Dutch oven goes into the oven for several hours.
But who has time for that?
Instead, this easy crock pot baked beans recipe has you fry up the bacon and onions together. Then you toss them into the crockpot with some canned kidney beans, a couple of cans of your favorite pork and beans, and a can of chili beans.
Then season with:
ketchup
yellow mustard
brown sugar
maple syrup
salt and black pepper
And now you have a crowd-pleasing, delicious baked beans recipe that everyone will rave about!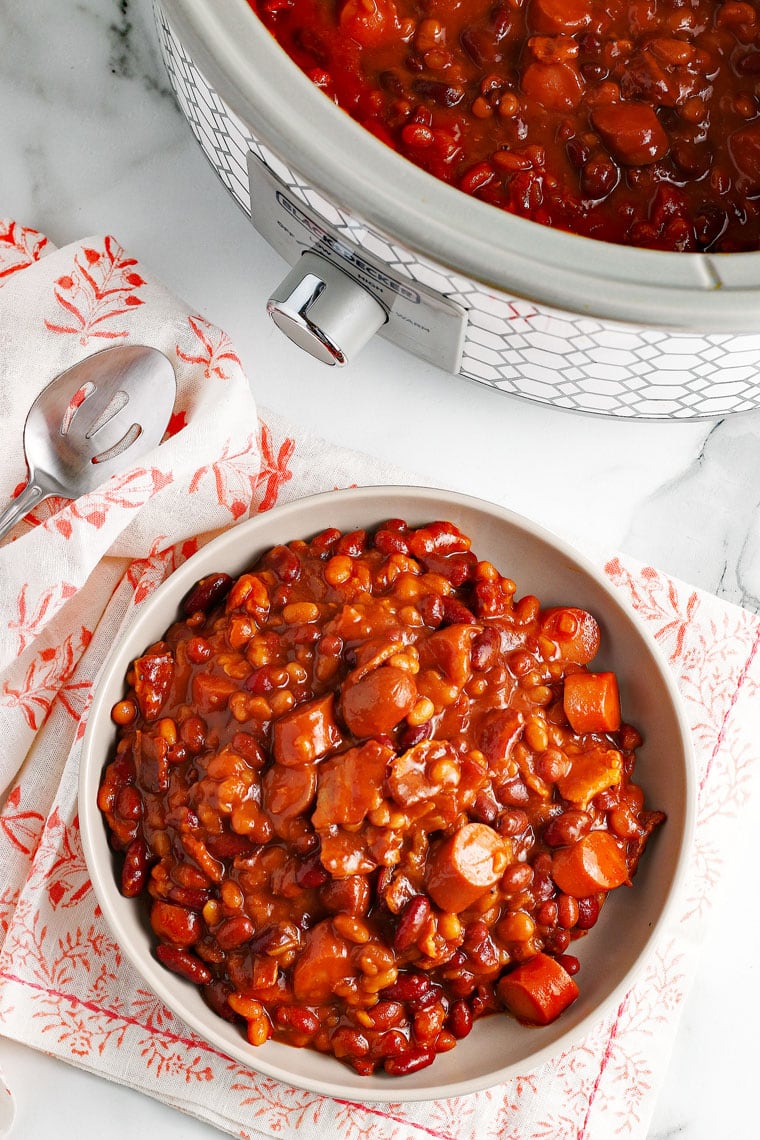 Tips for crockpot baked beans
Easy clean up: Line the crock pot with slow cooker liners.
Now that I use liners, I no longer have to soak my slow cooker overnight and scrub it using Bar Keepers Friend Cleanser and a scouring pad. Instead, I just rinse and dry it.
Make in advance: Cook the bacon and onions ahead of time. Then assemble all your ingredients in the crock.
Keep it in the refrigerator for up to 8 hours before you plan to plan to cook them in the slow cooker. You can assemble your ingredients in the morning and cook them in the afternoon.
How long do I cook the beans?
Place the lid on the 6-quart slow cooker.
Cover and cook for 8 hours on low. Or cook on high for 4 hours.
How can I cut back on the sugar?
This does seem like a very sugary recipe. But never fear, here's how to cut back on those empty calories:
Sugar: Use Swerve Sweetener Brown instead of regular sugar. Swerve is a natural, no-calorie sweetener.
I use Swerve in my baking and cooking and it works just as well as the regular stuff with no funky aftertaste.
Ketchup: Use sugar-free ketchup like:
● Primal Kitchen - Organic Unsweetened Ketchup
● AlternaSweets Stevia Sweetened Classic Tomato Ketchup
● Heinz Tomato Ketchup, No Sugar Added 
● Health Garden Xylitol Ketchup
● Nature's Hollow, Sugar-Free Ketchup
Maple syrup: You can use less, leave it out, or use a sweetener that's more potent so you can use less of it.
For example, agave syrup is 1.5 times sweeter than sugar so you don't need to use quite as much.
Or you can use liquid stevia sweetener instead.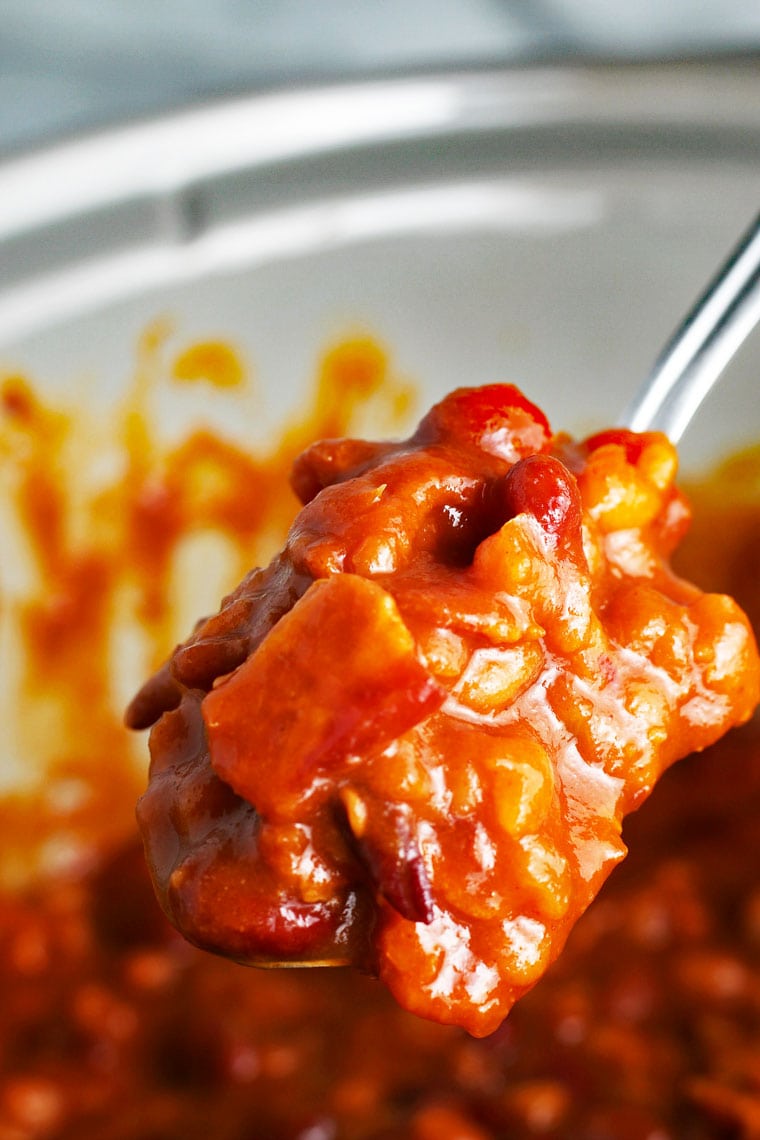 Can I make this a vegetarian baked bean recipe?
Yes, this can be made into a vegetarian baked bean recipe.
Bacon: Use vegetarian/vegan bacon. There are several brands on the market you can use.
Beans: You can use vegetarian baked beans instead of pork and beans.
Baked beans tend to be sweeter, so you may want to cut back on the sugar by half.
Chili beans: There are several brands of vegetarian chili beans are the market by Hormel, Amy's, Eden, and DeLallo.
Hot dogs: Use a vegetarian/vegan brand.
Gluten free? Finally if you're gluten free, check the label for any gluten or other allergens.
Can you freeze slow cooker baked beans?
Of course! Here's how:
1. Let the beans cool down.
2. Transfer the beans to a large freezer bag or a freezer-safe plastic container.
There's a trick to pouring liquidy things into freezer bags. The best way is to place the bag in a bowl. Then cuff the bag over the edge of the bowl.
Then ladle the beans into the bag. (You can also have a helper hold the bag open for you.) Then carefully press out any air and seal up the bag.
Remember to label and date the container. The beans remain frozen for up to 3 months.
3. To reheat, remove from the freezer and defrost the beans overnight in the refrigerator.
Pour contents into a large saucepan. Heat over medium heat, stirring frequently, until hot.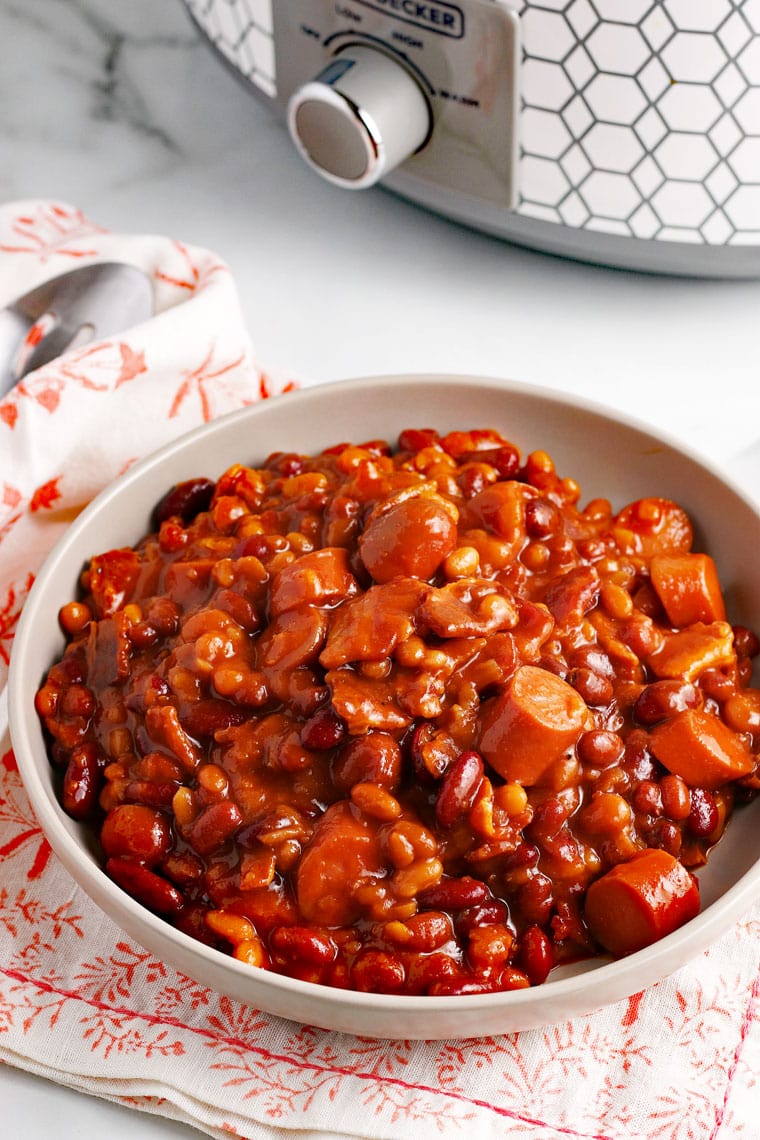 How to turn this into a freezer meal recipe
We all love meal prep dinners. With this canned beans recipe, it's simple to do.
1. Cook the bacon and onions until crispy.
2. Assemble all the other ingredients in a large bowl.
3. Add bacon and onions.
4. Ladle into freezer bags or freezer-safe plastic containers.
5. Freeze. (See how to freeze section above.)
Crockpot baked bean flavor variations
Make your baked beans spicier, smokier, or with a different flavor profile. It's totally up to you!
Spicy: Add some of your favorite hot sauce to the beans for an extra kick. You can also choose spicy chili beans instead of mild.
Barbecue sauce: Can you add some barbecue sauce to the slow cooker? Sure! I would do this to taste.
Or use bbq sauce instead of the ketchup and mustard sauce based recipe below.
Sweeteners: Use honey, molasses, or agave. All are delicious alternatives!
Mustard: Instead of yellow mustard you can use Dijon mustard or grainy mustard.
Beans: While kidney beans, pinto beans, and chili beans are pretty traditional, you can try out different varieties of beans for fun.
White beans like navy beans, northern beans, or cannellini beans should all work well.
Meats: You can use traditional bacon, turkey bacon, or even vegetarian bacon if you like. (See my section on making this a vegetarian/vegan baked bean recipe.)
If you want, you can use alternative meats instead of bacon like salt pork, ham, or ground pork.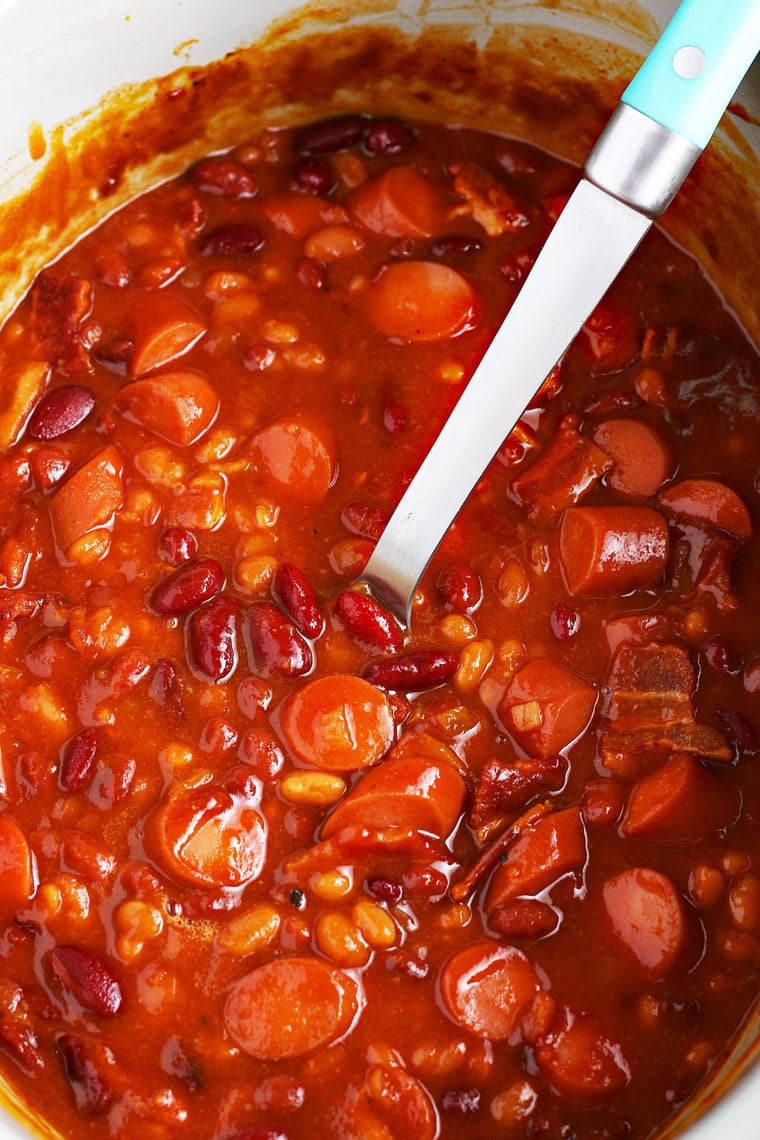 What to serve with the beans?
Serve the baked beans with:
Main dishes like Traeger smoked brisket, Smoked Chicken Drumsticks, and Smoked Chicken Thighs.
Coleslaw like Easy Coleslaw, Wasabi Coleslaw or Celery Root Coleslaw.
How about some Smoked Mac & Cheese?    
Cornbread is a terrific side dish. Try Easy Gluten Free Skillet Cornbread Recipe or Vegan Cornbread (gluten free and dairy free).
For drinks, try Fruit Ice Tea or Ice Tea Sangria (mocktail).
Yield: 12 SERVINGS
Crock-Pot Baked Beans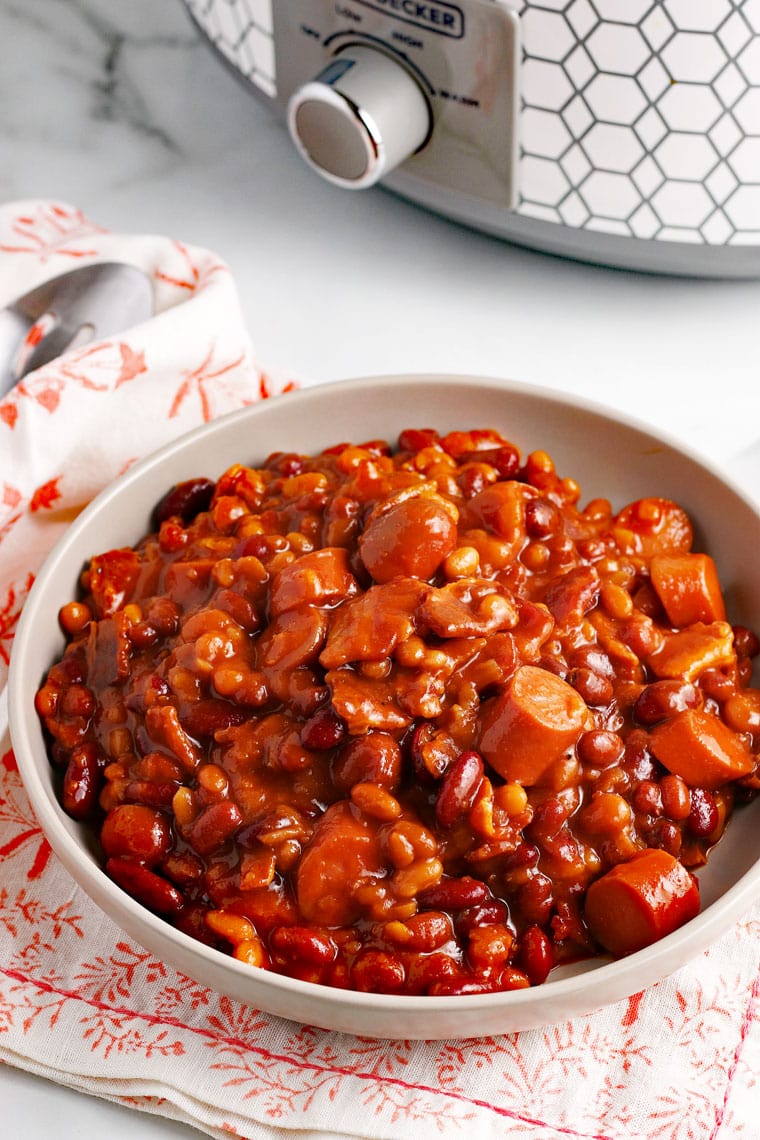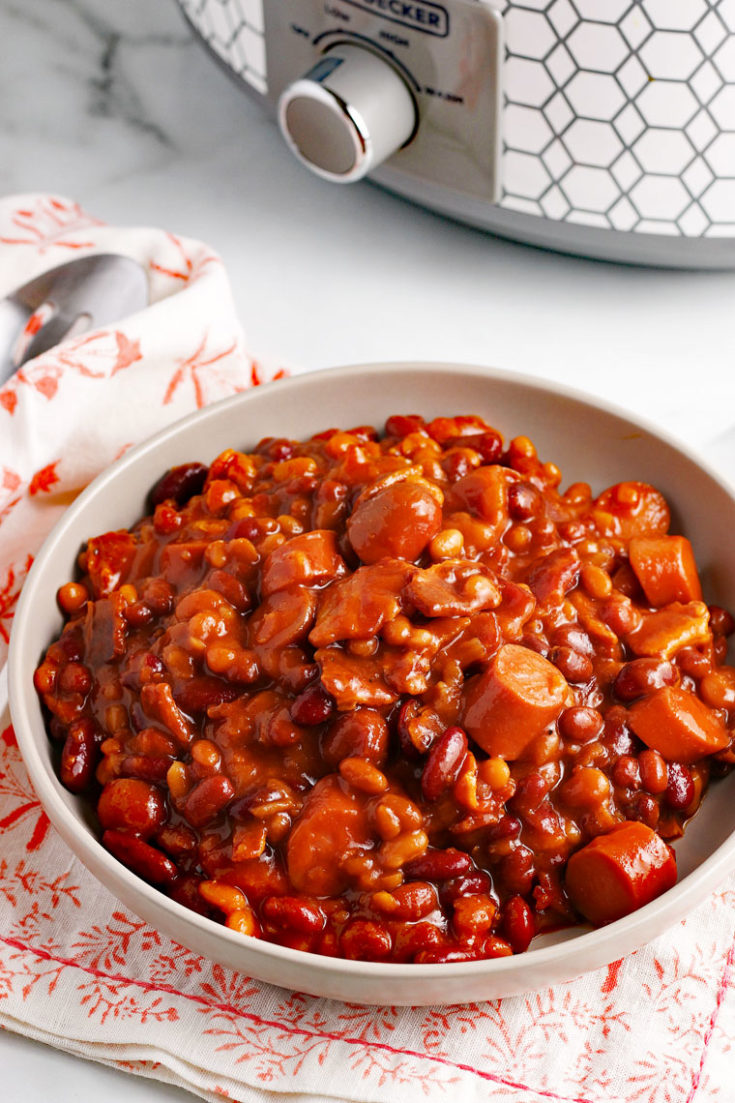 Nothing could be easier than making a crockpot baked beans recipe. Serve these slow cooker baked beans with coleslaw and cornbread year-round.
Total Time
8 hours
10 minutes
Ingredients
8 slices bacon
1/2 cup diced yellow onion
2 (11 ounce) cans pork and beans
1 (16 ounce) can red kidney beans, drained and rinsed
1 (15.5 ounce) can spicy or mild chili beans
4 hot dogs, sliced, optional
1/2 cup ketchup
2 tablespoons yellow mustard
1 cup brown sugar
1/2 cup maple syrup
Salt and black pepper to taste
Instructions
Cook bacon and onions until crispy. Drain.
Rinse and drain the kidney beans and add to the 6-quart crock-pot.
Add pork and beans, and chili beans.
Slice hot dogs (if using) and stir into beans.
Stir in ketchup, mustard, brown sugar, honey, salt, and pepper.
Stir in cooked bacon and onions.
Cover and cook for 8 hours on low. Or cook on high for 4 hours. Stir occasionally
Serve. Store leftovers in the refrigerator.



Recommended Products
As an Amazon Associate Affiliate and member of other affiliate programs, I earn from qualifying purchases.
Nutrition Information:
Yield:
12
Serving Size:
1
Amount Per Serving:
Calories:

257
Total Fat:

8g
Saturated Fat:

3g
Trans Fat:

0g
Unsaturated Fat:

4g
Cholesterol:

18mg
Sodium:

654mg
Carbohydrates:

39g
Fiber:

3g
Sugar:

27g
Protein:

8g
Nutritional information is automatically calculated per the ingredients list. Serving size may not be accurate. Please double-check with your preferred nutritional app for the most accurate information.