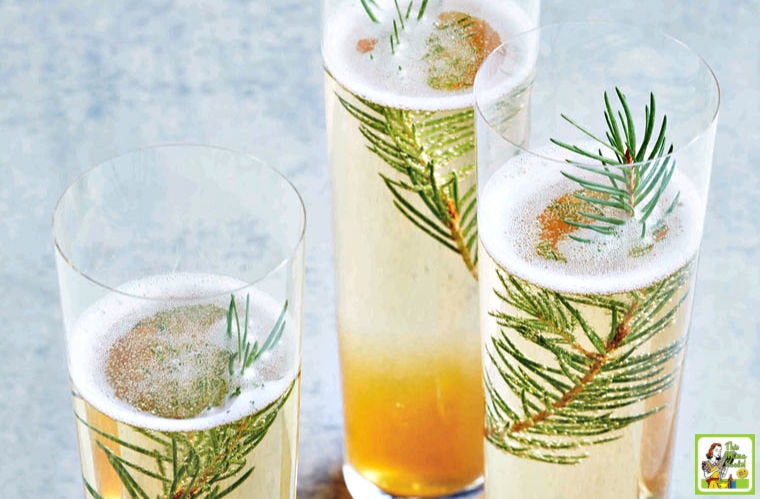 Serve up this champagne cocktail at your New Year's Eve party as a fun alternative to having just the same old plain champagne drinks at midnight this year.
This Juniper Champagne Cocktail recipe is sweetened with simple syrup and infused with juniper berries.
These unique champagne cocktail ingredients gives a citrusy-green note to your New Year's glass of bubbly.
Plus the fragrant swizzle stick of pine plays right along with the festive mood!
Tips for making a champagne cocktail recipe
What type of sparkling wine? You don't want anything too sweet, since you're adding a simple syrup to this champagne cocktails recipe. So pick a dry sparkling wine, such as Prosecco.
Less calories, more fun! You can lower the calories in this champagne drink by using a sugar free vanilla coffee syrup instead of using a simple syrup. Using a premade syrup saves the time and hassle and making a simple syrup, too.
You can also buy premade simple syrup. I've tried some sugar free simple syrups that are pretty tasty and make for almost guilt free champagne cocktails.
Finally, if you want to go ahead and make a homemade sugar free simple syrup for your champagne drink, you could use monk fruit sweetener or Swerve Sweetener.
Here's a Low Carb Simple Syrup recipe for you to try.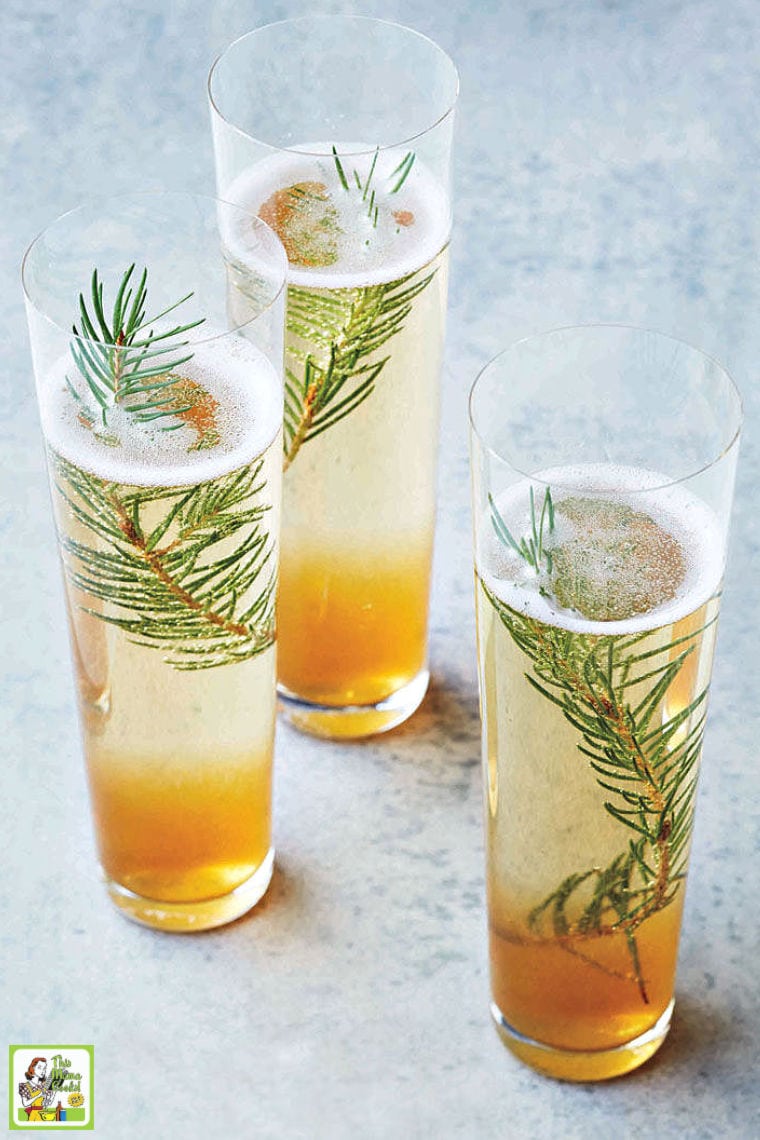 Preparing the sprigs: Make sure to collect fresh pine springs from trees outdoors for the swizzle sticks. They should be unsprayed, washed, and thoroughly dried.
To quickly dry the sprigs, put them in a warm (not hot) oven – with the heat off – for 10 to 15 minutes.
Preparing the juniper berries: To crush the juniper berries, place them in a heavy duty freezer ziplock bag and close it shut.
Then cover with a dish towel, place on a wooden cutting board, and pulverize the berries with a wooden rolling pin or meat tenderizing mallet!
Other fun New Year's cocktail drinks
If you're looking for a variety of holiday cocktails and mocktails for your New Year's party, here are some fantastic ideas:
● Slow Cooker Smoking Bishop and Slow Cooker Mulled Wine – both are heated spiced wine recipes made in the crockpot 
● Lemonade Sangria (mocktail)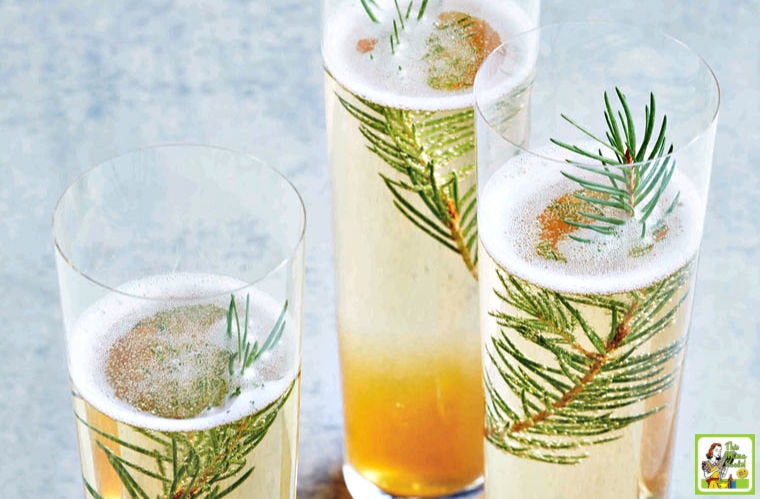 Juniper Champagne Cocktail
Ingredients
1/2 cup

sugar

1 1/2 cups

water

1/4 cup

juniper berries, crushed

1 (750 ml) bottle

dry sparkling wine, such as Prosecco

Pine sprigs, for serving
Directions
Preparing the simple syrup
Bring sugar, water, and juniper berries to a simmer in a pot, stirring until sugar is dissolved. Remove from heat; let cool completely. Strain through a fine-mesh sieve; discard solids. Refrigerate 1 hour or up to 1 week.
Preparing the juniper champagne cocktail
For each cocktail, combine 3 tablespoons juniper syrup with 1/2 cup sparkling wine in a glass. Garnish with a pine sprig and serve immediately.
Photograph by Marcus Nilsson. Recipe and photo used with permission.
Originally published on Dec 29, 2014. Updated with new pictures and information.