Last Updated on February 25, 2022 by Anne-Marie
It's so easy to make this Instant Pot Sweet Potatoes recipe. You'll never cook sweet potatoes any other way ever again.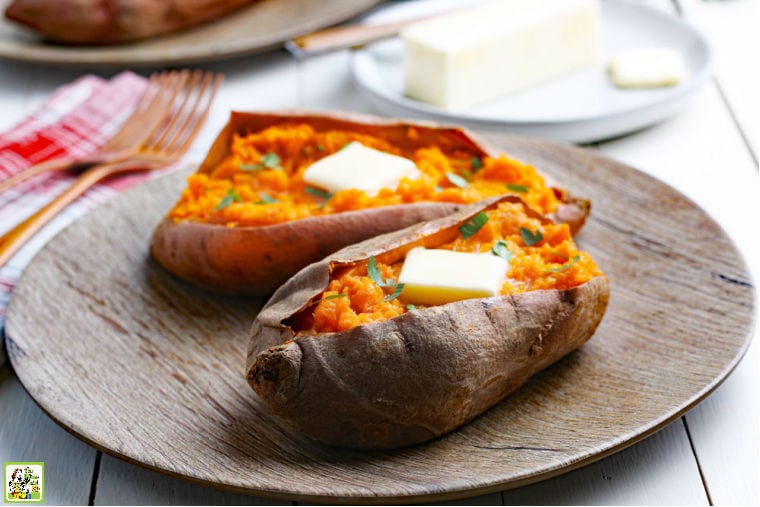 Why this recipe works
It's a big time-saver to make sweet potatoes in your pressure cooker, especially during the holidays when you're busy.
That's because pressure cooking sweet potatoes takes around only 30 minutes to make!
Best of all you'll find an Instant Pot sweet potato comes out perfectly every time.
And it makes an amazing side dish for a variety of meals. See 35 Side Dishes to Serve with Chicken Cordon Bleu.
Why cook sweet potatoes in the Instant Pot
You've probably baked sweet potatoes in the oven. That's fine, but it has its drawbacks.
It seems silly to heat up the oven to cook just a few sweet potatoes.
Pressure cooker sweet potatoes keeps your kitchen cooler.
Plus, it takes a long time (45 minutes to an hour) to bake sweet potatoes. And baking can dry out the potatoes.
Cooking sweet potatoes in your pressure cooker has its advantages during the Thanksgiving holidays because it frees up your oven for other things, too.
Check out more vegetarian Instant Pot recipes.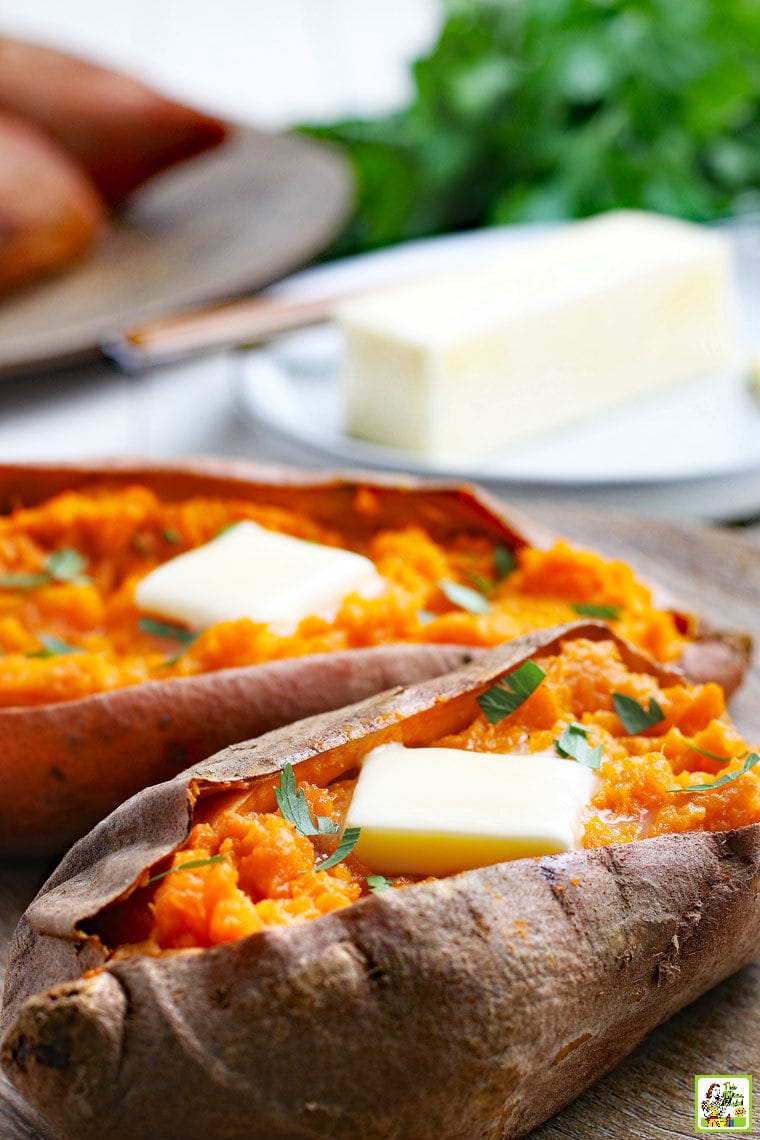 How to cook sweet potatoes in the Instant Pot
All you have to do with pressure cooker sweet potatoes is to steam the sweet potatoes inside your Instant Pot using this method:
1. Clean the sweet potatoes. (Leave the skin on.)
2. Add the water to the Instant Pot. (All you need is a cup.)
3. Place the steaming trivet inside your Instant Pot. (That's the wire trivet that came with your pot.)
4. Put the sweet potatoes in your pot and put on the lid.
5. Cook on high for 12-25 minutes depending on the size of your potatoes. (See the guide below.)
6. Then do a 10-minute Natural Release by leaving your Instant Pot on the warm setting for 10 minutes after cooking.
After that, open the valve and do a Quick Release to vent any remaining pressure.
7. Take off the lid and remove the sweet potatoes from the Instant Pot.
8. Serve up your Instant Pot sweet potatoes with your favorite toppings.
There's nothing easier than sweet potatoes in an Instant Pot!
Get more Instant Pot Tips at When is it Safe to Open my Instant Pot?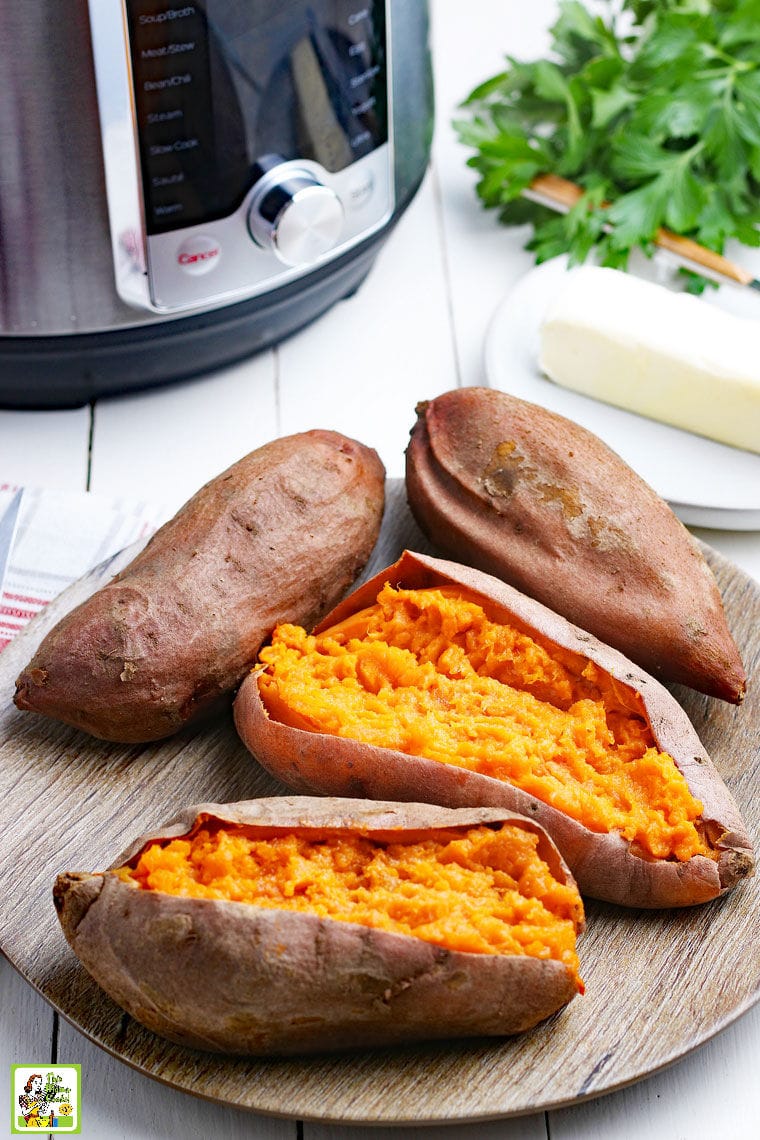 Tips for making the best Instant Pot Sweet Potatoes
1. Clean your sweet potatoes before cooking. Give them a good rinse and a light scrub with a vegetable brush.
You can remove any eyes (or sprout, as they're sometimes called) with the round loop near the top of a Y-shaped vegetable peeler. You can also use a paring knife.
2. Prep your sweet potatoes. Pierce sweet potatoes several times with a fork before cooking. This prevents the Instant Pot sweet potato from potentially bursting.
3. Add cold water and use a trivet in the Instant Pot. The water is what cooks the sweet potatoes. (It creates steam and pressure).
The trivet keeps the sweet potatoes elevated above the water. This prevents the sweet potatoes from sticking to your pot or getting soggy.
(You can also use a steamer basket.)
4. Make sure your sweet potatoes are around the same size. This helps guarantee that the potatoes will cook evenly.
You don't want a small sweet potato to turn into mush and a large one to be uncooked. Instead, pick ones that are uniform in size.
5. Sweet potato size determines cook time. You can cook small, medium, or large sweet potatoes in your Instant Pot. Smaller sweet potatoes take less time to cook.
So naturally, a larger sweet potato in Instant Pot takes longer to cook.
Use the cook time guide below to help you determine how long to cook 4-6 sweet potatoes of a particular size. (The recipe is just a general guide.)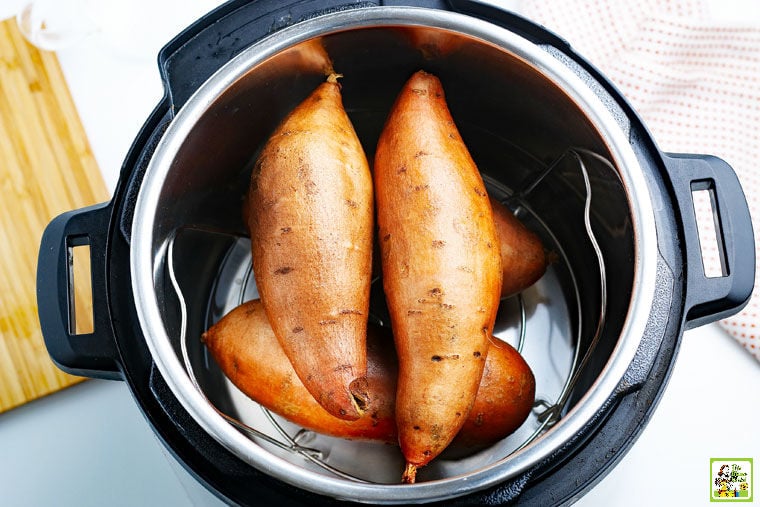 How long does it take to cook Instant Pot sweet potatoes?
It doesn't take all that long to pressure cook sweet potatoes on High.
However, cook time depends on the size of the sweet potato!
Depending on the size, it can take 12 to 25 minutes to cook 4 to 6 sweet potatoes in a 6-quart Instant Pot.
Cook time for sweet potatoes in a pressure cooker
● Small sweet potatoes (6 to 8 ounces) take 10 minutes to cook at High pressure.
● Medium sweet potatoes (8 to 12 ounces) take 14 minutes to cook at High pressure.
● Large sweet potatoes (12 to 16 ounces) take 20 minutes to cook at High pressure.
Can I cook other types of potatoes with the sweet potatoes in the Instant Pot?
Yes, as long as all the potatoes are around the same size.
You can use this Instant Pot potato cooking method with Russet potatoes as well as with sweet potatoes.
This will come in handy if not everyone in your family loves sweet potatoes. (Whaaaaat?)
Or you need regular potatoes for another dish during a big meal during the holidays.

How to serve Instant Pot sweet potatoes
You can serve your Instant Pot sweet potatoes with a variety of toppings.
Butter: you can use real butter, whipped butter, or a vegan buttery spread if you're dairy free or vegan.
Cinnamon sugar: combine white sugar (or Swerve Sweetener if you're sugar free) with some cinnamon.
Sprinkle the cinnamon sugar on the instant pot sweet potatoes. Delish!
For fun, you can add a pinch of nutmeg or ginger to the cinnamon sugar. Mmmmm.
Brown sugar: you can use dark or light brown sugar on your "baked" sweet potatoes. Just sprinkle some on with a bit of butter or buttery spread.
If you're wanting to avoid extra calories and wish to keep things healthy, use Swerve Sweetener, Brown, a natural no calorie sweetener that tastes just like the real thing.
Chopped nuts: Sprinkle on some chopped pecans or walnuts along with the butter and brown sugar.
If you wish, you can toast the chopped nuts in a frying pan for a few minutes in a bit of oil or butter.
Syrup: there's nothing tastier than a drizzle of real maple syrup on baked sweet potatoes.
You can also try agave, sorghum, or a dash of caramel. Fantastic!
Mini marshmallows: Did you grow up having sweet potato and marshmallow casserole during Thanksgiving?
How about treating yourself by sprinkling a few mini marshmallows on to your Instant Pot sweet potatoes.
Then place in an oven at 350 degrees F for 10 minutes until warm. (To brown the marshmallows, place under the broiler for 1 minute.)
Holiday serving suggestion: During the holidays, you can place the baked sweet potatoes on a platter.
Just before serving place pats of butter, brown sugar, nuts, syrup, etc. on the warm sweet potatoes. Then bring to the table for your guest to enjoy.
Check out the Best Gluten Free Thanksgiving Desserts Recipes and the Best Keto Thanksgiving Recipes for more delicious recipes for your holiday table.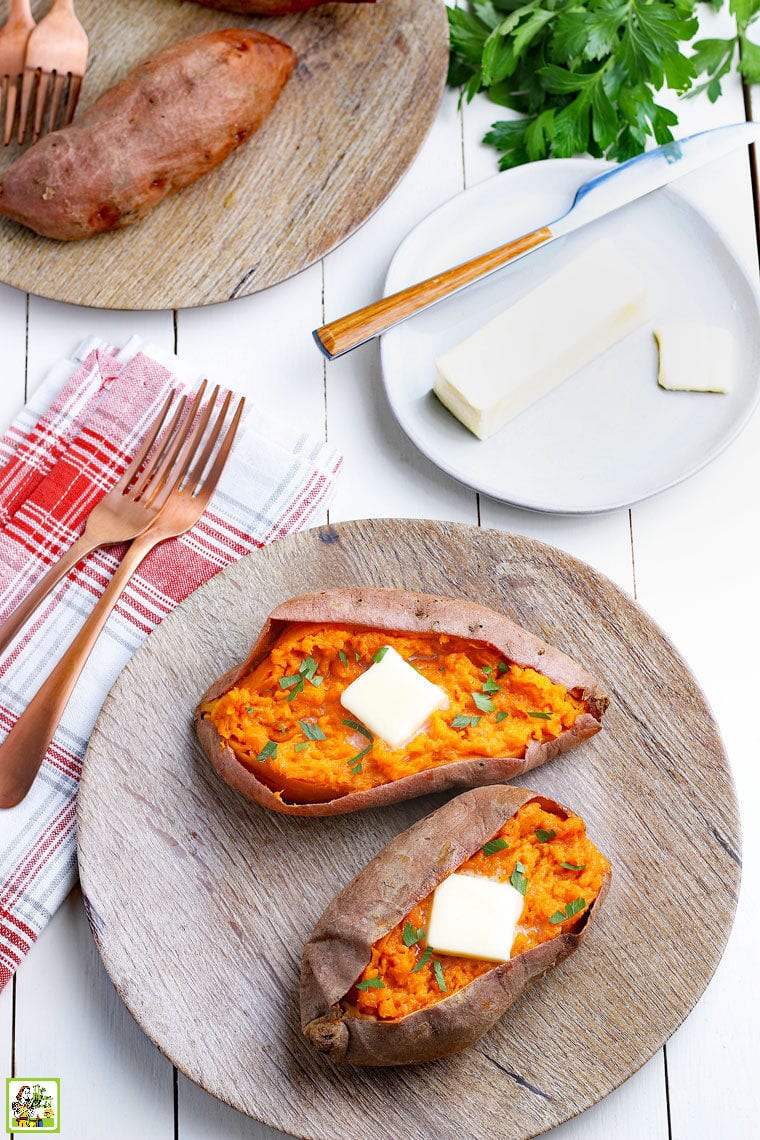 Ways to use leftover Instant Pot sweet potatoes
You can store leftover cooked sweet potatoes in the refrigerator for 5 days.
Use the sweet potatoes in other recipes like Sweet Potato Pork Hash or Southwestern Sweet Potato Salad.
Substitute sweet potatoes for white or golden potatoes in recipes like Mexican Picadillo.
You can mash them and blend them into your morning oatmeal.
Some people use the cooked Instant Pot sweet potatoes for baby food purees.
Or use them instead of regular potatoes for the mashed topping in a Shepherd's Pie.
Bought too many sweet potatoes? You can also make this Easy Air Fryer Sweet Potato Wedges Recipe or this Crock-Pot Vegan Mashed Sweet Potatoes with Parsnips Recipe.
Yield: 6 SERVINGS
Instant Pot Sweet Potatoes Recipe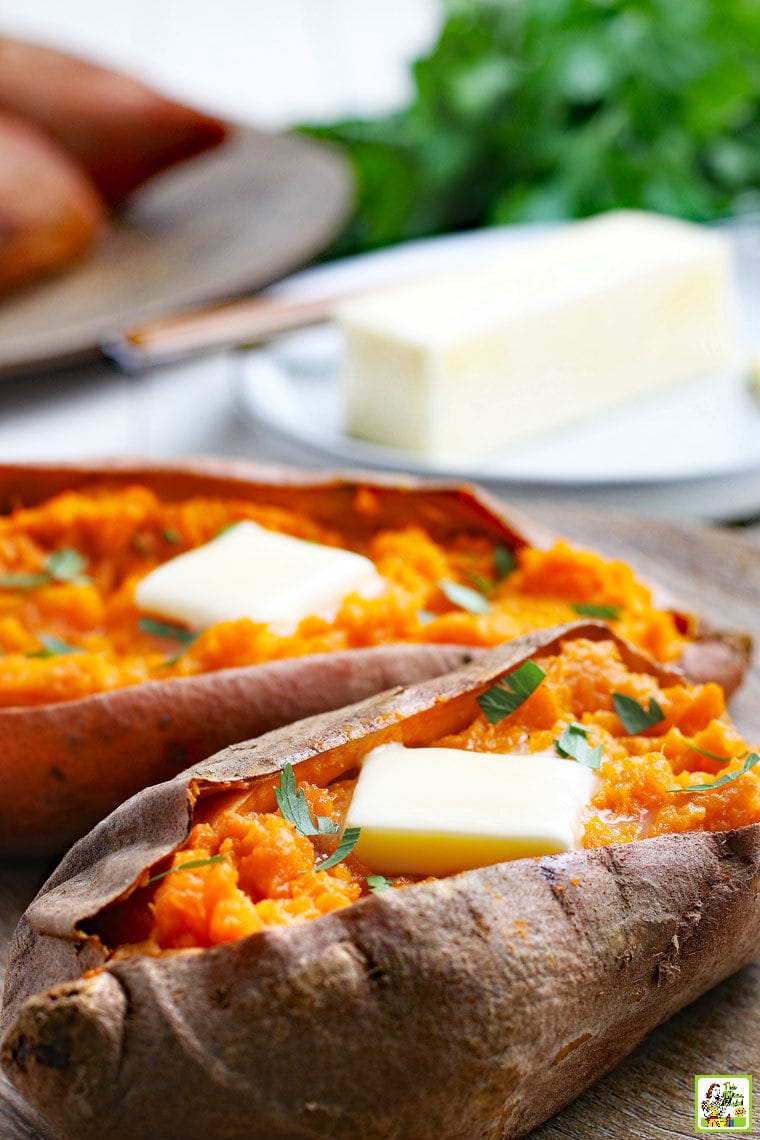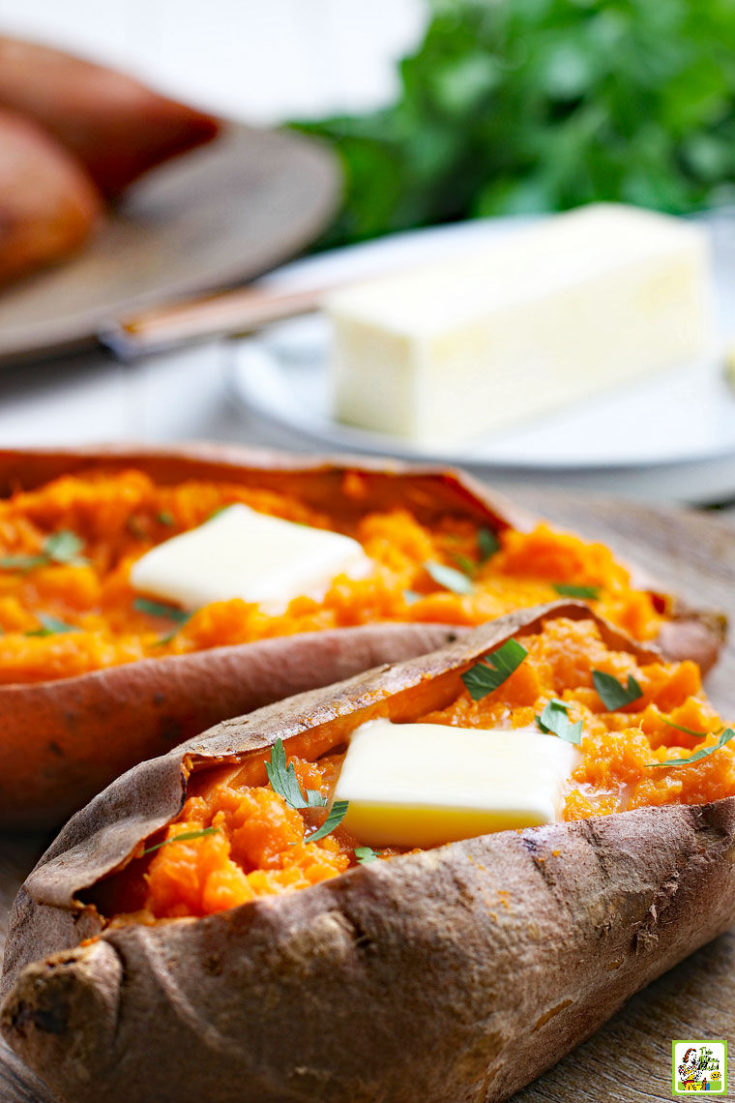 Make Instant Pot Sweet Potatoes in 30 minutes. You'll find that sweet potato in Instant Pot comes out perfectly every time.
Additional Time
10 minutes
Ingredients
6 medium-sized sweet potatoes
1 cup cold water
Topping Options
Butter or buttery spread
Cinnamon sugar
Brown sugar or Swerve Sweetener, Brown
Syrup (maple, agave, sorghum, or caramel)
Mini marshmallows
Chopped nuts
Instructions
Rinse, scrub, and prep the sweet potatoes.
Add the cold water to the Instant Pot.
Place a steaming trivet or steamer basket inside the Instant Pot. Lay the sweet potatoes on top.
Place the lid on, and seal the pot.
Use manual mode to set on High pressure. Cook for 15 minutes or more, depending on the size of your sweet potatoes. (See Cook Time Guide in the post.)
Allow the pressure cooker to naturally release pressure for 10 minutes. Then manually release any remaining pressure.
Carefully remove the lid. Then remove sweet potatoes with tongs or potholders.
Serve Instant Pot Sweet Potatoes with toppings of your choice.
Notes
Nutritional information doesn't include toppings.
Recommended Products
As an Amazon Associate Affiliate and member of other affiliate programs, I earn from qualifying purchases.
Nutrition Information:
Yield:
6
Serving Size:
1 potato
Amount Per Serving:
Calories:

103
Total Fat:

0g
Saturated Fat:

0g
Trans Fat:

0g
Unsaturated Fat:

0g
Cholesterol:

0mg
Sodium:

43mg
Carbohydrates:

24g
Fiber:

4g
Sugar:

7g
Protein:

2g
Nutritional information is automatically calculated per the ingredients list. Serving size may not be accurate. Please double-check with your preferred nutritional app for the most accurate information.