Last Updated on April 19, 2022 by Anne-Marie
If you're vegetarian or vegan, you're going to love this roundup of 60 easy vegetarian Instant Pot recipes!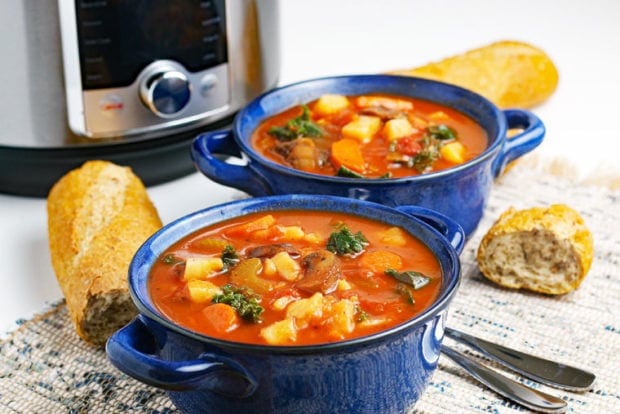 Here are some of the best vegetarian and vegan instant pot recipes that are perfect for your Instant Pot pressure cooker – soups and chili, main dishes like tacos and meatballs, one-pot meals, and more.
Click on the links below to check out the best electric pressure cooker recipes from some of our favorite food bloggers.
We hope you find them the easiest way to make healthy instant pot recipes for your family.
Why you should make vegetarian meals in an Instant Pot
Instant Pot cooking is a terrific way to help you cook healthy vegetarian meals and vegan recipes.
Why? Because you can put a meal on the table faster since these favorite Instant Pot recipes take a lot less time to cook than conventional methods. Eating vegetarian shouldn't be complicated!
The other benefit of pressure cooking is that it preserves vitamins and minerals, resulting in a healthy meal.
That's because the Instant Pot saturates food with steam, which retains the bright colors, nutrients, and phytochemicals in your food.
The best part of using your pressure cooker is that meal prep and clean-up is a snap with only one pot to clean.
It'll soon become your favorite way to make an easy weeknight dinner.
Instant Pot cooking tips
If you're an Instant Pot recipe newbie, these tips will come in handy:
Don't overfill your Instant Pot. Fill your pressure cooker only about 2/3 of the way. If you overfill it, the recipe won't cook properly.
Follow Instant Pot recipes closely. For best results, don't fudge on the recipe! Don't change up the cooking times, ingredient order, or chopping sizes.
Confused about pressure release? Learn What is Natural Release vs Quick Release on an Instant Pot?
Save your fresh herbs for last. Wait until your pressure cooking is done before adding any fresh herbs. The combination of heat and moisture causes the herbs to lose flavor.
30+ Easy Vegetarian Instant Pot Recipes
Are you looking for vegetarian recipes to make in your Instant Pot? This collection of Instant Pot recipes will soon become family favorites, from quick dinners for busy weeknights to side dishes and one-pot meals.
Originally published on January 20, 2019. Updated with new information and photographs.