You're going to swear by this pulled pork Instant Pot recipe. The meat turns out super moist, tender, and incredibly delicious.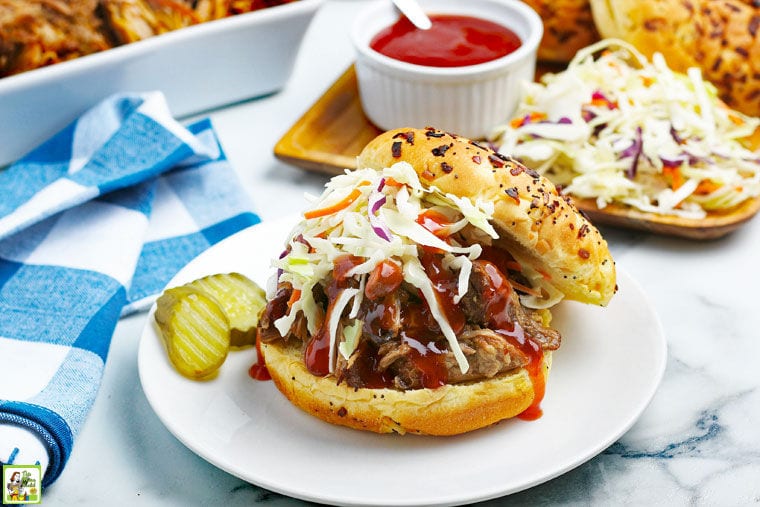 Why this recipe works
Once you make Instant Pot shredded pork, you'll never make it any other way!
You'll swear the meat has been slow-cooked overnight over a smoky barbecue. It's now my family's favorite BBQ pulled pork recipe.
Plus this BBQ pulled pork Instant Pot pulled pork recipe makes the house smell amazing.
What is the best cut of pork for pressure cooker pulled pork?
For best results in this Instant Pot pulled pork recipe choose a boneless pork shoulder.
In the grocery store, this cut is labeled a pork shoulder, a pork butt, or a Boston butt.
No boneless roasts? If you can't find a boneless pork roast, buy a slightly heavier bone-in pork roast. Then remove the bone while you're chopping up the roast into four (or more) pieces.
(The bone and any extra bits of fat you'll remove will probably remove a pound off the roast weight.)
This is a very fatty cut of pork, so it's amazingly tender when you cook it either in the pressure cooker or the slow cooker. I love pork shoulder for my Slow Cooker Pulled Pork Tacos Recipe.
Trimming your roast. You may want to cut the excess fat off the pork before cooking. I usually leave it on as I find that the fat adds extra tenderness and keeps the meat nice and moist.
But that's up to you since pork butt is nicely marbled, so will cook up just fine with a little less fat.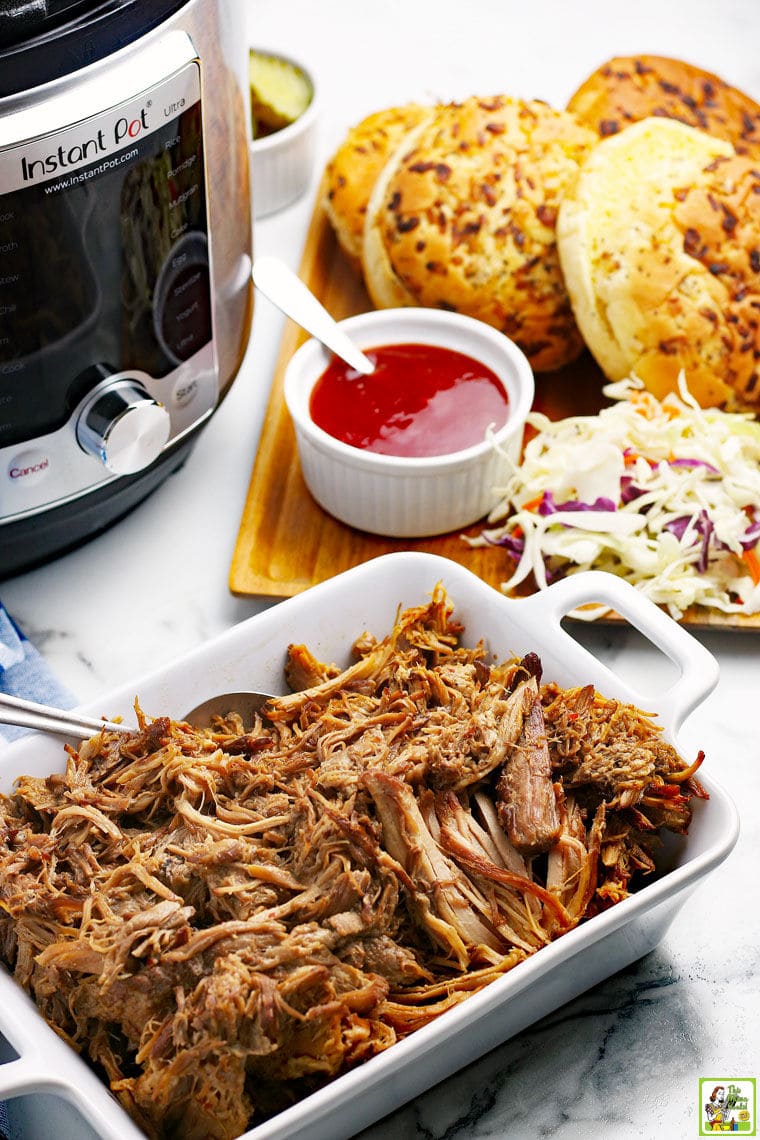 Can you use a bigger pork roast?
Yes, of course, you can! Just make sure it fits in your Instant Pot. You need to ensure that you don't pack the pressure cooker full and go past the maximum fill line.
Use 60 minutes as a starting point and go from there. You can always check how tender your pork roast is after 60 minutes of cooking time. Then put it back in your Instant Pot for longer if it's not quite there yet.
Approximate Instant Pot pulled pork cook time by weight:
4 pounds of pork = 60 minutes cooking time
5 pounds of pork = 1 hour 10 minutes cooking time
6 pounds of pork = 1 hour 15 minutes cooking time
ETC.
How long do you cook Instant Pot BBQ pulled pork?
While this Instant Pot Pulled Pork technically cooks for 60 minutes, you have to allow for at least 20 minutes or more for your pot to come to pressure depending on its size.
Remember, you'll need 15 minutes for the Natural Pressure Release, too!
When I make this recipe in my slow cooker, it takes 8 hours, so I feel a couple of hours (prep time, cook time, pressure release time, etc.) is a big time saver!
If you're worried about making sure this pressure cooker recipe is ready in time for dinner, start to make this recipe in the late afternoon.
You can always have the shredded pork keeping warm in the Instant Pot or in a covered dish in your oven covered in your favorite BBQ sauce.
Can I use pork tenderloin instead?
You can but be careful. Pork tenderloin (or pork loin) is much a leaner cut, and you don't want to dry it out in your pressure cooker.
So cook it for less time – around 40 minutes.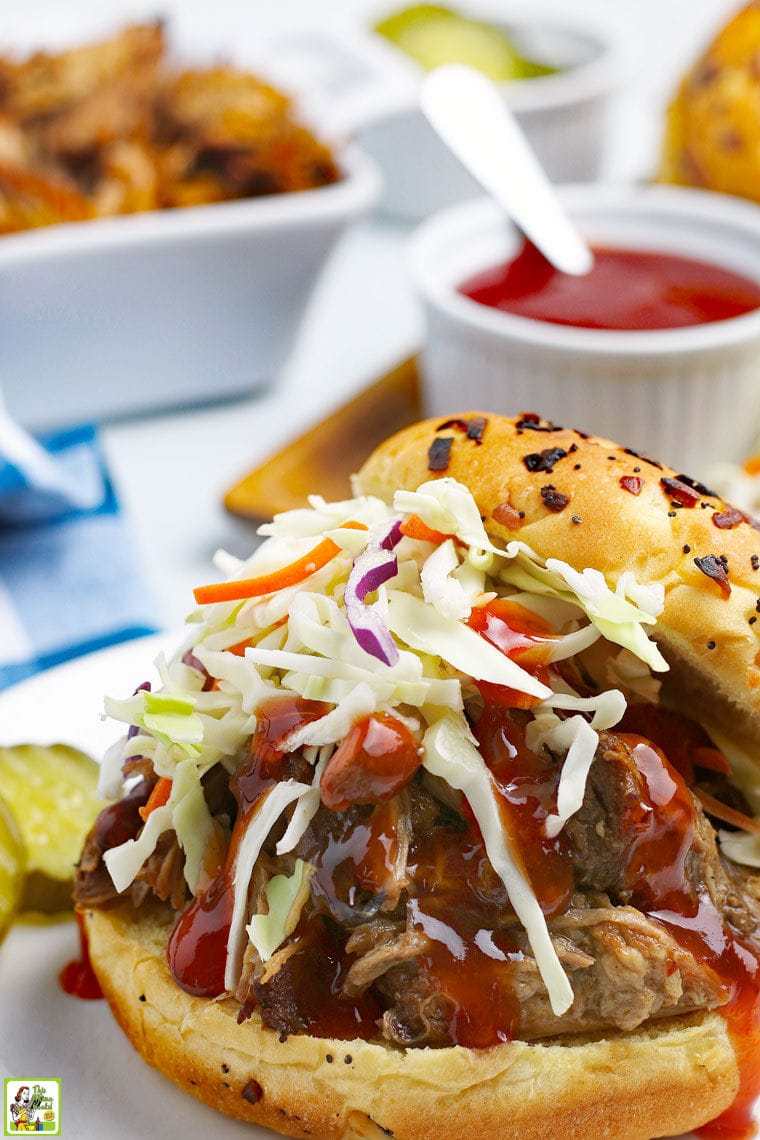 How to make Instant Pot pulled pork
Making this pulled pork in Instant Pot recipe is a breeze.
Make the dry rub
Add the brown sugar and spices to a large bowl and mix together.
Prepare the pork
If you have a bone-in pork butt, trim away the pork meat and fat. Cut into four even-sized pieces. (If you have some smaller pieces, don't worry about adding them to your bigger pieces.)
If you have a boneless pork butt, cut the pork into four even-sized chunks.
Make sure to weigh your pork after trimming so you'll know how to estimate Instant Pot pulled pork cooking time.
Coat the pork with the rub
Now add pork to the dry rub bowl and toss until well coated.
I usually do this with my hands. But you can do this with tongs if you don't want to get messy.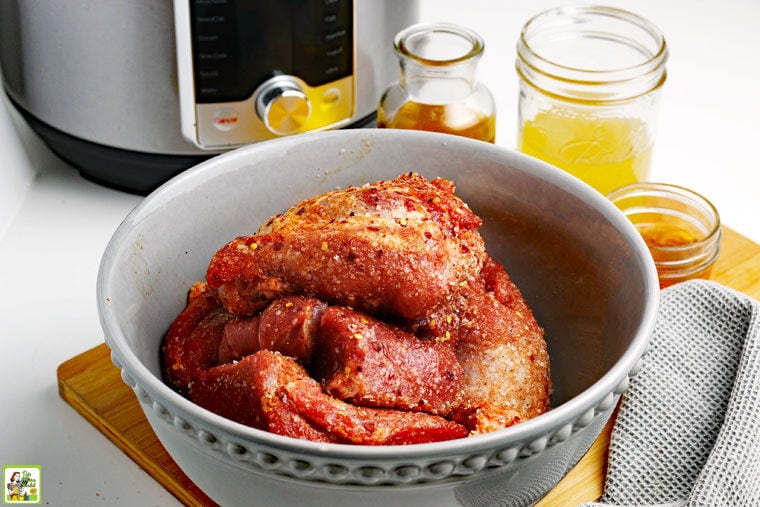 Brown the pork
Turn Instant Pot to Sauté setting. Add the olive oil until hot.
Add pork pieces to the Instant Pot and brown on all sides. You'll need about 2 minutes for each side to get nice and brown.
Searing helps create a crispy, caramelized surface. This gives a nice texture to the pulled pork. It also adds a smoky flavor to the pulled pork recipe, making this an important step.
I make my slow cooker pulled pork without searing the meat beforehand and it's very tasty. So, you could probably skip this step. But it only adds like 10 minutes to the prep time - and that delicious smoky flavor. So it's worth it.
Once all the pieces of pork are browned, remove, and set the pork aside.
Deglaze the Instant Pot
Add the chicken broth and apple cider vinegar to the Instant Pot to deglaze the pot. Use a wooden spoon to scrape the bottom of the pot to get all those little pieces cleaned off the bottom of your pot.
Pressure cook the pork
Place the chunks of pork back into the Instant Pot. Pressure cook on High pressure for 60 minutes.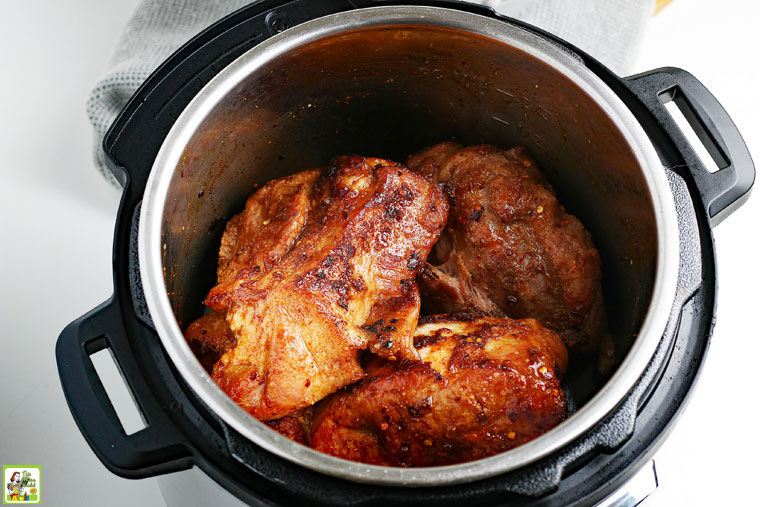 Do a Natural Release
When pork is cooked do a 15-minute Natural Release by leaving your Instant Pot on the warm setting for 15 minutes after cooking the pork.
Doing it this way makes sure that the Instant Pot shredded pork is nice and tender and the juices don't escape.
Shred the Instant Pot pulled pork
After that do a manual release by opening the valve to do a Quick Release to vent any remaining pressure.
Remove the lid. Use tongs to remove the pork from the Instant Pot to a large platter or bowl. Allow the pork to rest for 5 minutes.
Use two forks to shred, if needed. Honestly, the pork is so fall-apart tender that you can shred it with the tongs.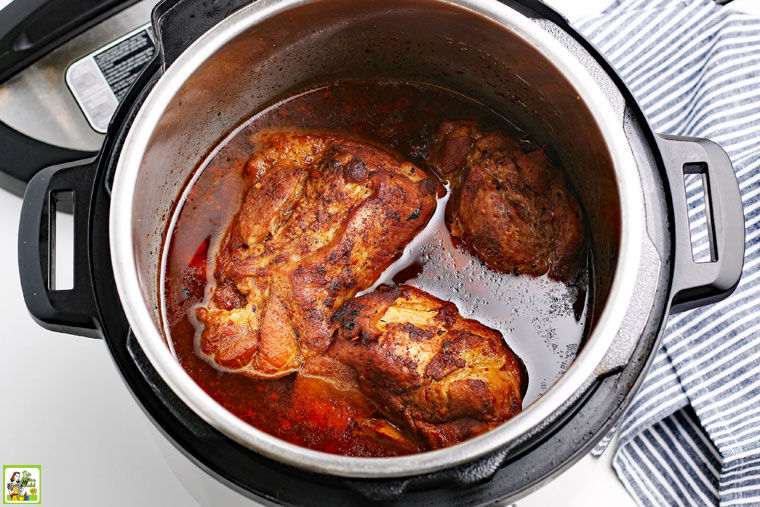 Add the BBQ sauce
Add your favorite barbecue sauce if you wish. Serve.
(See some delicious ways to serve pulled pork below.)
What do I do with all the leftover pork cooking broth in the Instant Pot?
While you're shredding the pork, set your Instant Pot to sauté to reduce the cooking broth to about half.
Then save this juice to add back to the shredded pork if it gets dried out when reheating or serving later.
What if I get the dreaded burn notice?
If you get a burn notice on your pressure cooker this means that there isn't enough liquid at the bottom of your Instant Pot.
Add a few more tablespoons of broth (or water) and you should be good to go when you make pulled pork.
However, if there is enough liquid, you could have some food debris around the pot or lid rim preventing you from getting a good seal.
Give the lid and pot rim a good going over before you put on the lid. Clean it off with a wet paper towel just in case.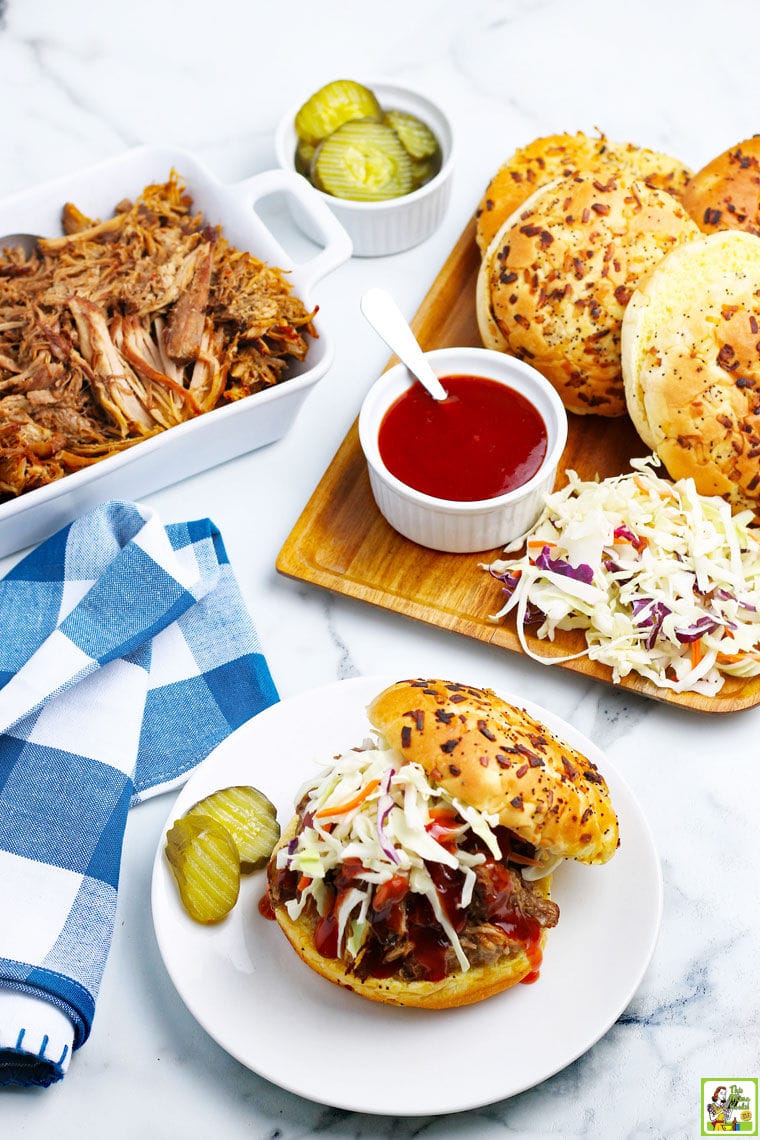 Can I cook the pork in BBQ Sauce?
I have seen some pulled pork recipes that do cook the pork butt in BBQ sauce.
However, some cooks feel that because of the high amount of sugar and the thickness of the sauce, your Instant Pot BBQ pulled pork will burn unless the BBQ sauce is diluted down with water or stock.
Then there's the matter of BBQ sauce itself. Do you make it spicy, sweet, or vinegary?
Since my family is very particular about BBQ sauce (my husband and son love their BBQ sauce spicy and I love mine sweet) I cook the pork and shred it.
Then I have everyone add their own favorite BBQ sauce to the pulled pork sandwiches.
Looking for a sugar free BBQ sauce? Try this 5-minute homemade no sugar barbecue sauce recipe.
My pulled pork isn't cooked through. What do I do?
You can tell that the pork is cooked when the pork is fall apart tender and you can pull it apart with two forks. If not, it isn't cooked perfectly.
In that case, don't worry, you just need to cook it a little longer.
After the initial cook time (for 60 minutes with a 15-minute natural release) if it's not fully cooked then put the lid on, and bring it back up to pressure.
Then cook the pork for about 10-15 minutes longer.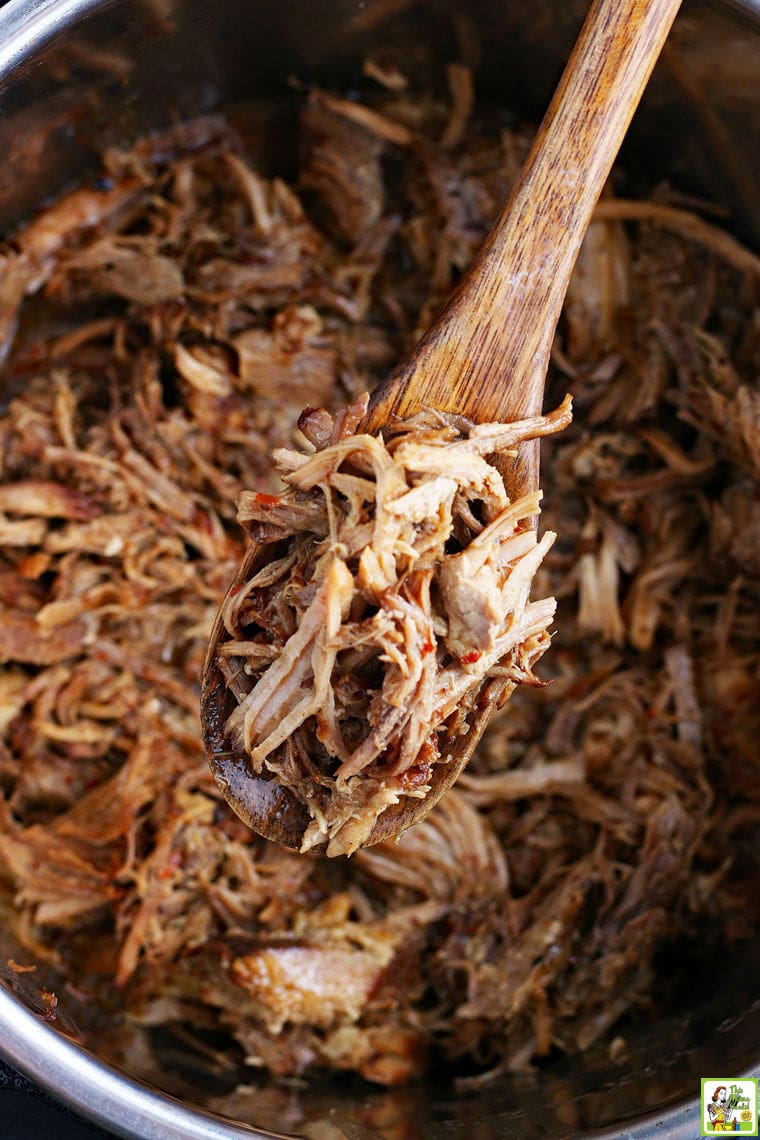 More tips for Instant Pot BBQ pulled pork
Go keto If you're on a keto or low carb diet - or just want to reduce your sugar intake – use Swerve Sweetener, Brown instead of brown sugar.
I used Swerve Brown when I made my shredded pork Instant Pot and it worked out great. The flavor was terrific - no funky aftertaste.
The pork shoulder browned very nicely when I sautéed it, too.
No chicken broth? If you don't have any chicken broth on hand, feel free to use beef broth or veggie broth when making pulled pork.
You can also use chicken bouillon to make a cup of broth. I swear by Massel chicken stock powder. It works great when I only need a little bit of broth and don't want to open up a big container or can.
Don't I need to use Liquid Smoke? Honestly, you don't need to use any! Why? Sautéing and browning the pieces of pork shoulder browns the meat and gives it a nice smoky flavor.
So put the Liquid Smoke back in the cupboard!
No apple cider vinegar? I'm OK with substituting another type of vinegar, like red wine, rice, or white. Even balsamic vinegar would make pulled pork recipes nice and smoky.
How to serve Instant Pot pulled pork
This Instant Pot pulled pork recipe is so versatile and you can do endless things with it. Here are some of my favorite ways to make pulled pork into a complete meal.
Pig Pile Elvis Style: Of course, you should pile the pulled pork on buns and top it with coleslaw and your favorite barbecue sauce.
Here are some coleslaw recipes that go well with pulled pork recipe instant pot:
Sliders: Mix in the BBQ sauce with the pulled pork and put on mini slider buns. My kids love the Hawaiian slider buns, but you can find buns in all varieties - whole wheat, white, sourdough, etc. Sliders are a terrific party dish!
Rice bowls: Serve the BBQ shredded pork in rice bowls with black beans, diced onions and tomatoes, and shredded cheese. I make bowls with my Slow Cooker Mexican Shredded Chicken.
Make a hash: Sauté the shredded pork in a pan with some shredded or diced potatoes, diced peppers, and tomatoes. Add some cheese and an egg on top. Serve this for breakfast!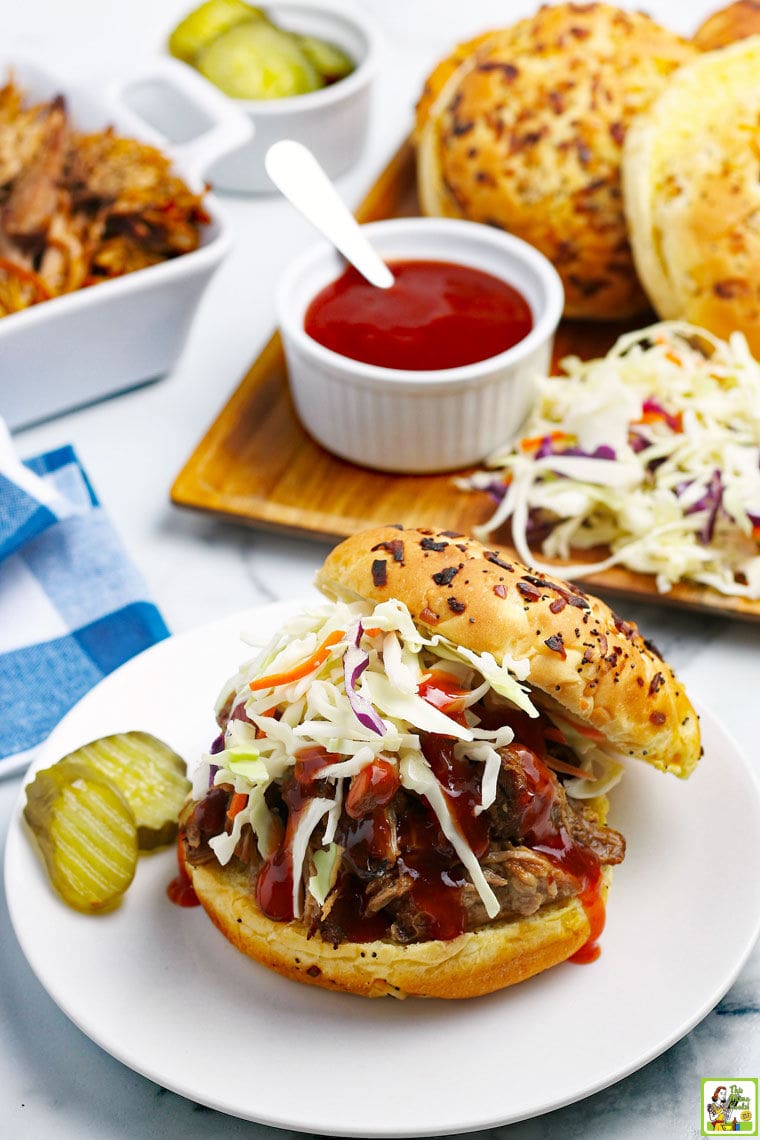 How to store pulled pork in the refrigerator
If you have leftovers, you can keep pulled pork in the fridge for up to a week if your family doesn't eat it all by then.
Save a small container of the Instant Pot pulled pork juices in the fridge, too.
How to reheat Instant Pot pulled pork
If the pulled pork has dried out, add a bit of the leftover cooking broth and reheat in the microwave for a couple of minutes.
You can also add a little bit of the cooking broth to the pulled pork and sauté it in a frying pan on the stovetop.
If you have leftovers, you can use them to make Pulled Pork Skillet with Cornbread.
Can I freeze Instant Pot Pulled Pork?
Yes. Just place the pulled pork in a freezer-safe food storage container or Ziploc bag (with the extra air squeezed out).
If you saved any of the leftover cooking juice, add a few tablespoons, so the meat stays nice and moist when you reheat it after thawing.
Label and date the container or bag. The Instant Pot pulled pork should stay good in the freezer for up to six months.
Prefer shredded BBQ chicken sandwiches?
 Try the Best Easy Instant Pot Pulled BBQ Chicken if pork isn't your thing.
Yield: 6 SERVINGS
Instant Pot Pulled Pork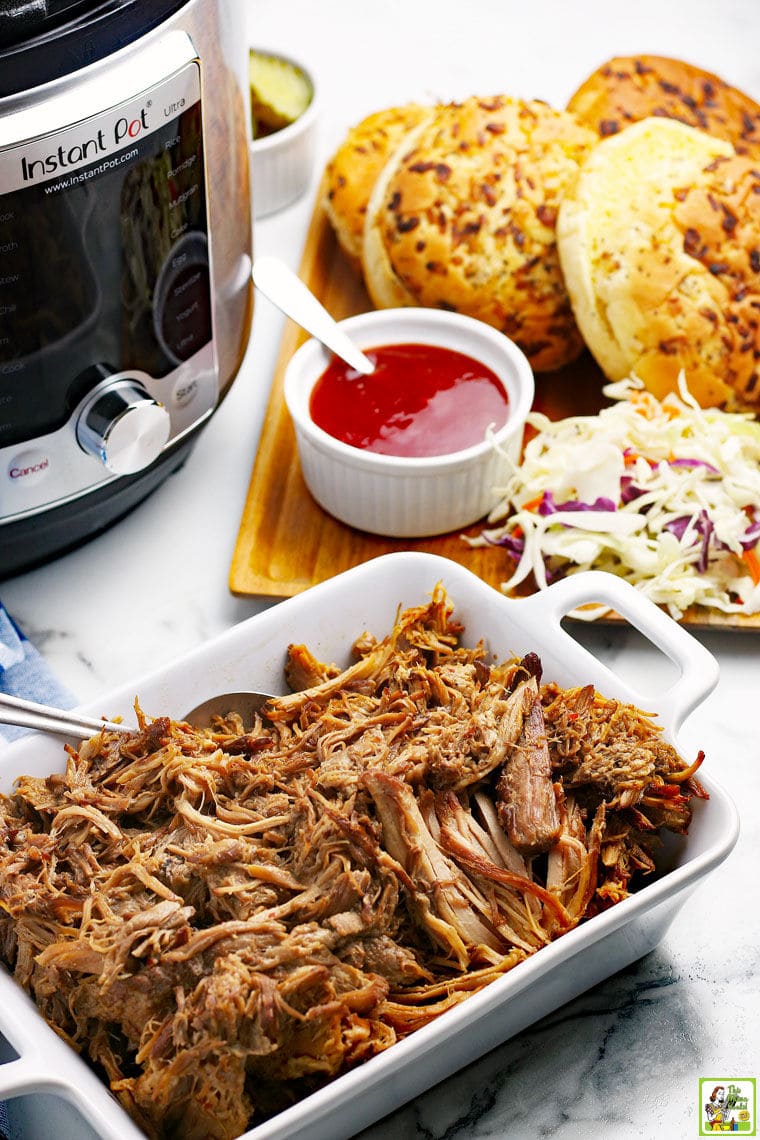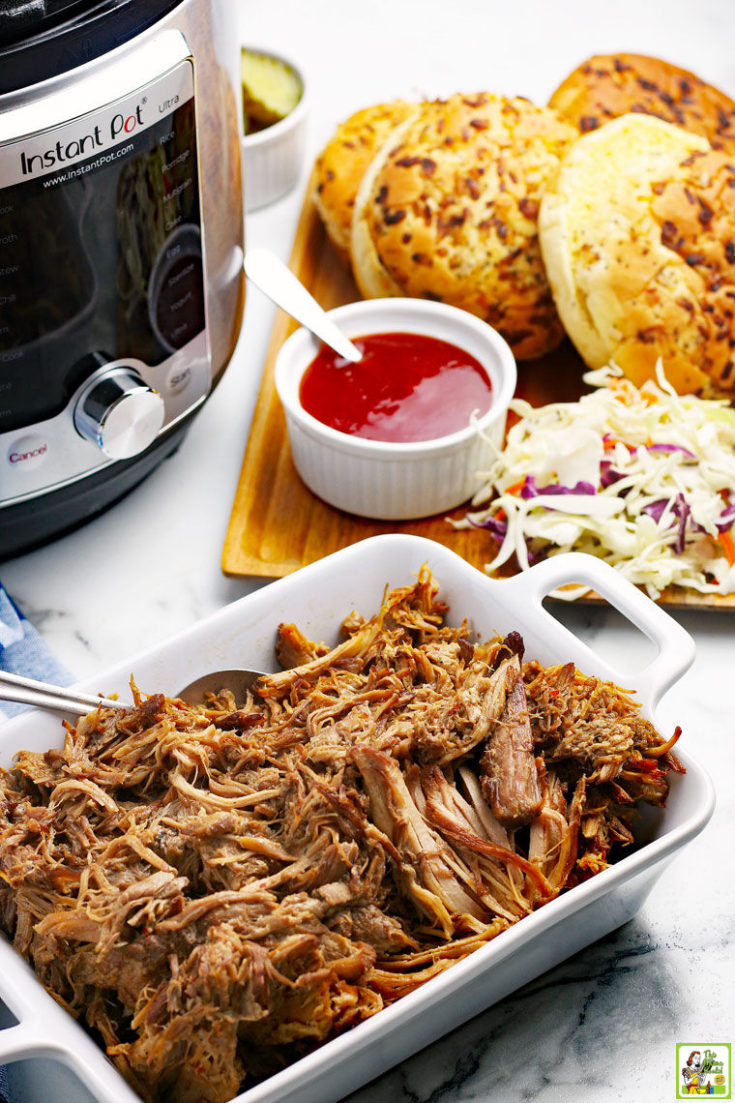 You're going to swear by this pulled pork Instant Pot recipe. Instant Pot pulled pork turns out super moist, tender, and incredibly delicious.
Prep Time 15 minutes
Cook Time 1 hour 15 minutes
Additional Time 30 minutes
Total Time 2 hours
Ingredients
4-pound pork roast, shoulder or Boston butt, cut into 4 chunks
2 tablespoons olive oil
1 cup chicken broth
1/4 cup apple cider vinegar
Dry Rub
3 tablespoons brown sugar or Swerve Sweetener Brown, packed
3 teaspoons kosher salt
1/2 teaspoon pepper
1 teaspoon paprika
1 teaspoon crushed red pepper flakes
1 teaspoon ground mustard
1 teaspoon garlic powder
Instructions
Add spices to a large bowl and whisk together.
Add pork to the bowl and toss until well coated.
Turn Instant Pot to Sauté setting and add olive oil until hot.
Add pork and brown on all sides, about 2 minutes for each side. Once all the pieces of pork are browned, remove, and set aside.
Add the chicken broth and apple cider vinegar to the Instant Pot to deglaze the pot. Use a wooden spoon to scrape the bottom of the pot. Turn off the Sauté function.
Place the chunks of pork into the pot and pressure cook on High pressure for 60 minutes with a 15-minute natural release. Manually release any remaining pressure.
Remove pork to a large platter or bowl. Allow pork to rest for 5minutes. Then shred with 2 forks.
Add your favorite BBQ sauce to the shredded pork, if you like.
Recommended Products
As an Amazon Associate Affiliate and member of other affiliate programs, I earn from qualifying purchases.
Nutrition Information:
Yield:
6
Serving Size:
1
Amount Per Serving: Calories: 883Total Fat: 65gSaturated Fat: 24gTrans Fat: 0gUnsaturated Fat: 35gCholesterol: 272mgSodium: 206mgCarbohydrates: 0gFiber: 0gSugar: 0gProtein: 70g

Nutritional information is automatically calculated per the ingredients list. Serving size may not be accurate. Please double-check with your preferred nutritional app for the most accurate information.