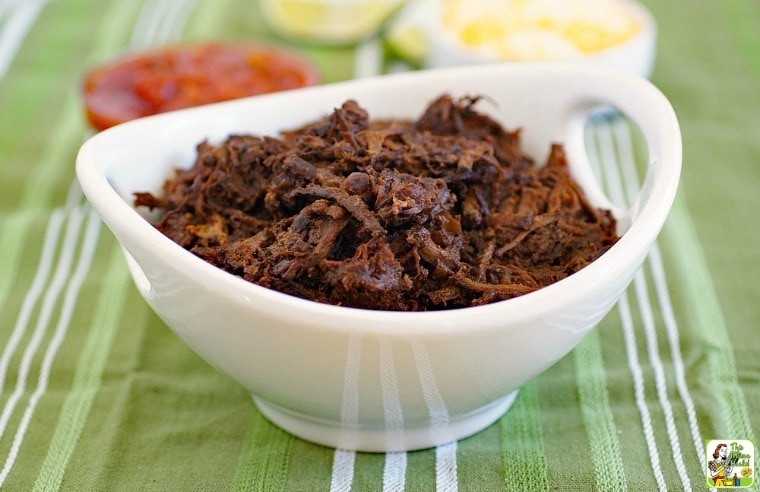 Are you looking for goat meat recipes? If you are, I came up with this Slow Cooker Goat recipe during a blogger recipe challenge using Jen from Bean Town Baker's recipe for Crockpot Pulled Chicken.
However, if goat isn't your thing, you can use this versatile recipe with beef, chicken or pork.
This Slow Cooker Goat recipe, with its chilis in adobo, smoked paprika, and Worcestershire sauce, gives a nice, smoky taste to your meat of choice.
Why make Slow Cooker Goat?
If you know my recipe for carne asada, I created it because I once had a bunch of mountain goat to cook up.
Mountain goat is so tough it's practically inedible unless made into sausages or cooked in a crock-pot . I cooked up my slow cooker goat recipe for 20 hours, believe it or not.
Luckily domestic goat isn't as tough as mountain goat. However, it's still quite tough. (Here are 10 Goat Cooking Tips.)
But you won't need to make crock-pot goat for quite as long – I'm guessing 8-10 hours should be fine.
Cooking tip: If it's dinner time and the meat isn't quite tender enough, you can always chop it up finely with a sharp knife.
It'll be cooked through, just not to the "shredding point." Better to feed the troops than have everyone starving until 10 o'clock at night!
Make this sugar free: Use powdered monk fruit sweetener or Swerve Sweetener instead of agave nectar. Using a natural no-calorie sweetener also makes this a low-carb, keto friendly recipe.
Cleanup tip: For easy cleanup, use slow cooker liners. They're THE BEST.
Now that I use crock-pot liners, I no longer have to soak my crock-pot overnight and scrub with a scouring pad.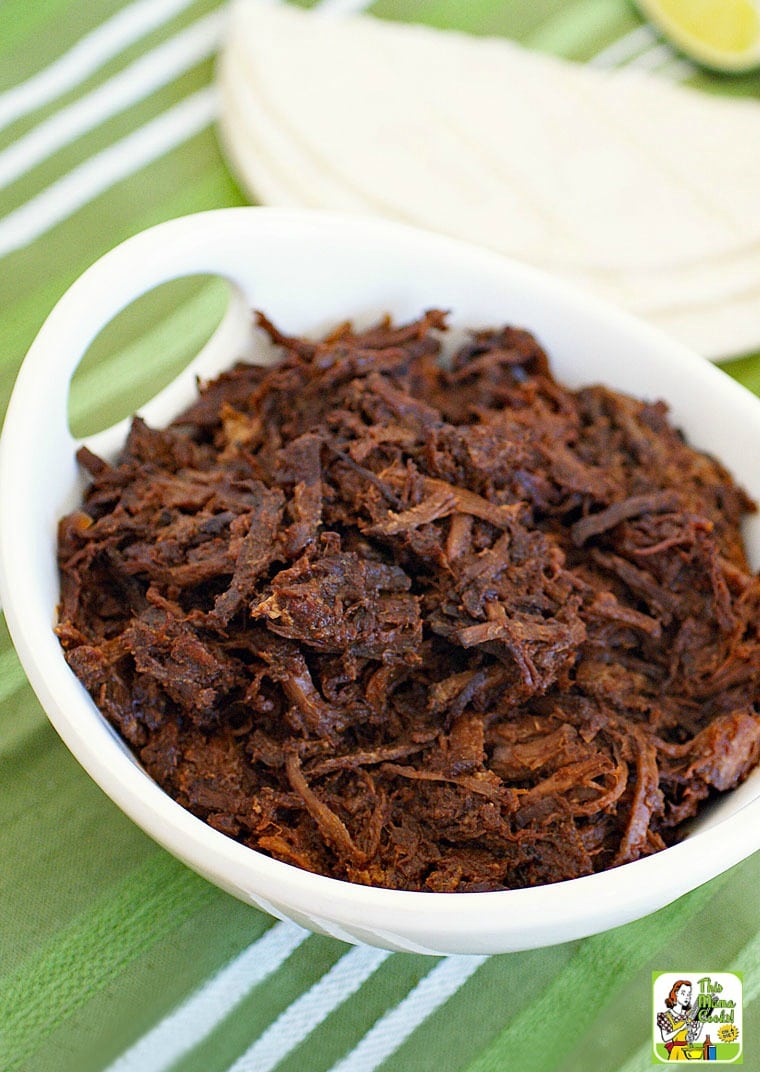 How to Make Goat Tacos
I love making goat tacos. I serve the shredded goat meat on warm soft corn tortillas, street taco style.
You can prepare a bunch of toppings in little bowls set out on the counter buffet style, so everyone can make their own shredded goat meat tacos.
Here are just a few of the toppings to have on hand to make a goat taco:
● diced tomatoes
● avocado slices
● chopped onions
● chopped cilantro
● salsa
● shredded Mexican-style cheese
● crumbled queso fresca
● wedges of lime
● non-fat plain Greek yogurt (a healthy alternative to sour cream)
How to prepare tortillas: To soften corn tortillas, heat them on a non-stick frying pan on medium heat.
So they don't dry out in the oven, I like to keep my warmed tortillas in an insulated fabric pouch tortilla warmer. You can also use fabric tortilla warmers to microwave tortillas. But I find if you do a bunch at a time, they stick together.
So, it's best to heat a few up on a pan and keep them warm in the pouch.
Easy side dish: Serve Easy 10 Minute Mexican Rice on the side.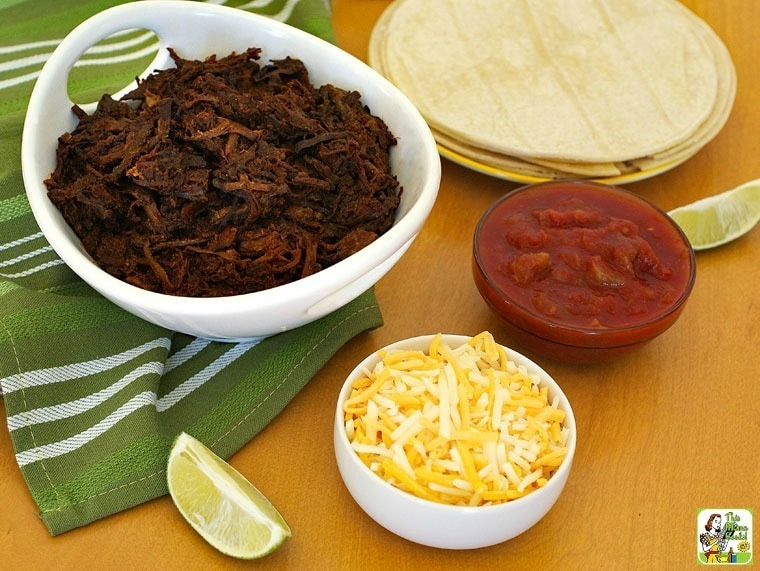 More Ways to Serve Up Crock-Pot Goat
Here are some more ways to serve pulled goat besides making pulled goat tacos:
Slow Cooker Goat Taco Bowls. Serve the shredded goat white or brown rice or quinoa with salsa, cheese, cilantro, etc.
Slow Cooker Goat Burritos. Use some of the toppings you use in Slow Cooker Goat Tacos.
Crock-Pot Goat Breakfast Hash. Leftover slow cooker goat can be reheated in a skillet along with onions, and potatoes. Top with some cheese, hot sauce, salsa, and cilantro.
Place a sunny side egg on top. Makes an awesome weekend breakfast or brinner dish!
Low Carb Crock-Pot Goat Breakfast Bowl. Mix shredded goat with riced cauliflower, and beaten eggs. Add some shredded cheese, salsa fresca, and sliced avocados.
Using this Crock-Pot Recipe for Other Meats
If you're using this goat crock-pot recipe for chicken, slow cook it for five to six hours.
For beef or pork, cook in your slow cooker for six to eight hours.
You can tell the goat, chicken or beef is done when you can pull it apart with a couple of forks.
More Slow Cooker Recipes
Love making shredded meat recipes in your slow cooker? Then try these out:
● Crock-Pot Mexican Shredded Chicken with Black Beans & Corn
● Slow Cooker Pulled Pork Tacos
● Pulled Pork Skillet with Cornbread Recipe
Yield: 8 SERVINGS
Slow Cooker Goat Recipe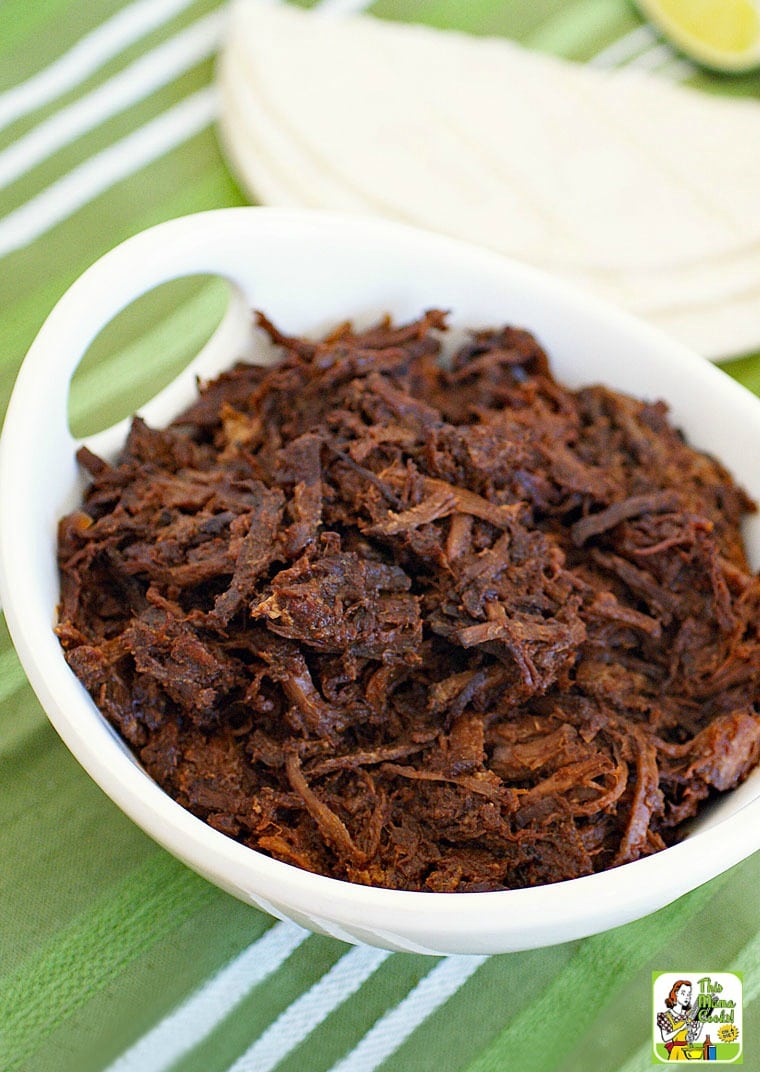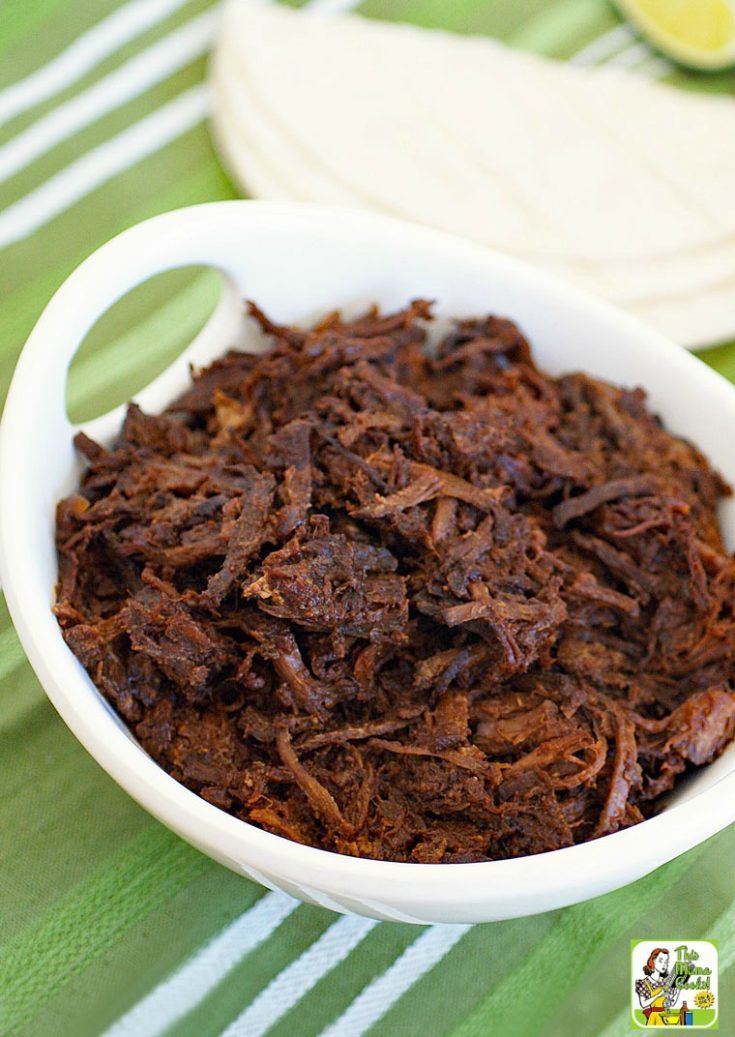 Looking for Crock-Pot goat recipes? This shredded slow cooker goat recipe is ideal for goat tacos.
Total Time
8 hours
15 minutes
Ingredients
1 14-ounce can tomato sauce
3 chipotle chiles in adobo, finely minced
1/2 cup cider vinegar
1/4 cup agave nectar, powdered monk fruit, or Swerve Sweetener
1 tablespoon plus 2 teaspoons smoked or regular paprika
2 tablespoons Worcestershire sauce
3 teaspoons dry mustard
1 tablespoon chili powder
1 teaspoon salt
3 pounds goat meat
1 medium onion, chopped
3 cloves garlic, minced
Instructions
Stir tomato sauce, chiles, vinegar, agave nectar, paprika, Worcestershire sauce, mustard, chili powder, and salt in a 6-quart slow cooker to combine.
Add goat, onion, and garlic and stir to cover meat thoroughly.
Put the lid on and cook on low until the goat can be pulled apart – at least overnight if not nearly a full 24 hours. Check often to make sure it's not getting dried out. If the liquid levels are getting low add some water, broth, or more tomato sauce.
When done, shred goat with a fork right in the crock. Stir well then serve.
Recommended Products
As an Amazon Associate and member of other affiliate programs, I earn from qualifying purchases.
Nutrition Information:
Yield:
8
Serving Size:
1
Amount Per Serving:
Calories:

318
Total Fat:

6g
Saturated Fat:

2g
Trans Fat:

0g
Unsaturated Fat:

3g
Cholesterol:

128mg
Sodium:

739mg
Carbohydrates:

16g
Fiber:

2g
Sugar:

11g
Protein:

48g
Nutritional information is automatically calculated per the ingredients list. Serving size may not be accurate. Please double-check with your preferred nutritional app for the most accurate information.
Originally posted on November 7, 2011 and February 20, 2017.
Updated with new pictures and information.