Last Updated on October 11, 2021 by Anne-Marie
Want to know how to make a Mexican pozole in less than 30 minutes? This authentic pozole recipe combines pozole verde and pozole rojo.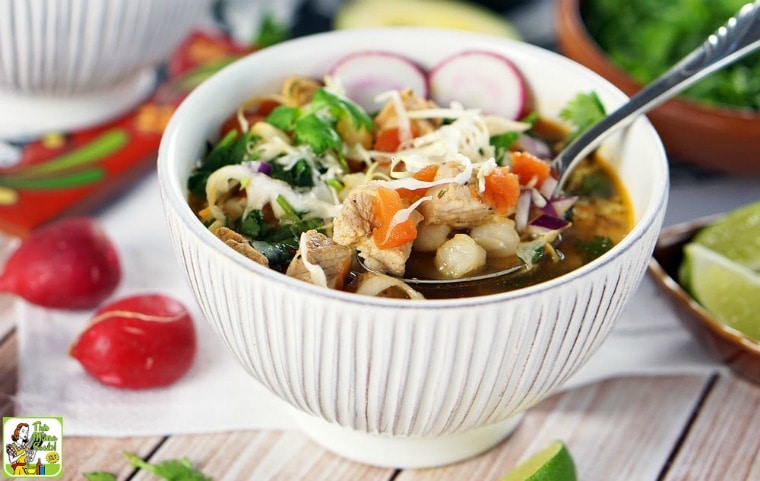 Why this recipe works
This 30-Minute Pozole Recipe was inspired by a trip to Santa Fe, New Mexico.
I dined at the Famous Plaza Café, Santa Fe's oldest restaurant and ordered Pozole Pork for breakfast.
Their pozole was served with sliced cabbage, diced onion, chopped cilantro, and a slice of lime.
Like everything in Santa Fe, it came with red or green chile, too. (I ordered green as red is too spicy for me.)
The pozole verde was amazing! It had a wonderful clear broth, big pieces of shredded pork, and white hominy.
It was so delicious that was inspired to come up with an authentic pozole recipe once I got home.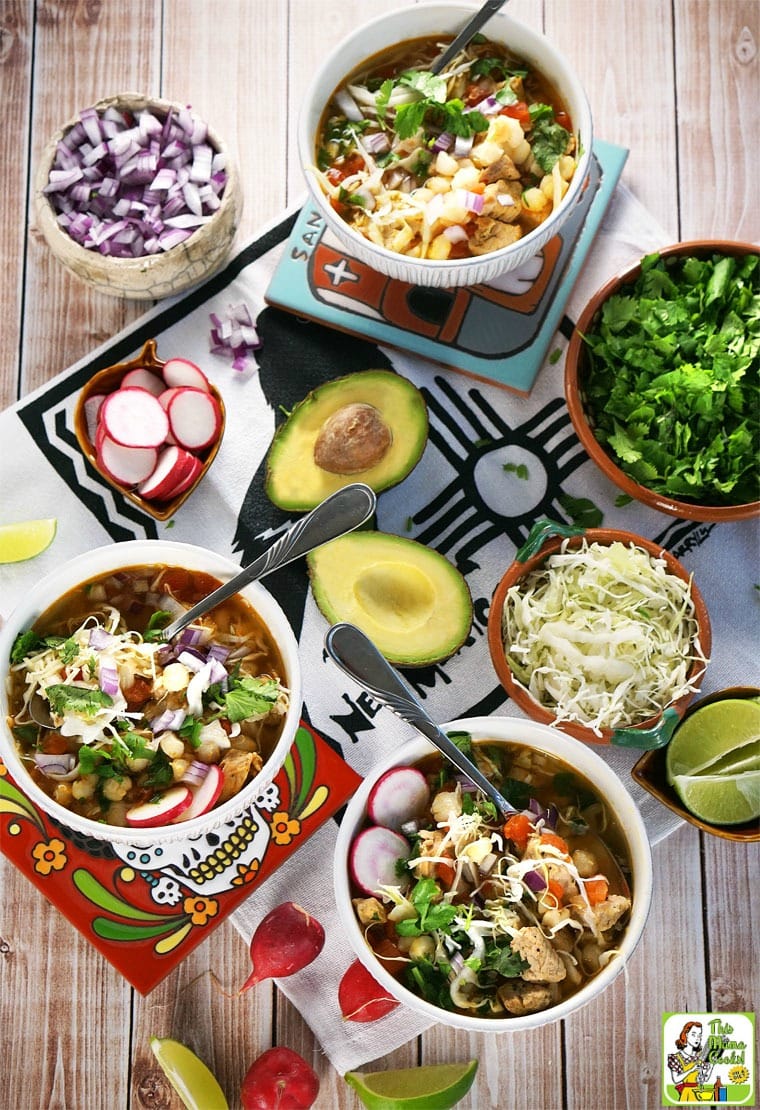 Pozole verde vs. pozole rojo
There are three types of traditional New Mexican pozole - blanco/white, verde/green, and rojo/red.
Green pozole adds green ingredients like tomatillos, cilantro, jalapenos, Anaheim peppers (also called New Mexican peppers) or pepitas (pumpkin seeds).
Rojo pozole uses red chilis like ancho or chipotle.
The kind I ate in Santa Fe was blanco pozole soup, which I had the option of turning into verde or rojo by adding the green or red chile.
My pozole recipe is a combination of verde and rojo recipe since I used a can of tomatoes with jalapenos and ground chipotle.
If you want your pozole soup to look green, forgo the can of diced tomatoes and use some canned jalapenos or green chilis.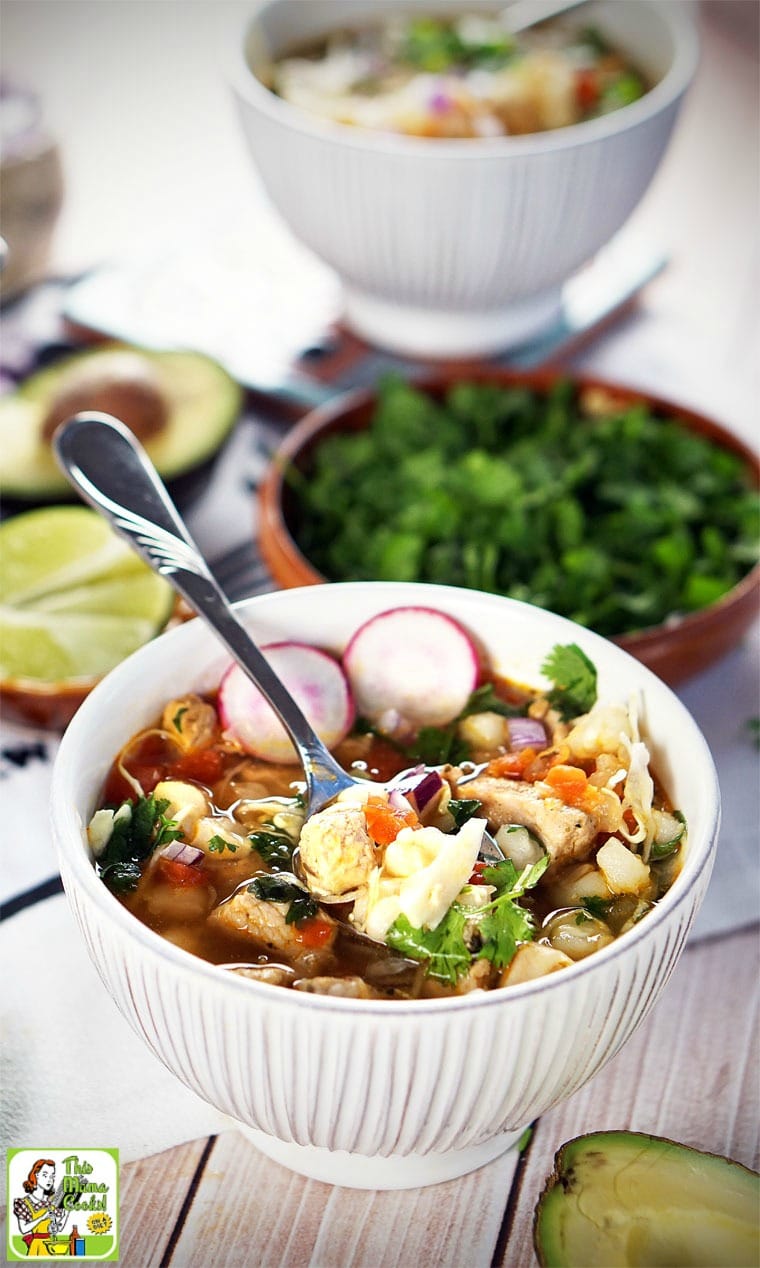 How to make pozole under 30 minutes
When I was researching how to make pozole from the numerous New Mexican cookbooks I bought on my trip, I learned that you could make hominy from scratch.
What's hominy?
Hominy is corn that has been dried, then treated by soaking and cooking the corn in a solution of lye and slaked lime (calcium hydroxide).
Luckily, you can get canned hominy at your grocery store and don't have to bother making it from scratch.
Canned hominy comes in white or yellow. My pozole recipe is made with white hominy, since the kind I had in Santa Fe also used white.
But you can use yellow hominy if you think that's prettier.
Pozole recipe shortcuts
The cookbooks also pointed out that to get the best flavor, you had to cook the pozole ingredients for hours to mix the flavors of the spices, peppers, broth, pork, and hominy.
I'm sure there had to be an easier way, which is why I bought already seasoned pork tenderloin to keep prep and cook time under 30 minutes.
Speaking of canned ingredients, to make this pozole recipe in 30 minutes or less, use canned or prepared foods whenever possible such as prepared onions and cabbage.
No need to cry when slicing onions if you can find diced onion in your grocery store. (Look in the salad section.)
I also used bagged thinly sliced cabbage (usually used in coleslaw) so I didn't have to get my food processor out.
If you find the prepared onion too pricey at your grocery store, use a handheld food chopper to finely dice your onions. Much easier than cutting up the onion with a knife!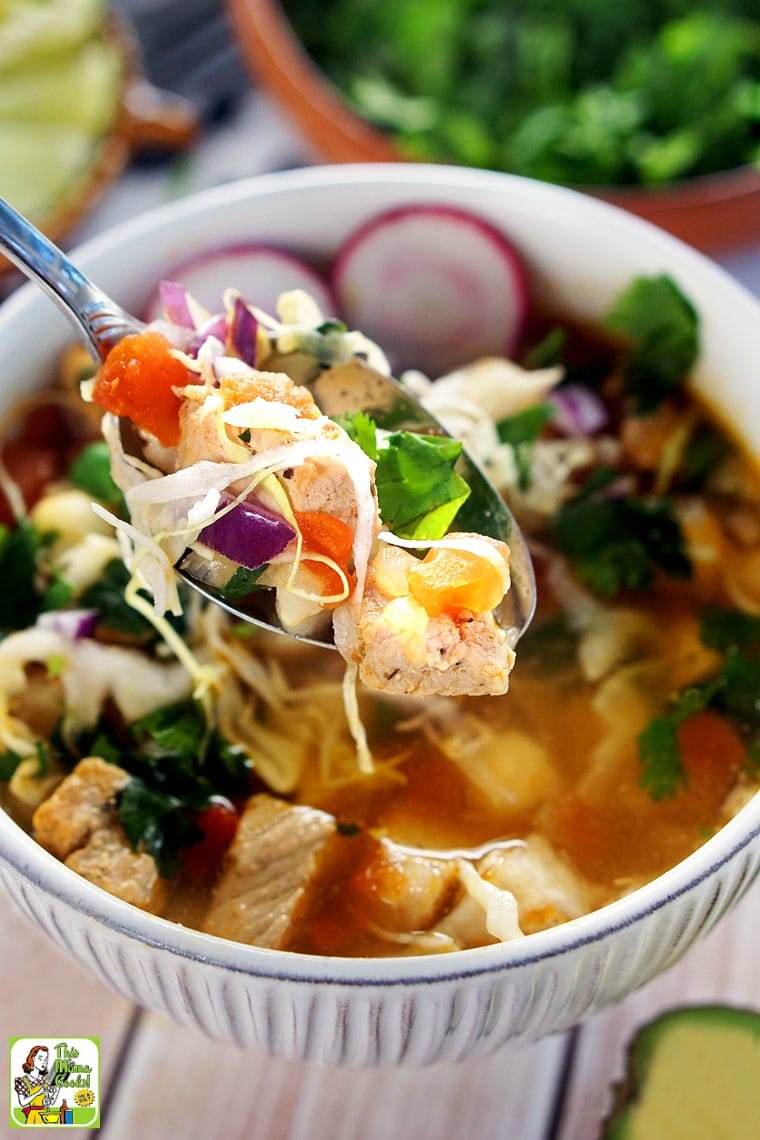 Tips for how to make pozole soup
Broth: If you're gluten free, make sure that the chicken broth and the seasoned pork loin you're purchasing are gluten free. Check the label carefully!
Can I use chicken? Sure! Sauté  two pounds of diced chicken breast in some homemade taco seasoning and a little olive oil. Works great and doesn't add much time to the cooking process.
What size cooking pot? You'll need a very large pot to make this pozole recipe. I used a 9-quart Dutch oven.
Jalapenos vs. chilis: My grocery store sells canned diced tomatoes with jalapenos and canned diced tomatoes with green chilis. I chose jalapenos because they're not quite as hot as regular green chilis. I'm a wimp.
Check out the Mexican/Hispanic section of your grocery store for ground chipotle and other spices. They're often cheaper than the spices you find in the baking aisle.
How to serve: Speaking of spicy, serve this quick pozole recipe with your favorite Mexican hot sauce to make it even hotter!
This pozole is hearty enough to be a meal on its own. If you need an extra little something, serve the pozole with tortilla chips and guacamole.
Check out these easy to make soups
If you like spicy soups, check out Spicy Kale Soup Recipe.
Do you love spicy soup? Check out this 30-Minute Pozole Recipe.
Prefer creamy soups? Try Easy Gluten Free Cream of Mushroom Soup Recipe or Instant Pot Potato Soup.
If you love vegetable soups, try Chicken Vegetable Soup or Instant Pot Vegetable Soup.
Quick & Easy Miso Soup with Rice & Vegetables and Easy Tomato & Okra Soup are super simple to make.
If you love seafood, try Easy Cioppino Seafood Stew Recipe or Easy Dairy Free Oyster Chowder.
Yield: 6 SERVINGS
30-Minute Pozole Recipe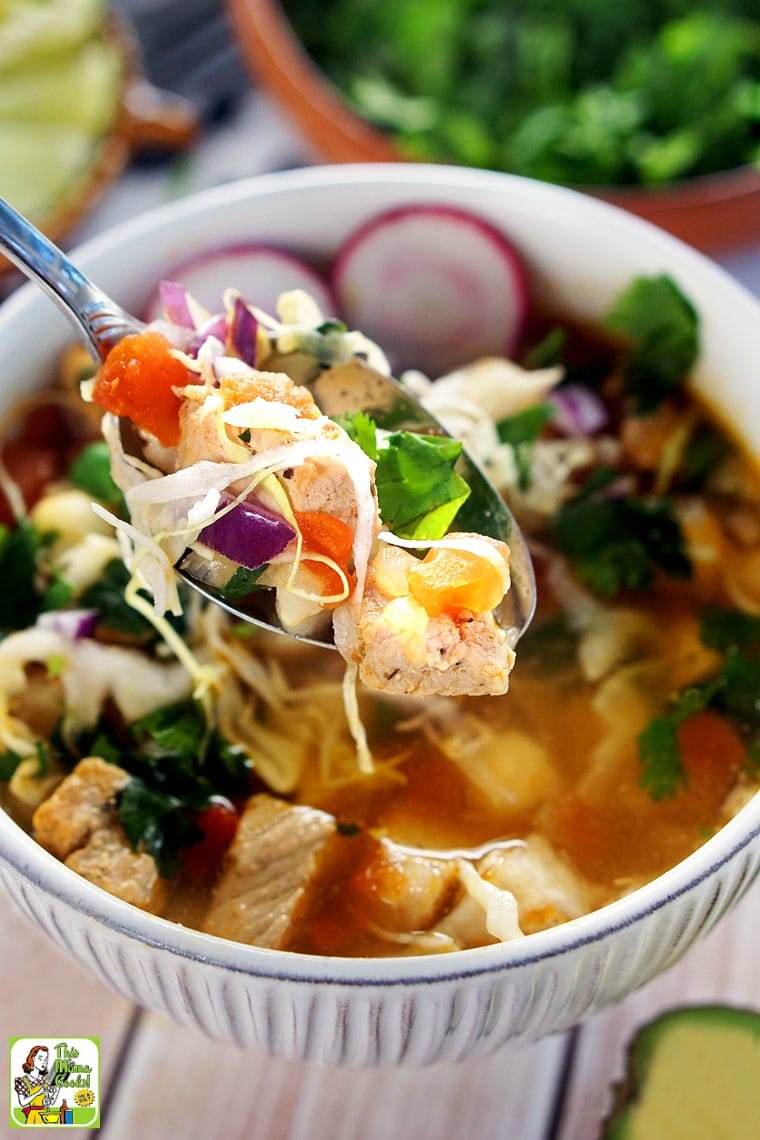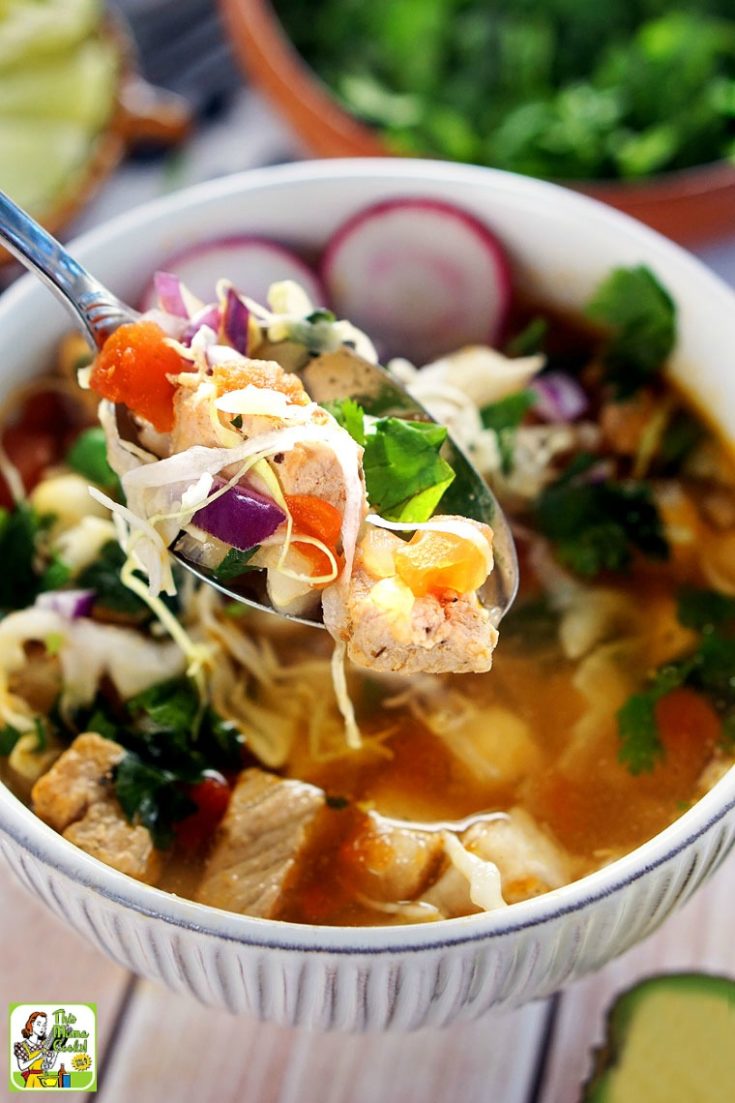 Want to know how to make a Mexican pozole in less than 30 minutes? This authentic pozole recipe combines pozole verde and pozole rojo.
Ingredients
1 tablespoon olive oil
1 2-pound package seasoned pork tenderloin
1 large onion, finely diced
1 1/2 teaspoons sea salt
1 teaspoon cumin
1 teaspoon ground coriander
1/2 teaspoon ground chipotle
1/2 teaspoon smoked paprika
2 32-ounce cartons gluten free chicken broth
4 15-ounce cans white hominy, drained and rinsed
1 14.5-ounce can diced tomatoes with jalapenos (do NOT drain)
Sliced radishes, chopped cilantro, diced red onions, shredded cabbage, diced avocado, and slices of lime for serving.
Instructions
Heat the olive oil in a large soup pot or Dutch oven over medium-high heat.
Add the pieces of bite-sized pork and stir so the pork doesn't stick to the pot. Cook until browned – about 5-7 minutes.
Remove pork from pan. Leave any liquid in the pan and add onions. Cook until onions turn to gold, about 5 minutes.
Add salt and spices and cook until fragrant, about 1 minute.
Add chicken broth, hominy, and diced tomatoes. Turn up the heat to high and bring pozole soup to a boil.
Add pork back to the pan. Lower heat and cover. Cook pozole soup for 10 minutes.
Ladle pozole soup into bowls. Serve at the table with bowls of chopped cilantro, diced red onions, shredded cabbage, diced avocado, and slices of lime for garnishing. Encourage everyone to add more garnishes as they eat their pozole!
Recommended Products
As an Amazon Associate Affiliate and member of other affiliate programs, I earn from qualifying purchases.
Nutrition Information:
Yield:
6
Serving Size:
1
Amount Per Serving:
Calories:

558
Total Fat:

17g
Saturated Fat:

4g
Trans Fat:

0g
Unsaturated Fat:

11g
Cholesterol:

117mg
Sodium:

2915mg
Carbohydrates:

54g
Fiber:

12g
Sugar:

11g
Protein:

48g
Nutritional information is automatically calculated per the ingredients list. Serving size may not be accurate. Please double-check with your preferred nutritional app for the most accurate information.
Originally posted on Jul 20, 2016. Updated with new information and pictures.