Last Updated on March 28, 2022 by Anne-Marie
An easy deviled eggs recipe made with blue cheese. It's the perfect party appetizer recipe for potlucks.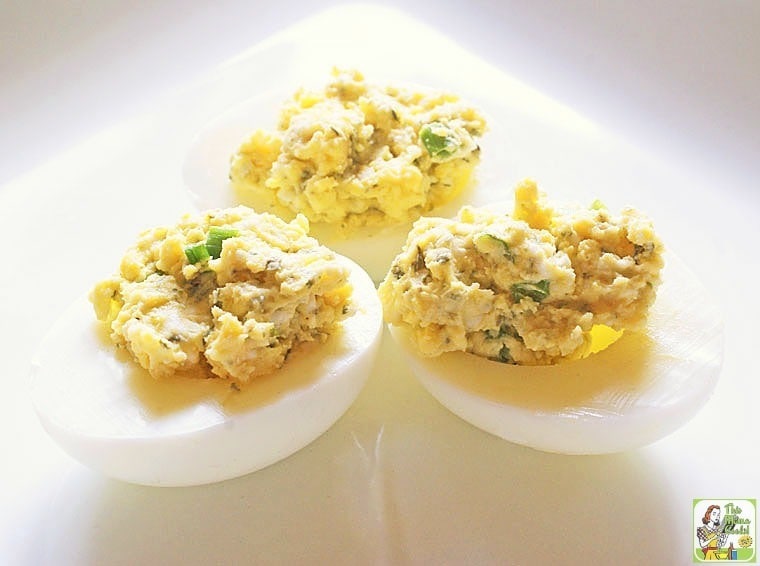 Why this recipe works
I love Easy Blue Cheese Deviled Eggs, but had to avoid them because blue cheese used to be a big no no for anyone who was gluten free.
But since a study was done back in 2009 by the Canadian Celiac Association, I now know blue cheese is now safe to eat again.
Thank goodness, because I now have no excuse to add blue cheese to a classic deviled egg recipe.
Why you should make Blue Cheese Deviled Eggs
Blue cheese deviled eggs are a quick and easy way to use up leftover hardboiled eggs at Easter.
They're also one of the best recipes for deviled eggs to serve to guests as a party appetizer or bring to potlucks.
Sure, these blue cheese deviled eggs are rich and decadent.
Yet I never manage to have more than a couple of these easy to make deviled egg appetizers at my parties.
They just disappear – whooooosh! Maybe that's a good thing.
You see, even though this deviled egg recipe is made with Kraft Mayonnaise with Olive Oil, which has half the fat and calories of regular mayonnaise and tastes great, these aren't exactly the leanest of appetizers.

Transporting easy deviled eggs
If you love taking this easy recipe for deviled eggs to potlucks, you should buy yourself a few Rubbermaid Egg Keepers.
They're very inexpensive on Amazon and easier than putting the deviled eggs on an egg platter or dish and covering them with plastic wrap.
Instead, bring the platter separately and then place the deviled eggs the egg dish or platter when you get to the party.
That way the blue cheese deviled eggs stay looking nice and don't get mashed in the car – or fall all over the seat or on to the floor mats!
Check out more easy deviled eggs recipes!
If you love spicy appetizers, check out these Wasabi Keto Deviled Eggs Recipe (Low Carb) or this low carb Sriracha Keto Deviled Eggs Recipe (Low Carb).
If you're looking for something more wholesome and healthy, try Avocado Deviled Eggs.
All of these simple and easy to make deviled egg recipes are perfect for picnics, potlucks, and retro Mad Men type parties!
Don't forget to bring the hot sauce for a touch of extra spiciness when serving any of these easy deviled eggs recipes!
How to cook perfect hard boiled eggs
I used to use a Norpro Egg Rite Egg Timer to make hard boiled eggs. These gadgets work great until you forget that you have eggs boiling on the stove – and end up with a melted egg timer and over cooked eggs!
After melting a couple of them, I developed a foolproof way to make hard boiled eggs.
Since most classic deviled egg recipes call for six eggs, I cook up a few more. Inevitably, a couple will get cracked, will be hard to peel, or will end up getting torn.
1. Put 8 or 9 eggs in a medium sized pot and cover with cold water.
2. Place pot on stove over high heat and bring to a boil.
3. Turn off heat. Keep the pan on the stove top and cover.
If your stove top doesn't retain heat when turned off, then lower the temp to low, simmer for a minute, and then turn it off.
4. Let eggs cook in the hot water for 12 minutes.
5. Bring pot over to sink, uncover and rinse eggs under cold water until they are cool enough to handle.
6. Peel then eggs when they're still warm to the touch. They'll peel easier than when they're cold.
7. Rinse any shell pieces or membranes off of eggs, cut in half with a sharp knife, remove yolks, and prepare eggs as directed.
If you're not using the eggs right away, refrigerate them for later.
If you have an instant pot, use this Perfect Instant Pot Hard Boiled Eggs to perfectly hard boil your eggs every time.
If you have extra hard boiled eggs, save them for a salad or make a quick egg salad sandwich!
Yield: 12 SERVINGS
Easy Blue Cheese Deviled Eggs Recipe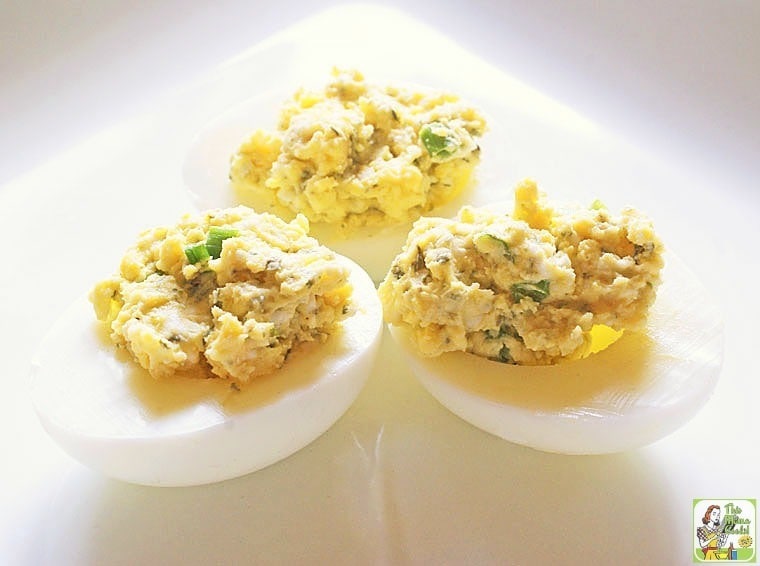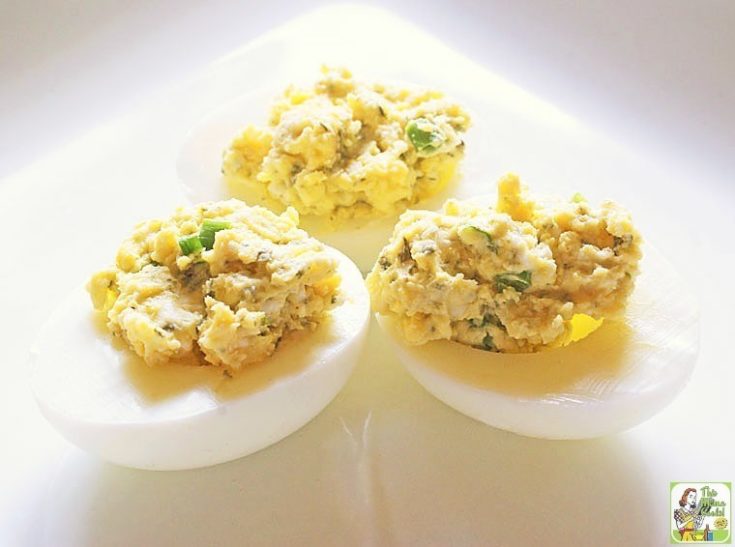 An easy deviled eggs recipe made with blue cheese. It's the perfect party appetizer recipe for potlucks.
Ingredients
6 hard-boiled eggs, peeled
1/4 cup crumbled blue cheese – try a Blue Stilton or a Maytag Blue
2 tablespoons Kraft Mayonnaise with Olive Oil
1 tablespoon fresh parsley
5-10 drops Mexican hot sauce
1 tablespoon minced green onion
Sea salt and ground pepper to taste
1 teaspoon smoked paprika
Instructions
Cut peeled eggs in half lengthwise.
Place yolks in a mixing bowl set the whites aside.
Mash the yolks with the back of a fork and add blue cheese, mayonnaise, parsley, Mexican hot sauce, green onion, sea salt, and ground pepper. Mix well.
Spoon or pipe the filling back into the egg white and sprinkle tops with smoked paprika.
Cover and refrigerate at least one hour before serving.
Nutrition Information:
Yield:
12
Serving Size:
1 egg
Amount Per Serving:
Calories:

68
Total Fat:

5g
Saturated Fat:

2g
Trans Fat:

0g
Unsaturated Fat:

3g
Cholesterol:

98mg
Sodium:

262mg
Carbohydrates:

1g
Fiber:

0g
Sugar:

0g
Protein:

4g
Nutritional information is automatically calculated per the ingredients list. Serving size may not be accurate. Please double-check with your preferred nutritional app for the most accurate information.
Originally published September 26, 2010 and March 24, 2016. Updated with new pictures and information.