Last Updated on October 5, 2021 by Anne-Marie
Seafood risotto is an easy-to-make weeknight dinner. This seafood risotto recipe is dairy free and gluten free.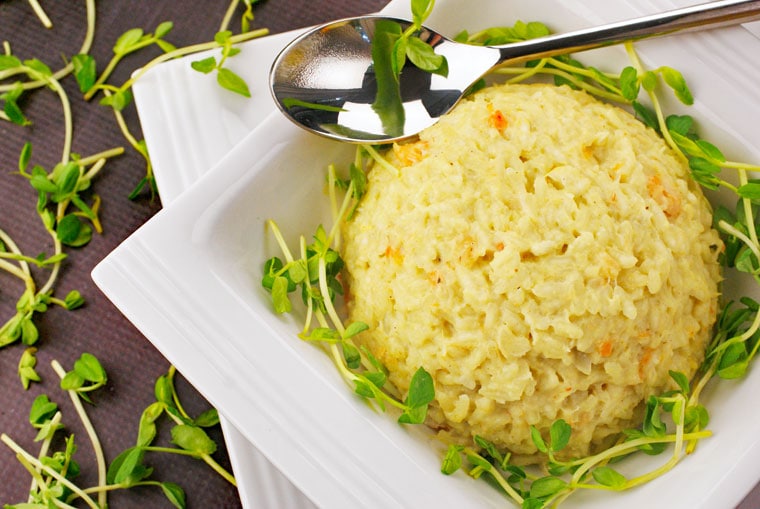 Why this recipe works
You'll love this creamy take on seafood risotto. Especially if you avoid risotto because it's full of butter and Parmesan cheese.
That's because this wonderful risotto recipe is dairy free without losing the creamy texture and flavor.
Best of all, this delicious seafood risotto recipe is easy to make!
What is risotto?
Risotto is a traditional Italian dish made with short-grain white rice like Arborio.
You can make risotto as a side dish or a main course.
Or you can use chorizo sausage or make a vegetarian Wild Mushroom Risotto recipe.
How to make a quick seafood risotto
Risotto is one of my most favorite foods.
But I didn't like to make it since it involved much standing at the stove and stirring!
Then I learned a pro trick. Keep the broth hot in a pan on the stove that you'll be adding to the rice.
Hot broth makes cooking the risotto much quicker and easier.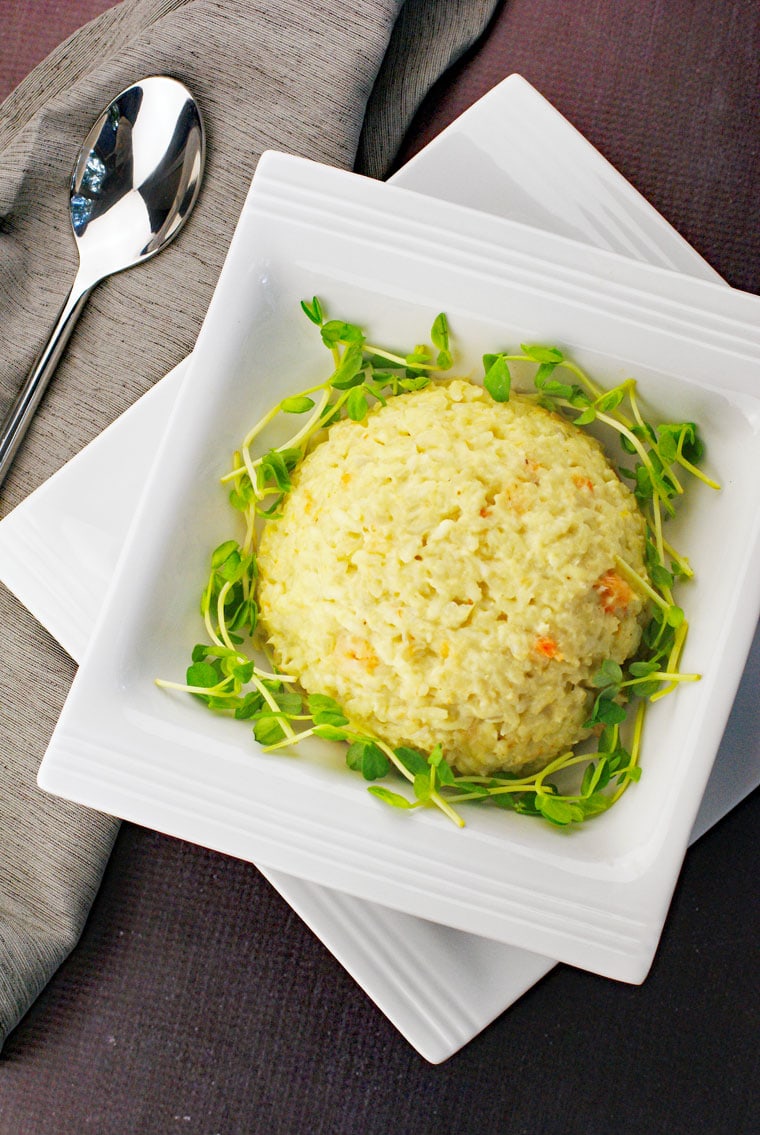 How to properly cook risotto
Besides using hot broth (and coconut milk), there are other tricks to making seafood risotto.
When the risotto absorbs all the liquid, add another ladle of broth. Stir constantly so the risotto is cooked perfectly.
Stirring also prevents the rice from burning or sticking to the bottom of the risotto pot.
You know the risotto is done when it's tender yet firm to the bite. It shouldn't be soft in the center.
Making a dairy free risotto
The secret to making a dairy free risotto is using a dairy free buttery spread.
A vegan butter substitute like Earth Balance works just as well as unsalted butter. And tastes as good.
I cook the onion, shallots, seasonings, and rice in the buttery spread. There's no need for any extra virgin olive oil.
What about the cheese?
Well, you could try a vegan substitute for the freshly grated Parmigiano Reggiano or Parmesan cheese. Those vegan cheese substitutes don't melt well.
Use (unflavored and unsweetened) coconut milk!
Normally, this style risotto uses eight cups of stock.
I decided that half of that would be the coconut milk, which ended up working out perfectly.
It was creamy enough that I didn't miss the cheese at all.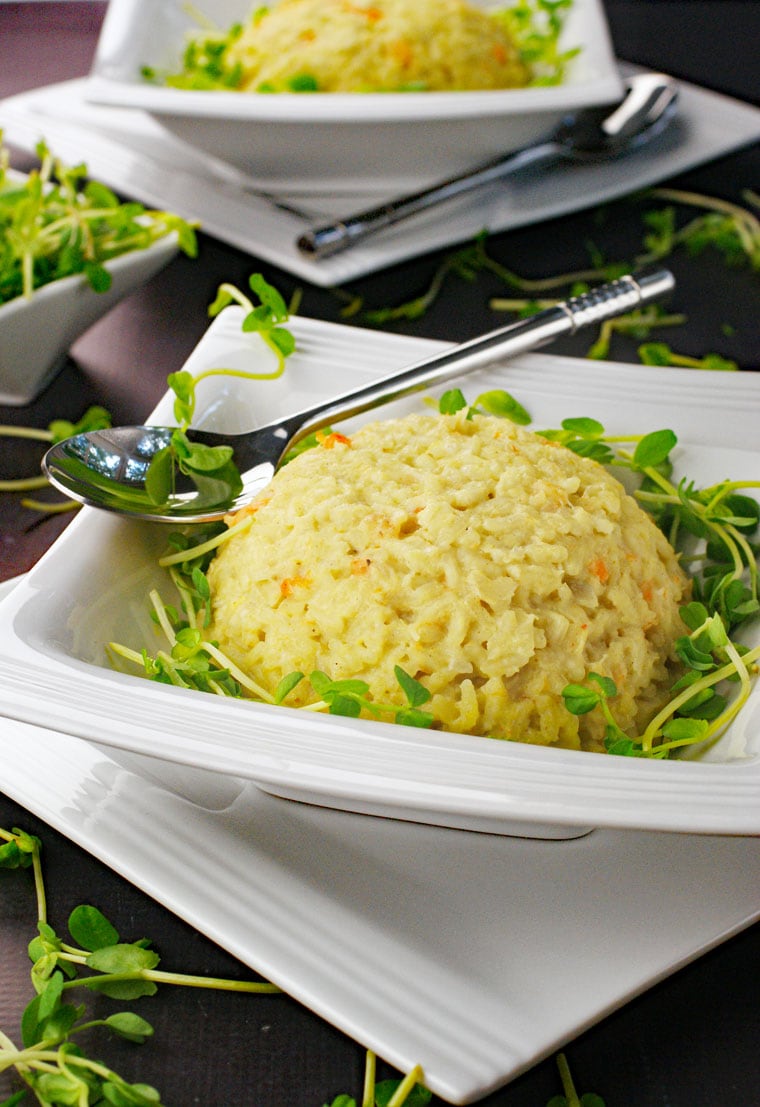 What kind of stock?
I keep it easy and use vegetable stock. Chicken stock is also a good option.
If you're gluten free, make sure to use a stock that's certified as gluten free.
If you wish the risotto rice to have a deeper seafood flavor you can use fish stock, seafood stock, or shrimp stock. But these are hard to find at many grocery stores.
Most people I know make their own seafood stock from fresh seafood or fish, fish bones or leftover lobster shells, and shrimp shells.
What kind of seafood?
I tried to make this risotto recipe as simple as possible by using canned seafood.
Just make sure to press all the liquid out of the canned crab so you don't make the risotto watery.
I find canned seafood very convenient and economical, especially if your grocery store doesn't have good frozen seafood section with clams or shrimp.
You also have the option of using your favorite seafood in this risotto.
You can use fresh seafood or frozen seafood such as:
lobster tail
bay scallops (or large scallops)
littleneck clams
fresh crab meat
cooked shrimp
Just chop up any large pieces of seafood into smaller bite-sized pieces.
Also, make sure that any frozen seafood is defrosted so it doesn't slow down the cooking process.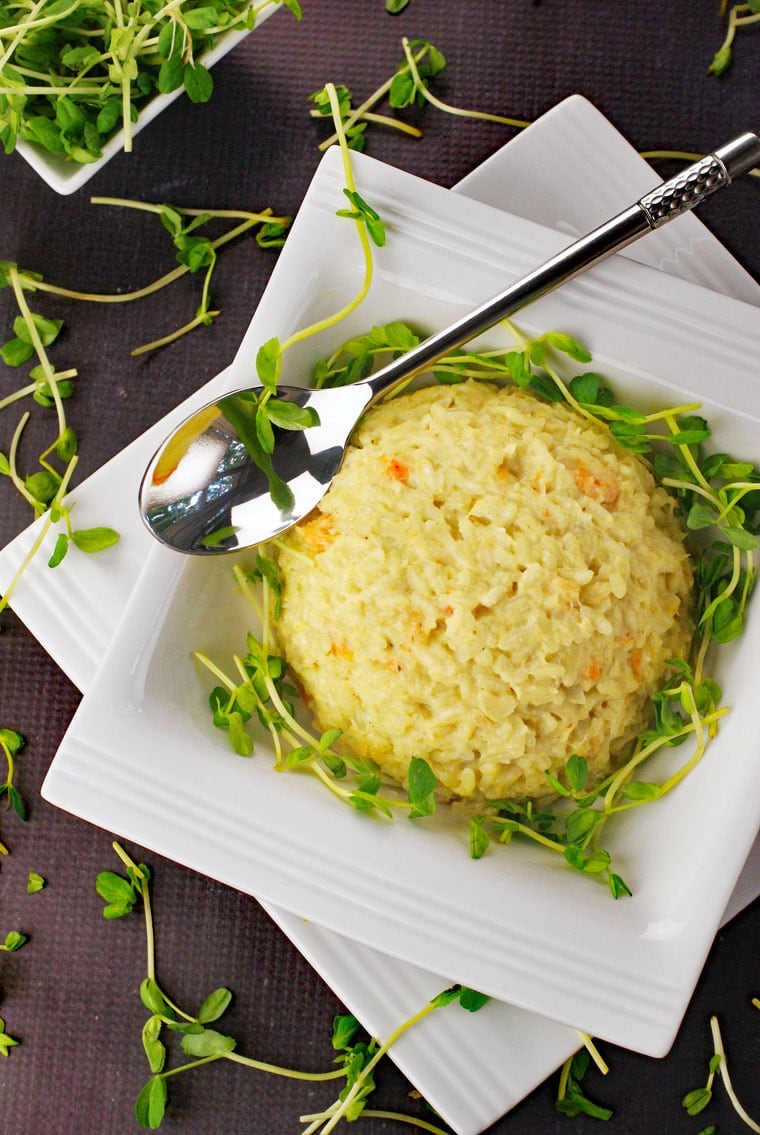 More tips for making seafood risotto
White Wine: Yes, you can add dry white wine to this recipe. Use 3 1/2 cups vegetable broth with 1/2 cup dry white wine.
Pinot Grigio or chardonnay are both good choices.
Lemongrass: Can't find lemongrass at your store? Look for Gourmet Garden tubes in the fresh herb aisle.
Another option would be to use a 1/2 tablespoon of fresh lemon juice.
Garnish: If your grocery store doesn't have pea shoots, substitute fresh parsley, fresh dill, or some pretty baby lettuce leaves as a garnish.
Seasonings: alternatives include:
freshly ground black pepper
saffron threads or a pinch of saffron
chopped flat-leaf parsley
Italian parsley
a pinch of pepper flakes
More tasty rice recipes
● Make this Instant Pot Chicken and Rice Recipe as a quick weeknight dinner.
● Vegan Rice Stuffing Recipe with Cranberries, Squash & Dates is a terrific alternative stuffing recipe for the holidays.
● This Easy Mexican Rice Recipe can be made in 10 minutes with instant rice for tacos or Carne Asada.
Yield: 6 SERVINGS
Seafood Risotto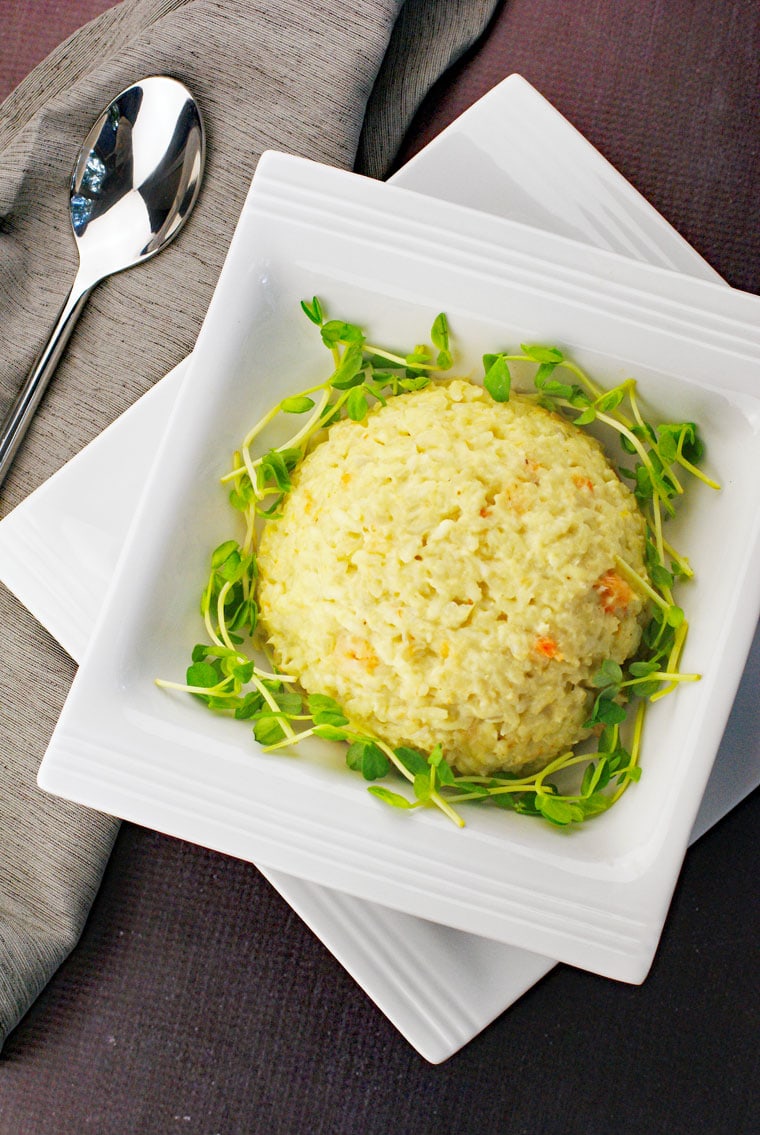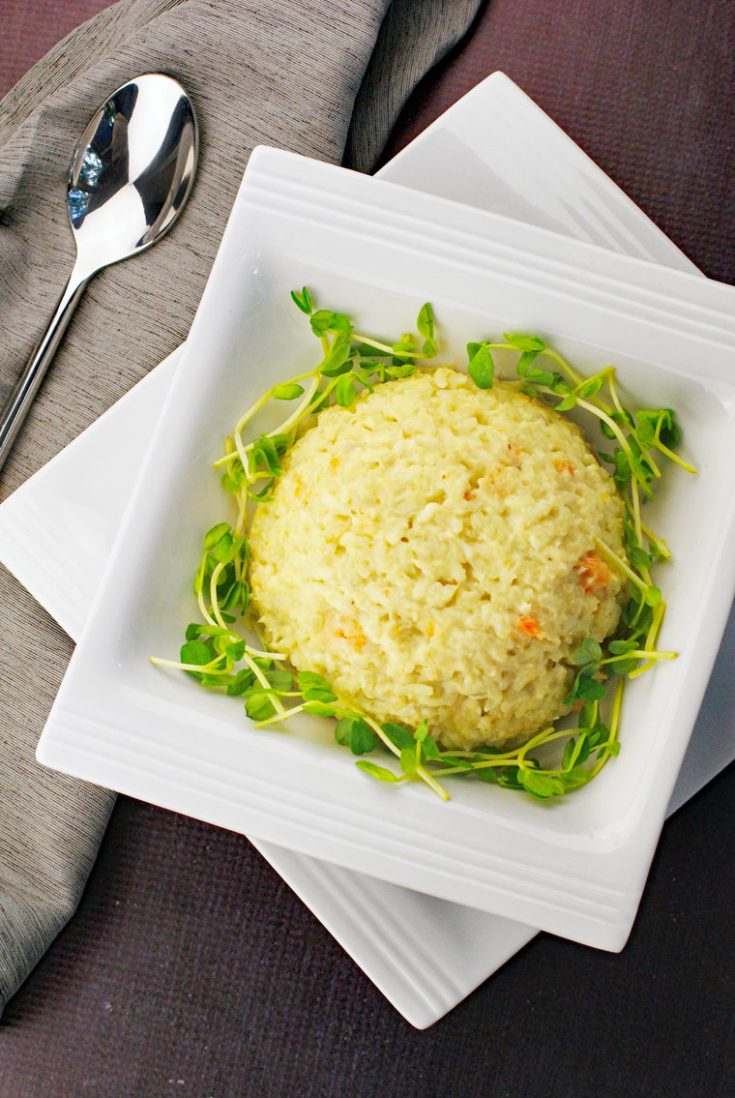 Seafood risotto is an easy-to-make weeknight dinner. This seafood risotto recipe is dairy free and gluten free.
Ingredients
4 cups vegetable broth
4 cups unflavored coconut milk
2 1/2 tablespoons dairy free buttery spread
1 tablespoon finely chopped shallot
1 red onion, finely chopped
1/2 teaspoon curry powder
1/2 tablespoon finely chopped lemongrass
16 ounces Arborio rice
2 6-ounce cans white crab meat, drained
1 4-ounce can tiny shrimp, drained
salt, to taste
white pepper, to taste
pea shoots or fresh parsley, for garnish
Instructions
Heat vegetable broth and coconut milk in separate saucepans over medium heat until liquids begin to simmer. Lower heat, but keep liquid at just below the simmer stage.
Melt buttery spread in a large risotto pot over medium heat. Add onion, shallots, curry, and lemongrass. Stir to combine. Cook until onion is soft – about 3 to 5 minutes.
Add rice and stir. Cook for another 3 to 5 minutes until rice is hot and seems too dry.
Add 2 ladles of vegetable broth and 2 ladles of coconut milk. Stir until liquid is absorbed.
Add 1 ladle of vegetable broth and 1 ladle of coconut milk. Keep stirring until the liquid is absorbed.
Repeat the process until all liquid is used up and rice is tender and creamy.
Turn heat to low. Add crab and shrimp. Stir to combine.
Add salt and pepper to taste. Serve in bowls with garnish.
Recommended Products
As an Amazon Associate Affiliate and member of other affiliate programs, I earn from qualifying purchases.
Nutrition Information:
Yield:
6
Serving Size:
1
Amount Per Serving:
Calories:

540
Total Fat:

37g
Saturated Fat:

30g
Trans Fat:

0g
Unsaturated Fat:

5g
Cholesterol:

95mg
Sodium:

1003mg
Carbohydrates:

34g
Fiber:

2g
Sugar:

3g
Protein:

21g
Nutritional information is automatically calculated per the ingredients list. Serving size may not be accurate. Please double-check with your preferred nutritional app for the most accurate information.