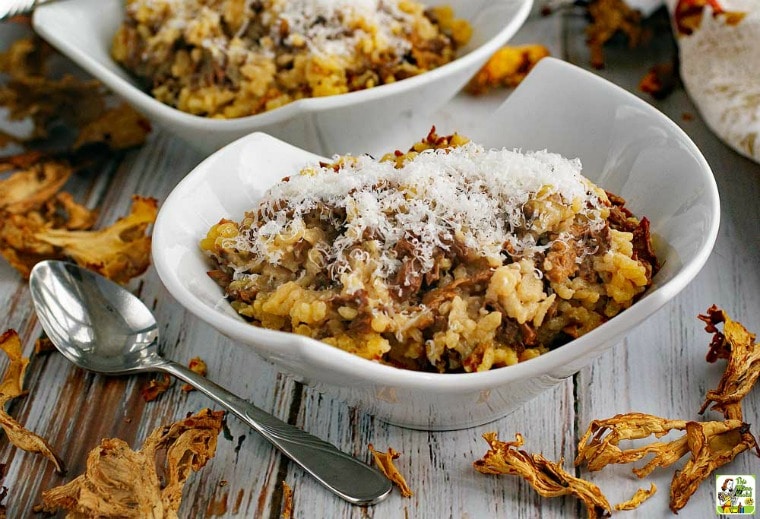 Searching for easy risotto recipes? Then you'll love this Wild Mushroom Risotto dish. This delicious and elegant recipe is as good as anything you'd get in a restaurant.
Best of all, this easy risotto dish doesn't take forever to make. Normally I hate making risotto because you have to stand at a hot stove and stir constantly. Instead, this dish only has to be stirred occasionally and can be made in about 30 minutes.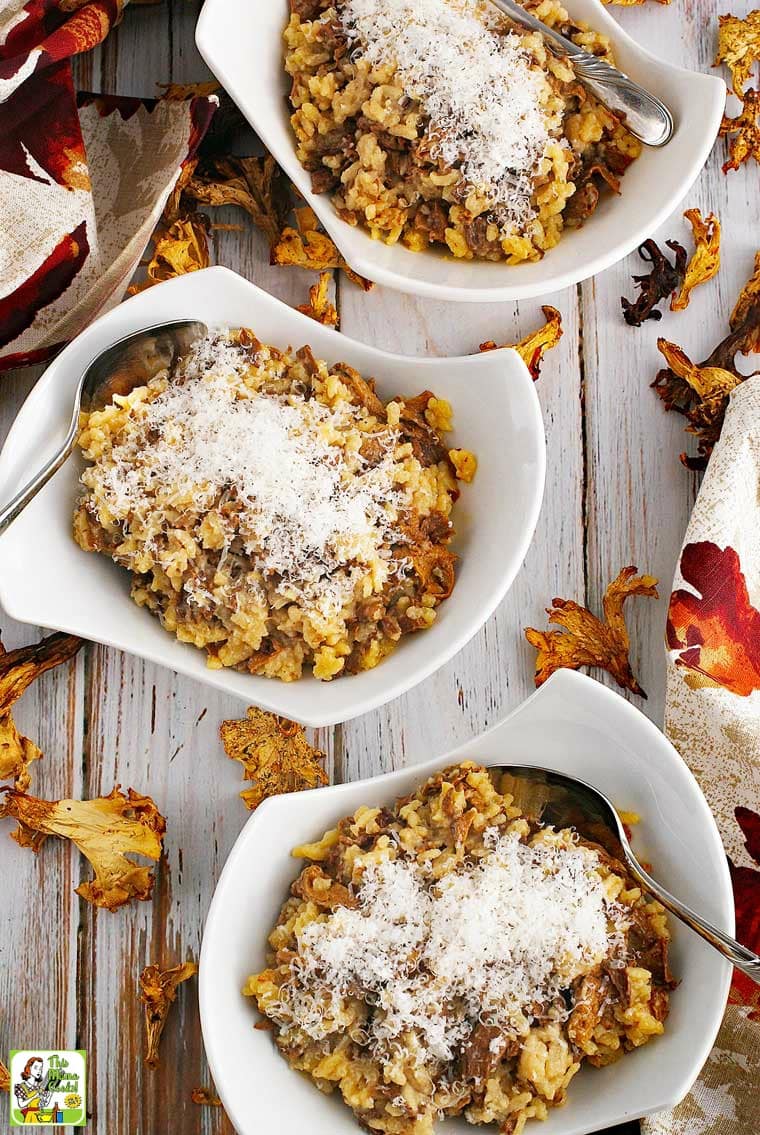 Tips to making easy risotto
The first secret to making a delicious easy risotto recipe is obviously the mushrooms you choose. Feel free to use a variety of fresh or dried mushrooms depending on your budget, what's available at your store or farmer's market, or your personal tastes.
For my wild mushroom risotto, I used some of the chanterelles we've harvested in our woods and dried. You can find dried chanterelle mushrooms online.
Since I used dried mushrooms, I had to reconstitute them. I measured out about 1 1/2 cups dried mushrooms for every 1 cup of fresh mushrooms the recipe called, or 6 cups total. I put the dried mushrooms in a bowl and covered them with boiling water.
I let the mushrooms soak for 20 minutes until they were soft. I then drained the mushrooms and saved the water to use in the recipe.
I used 3 1/2 cups of the "mushroom water" and 3 1/2 cups water. If you are using dried mushrooms and have less "mushroom water," just make sure your final water amount equals 7 cups.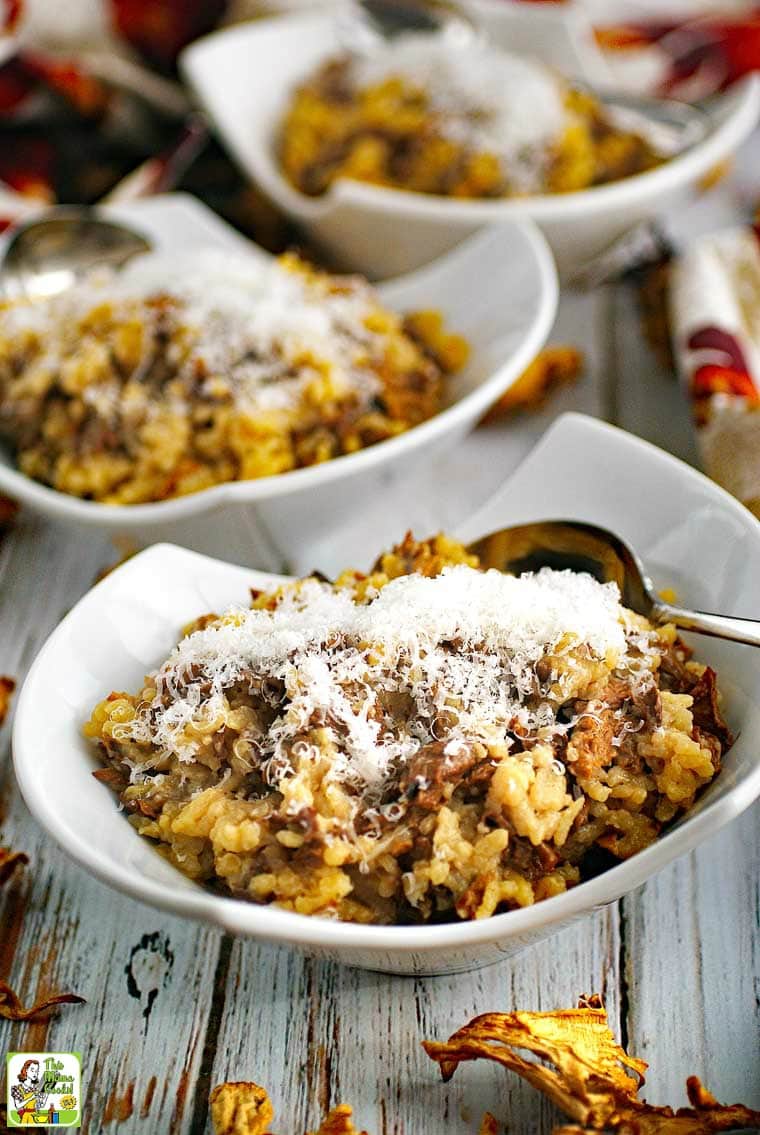 Making your easy risotto recipe gluten free
The second trick to making Wild Mushroom Risotto super easy and gluten free is using Massel Bouillon Cubes to make a quick stock.
I ADORE Massel Bouillon products, especially the Massel Bouillon & Seasoning Granules. Not only can you use them to make a quick batch of cooking stocks, but you can use them to deliciously season soups, stews and vegetable sautés.
To make this easy risotto recipe vegetarian, use Massel Vegetable Bouillon & Seasoning Granules.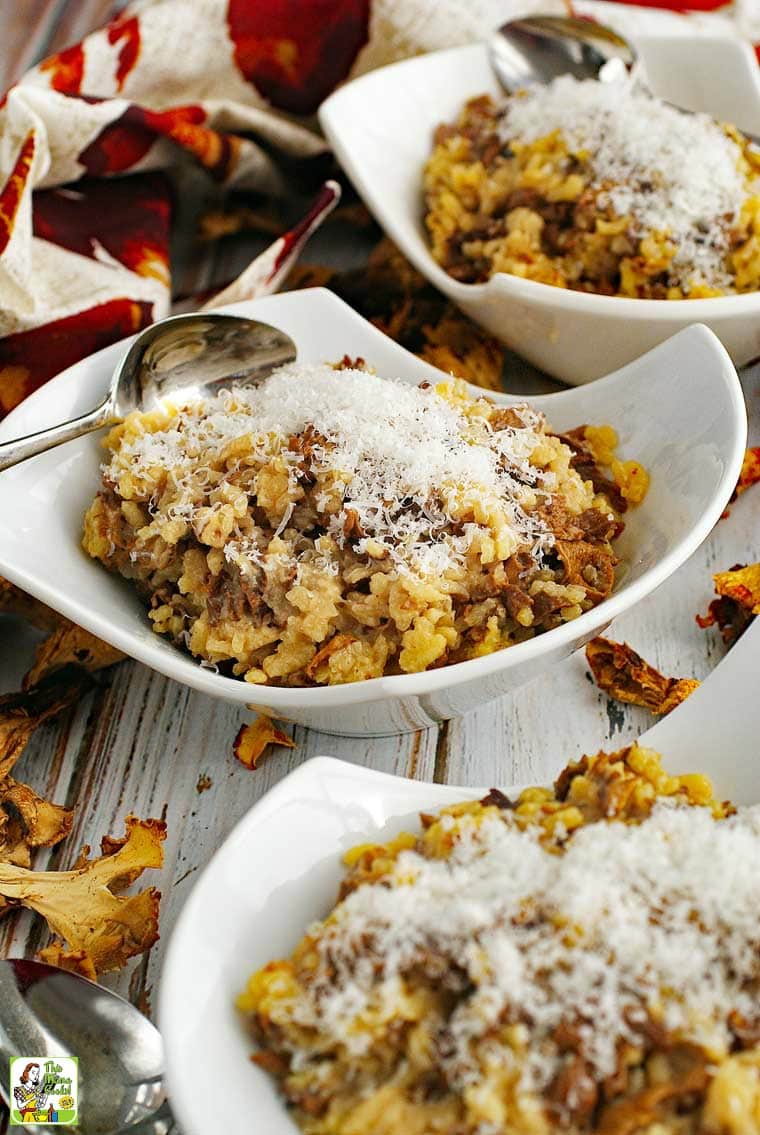 If you're dairy free, use a vegan buttery spread instead of butter and leave out the Parmesan Reggiano cheese.
If you are using cheese, make sure to grate it with a zester-style grater, so you can get that light dusting of cheese that will deliciously melt into your risotto. YUM!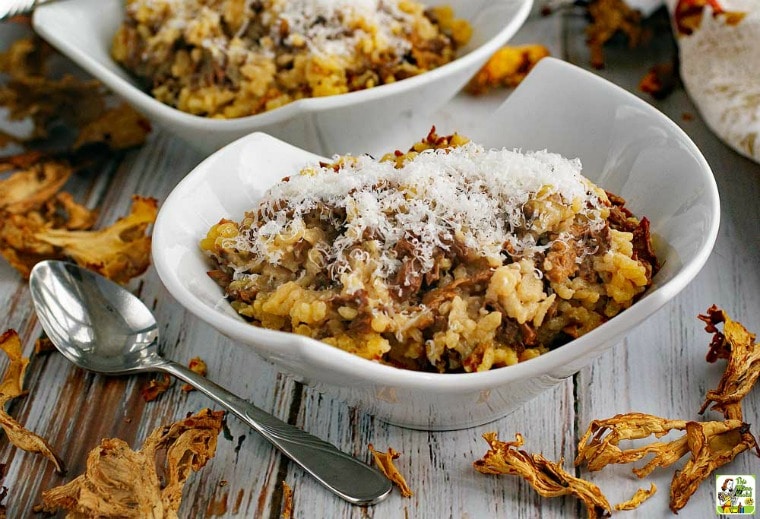 Ingredients
2 tablespoons

extra virgin olive oil

4 cups

mushrooms, cleaned and sliced

2

garlic cloves, minced

2 cups

arborio rice

7 cups

water

4 tablespoons

Parmesan Reggiano cheese, grated plus additional grated cheese for serving

2 teaspoons

buttery spread or butter

2 tablespoons

fresh parsley, chopped (or 2 teaspoons dried parsley flakes)
Directions
Heat oil in a large pot on medium high heat.
Add the sliced mushrooms and garlic to pot. Sauté until mushrooms are tender and juices have evaporated.
Add the rice, water and Massel Bouillon Cubes, mixing well. Bring to a simmer.
Reduce heat. Stir occasionally for 20 minutes or until rice has absorbed most of the water, is cooked through and creamy.
Remove pot from heat. Add Parmesan Reggiano cheese, buttery spread, and chopped parsley, mixing well.
Let stand for 5 minutes before serving.
Serve with grated cheese on the side so everyone can garnish their own bowls.
Serving size:

1/4 to 1/6 of recipe
Originally posted on January 31, 2014. Updated with new pictures and information.