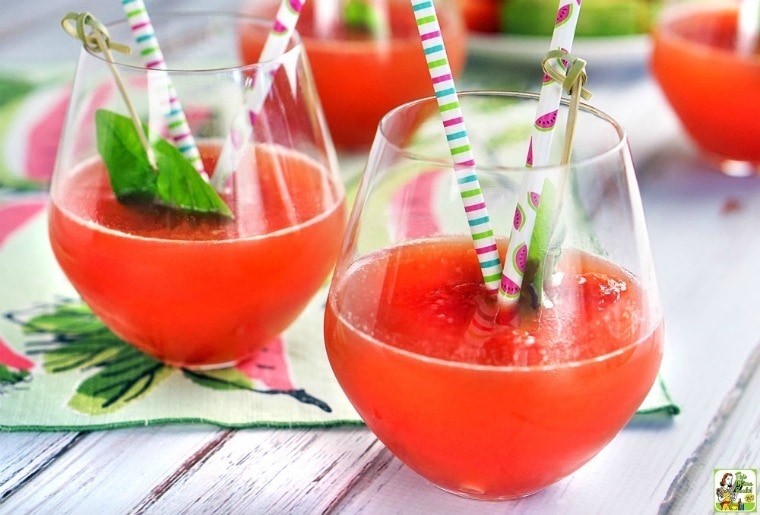 Wanting to make fresh watermelon cocktails for summer, I thought back to a trip my husband and I made to Savannah, Georgia. After a long day of touring the historic district, we'd arrive early to the restaurant to have a cocktail at the bar, relax, and people watch.
One of the popular St. Germain liqueur cocktail recipes I tried was a French 77, a vodka cocktail made with sparkling wine and St. Germain, a French elderflower liqueur. It was among my favorite vodka summer cocktails that year.
Now that summer is here, I wanted to recreate that vodka summer cocktail, but with a Georgia watermelon twist. Thus this refreshing vodka watermelon cocktail was born!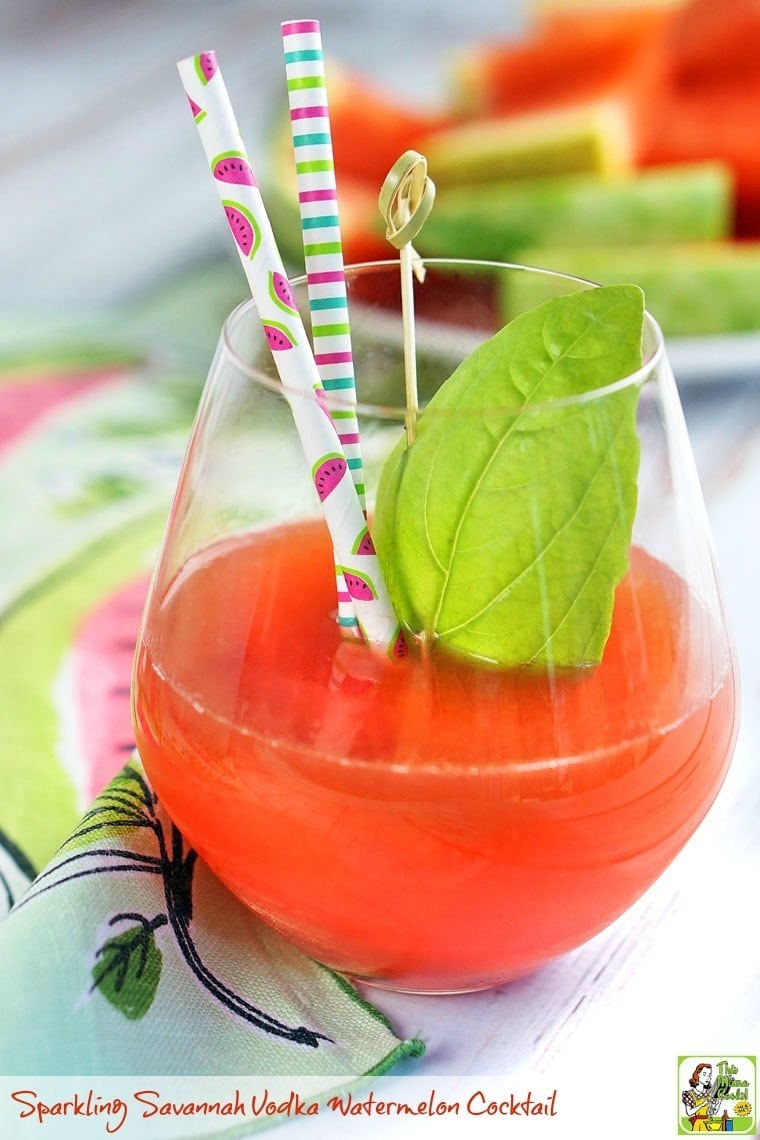 A vodka watermelon cocktail for warm summer evenings
Watermelon has a high water content, so it's the ideal fruit juice for making vodka based cocktail recipes. However, when you purée the fruit, it's filled with pulp. The pulp makes your cocktail cloudy and it sticks to the side of the glass. Not pretty and a pain to clean!
So when making fresh watermelon cocktails, you'll need to strain the watermelon juice through a fine mesh strainer several times. (Save the pulp for smoothies or to mix in with your morning yogurt.)
Cuisinart Set of 3 Fine Mesh Stainless Steel Strainers
One watermelon will give you around two gallons of juice for your watermelon vodka cocktail recipes. Since you only need 4 ounces per fresh watermelon cocktail recipe, don't puree the entire melon. Instead, use a quarter of the watermelon to make fresh watermelon cocktail recipes.
The rest of the watermelon can be used in a Asian Citrus Watermelon Salad. Keep the rinds to make Spicy Watermelon Rind Pickles.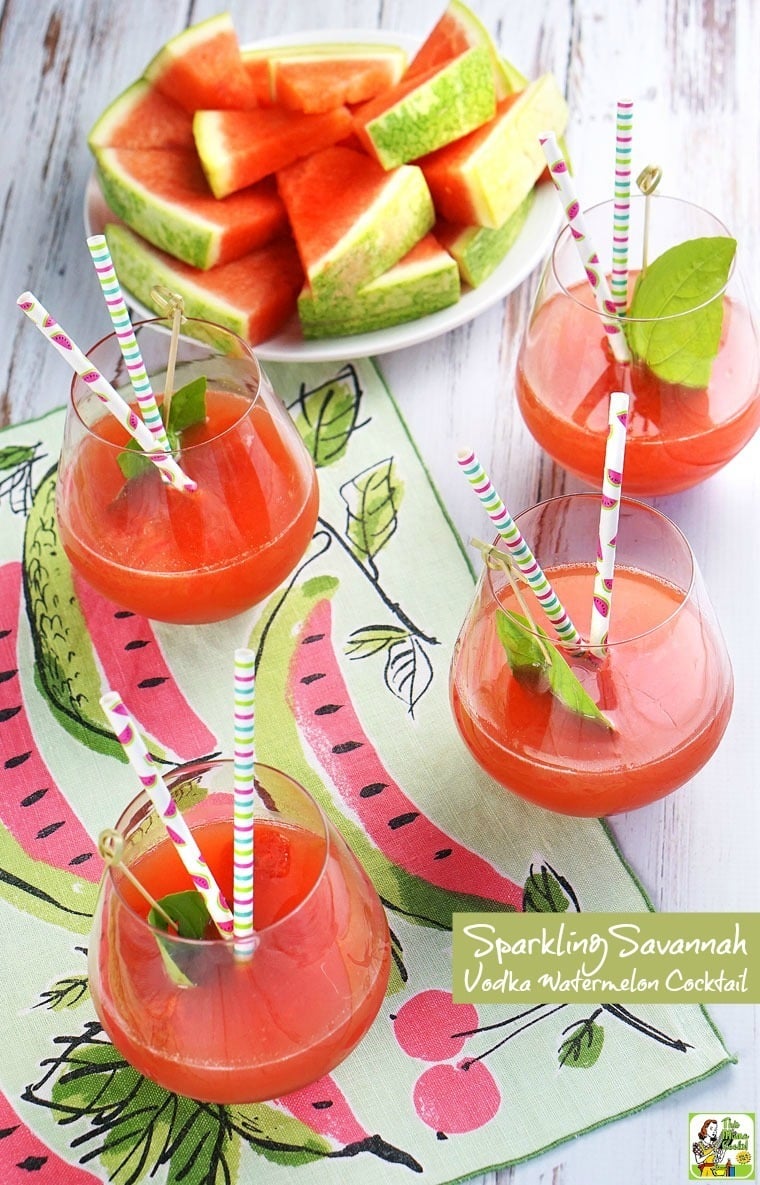 This Mama's tips to make the ideal Sparkling Savannah Vodka Watermelon Cocktail
I wanted to keep my Sparkling Savannah Vodka Watermelon cocktail cold for sipping this summer without adding ice, which would only dilute it. Inspired, I created a batch of frozen watermelon balls to add to glasses to keep this vodka watermelon cocktail recipe cold.
Using a melon baller, scoop out balls of watermelon then freeze. Using chilled ingredients and placing your glasses in the freezer for 30 minutes before making drinks, will help, too!
I made my Sparkling Savannah Vodka Watermelon Cocktails with vino frizzante, which is a gently sparkling Italian white wine. You can use a non-fizzy white wine if you wish, in this vodka watermelon cocktail recipe. Or experiment and use your favorite sparkling wine such as a vino spumante. Totally up to you!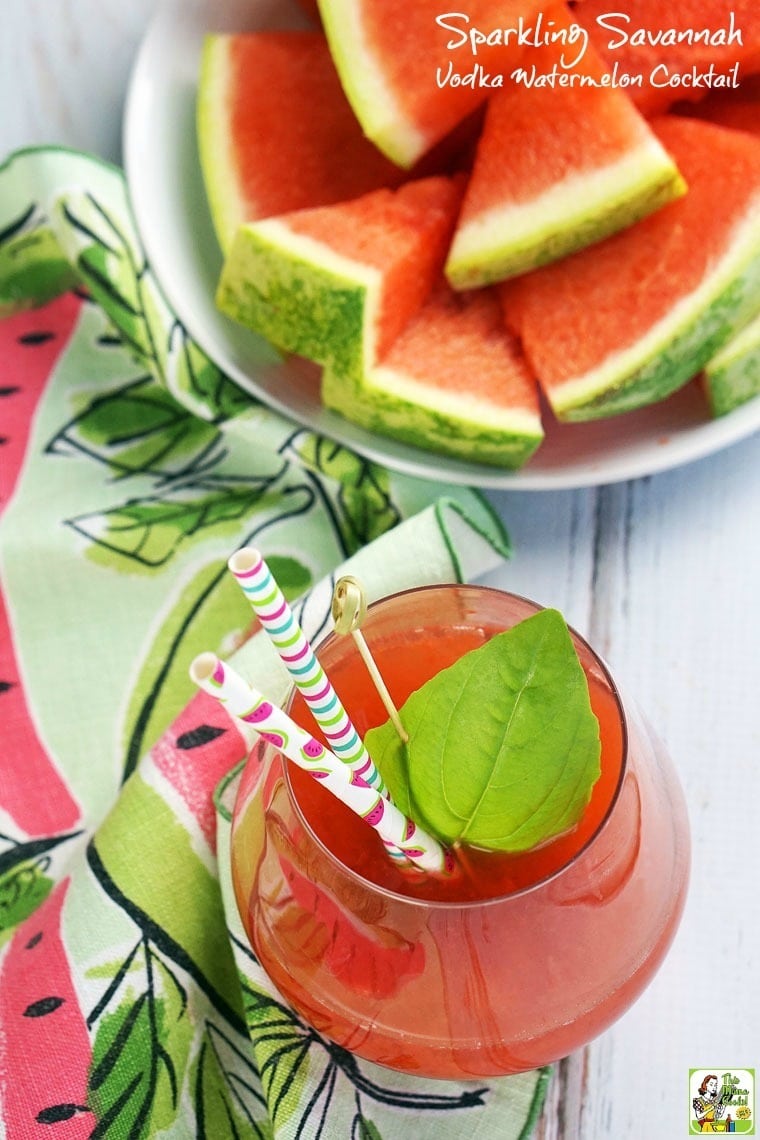 Do you love using colorful straws in your watermelon cocktail drinks? This Sparking Savannah Vodka Watermelon Cocktail is the perfect drink for sipping through a straw, so use one – or two!
Enjoy fresh watermelon cocktails? Then you'll have to try my The Georgia Fruit Stand Cocktail–a watermelon drink with peach whiskey & lime, too!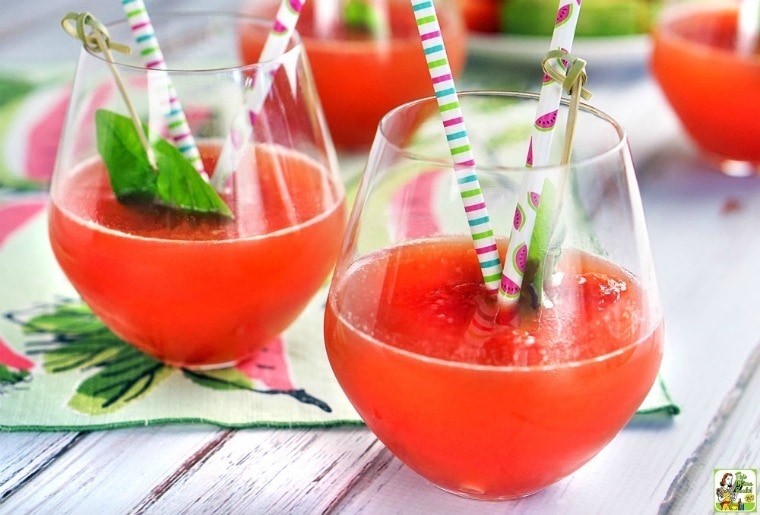 Sparkling Savannah Watermelon Cocktail
Ingredients
1

Georgia watermelon to make juice and frozen watermelon balls

4 ounces

fresh watermelon juice

2 ounces

sparkling wine

1 ounce

vodka

1 tablespoon

St. Germain elderflower liqueur

1 teaspoon

lemon juice

1

basil leaf for garnish
Directions
To make watermelon juice:
Puree half a watermelon in a blender or a food processor until liquefied.
Pour watermelon juice through a fine mesh strainer several times to catch seeds or pulp.
To make frozen watermelon balls:
Line a baking sheet with parchment paper or a silicone baking mat.
Using a melon baller, scoop out balls of watermelon. Arrange the melon balls on the baking sheet and place in the freezer.
Freeze the watermelon balls for a few hours. Store frozen watermelon balls in a zip lock baggie in the freezer until it's cocktail time!
To make the Sparkling Savannah Watermelon Cocktail:
Place 4-6 frozen watermelon balls in a glass.
Add lemon juice, St. Germain, vodka, sparkling white wine, and watermelon juice. Stir.
Garnish with basil leave. Serve
Servings
:
Makes one 8 ounce cocktail
Serving size:

1 (8 ounce) cocktail
Originally posted on July 27, 2016. Updated with new pictures and information.