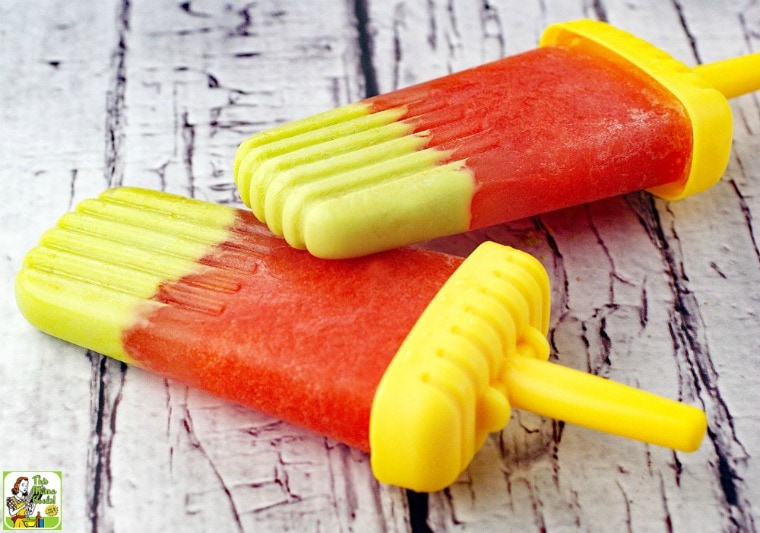 You have to try this Avocado & Watermelon Ice Pops recipe, once the weather warms up.
It's a more wholesome alternative to the sugary ice pops you find at the store.
Plus, I really can't think of anything more fun than making easy freezer pop recipes with your kids during the summer.
Why it's so easy to make homemade watermelon ice pops
It's so easy to make these avocado and watermelon ice pops now that there are so many ice pops molds on the market now.
I especially like Tovolo groovy ice pop molds and other ice pops molds that Tovolo sells.
I've had my Tovolo ice pop molds since 2008 and use them every summer. They're holding up great!
Once you've made the initial investment, you'll want to make fruit ice pops all the time.
You can also make healthy ice pops using yogurt, herbal tea, various milks, and sweetening them with stevia, Swerve, or powdered monk fruit sweetener.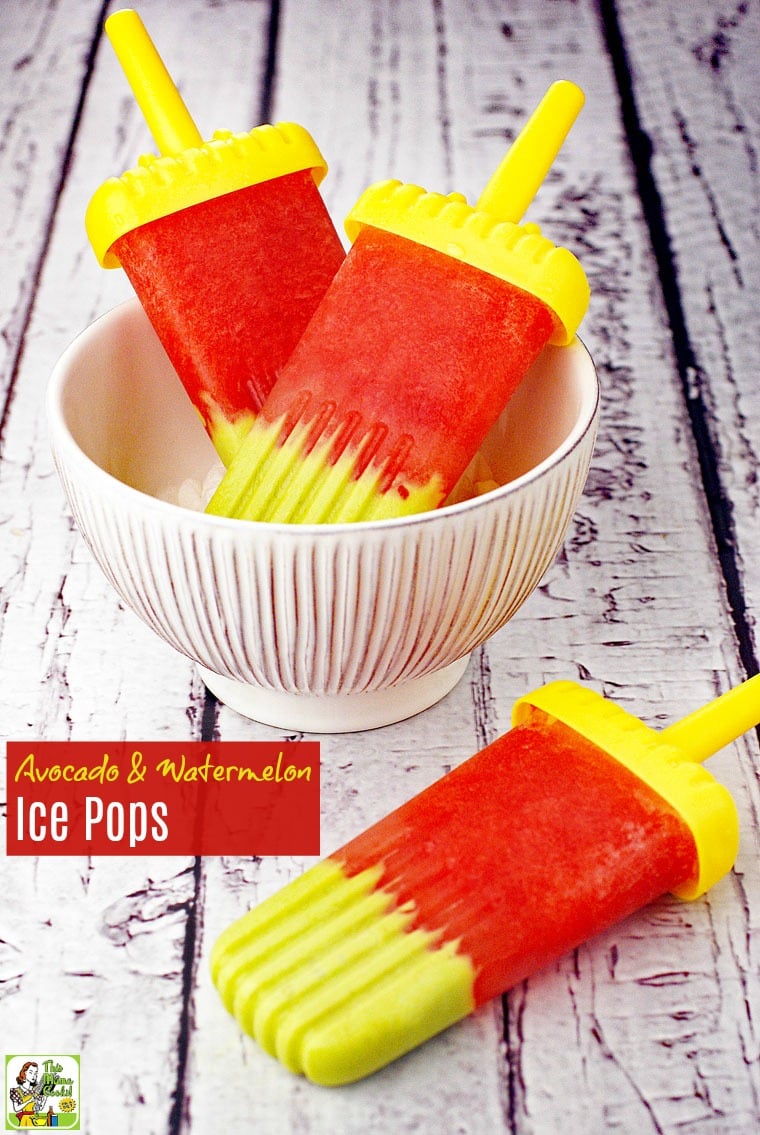 Make fruit ice pops with avocados and coconut milk
Have you ever tried making ice pops with avocado? Some Mexican ice pops recipes use avocado.
For example, avocado ice pops (Paletas de Aguacate) are very popular in Mexico.
Usually, puréed avocados are combined with sugar, lime juice, and a little salt and then frozen into paletas – or ice pops.
I went one step further with my Avocado & Watermelon Ice Pops and made them even creamier and dairy free by using canned coconut cream.
You can used coconut milk from a carton or canned lite coconut milk if you want to cut back on the calories. Your coconut ice pop won't be as creamy, but instead will be more ice like.
For color, I added a layer of pure watermelon – no additional sweetener necessary!
My kids LOVED these Avocado & Watermelon Ice Pops. Both enjoyed the creaminess of the avocado and coconut combination and they loved the refreshing iciness of the watermelon layer.
My daughter enjoyed them so much that she just made another batch of these easy ice pop recipes on her own.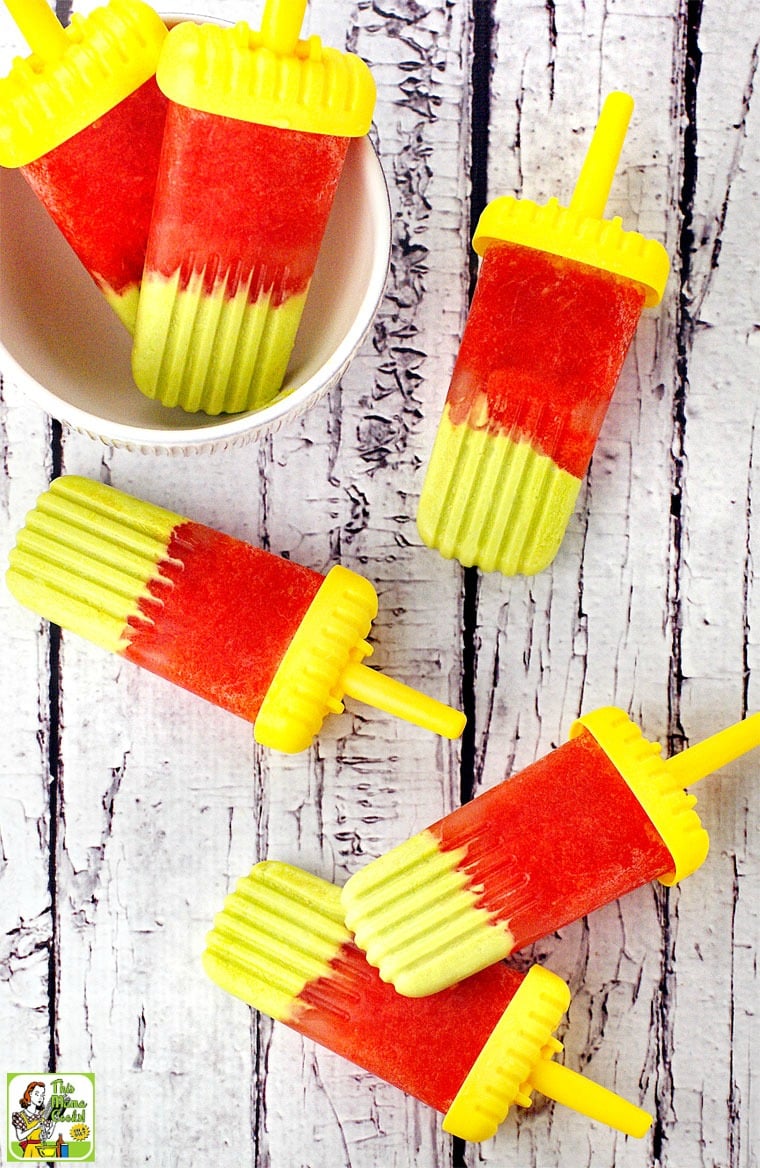 Create more types of homemade freezer pops!
Now that you've purchased some Tovolo ice pop molds, you can make many variations of coconut ice pops recipes.
Leave out the avocado and just use the coconut cream, a bit of lime juice, and some sweetener.
Or try another fruit with the coconut cream and some baking extracts. It's totally up to you!
You can even make some adult variations of coconut cream pops recipes with coffee, matcha green tea powder, rum, tequila or cachaça.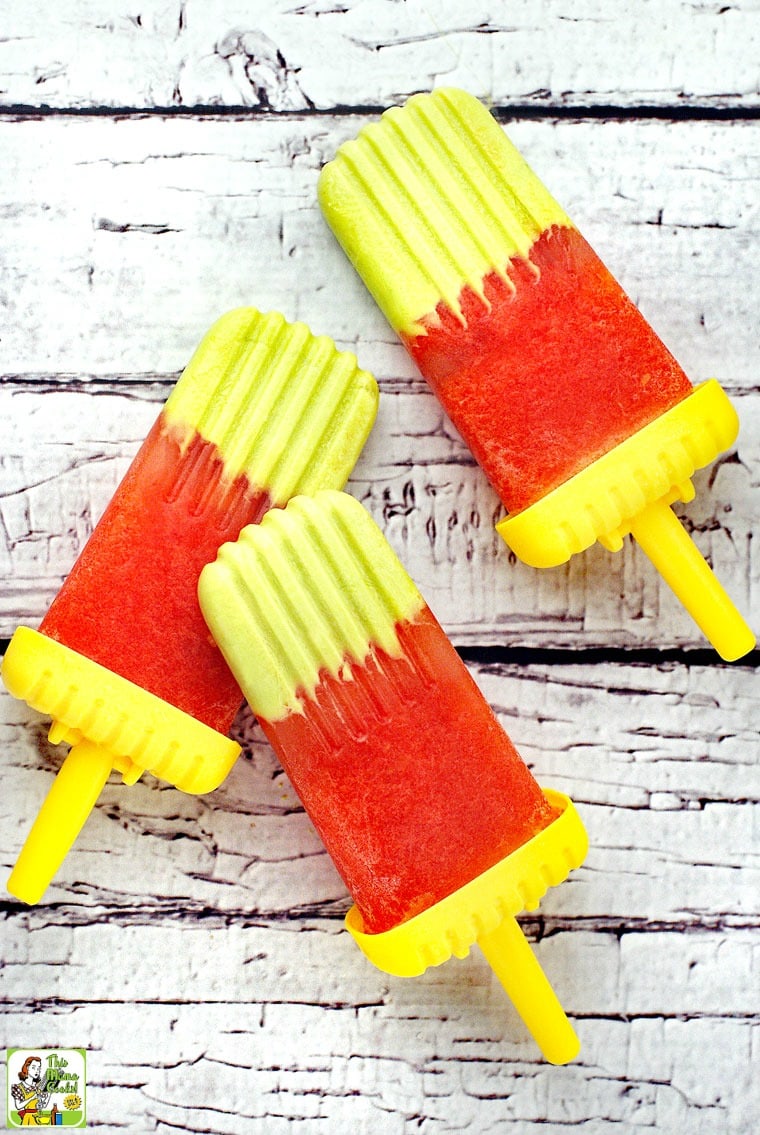 That's what I love about making easy ice pop recipes and the versatility of coconut cream and a little powdered monk fruit.
Add a little this or that and you have a new flavor to enjoy any time you want healthy homemade freezer pops.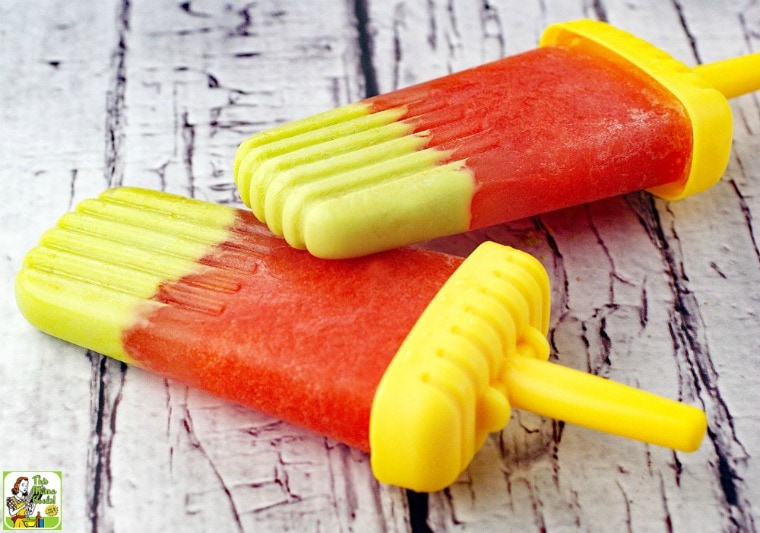 Avocado & Watermelon Ice Pops
Ingredients
1

fully ripened avocado, halved, pitted, peeled and sliced

1/2 cup

canned coconut cream

1 tablespoon

lime juice

1 tablespoon

powdered monk fruit or Swerve

2 cups

cubed and seeded watermelon
Directions
Combine avocado, canned coconut cream, lime juice, and powdered monk fruit in a blender. Pulse until smooth.
Fill molds 1/3 of way or so depending on size of ice pop molds. Freeze for 1 hour.
Place watermelon in blender. Pulse until pureed.
Add watermelon puree to molds. Fill to top and place stick handle firmly on top of mold.
Freeze overnight.
Run ice pops under hot water to remove from molds. Enjoy!
Prep Time:
1 Hour 20 Minutes
Total Time:
8 Hours 20 Minutes
Servings
:
Makes 6 or so fruit ice pops depending on size of molds
Originally posted on Jul 17, 2014. Updated with new pictures and information.