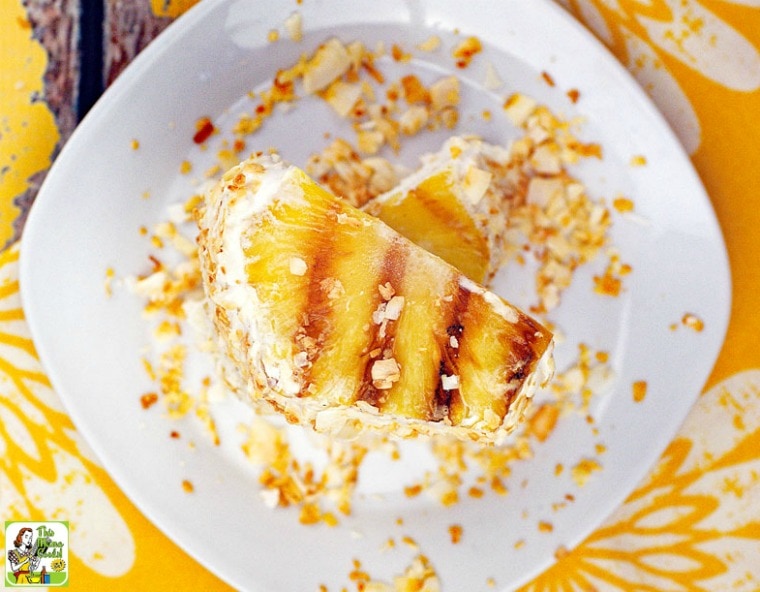 This easy ice cream sandwich recipe is a cool summer treat that's somewhat guilt free since it's made with healthy pineapple, unsweetened toasted coconut, and your favorite vanilla ice cream.
What's also nice about making these Tropical Ice Cream Sandwiches is that it's a naturally gluten free ice cream sandwich recipe.
This vanilla ice cream sandwich recipe is fun to serve at parties, family get togethers, and BBQs – especially those with a Hawaiian theme. Don't forget the luau decorations and party tableware!
Since one  Tropical Ice Cream Sandwich is cut in half to make two servings, it makes a a cute romantic dessert or maybe even an afternoon snack for the kids, since it only uses 1/2 cup of ice cream per serving.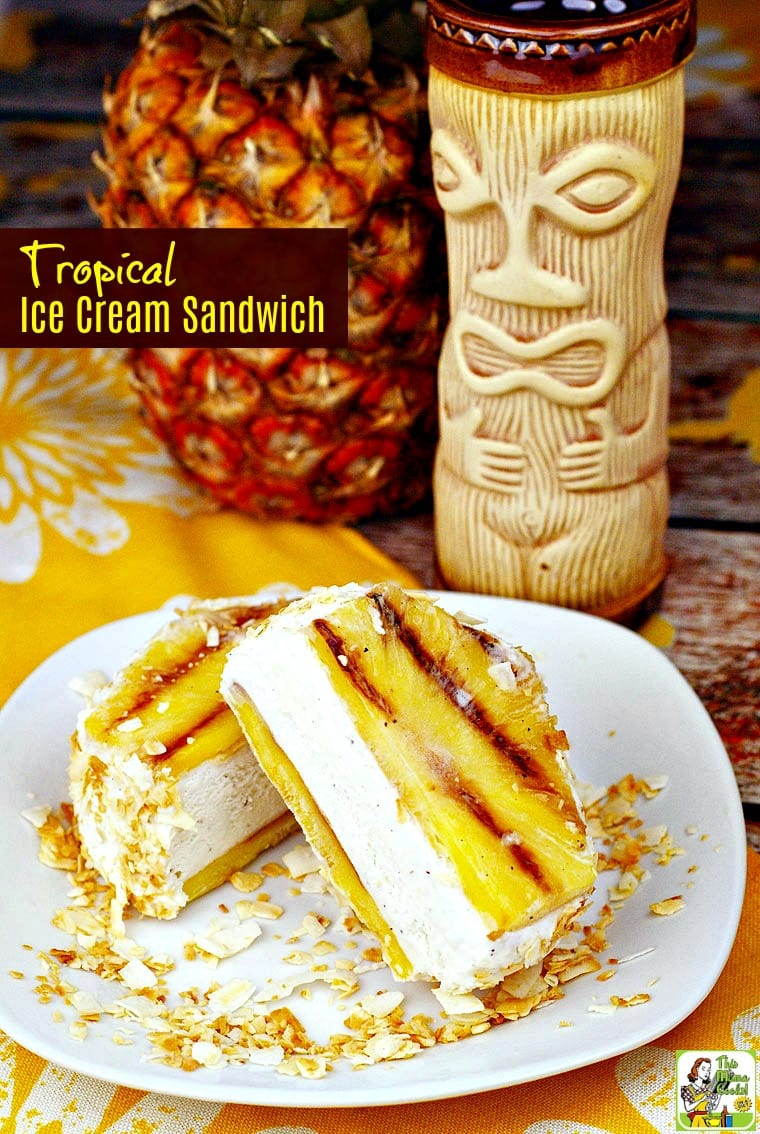 This Mama's tips on how to make a Tropical Ice Cream Sandwich
First, if you're unsure about how to pick and slice up a fresh pineapple, I found this video on how to cut up a pineapple very helpful.
Don't want to fire up your outdoor grill when making this homemade ice cream sandwich recipe? Try cooking up the slices of fresh pineapple on a stovetop grill pan or a countertop electric grill. Electric grills are also terrific for cooking grilled cheese sandwiches, panini, and burgers!
This ice cream sandwich dessert recipe uses unsweetened shredded coconut. To make your own, place unsweetened shredded coconut in an already warm non-stick skillet. Continue to cook coconut on low medium heat until the coconut starts to brown.
Stir the coconut frequently. Keep an eye on it as the coconut can start to burn before you know it! As soon as the coconut has browned a bit, dump it out on a plate, then cool it in the freezer for 5-10 minutes before adding it to your Tropical Ice Cream Sandwich.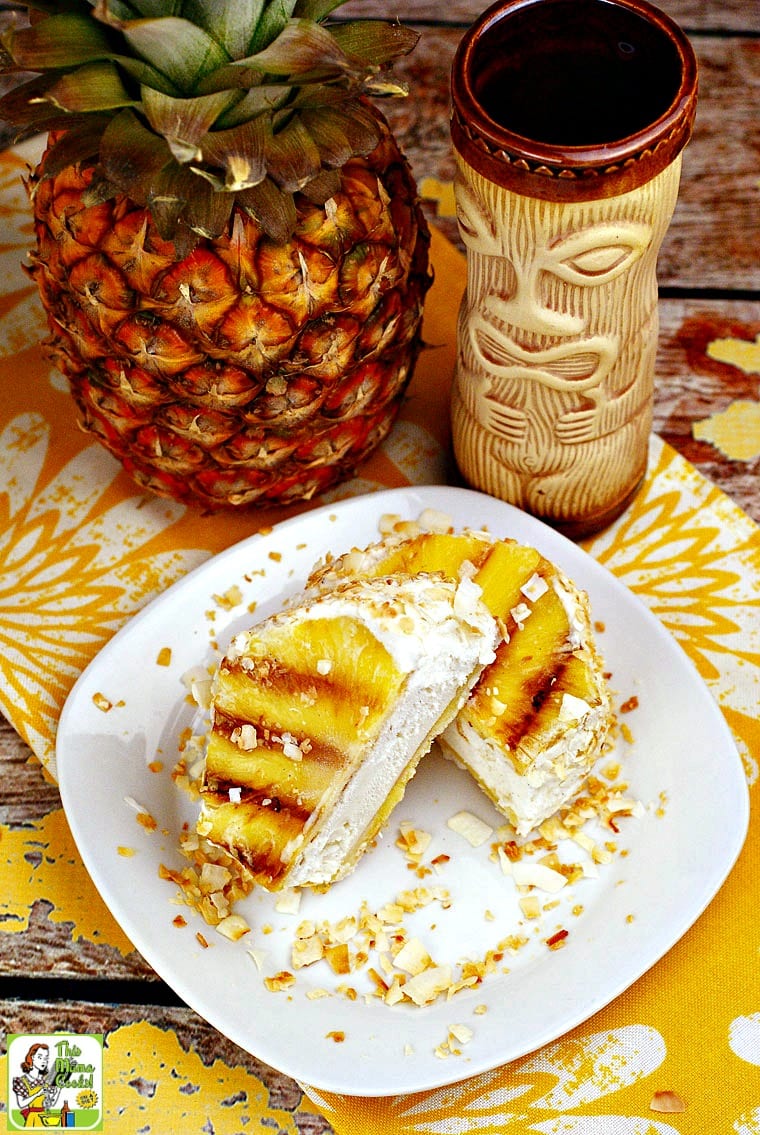 When assembling the Tropical Ice Cream Sandwiches recipe, for best results keep everything (ingredients, plates and utensils) cold as possible.
You can make these easy ice cream sandwiches dairy free by using soy or coconut ice cream. Even sorbet would work!
Make up a batch of Tropical Ice Cream Sandwiches in advance (four sandwiches per quart of ice cream or sorbet). Wrap your vanilla ice cream sandwiches in foil, place them in a plastic baggie, and keep them in the freezer until serving time. Perfect for summertime snacking!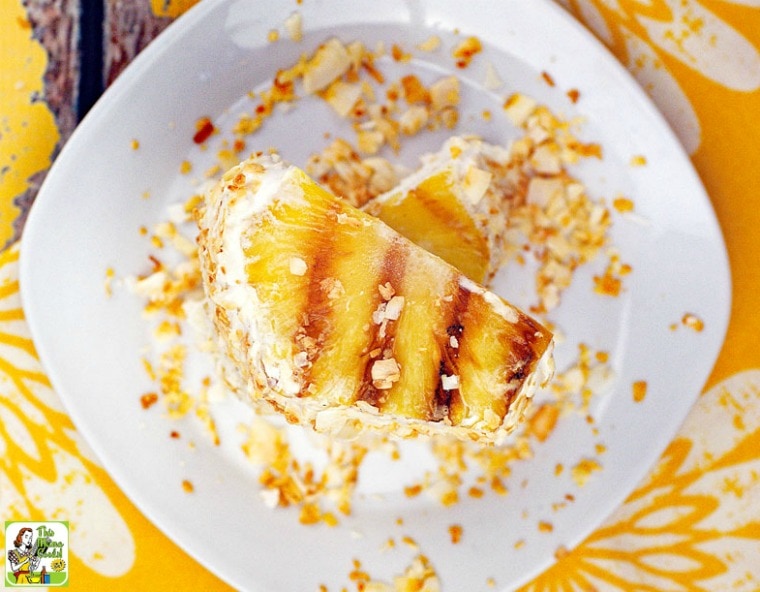 Tropical Ice Cream Sandwich
Based on a recipe by Chef Antonia Lofaso.
Directions
Grill pineapple slices over low to medium heat for 90 seconds on each side. Allow to cool.
Sandwich the softened vanilla ice cream between the 2 grilled slices of pineapple. Coat sides in toasted coconut. Slice in half and serve.
Serving size:

Serving Size 1/2 ice cream sandwich per person

Calories:

180

Calories from Fat:

70

Total Fat:

8g

Saturated fat:

6g

Unsaturated fat:

2g

Sodium:

55mg

Total Carbohydrates:

25g

Sugar:

22g

Fiber:

1g

Protein:

3g
Originally posted on August 27, 2015. Updated with new pictures and information.