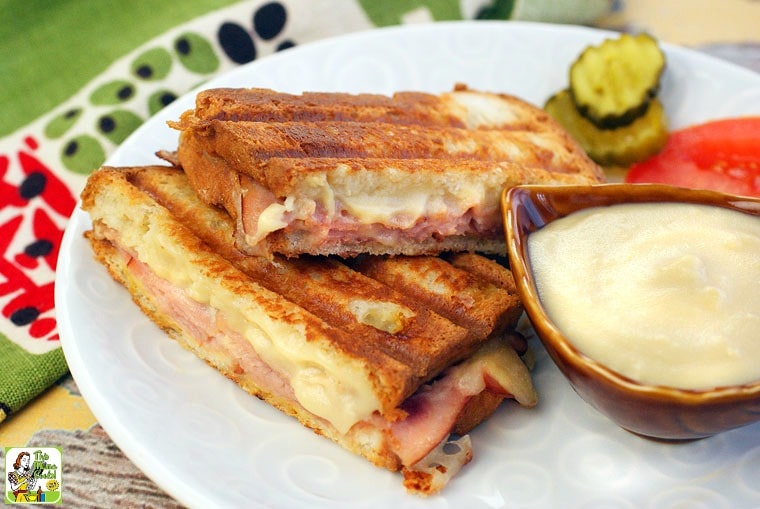 Have you ever made croque monsieurs? Or served up a croque madame?
Well, you probably know them by more familiar names – grilled cheese with ham or the same grilled sandwich served with an egg on top!
My family and I were introduced to croque monsieurs sandwiches when we traveled to Switzerland to visit my sister. Our children and their cousins were young, so it was easy to order croque monsieurs for them.
It was the child's version, which was more like a panini or an American-style grilled cheese and ham. After all, what kiddo doesn't like grilled cheese?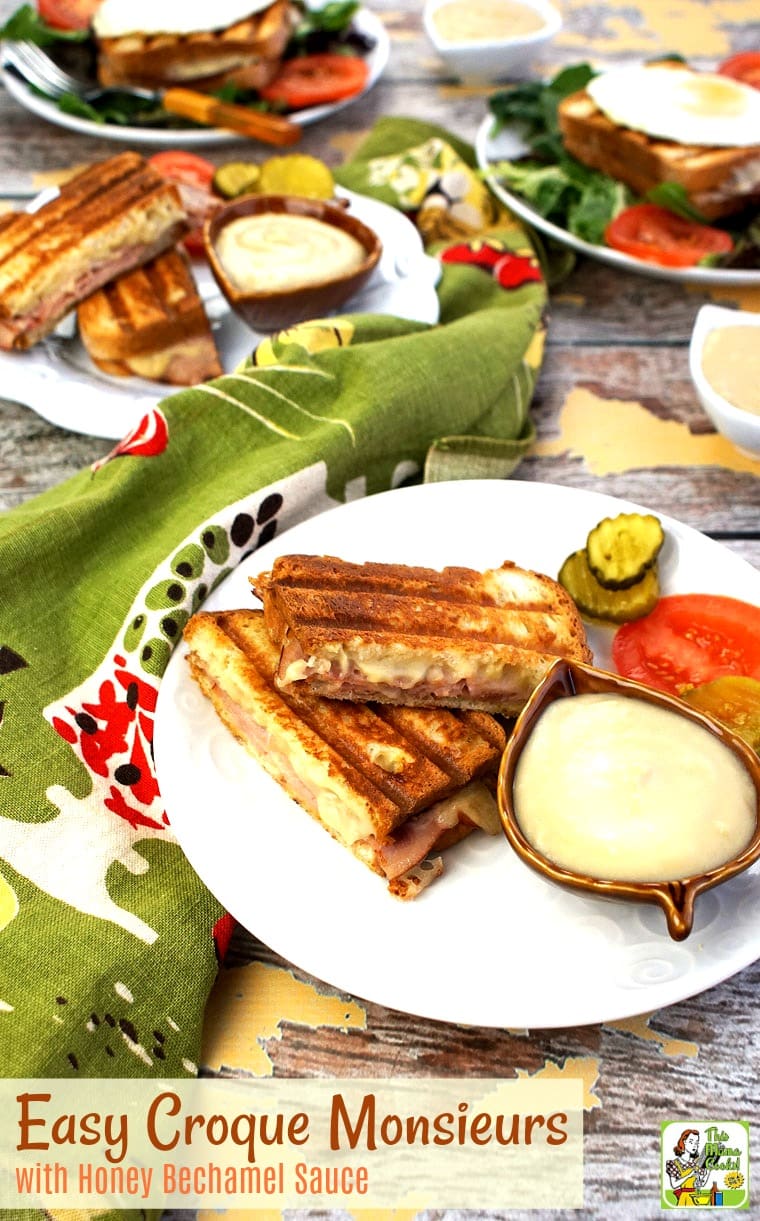 What are croque monsieurs?
In France, you can order real croque monsieurs in cafes. Served on a sometimes sugared brioche-like bread, croque monsieurs are filled with ham, then dipped in egg batter, and topped with grated cheese,
Then the whole thing is either grilled or baked to perfection. Yum!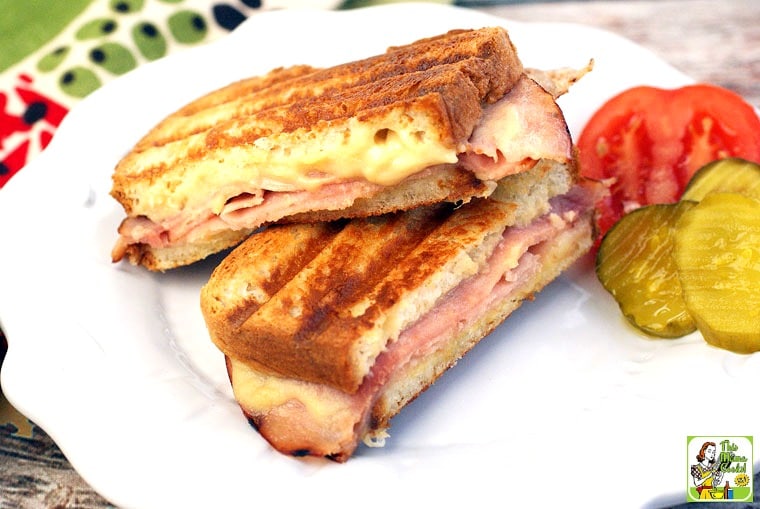 Another version of croque monsieur, according to the NY Times, is brushed with butter, filled and topped with a Bechamel sauce, then cooked on a griddle and toasted under a broiler.
I've seen a croque monsieur recipe with a smidge of Dijon, too.
The British newspaper, The Guardian, gives an excellent treatise on the croque monsieur.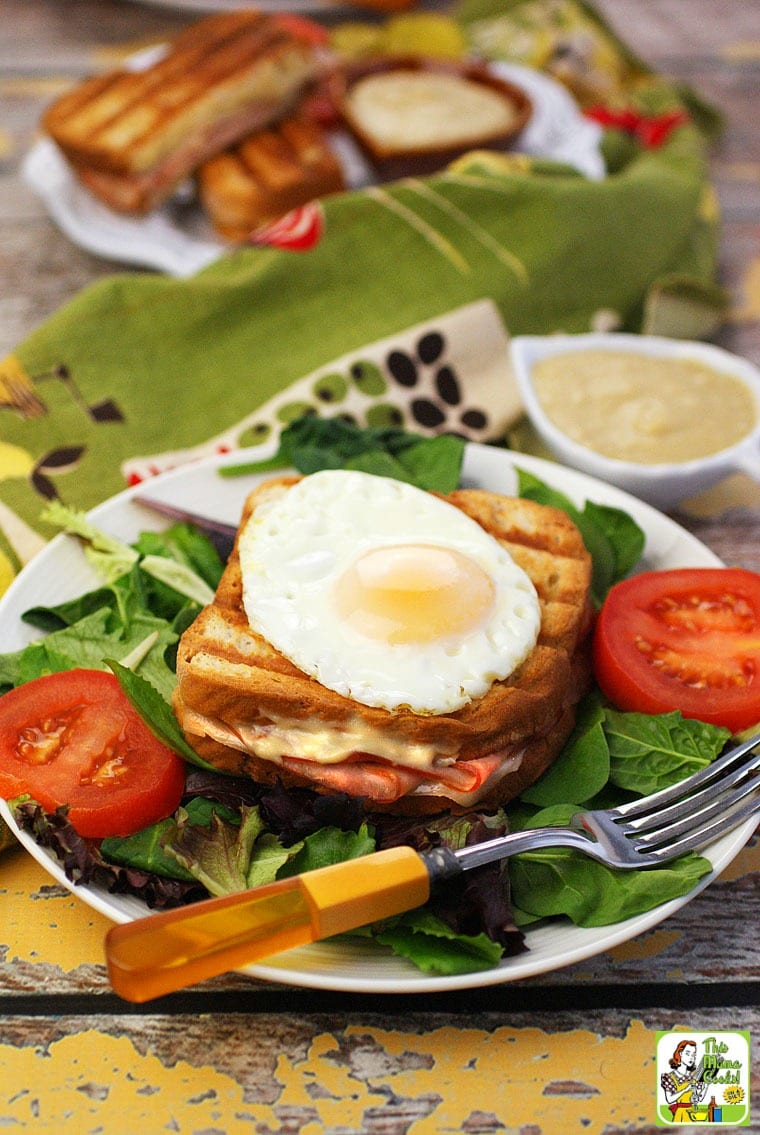 Making an easy gluten free croque monsieur recipe
Just because you're gluten free doesn't mean you can't enjoy an Easy Croque Monsieur with Honey Béchamel Sauce.
Here's how:
Ham: First, use a certified gluten free ham like one from Boar's Head. (Here's a list of other gluten free ham brands.)
How to make gluten free Béchamel sauce
Second, traditional croque monsieurs use béchamel sauce. You can use this as both a spread or a dipping sauce.
So, I made up a small batch of gluten free béchamel sauce from my Healthy Moussaka with Gluten Free Béchamel Sauce recipe.
The honey echoes the sugar used in croque monsieur recipes and compliments the ham.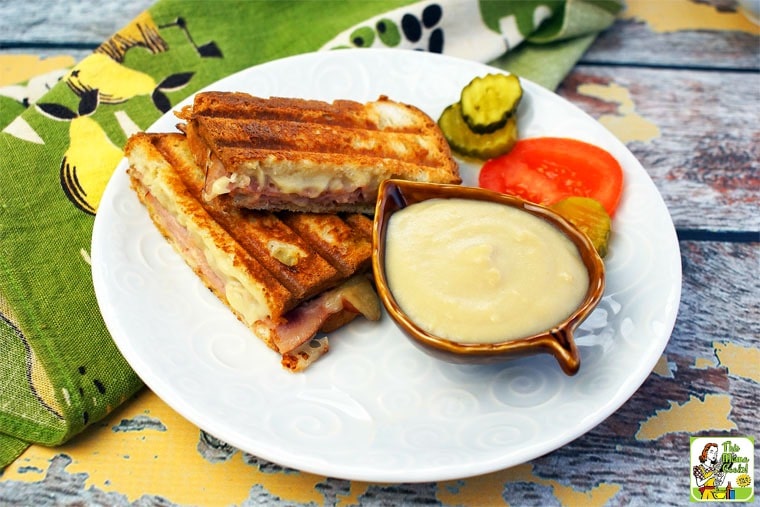 Bread: Third, I used already sliced cheese and gluten free bread from the store to keep things easy.
Grill: Finally, I used a counter top electric grill to cook my croque monsieurs instead of frying them up in a pan.
(I always ended up burning grilled cheese when I use a frying pan.)
I swear by my George Foreman grills. They're cheaper than fancy panini grills and make wonderful grilled cheese sandwiches.
(Terrific for cooking up burgers and chicken breasts, too!)
How to make an easy croque madame, too!
Sometimes us grownups want something a little more exciting than just a grilled cheese sandwich. But we don't want to make two entirely different dishes either!
That's why this croque monsieur recipe is so versatile since you can add a fried egg on top and turn it into a croque madame.
If you like runny eggs (I do!) slice your grilled sandwich into "soldiers" for dipping into your egg and a little dish of extra honey béchamel sauce.
Then go one (easy) step further and serve the croque madame recipe on a bed of spring lettuce with sliced tomatoes and onions.
(Save time by using bagged, prewashed lettuce.) Now you have a croque madame sandwich worthy of a fancy restaurant!
A croque madame recipe served this way would make a lovely light dinner or a fun luncheon or brunch meal with friends.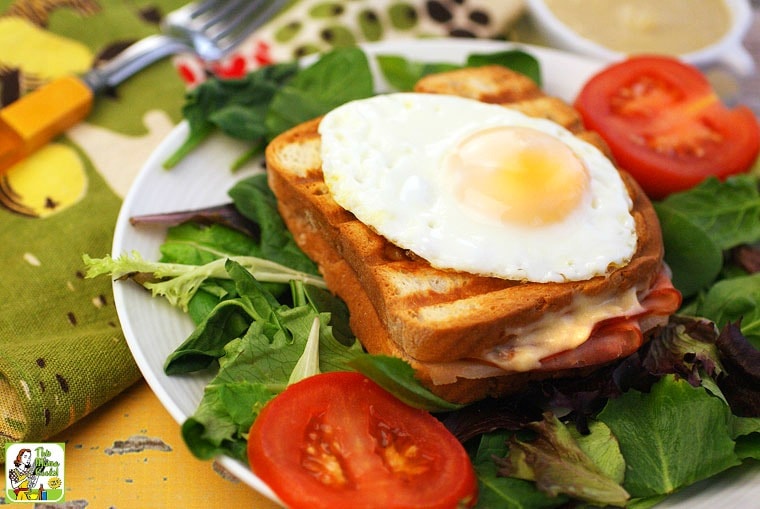 If people don't like fried eggs, an alternative is using hard boiled eggs. You can buy cooked hard boiled eggs at the store if you're entertaining and don't want to bother with peeling all those eggs!
Either way – Easy Croque Monsieurs or Croque Madames with Honey Bechamel Sauce – is a winner at lunch with family or entertaining your friends!
How to serve a croque monsieur sandwich
While I served this grilled sandwich on a bed of lettuce, you can also serve this with a prepare salad on the side like this Garbanzo Bean Salad.
A crunchy salad like Cucumber Onion Salad or Broccoli Bacon Salad would also go well.
If you're looking for a drink, try Lemonade Sangria or Iced Tea Sangria. Both are mock-sangrias (no alcohol).
Yield: 4 SERVINGS
Easy Croque Monsieurs with Honey Bechamel Sauce Recipe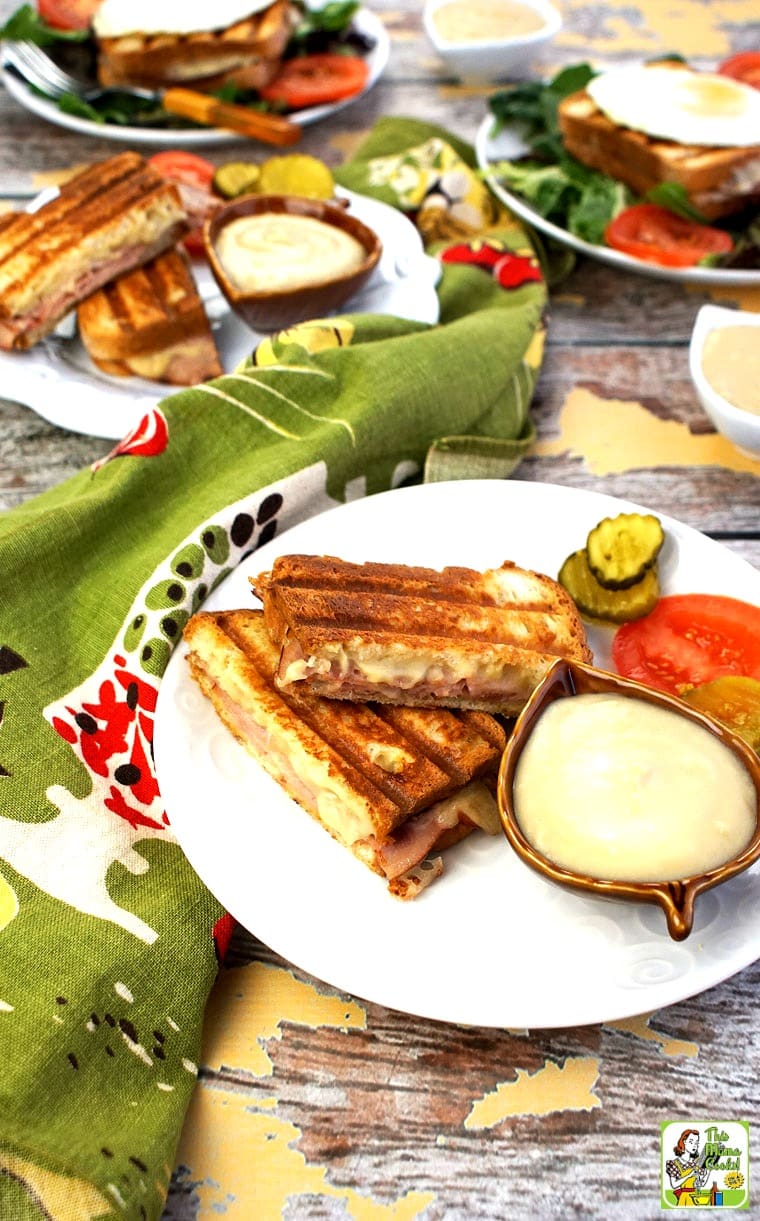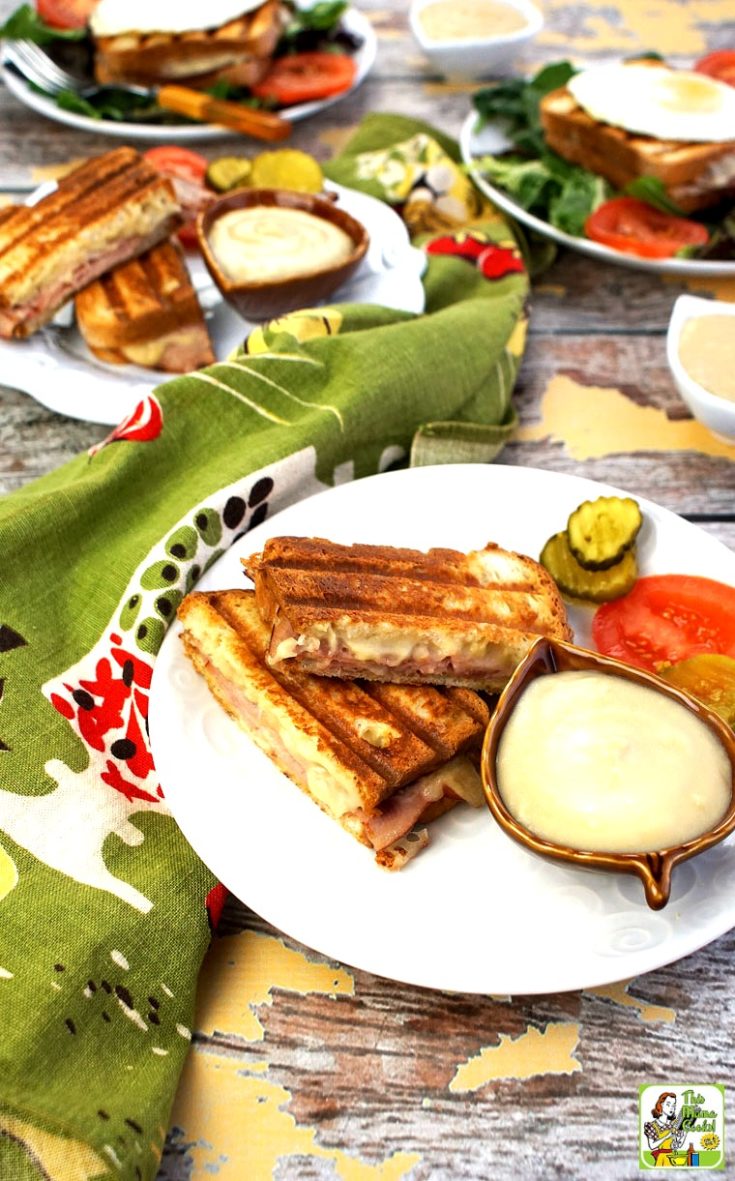 These easy croque monsieurs with honey bechamel sauce are gluten free. Also includes a croque madame recipe.
Ingredients
For gluten free honey bechamel sauce (double to make a bechamel dipping sauce)
1 1/2 cups milk or coconut milk
2 tablespoons butter or buttery spread
2 tablespoons gluten free all-purpose flour
2 tablespoons honey
1/4 teaspoon salt
For Croque monsieurs
8 slices gluten free bread
12 slices honey roasted ham
8 slices Swiss cheese
Gluten free bechamel honey sauce (recipe below)
Dijon mustard, to taste
2 tablespoons butter or buttery spread, melted
Cooking spray
Instructions
For gluten free bechamel honey sauce
Pour milk into a saucepan and bring to nearly boiling over medium-high heat. Lower temperature, but keep milk hot and steamy!
Melt butter or buttery spread in a large skillet over medium heat.
Whisk in the gluten free all-purpose flour. The melted butter and gluten free all-purpose flour will form a paste.
Pour in the hot rice milk by the 1/2 cup, whisking constantly until the sauce thickens and bubbles.
Turn heat to low. Add salt and honey. Stir thoroughly.
For Croque monsieurs
Preheat a two-sided electric griddle or panini press. Preheat a cast-iron skillet on stovetop on medium to medium-high heat for 5 minutes until hot.
Generously spread two slices of gluten free bread with béchamel honey sauce. Lay slices of ham then cheese on top of each.
Spread two more slices of gluten free bread with a smear of Dijon mustard. Then lay slices mustard side down on top of ham and cheese.
Lightly brush both sides of the sandwiches with melted butter.
If using an electric griddle or panini press
Generously spray the griddle or press with cooking spray.
Place sandwiches with the cheese side closest to the bottom griddle.
Close the griddle and cook until the bread is toasted golden brown.
Repeat until all sandwiches have been grilled.
Serve immediately with béchamel honey sauce as a dipping sauce on the side, if desired.
If using a skillet on the stovetop
Spray the skillet with cooking spray.
Place sandwiches cheese side down and cook until golden brown.
Then turn and cook until golden brown again.
You may want to place a small plate on each sandwich to help it cook faster.
Keep an eye on the sandwiches as your pan will get hotter as time goes on and they could start to burn!
Repeat until all sandwiches have been grilled.
Serve hot with bechamel honey sauce as a dipping sauce on the side, if desired.
Notes
To make a Croque Madame, just add a fried egg on top! Serve on a bed of lettuce.
Nutrition Information:
Yield:
4
Serving Size:
1
Amount Per Serving:
Calories:

917
Total Fat:

44g
Saturated Fat:

22g
Trans Fat:

1g
Unsaturated Fat:

18g
Cholesterol:

117mg
Sodium:

1234mg
Carbohydrates:

106g
Fiber:

4g
Sugar:

74g
Protein:

31g
Nutritional information is automatically calculated per the ingredients list. Serving size may not be accurate. Please double-check with your preferred nutritional app for the most accurate information.
Originally published on February 18, 2016. Updated with new pictures and information.