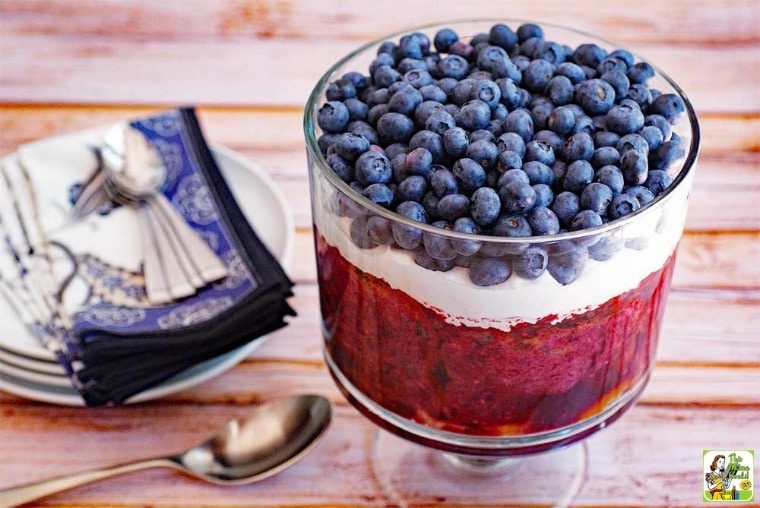 You have to make this Red White and Blue Trifle for a special party or brunch! This trifles recipe uses three types of healthy berries – blueberries, blackberries, and raspberries. 
This easy trifle recipe is based on a recipe I came across on ABC's The Chew - Carla's Summer Berry Pudding. But first, I needed to turn it into a gluten free dessert recipe!
Then I wanted to add a blue and white layer to turn it into a Red White and Blue Trifle for various patriotic holidays. I thought that would be really fun!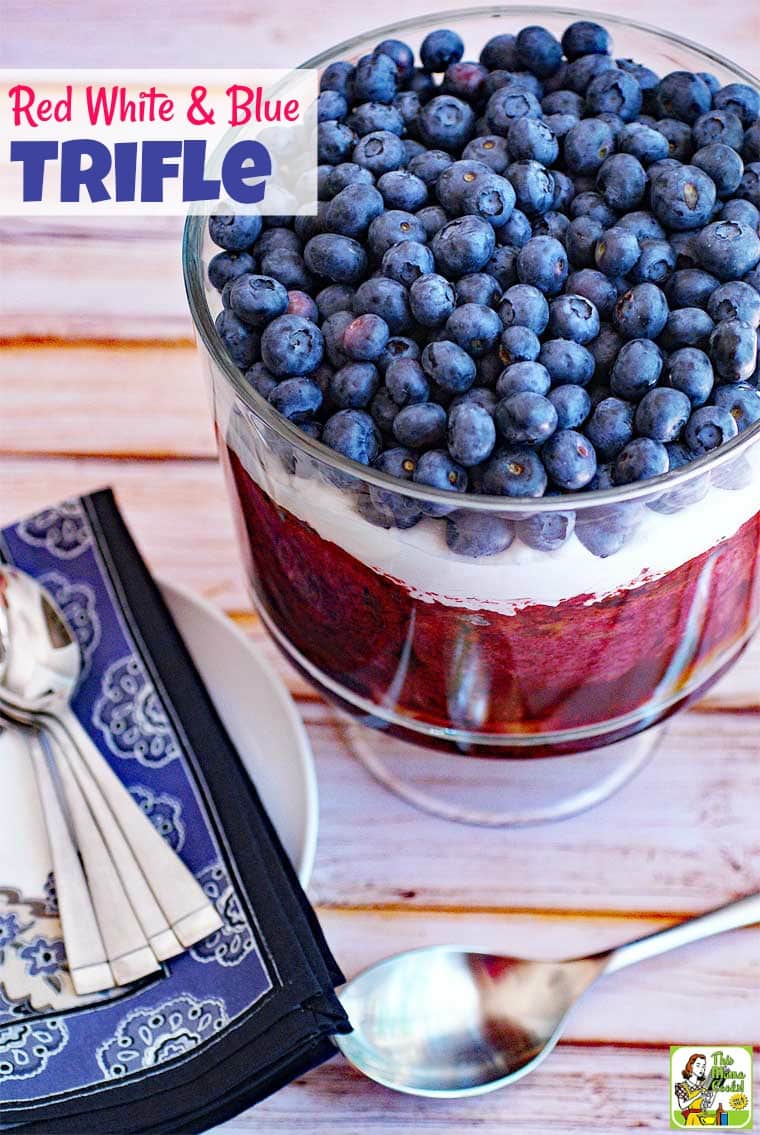 Making a gluten free dessert recipe
To make the Red White and Blue Trifle gluten free, I used a loaf of gluten free raisin bread. I love raisin bread and gluten free raisin bread is a special treat because of the raisins and cinnamon.
I also made this easy trifle recipe dairy free by using a non-dairy whipped topping instead of regular whipped cream. You should check the topping you buy to make sure it's truly dairy free. Not all brands are.
(Check the raisin bread you're using to make sure it's dairy free, too.)
I like truwhip's vegan whipped topping, which has no dairy. Reddi Wip now has non-dairy using almond milk and coconut milk!
Of course, you can use regular bread and regular whip cream if you don't have any food sensitivities or allergies.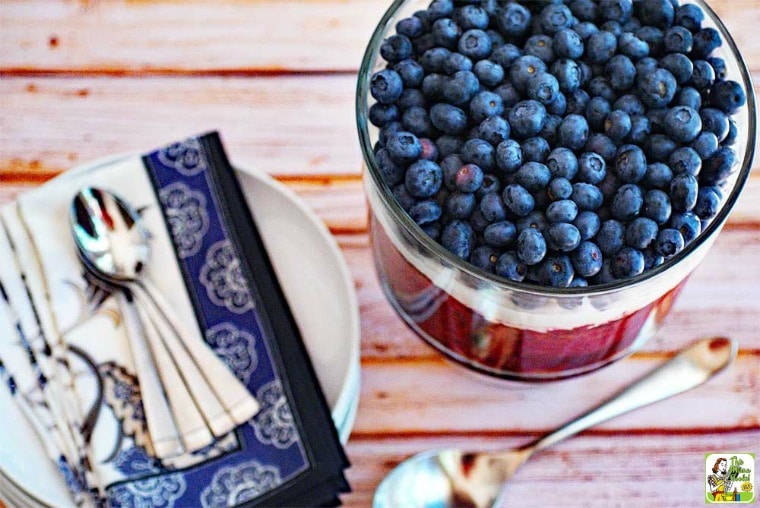 To cut out a few calories, I used sugar free apricot preserves.
I also used stevia instead of regular sugar.
If you want to cut back on the brown sugar calories, I recommend Truvia Brown Sugar Blend or Splenda Brown Sugar Blend. Both are great products!
Creating an easy trifle recipe in a trifle bowl
What I especially like about this Red White and Blue Trifle is the presentation. It's super easy to do if you have a proper trifle bowl. It makes a gorgeous display that everyone will marvel over!
Plus, once you purchase a trifle bowl, you'll find yourself using it for other easy trifle recipes as well as layered dips and salads like a Chopped & Layered Taco Salad or Layered Mexican Christmas Eve Salad.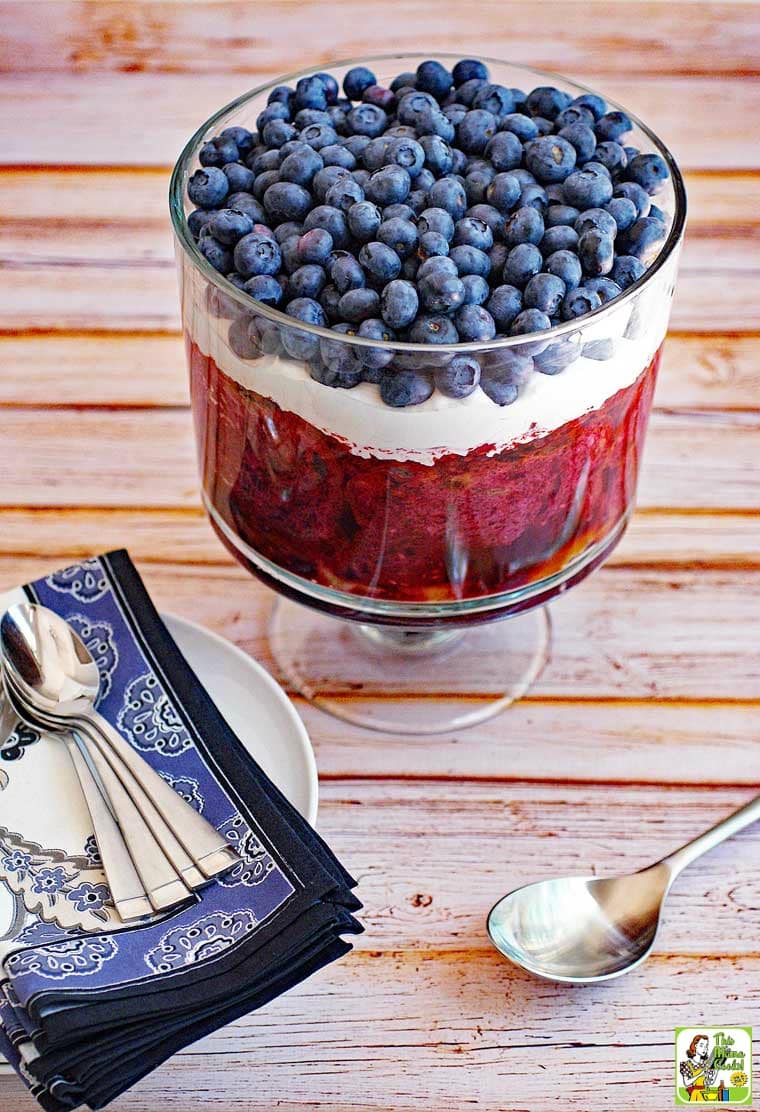 Try to find a trifle bowl with a lid. That way it's very portable and easy to bring to parties and potlucks! If there are any leftovers, it's easy to store them right in the trifle bowl, too!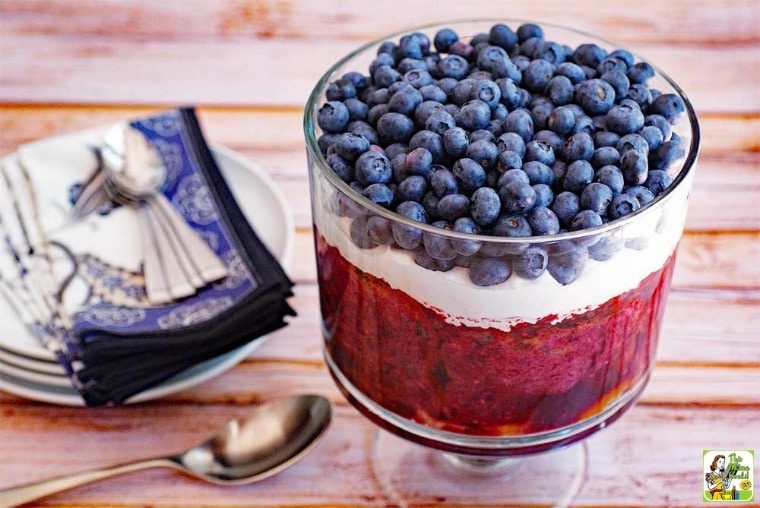 Red White and Blue Trifle
Ingredients
1

loaf of gluten free raisin bread

1 cup

sugar free apricot preserves

2 cups

raspberries

2 cups

blackberries

4 cups

blueberries, divided

2 tablespoons

lemon juice

2 tablespoons

brown sugar

2 tablespoons

powdered stevia (I like Stevia Extract in the Raw.)

1 (10 ounce) tub

non-dairy whipped topping
Directions
Spread the apricot preserves on one side of each of the slices of bread.
Line the trifle bowl with the slices of bread, jam side in. If needed, cut bread into smaller pieces to make a solid wall. Leave a few inches at the top for whipped topping and blueberry layers. Reserve a few slices of the bread to use as the top layer.
Combine the raspberries, blackberries and 2 cups blueberries in a saucepot over medium heat with lemon juice, palm sugar, and stevia. Cook until the berries begin to burst, about 5 minutes, then remove from heat.
Pour the berry mixture into the well in the bread-lined trifle bowl. Cover the top with the reserved slices of the bread.
Place a layer of plastic wrap over the top of the cooked berries and bread layer. Place a few plates on top to weigh it down. Place in refrigerator and chill overnight.
Add a layer of whipped topping. Then carefully add the remaining 2 cups of blueberries.
Spoon trifle into small bowls and serve.
Prep Time:
12 Hours 30 Minutes
Total Time:
12 Hours 40 Minutes
Originally published on July 1, 2013. Updated with new pictures and information.