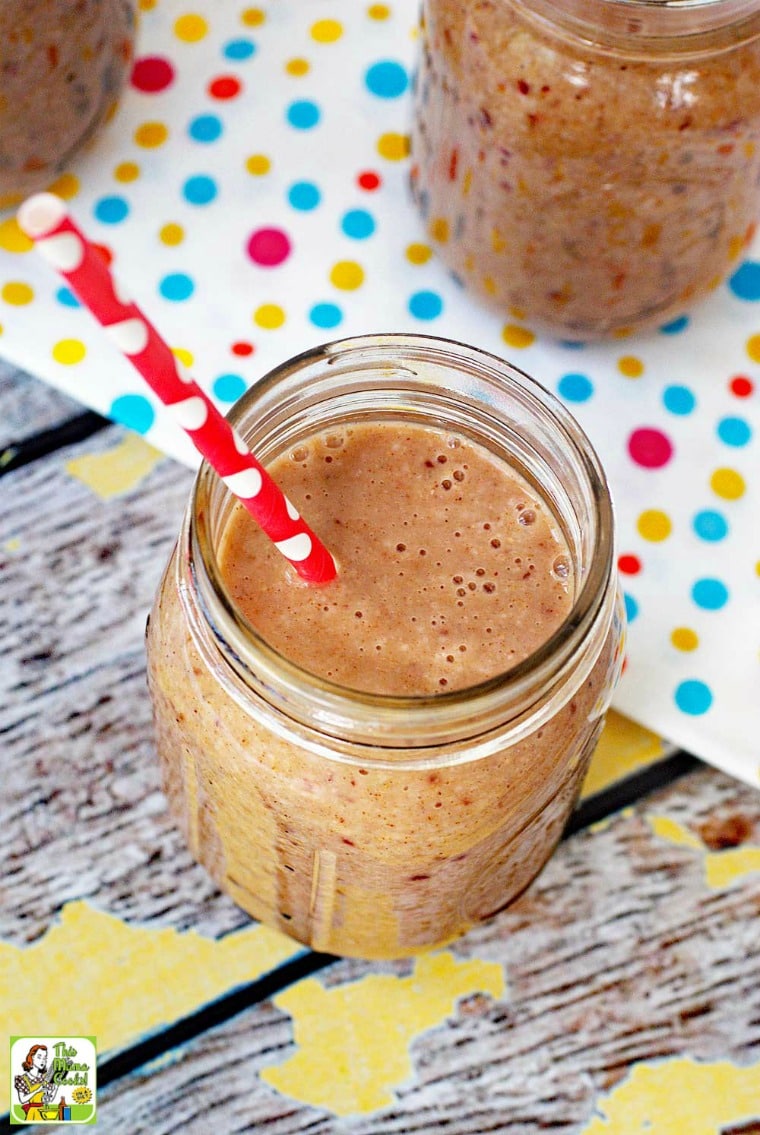 Do you love a fruit smoothies recipe that's as good for breakfast as it is for an after workout snack? Then check out my easy to make Oatmeal Smoothies Recipe.
It combines the best of a frozen fruit smoothie with the yummy goodness of a bowl of oatmeal.
This is also a dairy free smoothie. So if you have to avoid dairy, this is the smoothies recipe for you!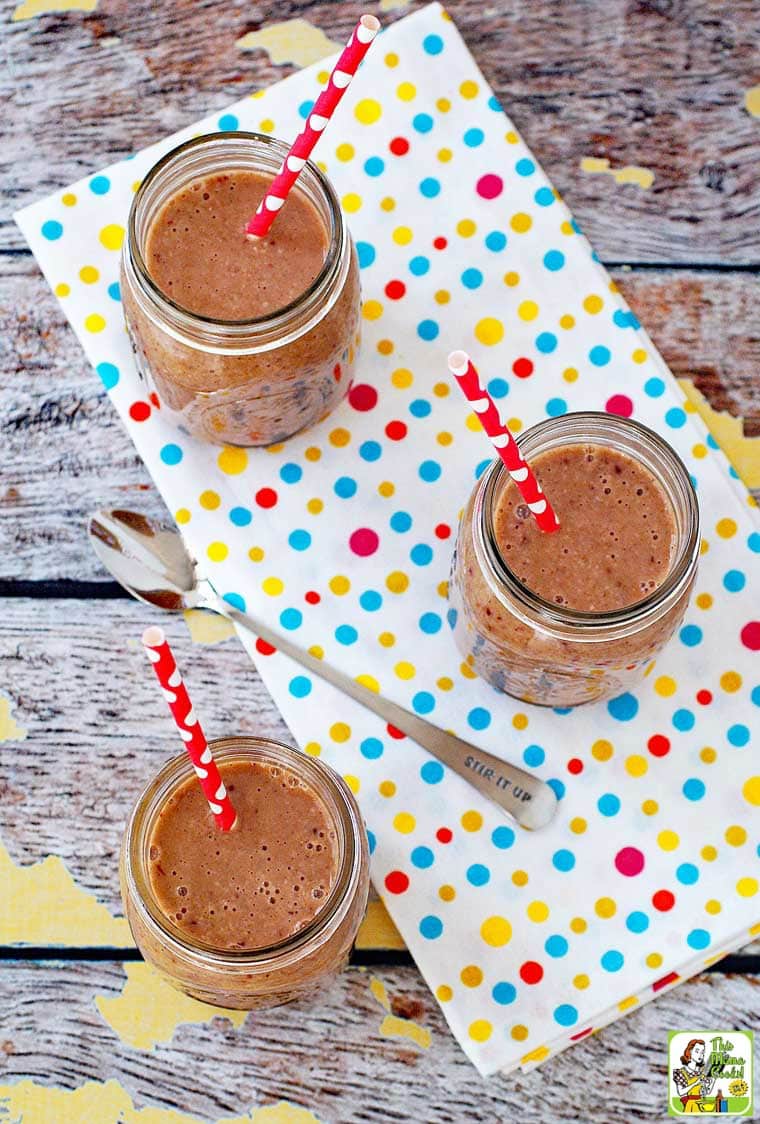 Adding oatmeal to an easy fruit smoothie recipe
I liked the idea of adding oatmeal to a fruit smoothies recipe. (You want to use instant oatmeal, which is just as nutritious as steel cut or old fashioned oats.)
I always use oatmeal for baking or as a hot breakfast cereal. However, now that it's getting warm out, the last thing I'd want for breakfast is a steaming bowl of oatmeal.
With this cold yet satisfying oatmeal smoothies recipe, you get all the benefits of oatmeal as well as fruit.
I also thought the idea of making oatmeal smoothies the night before, putting it in 16 ounce Mason jars with lids was a terrific way to save time in the morning. Just grab a jar out of the fridge and go! (Don't forget a straw.)
After drinking your smoothie, toss the straw and put on the lid. That way you can safely store the dirty jar until you get home – no spills!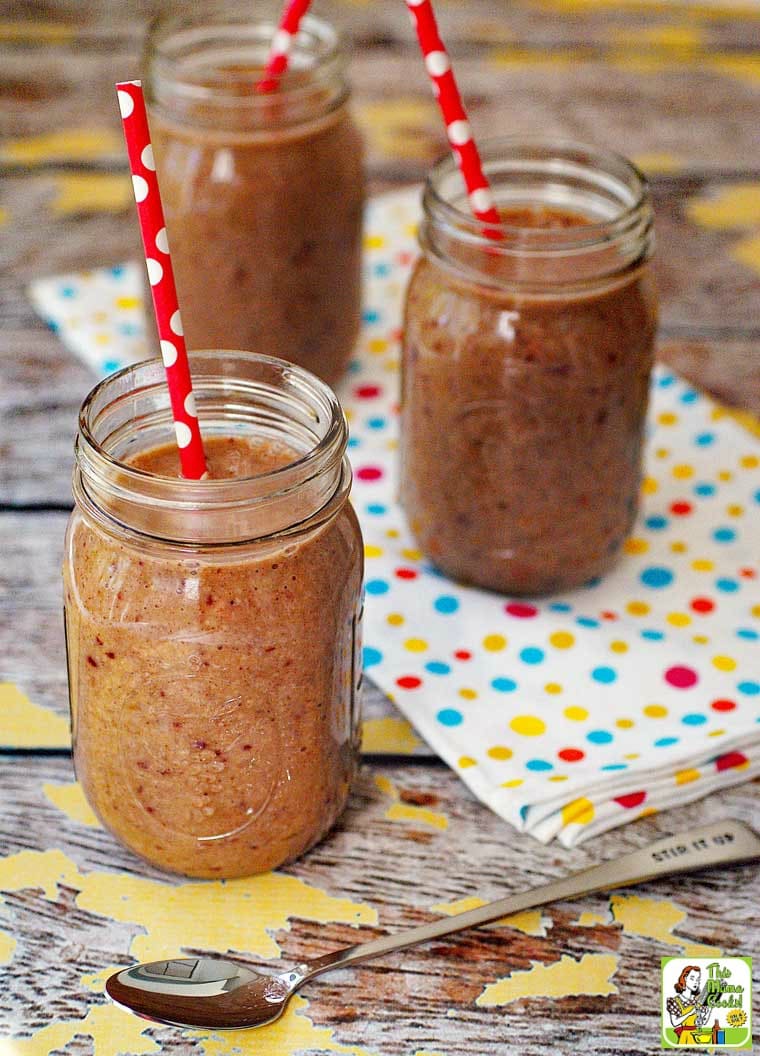 This Mama's tips for making an awesome fruit smoothies recipe
If you're gluten free, make sure to used oatmeal that's certified as gluten free even though oatmeal is naturally gluten free.
To keep the calories low, I used stevia. Powdered monk fruit is also a good choice.
To make this oatmeal smoothie recipe dairy free, I like using unsweetened soy milk or coconut milk and frozen strawberries and ice cubes instead of yogurt.
Finally, if you find that that the oatmeal smoothie is too thick, you can add more soy milk to the jar. Then put the lid back on and shake it up!
Looking for more healthy smoothie recipes? Check out this Healthy Banana Smoothie!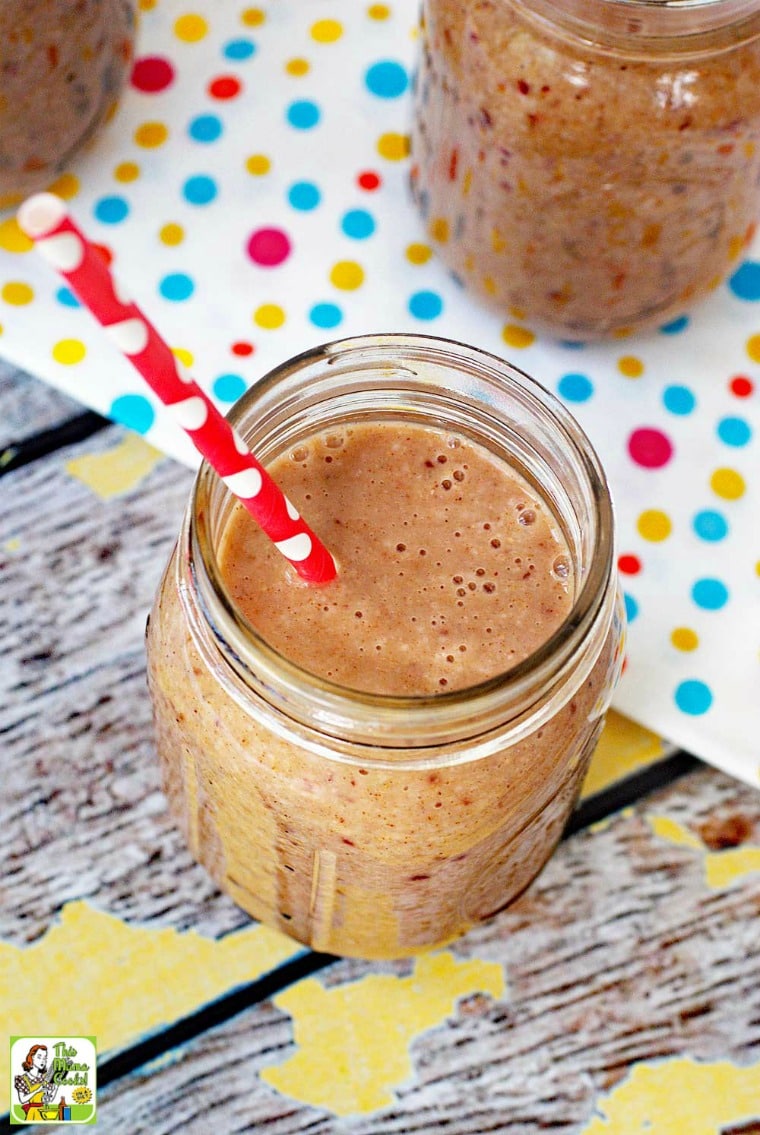 Ingredients
For the oatmeal:
For the blender add ins:
1 cup

unsweetened soy or coconut milk

1 cup

frozen strawberries

1

banana

1 cup

ice cubes
Directions
Bring water to a boil.
Add oats and return water to a boil. Then reduce heat and simmer for 5 minutes. Stir occasionally.
Add stevia or powdered monk fruit, dried cranberries, apple and cinnamon and stir to combine.
Simmer 2 more minutes. Stir occasionally. Then cover and turn off heat and let sit for 5 minutes.
Add cooked oatmeal, soy or coconut milk, frozen (not thawed) strawberries, banana, and ice cubes to a blender. Cover and blend on high until strawberries and ice cubes are pulverized and mixture is creamy.
If smoothie mixture is too thick, add more soy or coconut milk and/or ice cubes and blend some more.
Servings
:
Makes approximately 48 ounces
Serving size:

Makes 4 (12 ounce) servings
Originally posted on April 23, 2015. Updated with new pictures and information.