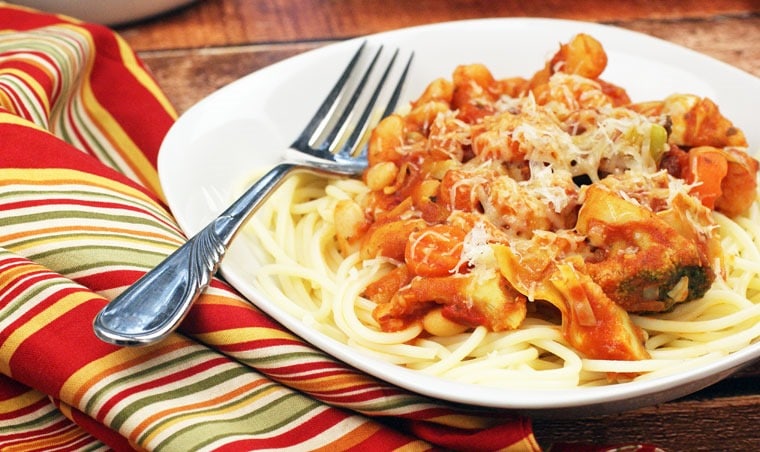 Even though we're incredibly busy with work, school and sports, my family tries to eat dinner together as often as possible. When we do, I try to cook a healthy, filling and delicious meals like Cannellini Beans & Italian Veggies on Gluten Free Pasta. However, we face several challenges.
First, we may not all get home until fairly late in the evening. Now that my son, Nathan, has started wrestling practice, by the time I pick him and we get to the house, I may not start dinner until 6:30 pm.  So, I need to find easy dinner recipes that I can make in 30 minutes or less.
Our second problem is that as my children get older, they get pickier. My kids used to be such adventurous eaters, too. Nathan doesn't like chicken and goodness knows what Lucie is eating these days. Not that I don't have my own issues as I'm gluten free and have to avoid many dairy products, though cheese is OK.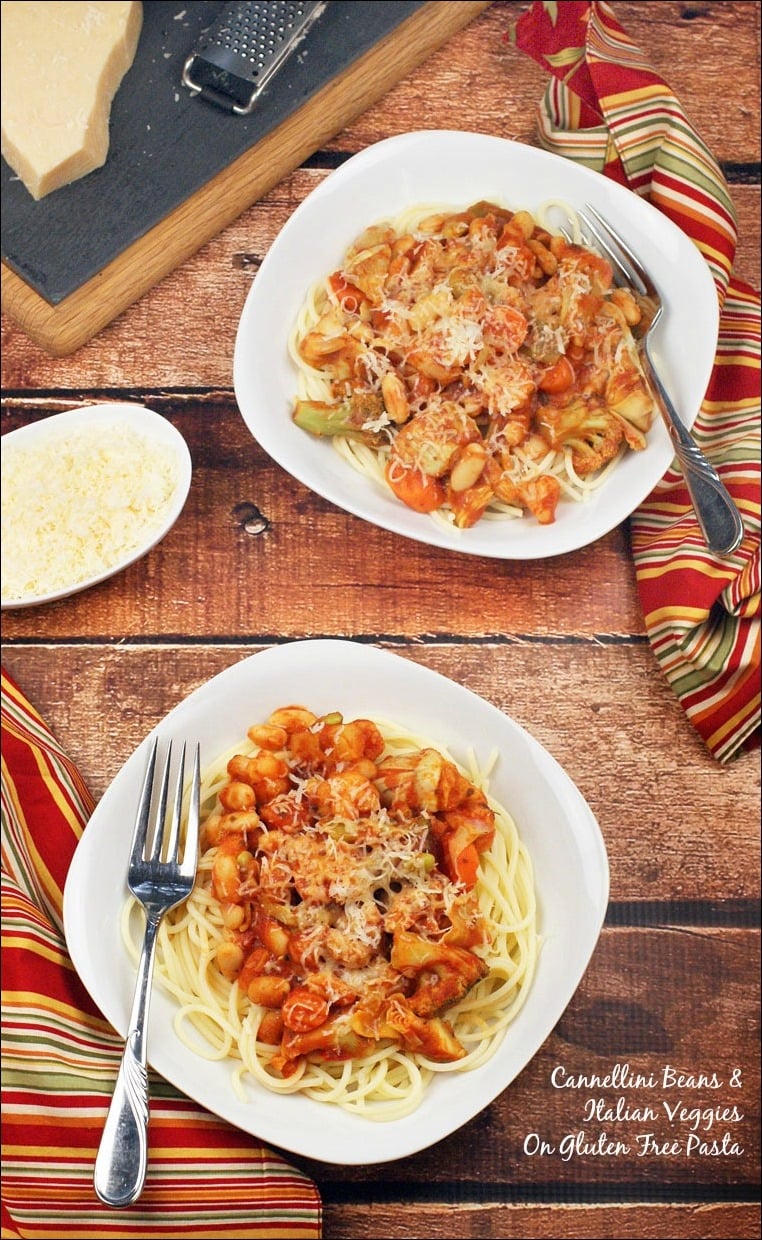 Easy Italian pasta recipes
One cuisine my family all agrees on is Italian food. (Or should I say, Italian-American food.) That's why easy pasta recipes are so popular with my family.
I grew up in a household with a French mother, so I  never learned to cook Italian-style food until I was an adult. I started slowly when I was first living on my own by buying spaghetti sauces, like Ragú, a name I recognized from TV commercials. Spaghetti with sauce became my favorite comfort food, which was perfect as it fit my limited budget (and not-so-great cooking skills) back then!
Later on, I started making my own spaghetti sauce and tackled slightly more complicated Italian-American inspired fare like lasagna and slow cooker baked ziti.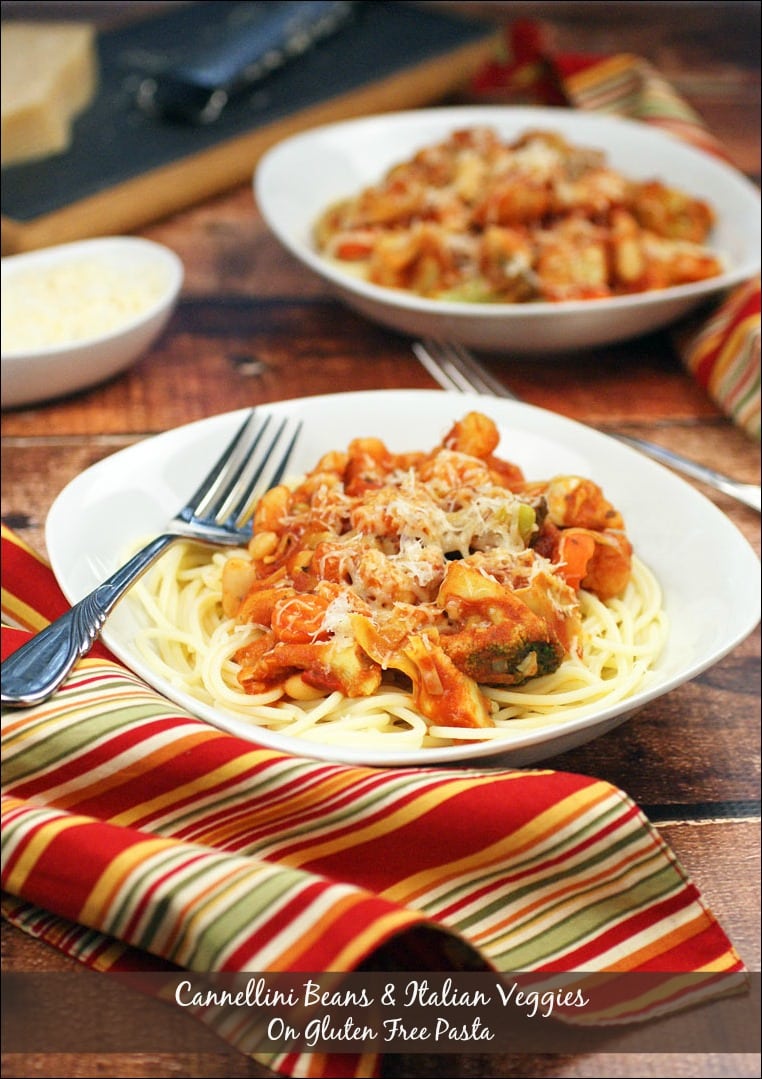 These days, I 've begun to rely on bottled sauces again when I'm pressed for time. For many years, I avoided bottled sauces because they were full of ingredients that I didn't like such as high fructose corn syrup.
But now, looking at Ragú's ingredients, they're made with the same things I use in my own sauce – spices, tomato puree, and olive oil. There's even a No Sugar Added Tomato Basil variety! They're so affordable that I bet buying a bottle of Ragú at the supermarket is cheaper than making sauce from scratch.

By shopping the freezer section and the store shelves, I found products that saved me time so I could make my easy pasta recipe in less than 20 minutes – the time it took for the pasta water to come to a boil and then cook the gluten free pasta.
For example, using frozen veggies means I don't have to wash or chop. Plus, they're cheaper than fresh vegetables! There was even a brand of artichoke hearts in brine that was already cut in quarters for the same price as the whole ones. I can't tell how much that made my day.
Finally, this easy pasta recipe is one you can keep in your "dinner arsenal" when you look at the clock and you realize that dinner time was 30 minutes ago. As long as you have a couple of bags of frozen veggies in the freezer, some cannellini beans, artichoke hearts, pasta in the pantry, and a bottle of Ragú, you'll be able to call "Dinner's ready!" to your hungry hordes in about 20 minutes.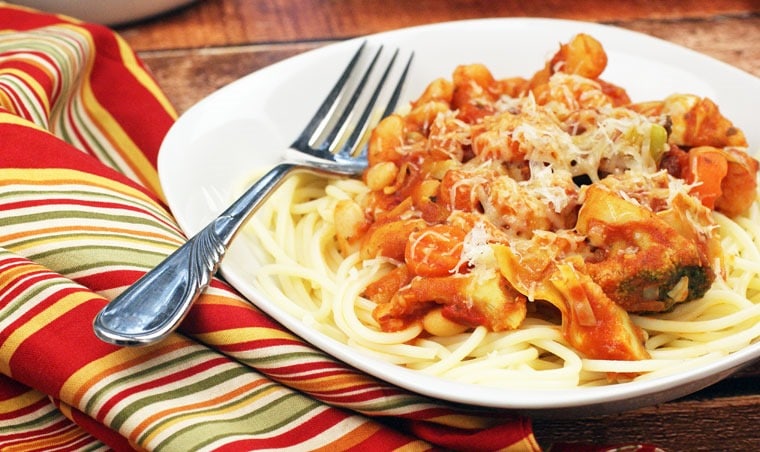 Easy Pasta Recipe with Cannellini Beans & Italian Veggies
Ingredients
1 (12 ounce) package

gluten free spaghetti

1/2 tablespoon

olive oil

1 (12 ounce) package

Italian style vegetables

1 (12 ounce) package

frozen California style vegetables

1 (15.5 ounce) can

cannellini beans, drained and rinsed

1 (14 ounce) can

quartered artichoke hearts in brine, drained and rinsed

1 (24 ounce) jar

Ragú sauce (your favorite variety)

Freshly grated parmesan cheese for serving (optional)
Directions
Cook gluten free spaghetti according to directions. Drain and set aside.
As spaghetti cooks, heat a large skillet over medium high heat. Place olive oil in pan. Empty contents of both bags of frozen vegetables. Stir frequently and cook until even large pieces are complete heated through.
Lower heat to medium. Add beans and artichoke hearts. Stir to mix thoroughly with vegetables.
Add Ragú sauce and stir to mix thoroughly. Cook until sauce begins to bubble. Set heat to low.
To serve, plate spaghetti then top with vegetable, bean and sauce mixture. Add some freshly grated parmesan cheese if you wish. Serve immediately.
Serving size:

1/4 of recipe