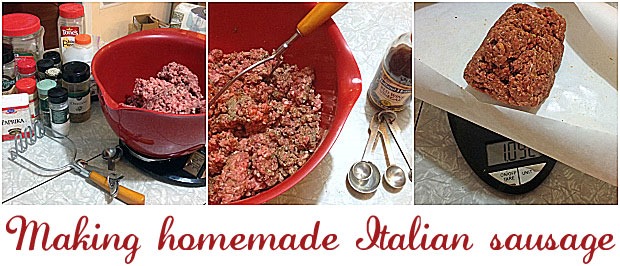 It's my favorite cooking time of year – Thanksgiving! This year I'm going to have to scale back from my usual extravaganza, since I'm just not up to it due to my follow up brain surgery. That's why I started prepping for Thanksgiving early, like making my own Italian sausage for stuffing a few weeks ago and freezing it for later. I've used Italian sausage in Healthier Cherry Cornbread Stuffing and other stuffing recipes in the past, so I figure I'll probably use it again this year.
We had some ground venison leftover after my husband did some hunting. However, you can make this with ground pork, turkey or beef (or a combination) from the store or your local butcher's shop. If you're wondering why you should bother, if you have food sensitivities or allergies, you're in control of what's going into your sausage. You can also control the spice mix to fit your personal tastes. Plus, I bet it's a whole lot cheaper and you can use a nicer quality or leaner cut of ground meat, if you wish.
Feel free to cut back or add more of your favorite spices and seasonings. I loved how using the Holland House Red Wine Vinegar added a special flavor to the sausage. If you can't find sorghum in your area, you can use maple syrup, honey, agave nectar, or even molasses. Also, since you'll be using this in stuffing, there's no point in bothering with stuffing sausage casings. After Thanksgiving, any leftover sausage can be used in spaghetti sauce, lasagna, as a pizza topping, or in Stuffed Zucchini.
Don't forget Holland House cooking wines and vinegars for your Thanksgiving cooking needs this year! Check out their website for money saving coupons and recipes. Follow Holland House on Facebook for Thanksgiving cooking tips and recipes, too!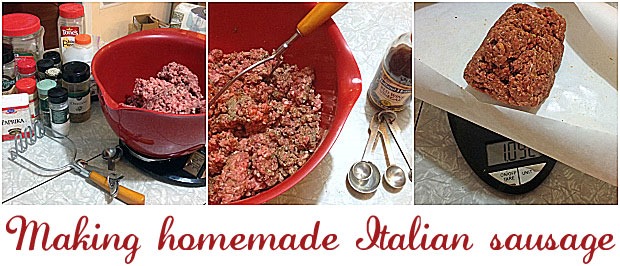 Ingredients
3 pounds

ground meat – pork, turkey, beef, venison or a combination (I used venison mixed with beef)

3 tablespoons

Holland House Red Wine Vinegar

1 tablespoon

sea salt

1 tablespoon

freshly ground pepper

1 1/4 tablespoon

dried parsley

1 tablespoon

garlic powder

1 tablespoon

onion powder

1 tablespoon

dried basil

2 teaspoons

smoked paprika

2 teaspoons

red pepper flakes

1 teaspoon

fennel seeds

1/4 teaspoon

sorghum syrup

1/8 teaspoon

dried oregano

1/8 teaspoon

dried thyme (whole, not ground)

1/8 teaspoon

tarragon

1/8 teaspoon

marjoram
Directions
Place all the ingredients in a large bowl.
Take an old fashioned potato masher and mix ingredients until well combined. Better yet, use your hands!
Weigh out sausage into one pound portions. Wrap in freezer paper, label, and freeze until needed.
Servings
:
3 pounds of sausage
Serving size:

1 pound of sausage