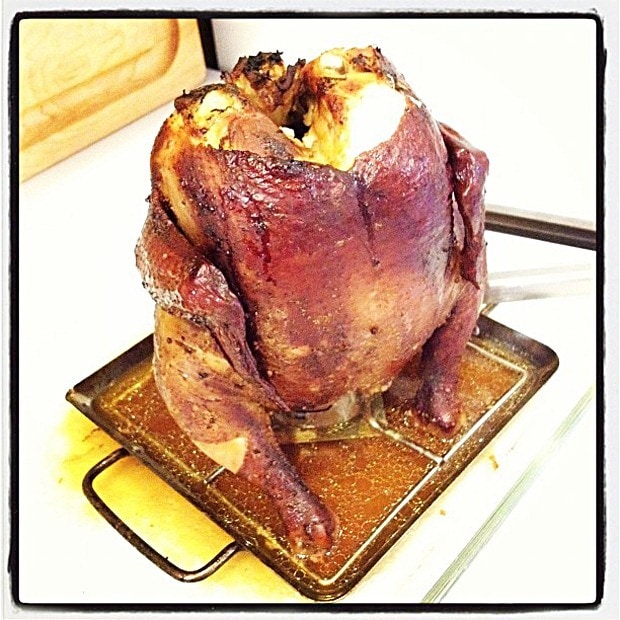 You've heard of beer can chicken, right? You know, the recipe when you shove a can of beer up a chicken's backside and grill it? Well, if you have a smoker, a few tools and World Harbors premade marinades, it's even easier.
First, you need a smoker. I use a Masterbuilt Digital Electric Smoker. (You can read my smoker review here.) While you can simply use a beer can and perch your chicken on top, it's so much easier to do some with a rack. I have two - Steven Raichlen Stainless-Steel Beer-Can Chicken Rack with Drip Pan and a KitchenAid BBQ Vertical Chicken Roaster. Both will hold the beer can in place so you don't have to worry about the chicken getting knocked over.
Here's what the chicken looks like on the racks (the two in the back). The one in the front is placed on top of the beer can, sans rack, and was propped up by one of the other chickens in our smoker.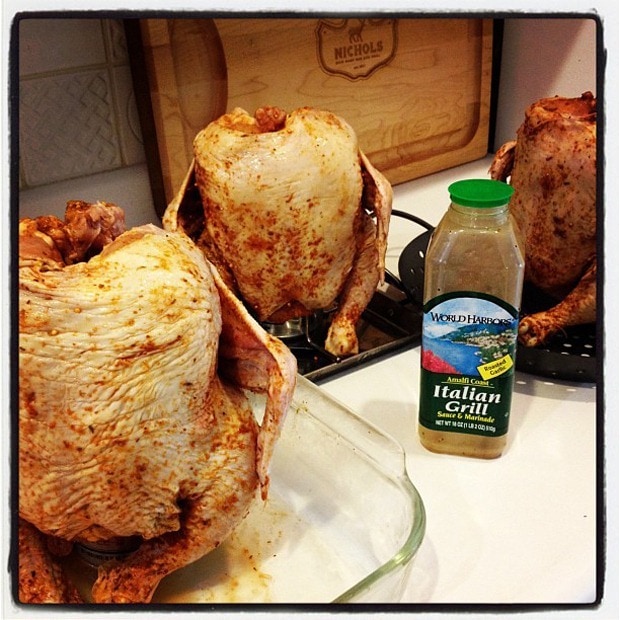 The method I use is based on a recipe from the Legends of Texas Barbecue Cookbook. I have a lot of barbecue cookbooks, but this one's my favorite especially since it was recommended by an English friend who learned how to smoke meat when he went to school in Austin.
Tip: Save the chicken carcass and skin to make stock. There's nothing better than smoky chicken stock in soups and turkey stuffing!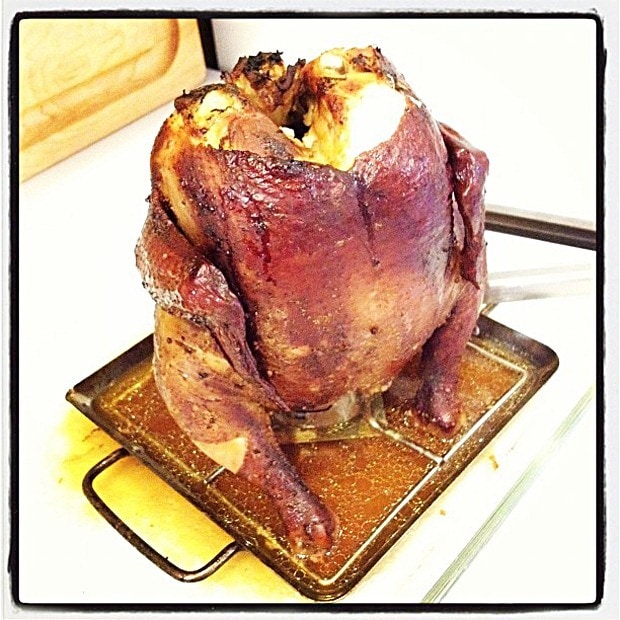 Smoked Beer Can Chicken with Dry Rub
Ingredients
1 (3 1/2 pound)

whole chicken

1/4 cup

dry rub of your choice

1 can

beer

3 cups

World Harbors marinade
Directions
Remove the giblets and rinse the chicken cavity.
Season the chicken inside and out with the rub. Press the rub on to the skin, too. Allow to sit for at least an hour on the counter top.
Open the beer and empty half of it into the smoker's drip pan.
Refill the can with your favorite World Harbors marinade. I like Italian Grill, but Maine's Own Lemon Pepper & Garlic is also a good choice.
Shove the can into the chicken cavity, and place on your beer can roaster if you're using one.
Set up your smoker for indirect heat. Use wood chips, chunks or logs to set up a good level of smoke. (Electric smokers use pellets. I chose Jack Daniels Wood Pellets, but you can use hickory, apple, mesquite or other woods that go well with chicken.) Maintain a smoker temperature of between 225 and 275 degrees F. (I set my smoker for 250 degrees.)
Set the chicken on the grill on the beer can base, and cook for three hours. If you don't use a dripping pan full of beer and water to "steam" the chicken, baste with more World Harbors marinade every hour.
When the chicken reaches an internal temperature of 165 degrees F (about three to four hours), test for doneness by inserting a knife tip into the thickest part of the thigh. If the juices run clear, the chicken is done to medium. Note: the FDA recommends cooking to 185 degrees F. Many people find this overcooks and dries out the chicken, so use your best judgment.
Remove the chicken and let sit for 20 minutes to let the juices "set." Slice and serve.
Prep Time:
1 Hour 10 Minutes
Total Time:
4 Hours 10 Minutes
Serving size:

1/2 pound per person
_______________
Disclosure: Mizkan, the parent company of World Harbors, provided compensation for this post. All opinions are my own.
Amazon links are affiliate links. A commission may be earned from a referred sale to their website.