Last Updated on February 15, 2022 by Anne-Marie
This is the best Mexican carne asada marinade recipe you'll ever try. Making authentic carne asada from scratch, instead of buying it at the carniceria, is worth the effort. Use it to make tacos, burritos, fries, nachos, and more!
Why this recipe works
Perfect for a crowd, we love grilling up carne asada when entertaining. You'll love the flavor.
This great marinade turns out better than the carne we ate our favorite Mexican restaurants in San Diego.
Make Tijuana carne asada street tacos for your guests. They'll rave over them!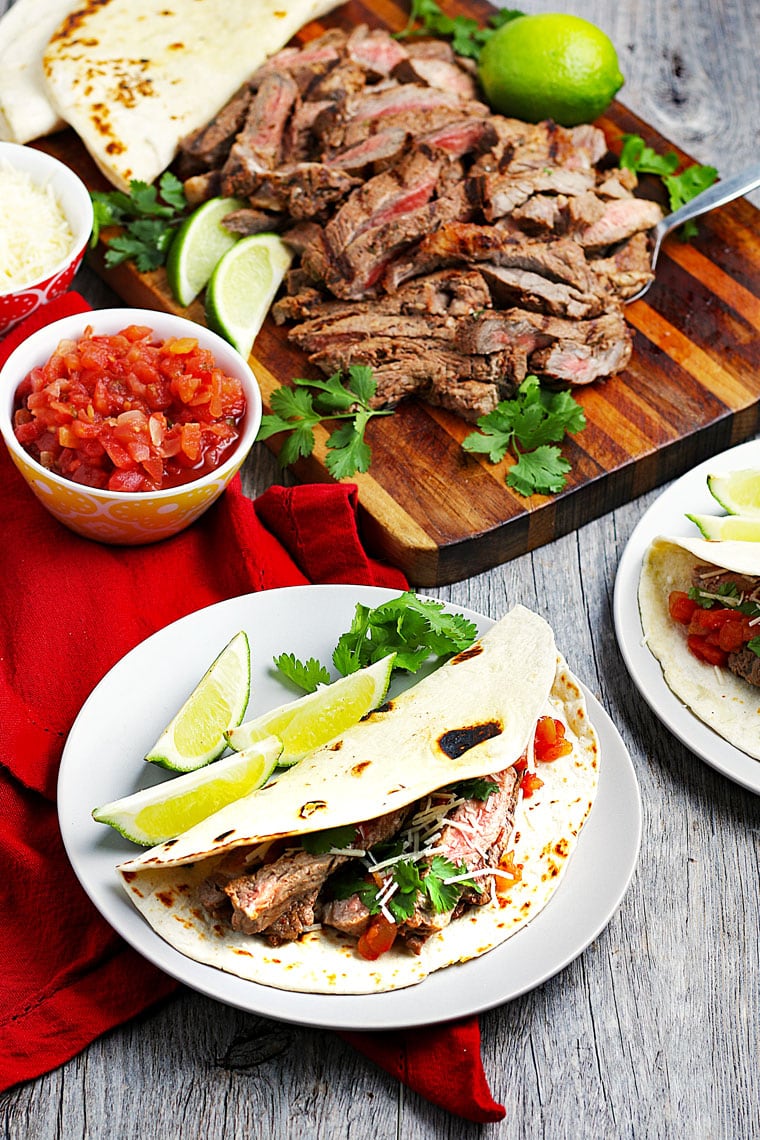 How to make this recipe
1. Combine all ingredients (except the steak) in a large bowl. Whisk to combine.
2. Place the meat in a gallon-sized freezer bag, in the bottom of a large baking dish, or in a non-reactive (plastic or glass) storage container with a lid.
3. Pour the authentic carne asada marinade on top of the meat. Then cover the dish or close the bag. Marinate overnight for up to 48 hours in the refrigerator.
How to cook the marinated flank steak
1. Preheat the grill on high. Oil the barbecue grill with a spritz of olive oil cooking spray so the marinated beef doesn't stick to your outdoor grill.
2. Turn down the green to medium or medium-high heat.
Cook the marinated skirt steak or flank steak for several minutes per side (keep flipping the flank steak) until the center is only slightly pink.
3. The temperature should be 110 degrees F on your grilling meat thermometer for the perfect level of doneness.
4. Then pull the carne asada off your outdoor grill and let the meat rest for a few minutes so you have a juicy steak.
Pro tip: you can cook the steak on a cast iron skillet on the stovetop.
In the market for a new grill? Check out The Best Smoker Grill Combo Guide.
How to cut up the cooked steak
Then you need to slice up the steak against the grain so it isn't chewy.
Don't know what the grain is in the meat? Here's a terrific guide on cutting against the grain from Serious Eats.
The best way is to cut perpendicularly (across) the lines in the meat. Don't cut parallel.
If you're stumped, you can always dice up the meat for tacos or burritos.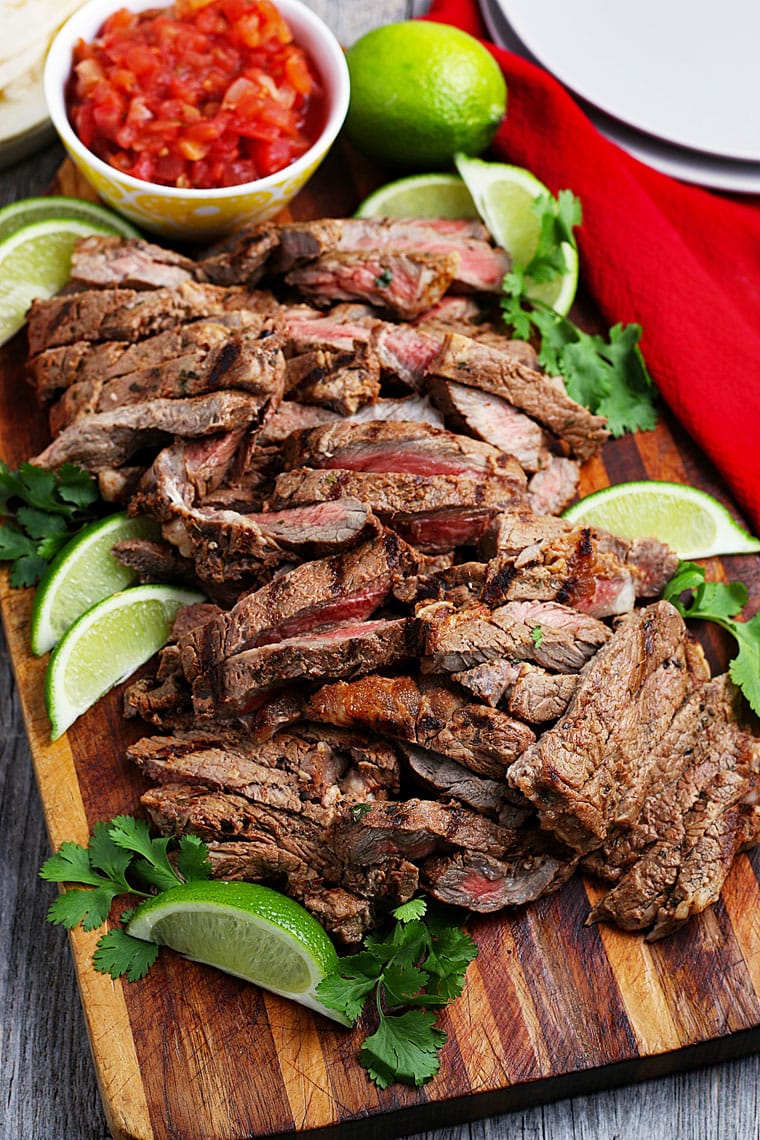 Do I have to use cilantro?
Don't like cilantro? It's OK to use fresh parsley instead.
What kind of steak?
Use lean skirt steak or lean flank steak and marinate for 12 to 24 hours.
Flank steak is leaner. Skirt steak is tougher and should be cooked to medium-rare or it will become too chewy.
The tougher the meat, the longer you should marinate it.
Should I tenderize the meat?
To further tenderize the flank steak or skirt steak, use a quality meat tenderizer tool. It's a must-have!
Run it over both sides of the meat, which helps the steak absorb the marinade for maximum flavor.
You can also use it on these easy chicken marinade or grilled flank steak recipes.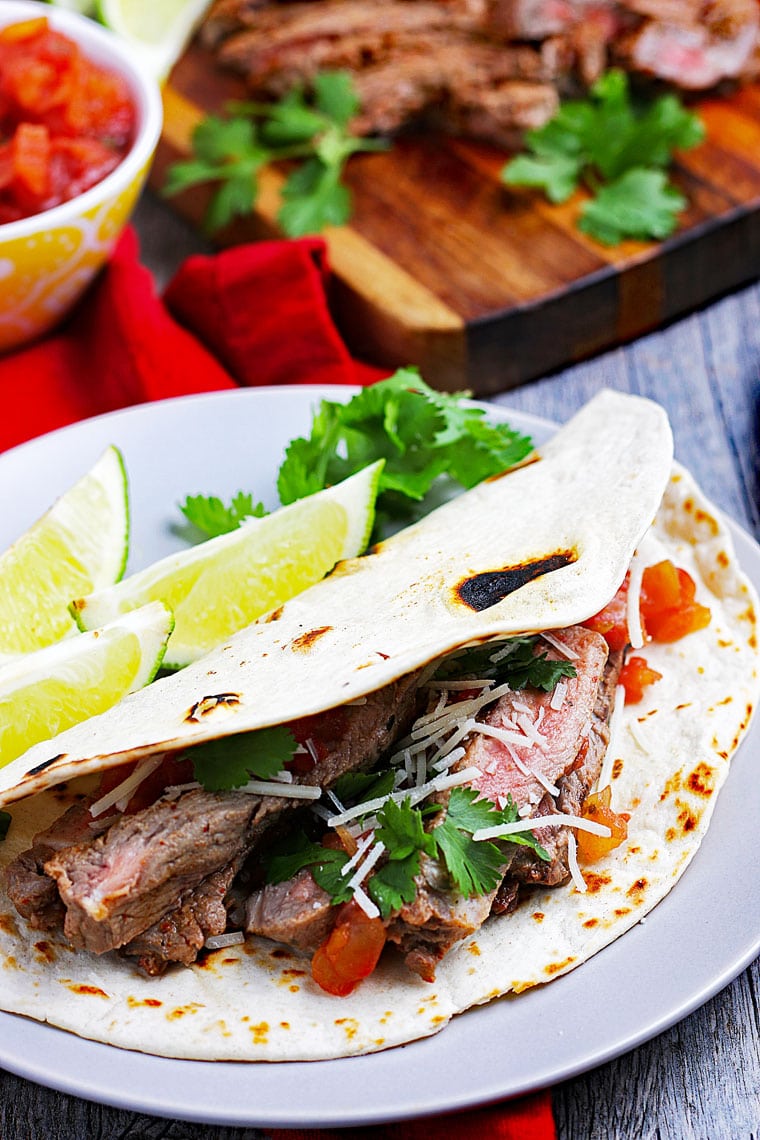 What kind of spices and seasonings?
I use ground cloves, cilantro and Mexican dried oregano in my marinade. You can use regular dried oregano if you can't find Mexican dried oregano.
Don't skip the cloves as it adds something special to the meat.
Also, if you don't want to use white pepper, you can substitute black pepper.
Can I make this without orange juice?
This marinade is made with orange juice. Then the orange sections are thrown into the marinade.
If you don't like orange juice or forgot the oranges at the store, here are some substitutes for the citrus juice:
pineapple juice
Sunny D, at the suggestion of some of my readers
beer (gluten free)
cider (hard or regular)
apple juice
tequila
Gluten free?
If you're gluten free, don't use malt vinegar! Instead, for a gluten free marinade, use red wine vinegar, white wine vinegar, or cider vinegar.
You should also use corn tortillas instead of flour.
Is carne asada keto-friendly?
Yes, it is. While the ingredients aren't low carb, they're just flavoring and tenderizing the meat.
They don't add many carbs to the grilled steak.
Just remember to pick low carb, keto-friendly toppings to your tacos or burritos. Or have the meat plain with grilled vegetables on the side.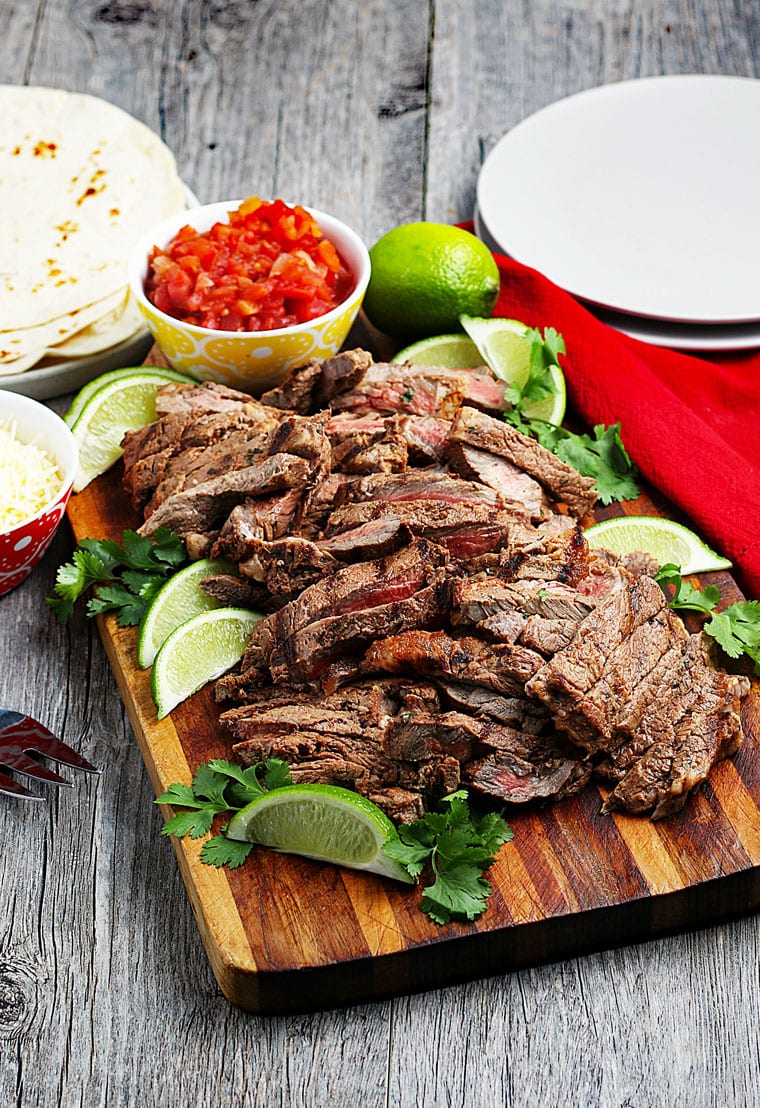 How do you serve up your tacos?
Serve up carne asada tacos with the following toppings:
● salsa
● pico de gallo
● queso fresco
● shredded Mexican-style cheese
● lime wedges
● diced tomatoes
● beans (black, pinto, or refried)
● avocado
● chopped green onions
● chopped white onions or red onions
● chopped fresh cilantro
● shredded cabbage or lettuce
● plain no-fat Greek yogurt or vegan tofu sour cream (dairy-free)
● tortilla chips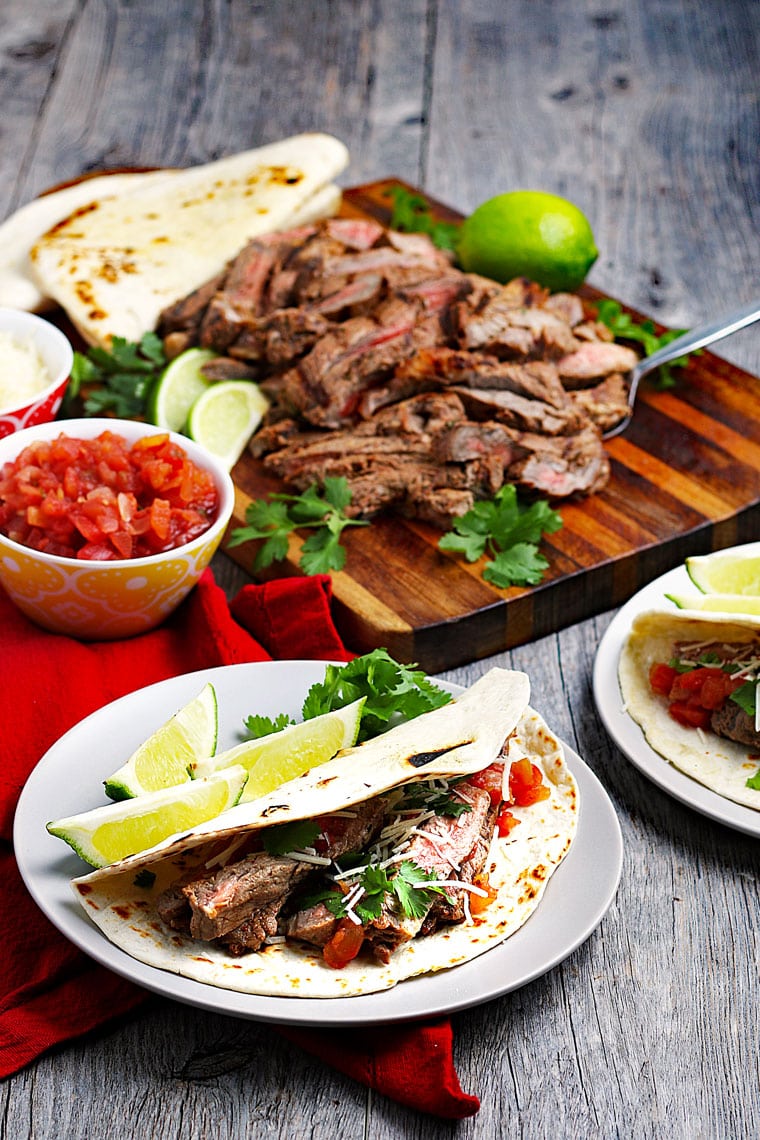 Ways to serve leftovers
Store leftovers in an airtight container. Then use to make:
● Taco bowls using Easy Mexican Rice or white or brown rice.
● In Easy Breakfast Chilaquiles instead of chorizo.
● In nachos instead of using taco meat.
● Carne asada fries are French fries topped with chopped steak, salsa, melted shredded cheese, sour cream, and guacamole.
Try these other Mexican recipes
Love Mexican food? Give these a try:
● Chicken Enchilada Casserole uses leftover crockpot whole chicken or Instant Pot whole chicken
● Layered Taco Dip Recipe and Chopped & Layered Taco Salad
● Peach & Cherry Beer Margarita
● Layered Mexican Christmas Eve Salad
● Easy Slow Cooker Mexican Shredded Chicken Recipe
What's your favorite Mexican dish?
Yield: 12 SERVINGS
Best Carne Asada Marinade Recipe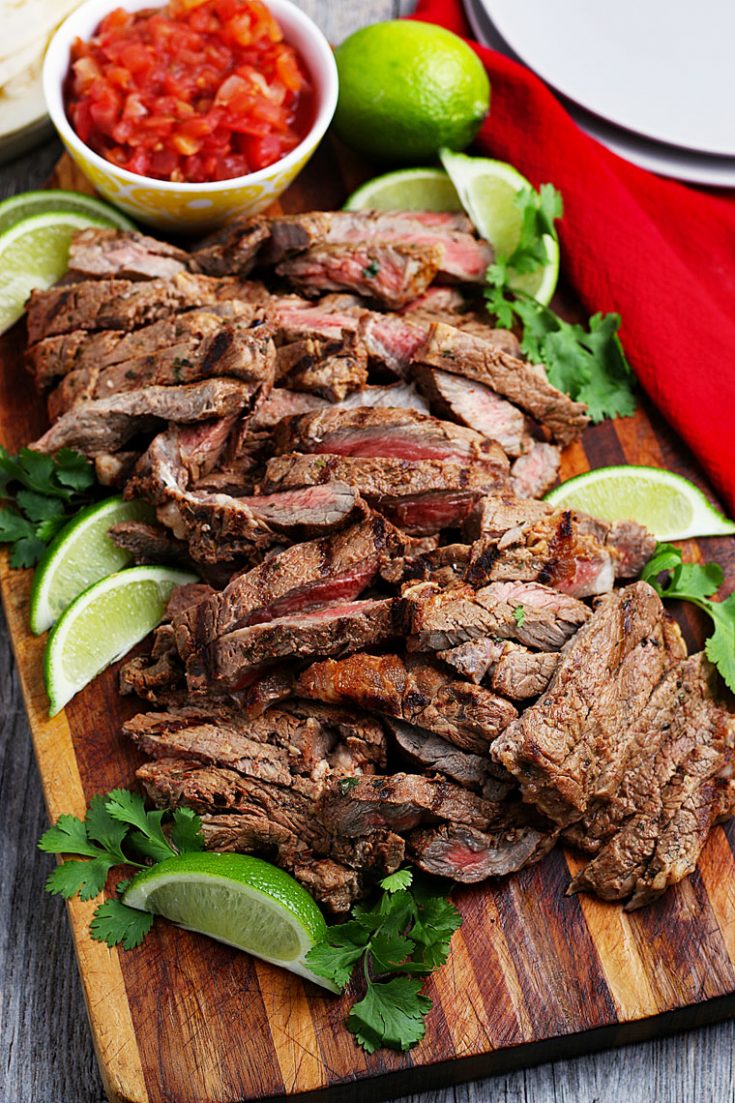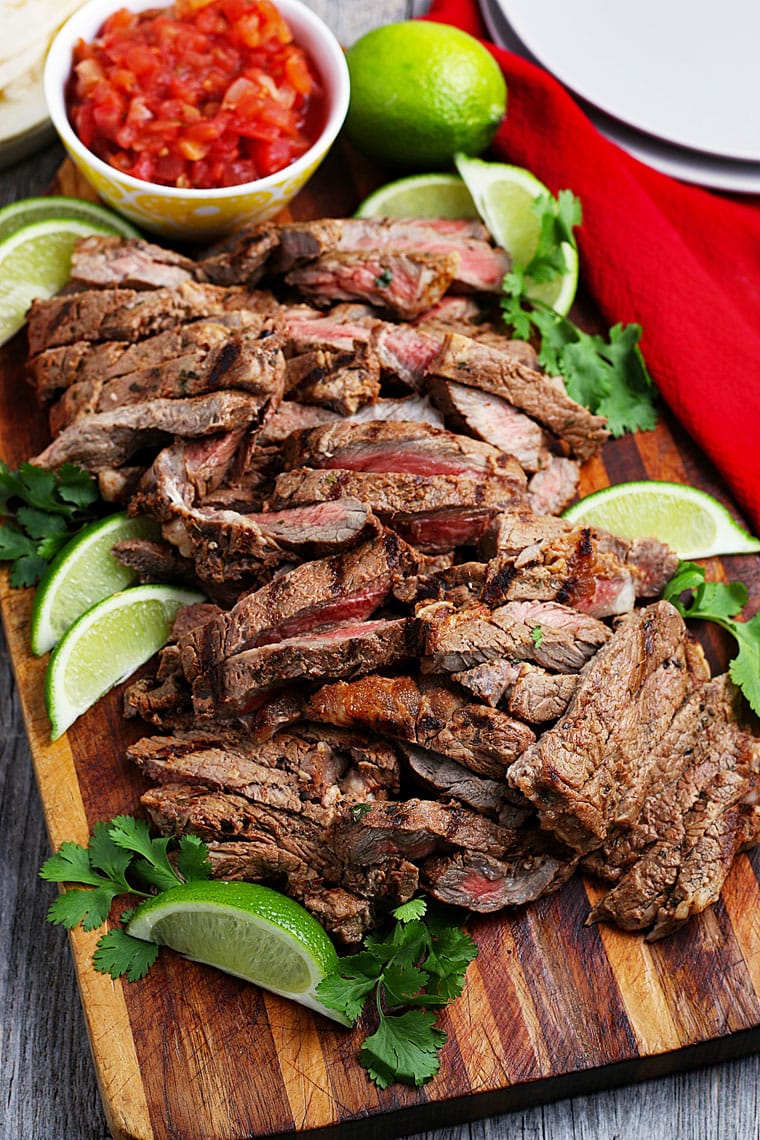 Looking for an easy carne asada recipe? Grill up this authentic carne asada marinade for tacos. One the best Mexican carne asada recipes!
Total Time
8 hours
40 minutes
Ingredients
1/4 cup olive oil
1 cup malt vinegar (any vinegar is fine in a pinch!)
1/3 cup lime juice or lemon juice
1/3 cup orange juice
1 cup water
2 tablespoons peeled fresh garlic cloves, minced
1 tablespoon ground white pepper (black pepper will work, too)
1 1/2 tablespoons salt
1 tablespoon ground cumin
1 tablespoon chili powder
1 tablespoon oregano
1/4 teaspoon ground cloves
1 orange, sliced
1/4 bunch fresh cilantro, chopped
6 pounds lean skirt steak or lean flank steak
Instructions
Combine all ingredients (except steak) in a large mixing bowl. Whisk to combine.
Place meat in a gallon-sized freezer bag, in the bottom of a shallow baking dish, or a non-reactive (plastic or glass) storage container with a lid.
Pour carne asada marinade on top of the meat, cover dish or close bag, and marinate overnight up to 48 hours in the refrigerator.
Take the steak from the marinade. Toss the leftover marinade.
Cook the meat until just cooked through on a hot grill. (Rare to medium-rare.)
Cut cooked meat into strips.
Place meat and favorite toppings in tortillas to make into tacos or burritos.
Recommended Products
As an Amazon Associate Affiliate and member of other affiliate programs, I earn from qualifying purchases.
Nutrition Information:
Yield:
12
Serving Size:
1/2 pound
Amount Per Serving:
Calories:

700
Total Fat:

38g
Saturated Fat:

14g
Trans Fat:

0g
Unsaturated Fat:

22g
Cholesterol:

141mg
Sodium:

1018mg
Carbohydrates:

24g
Fiber:

1g
Sugar:

22g
Protein:

61g
Nutritional information is automatically calculated per the ingredients list. Serving size may not be accurate. Please double-check with your preferred nutritional app for the most accurate information.
Originally published October 27, 2011.
Updated on September 22, 2017 with new pictures and information.