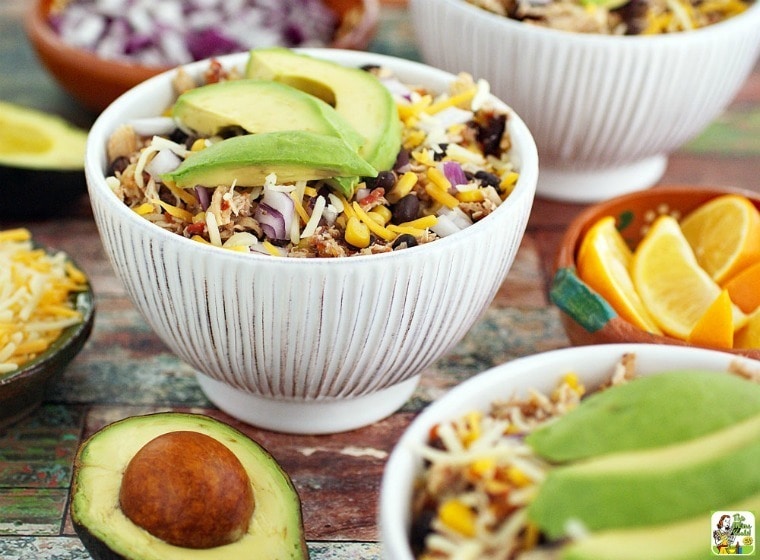 My recipe for Crock-Pot Mexican Shredded Chicken with Black Beans & Corn is just the dish you'll want for when you have friends over to watch the Big Game on TV. (It's also perfect for busy weeknights!)
You'll love how easy it is to put this slow cooker Mexican style chicken recipe together. And you don't even need the whole day to cook it. That's because if you set your slow cooker on high, this easy shredded chicken recipe cooks up in only four hours. Plenty of time to drive to the store, pick up all the ingredients you need, and get this easy party recipe going in your Crock-Pot and done before the Big Game starts.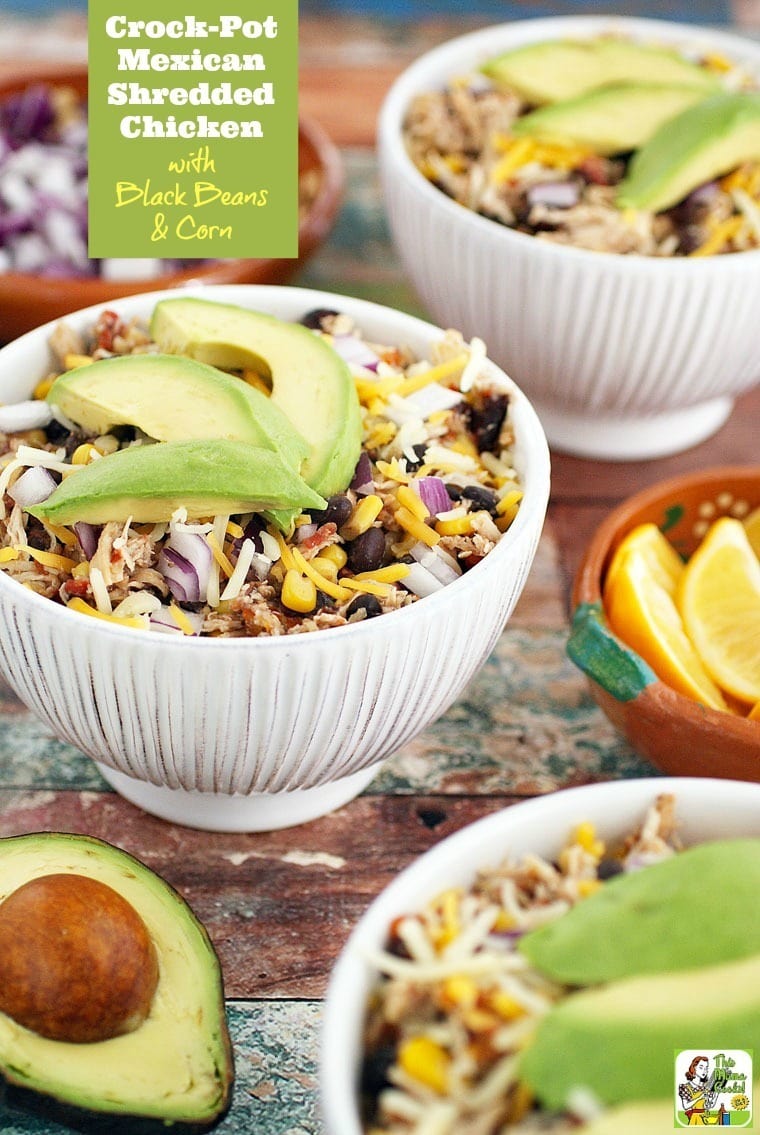 Normally, this can be served as an shredded chicken burrito recipe or an easy shredded chicken taco recipe. However, I've elected to serve it on brown rice as a "burrito bowl." With everyone's eyes on the game, who needs something messy like a taco running down your arms or falling into your lap?
It's so much easier to sit there with a bowl of Crock-Pot Mexican Shredded Chicken with Black Beans & Corn while you're cheering on your favorite team, don't you think?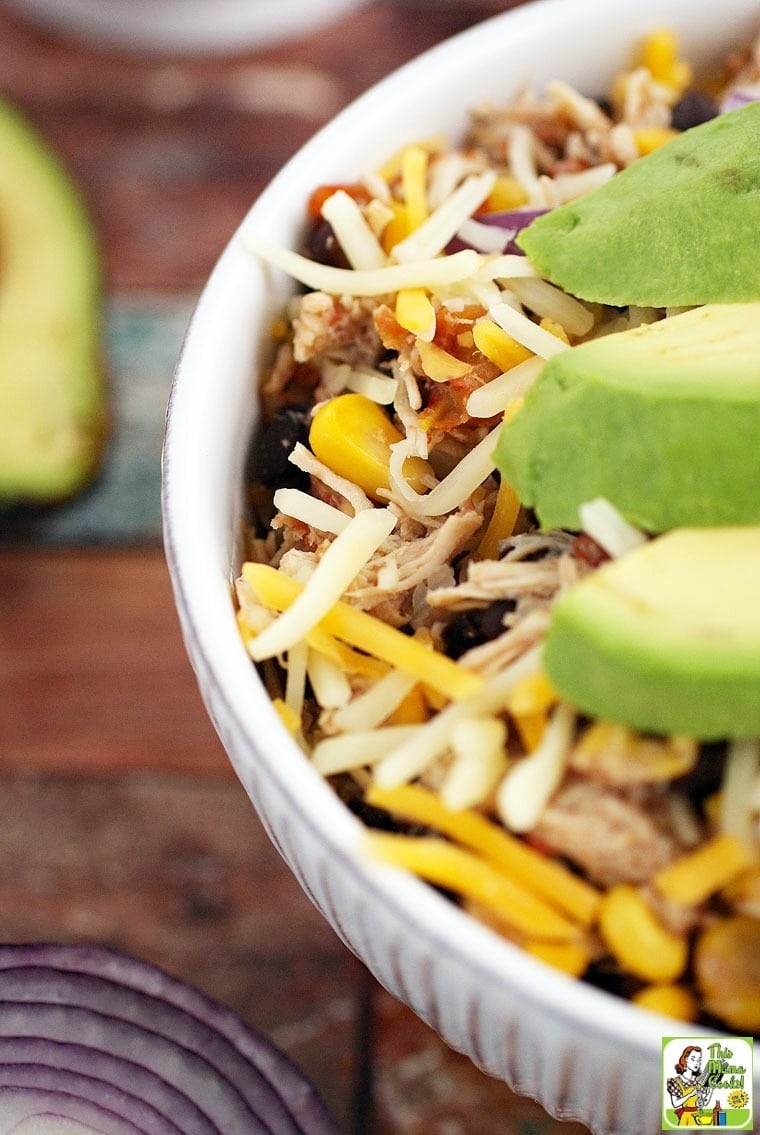 This Mama's tips for making Crock-Pot Mexican Shredded Chicken with Black Beans & Corn
My Crock-Pot Mexican Shredded Chicken with Black Beans & Corn recipe requires a six-quart slow cooker and has just enough room to spare. If you don't have a six-quart slow cooker, I suggest dividing the food evenly into two smaller slow cookers.
For easy cleanup, use slow cooker liners. They're such a time saver that you'll wonder why you didn't always use liners!
Stock up on slow cooker liners on Amazon at a great price. You'll love 'em!
Make brown rice in a rice cooker. That way it can stay warm throughout your football watching party to serve with this easy Mexican style shredded chicken recipe.
Set this up buffet style, but show your guests how to make this easy shredded chicken recipe. Explain that you first put the rice in the bowl, then the shredded chicken.
Then you add the toppings to the Mexican style chicken bowls like shredded Mexican-style cheese, diced red onions, avocados, and a squeeze of lemon or lime.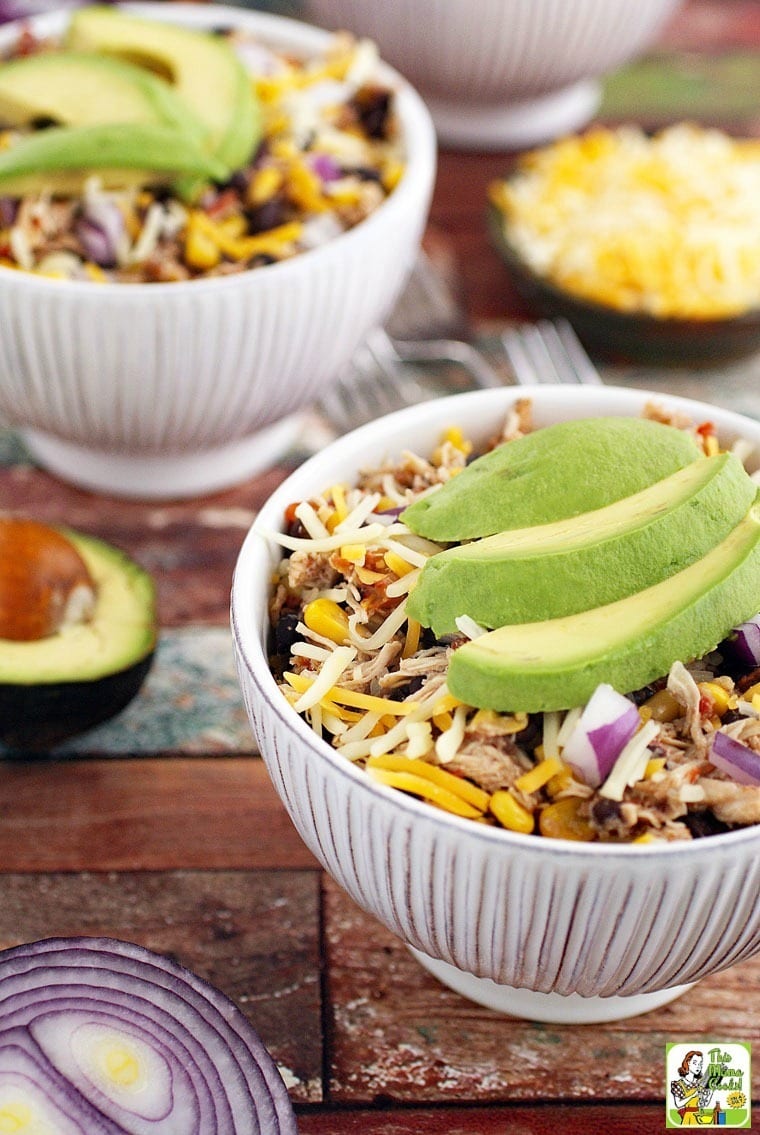 To spice up this slow cooker shredded chicken recipe, try a Mexican style hot sauce.
Need a party drink suggestion to go with your Mexican shredded chicken bowls? Try my Best ever margarita recipe: Peach & Cherry Beer Margarita!
Leftover Crock-Pot Mexican Shredded Chicken with Black Beans & Corn can be served in sandwich wraps or mixed with a little mayo and served like a chicken salad sandwich!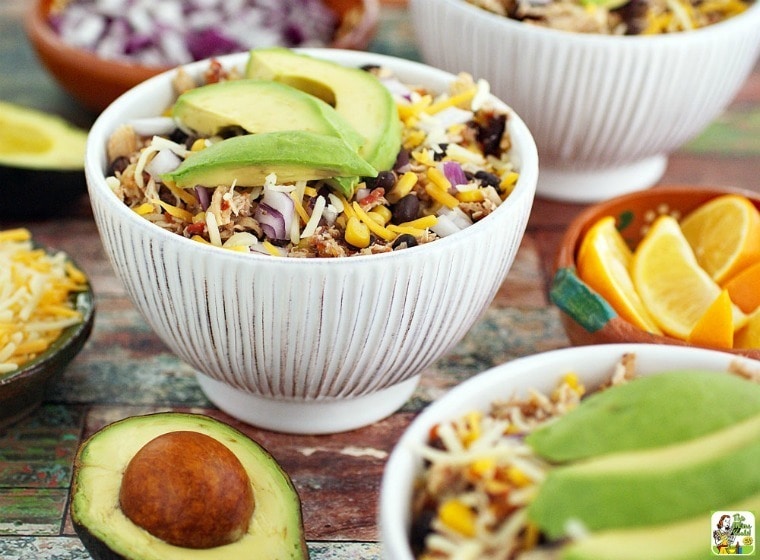 Crock-Pot Mexican Shredded Chicken with Black Beans & Corn
Ingredients
Cooking spray

5 pounds

chicken breasts, skinless and boneless

2 (10 ounce) cans

RO*TEL Mexican Style Diced Tomatoes with Lime Juice and Cilantro

2 (10 ounce) cans

RO*TEL Hot Diced Tomatoes and Habaneros

1 (20 ounce) can

crushed pineapple with 100% juice

2 (15.25 ounce) cans

sweet golden whole kernel corn, drained

2 (15 ounce) cans

black beans, drained and rinsed

1 tablespoon

sea salt

Brown rice

Serve with Mexican style shredded cheese, avocado, hot sauce, chopped onion, and slices lemon and limes.
Directions
Spray the inside of the crock with cooking spray. Place chicken breasts at the bottom of the crock.
Place the RO*TEL tomatoes, crushed pineapple with juice, drained corn, drained and rinsed black beans and sea salt on top of chicken breasts. Using a large spoon, carefully mix ingredients except for the chicken, which should be left on the bottom.
Cover and place on high for 4 hours or on low for 8 hours.
An hour before chicken will be ready, make enough rice to serve 10-12 people.
When chicken is easily shredded with a fork, remove all ingredients with tongs and a slotted spoon. There will a lot of liquid in the crock, so you'll need to strain it. Set the liquid aside temporarily.
Shredded the chicken with a fork and place all the food back into the slow cooker. Mix all the ingredients until they're thoroughly incorporated. Place your slow cooker on the low setting, if it has one. If not, turn it off and unplug it.
Taste the chicken. If it's dry, add back some of the liquid you removed and taste again until you're satisfied. Toss any remaining liquid.
To serve, place brown rice in bowl, put some of the shredded chicken on top, then add toppings such as shredded cheese, avocado, chopped onion, hot sauce and a squeeze of lemon or lime. Enjoy!
Serving size:

1/10 to 1/12 of recipe