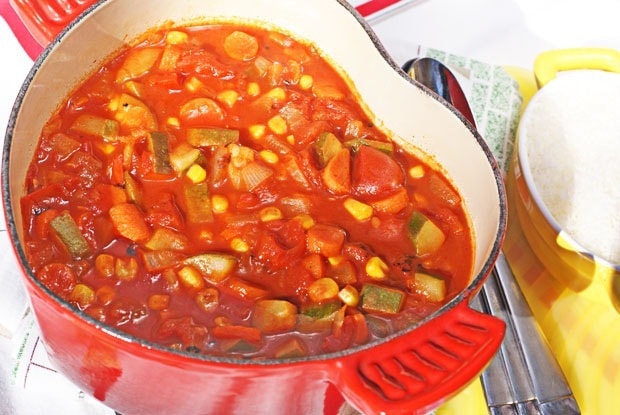 There's nothing better than homemade vegetable soup on a cold winter's night. Or when you just got your braces tightened, like my son Nathan, and want something easy to eat. Luckily, this Hunt's Signature Recipe is as easy to make as it is to eat. All you need to do is cut up a large zucchini, carrots, and an onion, add some spices and Hunt's Tomatoes, a little water, and some frozen corn and you're ready to go. With all these heart healthy vegetables, this is a terrific recipe to celebrate American Heart Month, too!
But before I share the recipe with you, could you take a minute to fill out a quick survey about tomatoes? Thanks!
Yes, you can make soup from scratch on a weeknight!
We're all busy, busy, busy especially on weeknights when everyone's coming home starving from work or after school activities. To cut the prep time in half, use frozen precut zucchini, onions, and carrots. Just adjust the timing to completely cook through the vegetables.
If you have a little extra time, make a double batch and freeze half. That way, you have a batch ready to go on those nights when you're too busy to cook. Just defrost and heat up the soup in the microwave or on the stove top.
Finally, a few pointers. First, adding freshly grated Parmesan cheese to your individual soup bowl is so worth the calories. Yum! It's easy to grate a bit over your soup bowl. However, you can save time by buying a container of grated, fresh Parmesan at the grocery store. (Please don't use that weird powdered "Parmesan" that comes in cans in the spaghetti sauce section. The fresh stuff is so much tastier.)
Second, if you think the vegetable soup may be too spicy for you or your family, cut back on the ground red pepper. Instead, have a bottle of hot sauce on the table for those who like their food spicy and hot!
Third, smoked paprika is different from regular paprika. Its smokiness adds a lot to this soup recipe, so it's worth buying if smoked paprika is not already in your spice cabinet.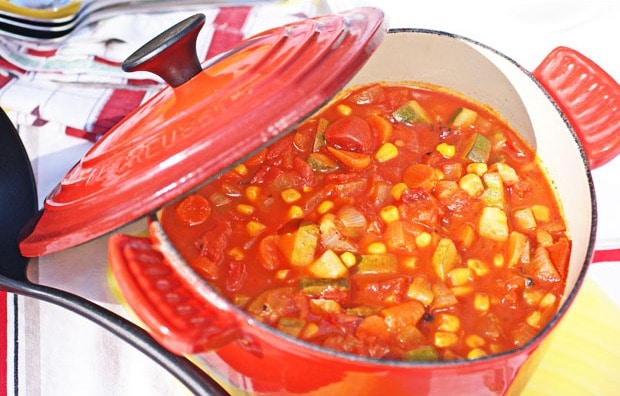 Hands On: 35 | Total: 45 | Makes: 6 servings (1-1/2 cups each)
Ingredients:
2 tablespoons Pure Wesson® Canola Oil
2 cups chopped zucchini
1 1/2 cups chopped carrots
1 cup chopped yellow onion
1 1/2 teaspoons smoked paprika
1/4 teaspoon ground red pepper
1 cup frozen whole kernel corn
1 can (14.5 ounces each) Hunt's® Fire Roasted Diced Tomatoes, undrained
2 cups Hunt's® Tomato Sauce
2 1/2 cups water
1/2 cup shredded Parmesan cheese
Directions:
Heat oil in large saucepan or Dutch oven over medium-high heat. Add zucchini, carrots and onion; cook 10 minutes or until vegetables are tender, stirring occasionally.
Add paprika and red pepper; cook 1 minute more or until fragrant, stirring constantly. Add corn, undrained tomatoes, tomato sauce and water; bring to a boil.
Reduce heat to medium-low; cover and simmer 10 minutes for flavors to blend.
Ladle soup into bowls; sprinkle with cheese.
Nutritional information
Per serving:
Calories 159
Total Fat 7 g
Saturated Fat 2 g
Cholesterol 5 mg
Sodium 837 mg
Carbohydrate 20 g
Dietary Fiber 5 g
Sugars 8 g
Protein 5 g
Percent Daily Values*: Vitamin A 116%; Vitamin C 25%; Calcium 12%; Iron 7% (Percent Daily Values are based on a 2,000 calorie diet.)
Remember, Hunt's diced, whole, stewed, and crushed tomatoes are naturally peeled with steam – FlashSteamed  – not with chemicals like some other brands use. Plus, they add no artificial preservatives in the process. So you can feel good about using 100% natural Hunt's tomatoes in your recipes.
_________________________________
Disclosure: I've been compensated by Hunt's for my time and efforts on their behalf. All opinions and experiences are my own.