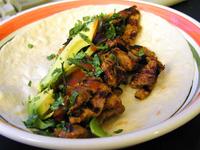 We're having a party for Big Bad Dad's coworkers on Friday to celebrate a successful delivery of product by their group. Wanting something tasty and easy to grill, we chose to grill up some carne asada and mahi mahi fish to serve along with taco fixings.
My brother-in-law Mark emailed us his carne asada recipe. We've had it before at his house in Southern California, and it's terrific.
Carne Asada Marinade
Ingredients:
4-6 lbs. of carne asada meat from at your local Mexican grocery store or flank steak
minced garlic (garlic power will also work)
1/2 tsp ginger
1 onions, diced
1 bunch of roughly chopped cilantro
2 lemon – use juice and slice the rest including peels.
pepper
1 can of Coke per 6 lbs. of meat
Directions:
Mix up the ingredients, add the meat and put in a sealed container or zip lock bag for at least 24 hrs and you have great carne asada. You may have to play around with quantities depending on the amount of meat.
If you want to figure out how much meat, Mark uses an estimate of about 1 pound per person. Some will eat more some will eat less.
Grilling & Serving Instructions
(Derrick Riches at About.com)
Place the meat on the grill and when the juices start to rise on the surface, sprinkle with the salt. When the salt liquefies on the surface flip the meat over and repeat. This seasons the meat as it cooks. Carne Asada is supposed to be on the salty side but this doesn't mean that you need to drown the meat in salt. This sprinkling is also the reason you don't want to use a marinade with salt.
Traditionally Carne Asada is grilled to well done. Once you have the meat grilled to perfection you will want to take it straight to a carving board. Cut the meat across the grain with a good sharp knife. The pieces should be thin strips. Keep the meat warm in a heavy pot with a lid. You don't need to add heat but you want to hold in the heat you have.
Serve with warm tortillas and whatever fixings you prefer. A good Carne Asada taco would be topped with salsa, chopped red onion, guacamole, salt and lemon juice.
Other Carne Asada Recipes:
Always on the lookout for good fish tacos – and new mahi mahi recipes – I may try this one:
Southwestern Mahi Mahi
From Derrick Riches at About.com
These fish fillets are marinated in southwestern seasonings, making this a great main course and a perfect fish for Mexican-style dishes like fish tacos.
Prep Time : 10min
Cook Time : 10min
Ingredients:
6 6 ounce mahi mahi fish fillets
1/4 cup chopped fresh cilantro
1/4 cup lemon juice
2 tablespoons olive oil
1 tablespoon honey
3 cloves garlic, minced
1 teaspoon hot chili powder (optional)
salt and pepper to taste
Instructions:
Combine all ingredients except the fish. Mix well.
Place fillets in a large resealable bag of shallow baking dish.
Add marinade and turn to coat.
Refrigerate for 30 minutes.
Preheat grill.
Remove fish from marinade and place on hot grill over direct heat for about 3 to 4 minutes per side, or until done.
Serve with thinly sliced cabbage, salsa, and a sprinkle of lime juice in a warm corn tortilla.