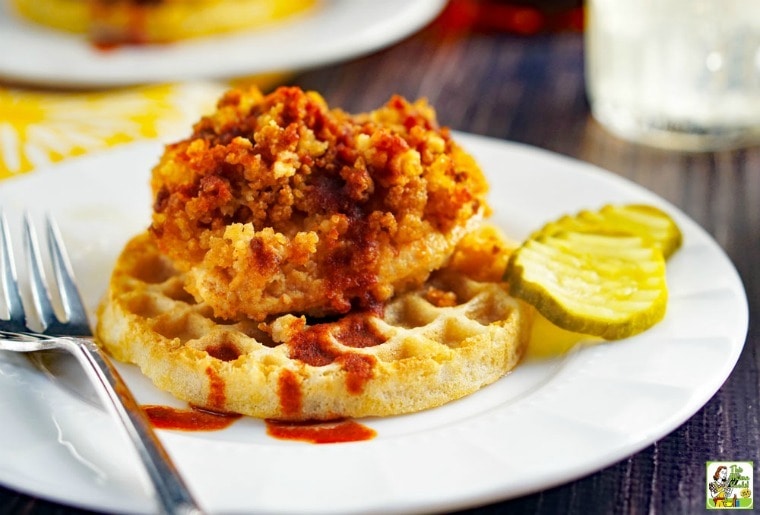 This Chicken and Waffle Recipe is for anyone who loves this Southern classic but had to pass because they're gluten-free.
Or for those who wanted to go out with friends to try hot Nashville chicken and waffles but couldn't because, well, gluten!
That's because this spicy chicken recipe is made with Van's® Gluten Free Frozen Original Waffles, including the "breading" on the chicken!
It's just the gluten-free chicken and waffles dish you've been waiting for!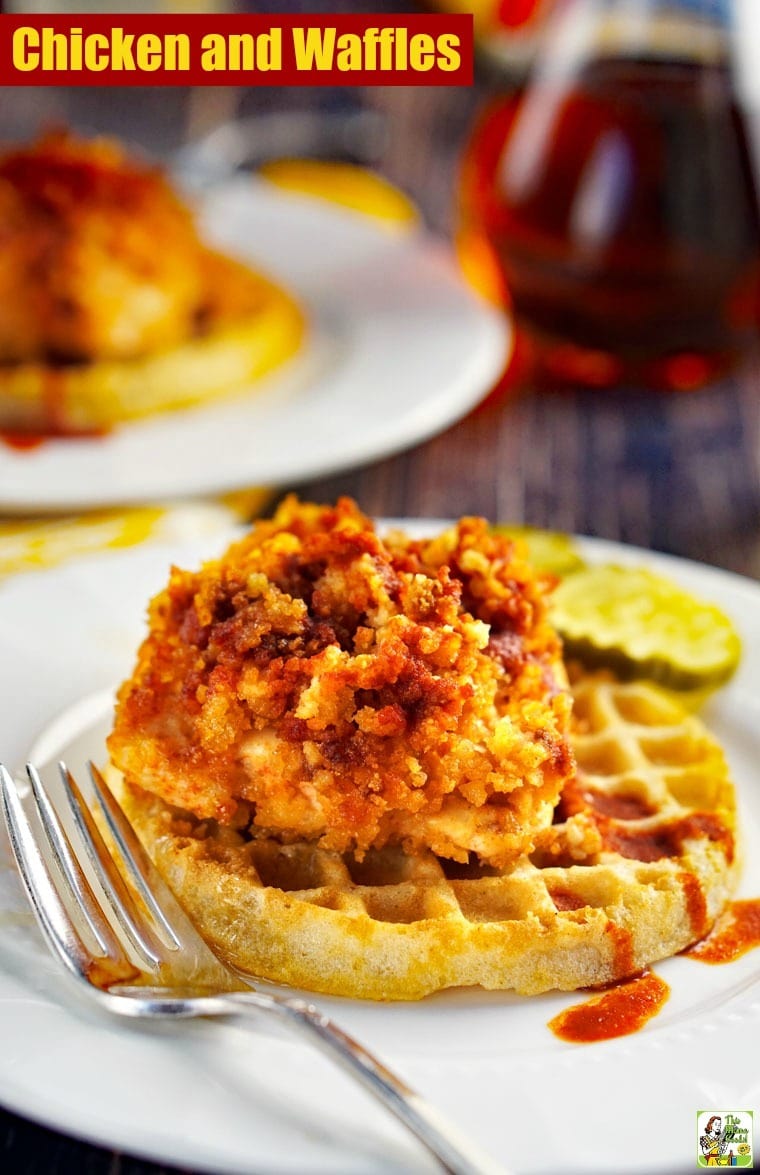 A Chicken and Waffles Recipe that's easy to make!
Yes, not only is this chicken and waffles recipe gluten-free, but it's also easy to make. First, you don't have drag your deep fryer out of the back of the pantry.
That's because this is a baked chicken and waffles dish. Not only is this a more wholesome way to enjoy chicken and waffles, cleanup's way easier, too! No greasy counter top because all the mess is kept to a couple of lined baking sheets.
Using Van's Gluten-Free Frozen Original Waffles for both the "breading" and the waffle base makes it super convenient, too. There's no need to whip up a batch of waffles from scratch.
Finally, I was able to get all the ingredients at my local Fresh Thyme. No running around to several stores or having to find unusual ingredients online.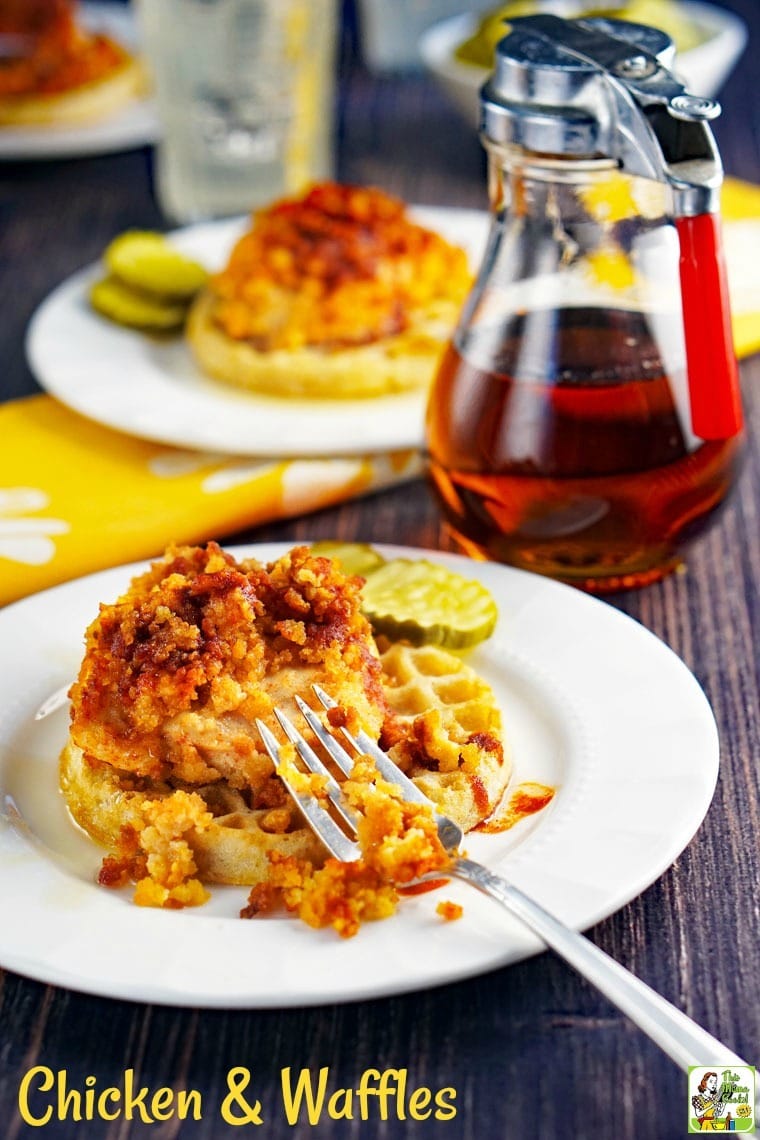 Van's waffles aren't just for breakfast!
Have you tried Van's Gluten-Free Frozen Original Waffles? If you're gluten-free, you have to give them a try! You can find them in the frozen food aisle of your local Fresh Thyme.
(Find the closest Fresh Thyme store near you with their online store locator.)
Since they're frozen, Van's waffles are always ready when you feel like having one for a snack, as part of a meal, or even as a dessert.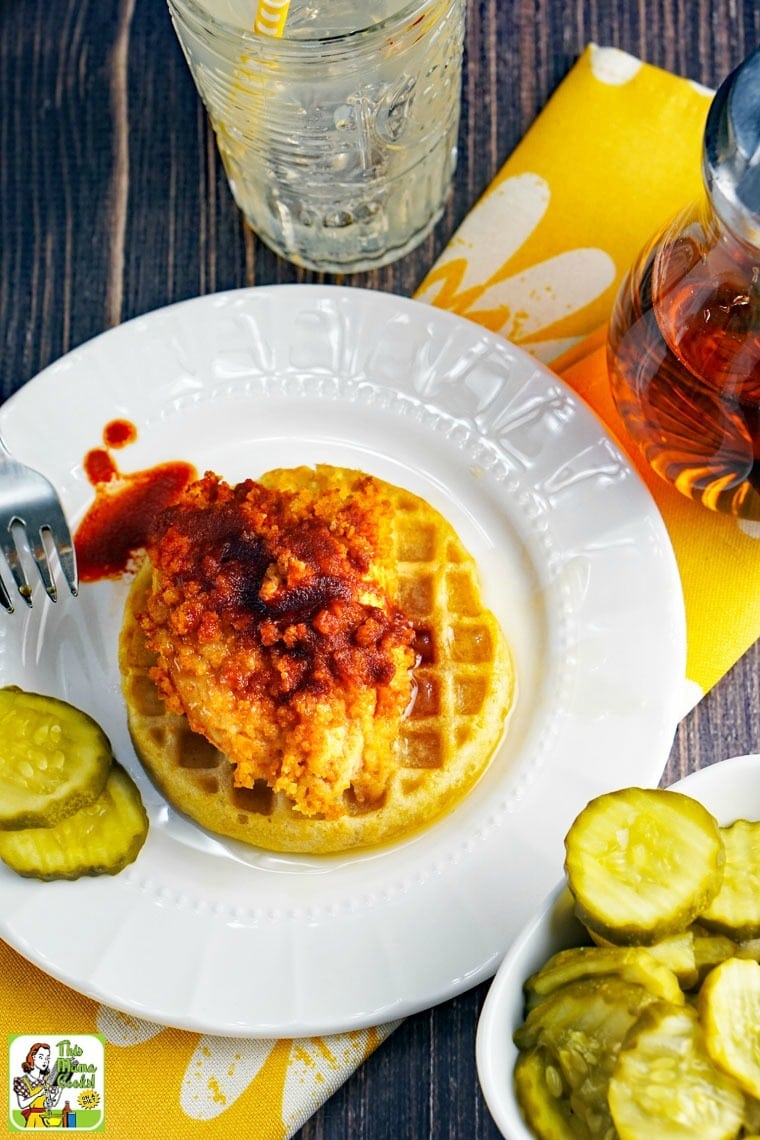 Did you know that Van's waffles are certified to be gluten-free and non-GMO? They're honestly nutritious with simple, clean ingredients.
They're also dairy free, egg free, nut free, corn free, and have no artificial flavors. Van's waffles are wholesome foods that your family can feel good about eating.
Van's Gluten-Free Frozen Waffles also come in flavors that your family will love – Original (plain), Blueberry, Apple Cinnamon, and Ancient Grains.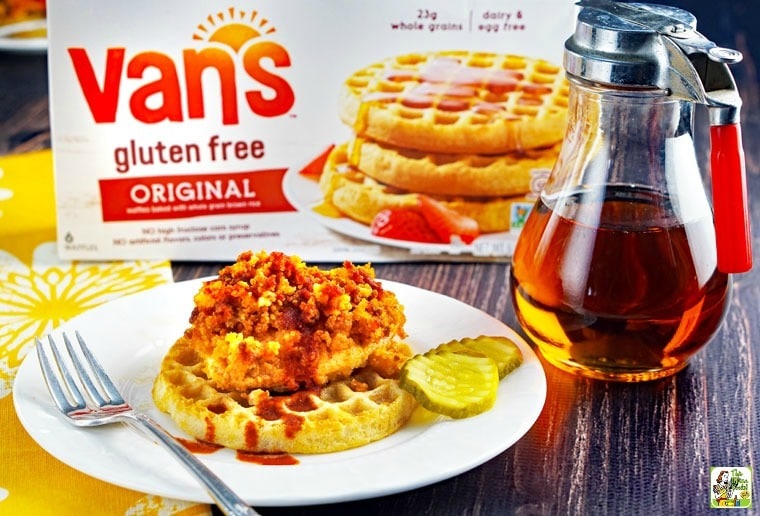 This Mama's tips for making the Chicken and Waffles Recipe
Traditionally, most chicken and waffles recipes are made with buttermilk. Since Van's Gluten-Free Frozen Original Waffles are dairy free, I wanted to keep this recipe dairy free, too.
So I substituted lemon juice and coconut milk for the buttermilk. However, if you're not dairy free, you can certainly use buttermilk instead.
If you don't have smoked paprika, regular paprika will do.
Only have light brown sugar in your pantry? Feel free to substitute it for the dark brown sugar. If you only have regular granulated sugar, use 1 tablespoon sugar and add a 1/4 teaspoon of molasses or maple syrup to it.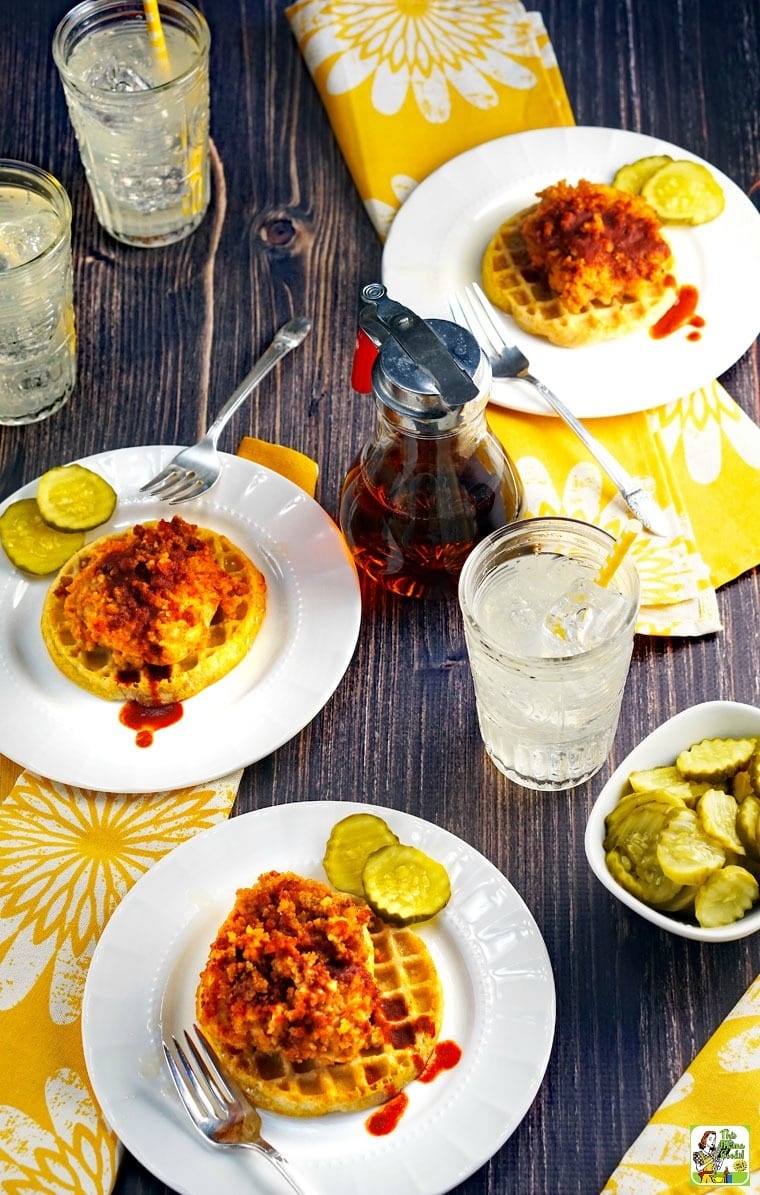 Since I'm not a fan of sweaty brows and runny noses at the dinner table, I suggest only using 1 to 2 teaspoons of cayenne pepper to this Nashville chicken recipe. However, if you love hot chicken, add more cayenne!
Or serve your chicken and waffles with a bottle of your favorite vinegar-based hot sauce at dinner time and go to town!
When trimming the chicken into waffle sized pieces, you'll probably have extra chicken left over. Cut into bite sized pieces and use the chicken in a stir fry, an Easy Chicken Stew, or Easy Chicken and Sausage Gumbo.
Finally, serve this easy Chicken and Waffle Recipe with some coleslaw, a refreshing drink like lemonade, and a gluten free dessert like my Easy Buttermilk Pie, a Southern classic.
(The pie isn't dairy free. But if you're using buttermilk for the chicken and waffles, now you have a recipe in which to use the leftover milk!)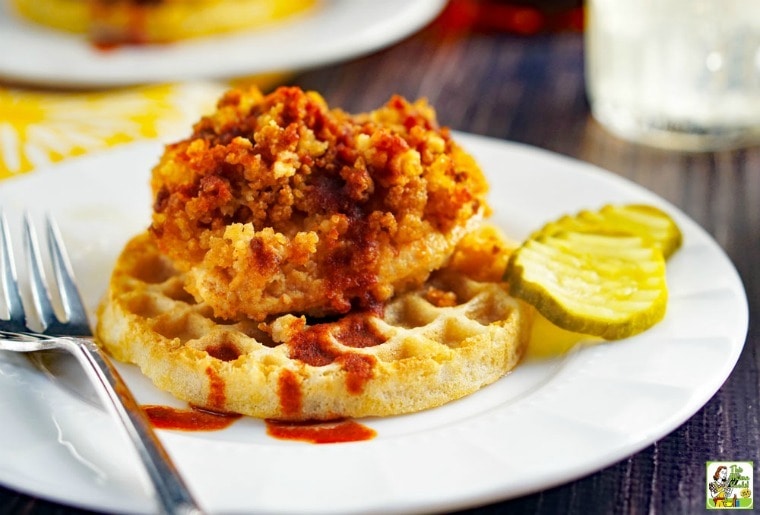 Chicken and Waffles Recipe
Ingredients
1 tablespoon

fresh lemon juice, strained to removed pulp and seeds

1 cup

coconut milk

2 tablespoons

smoked paprika

1 tablespoon

packed dark brown sugar

2 teaspoons

garlic powder

1-2 teaspoons

cayenne pepper, to taste

1 teaspoon

onion powder

1 teaspoon

sea salt

3-4 pounds

chicken breasts, boneless, skinless, trimmed

Cooking spray

(6 ounce) packages

Van's Gluten-Free Frozen Original Waffles, divided

1/2 cup

white vinegar

Maple syrup for serving

Hamburger dill chip pickles for garnishing
Directions
Put lemon juice and coconut milk in a nonreactive bowl. Stir and let the mixture sit for 10 minutes.
Combine smoked paprika, brown sugar, cayenne, garlic powder, onion powder and sea salt in a small bowl.
Add 2 tablespoons of the spice and sugar mixture to coconut milk. Stir to combine. Reserve the remaining spice mixture for later.
Cut the chicken breasts into 10 waffle-sized patties. If the chicken meat is very thick, cut the patties in half length-wise.
Add the chicken to the coconut milk mixture and marinate in the refrigerator for at least 1 hour or up to 24 hours.
Preheat oven to 400 degrees F. Line two baking sheets with foil or parchment paper. Coat wire racks with cooking spray and set them on the prepared baking sheets.
Toast 10 Van's waffles until they are crunchy and toast like. Break the waffles into pieces and chop in a food processor or high-speed blender until waffles are reduced to crumbs.
Place the waffle crumbs in a shallow dish or pie plate. Coat each piece of marinated chicken with crumbs by pressing them into the crumbs to help make them stick. (Toss any leftover marinade.)
Place the chicken on the prepared racks. Coat the top and sides of the chicken pieces with cooking spray. Bake the chicken until golden brown – about 10 minutes.
Remove baking sheet from oven. Gently flip the chicken pieces. Add any leftover waffle crumbs to chicken pieces then lightly coat with more cooking spray. (Toss any unused waffle crumbs.)
Place in oven and cook for another 5 minutes until golden brown and the chicken is cooked through.
Remove chicken from oven and place on a large plate or platter. Sprinkle any cooked waffle crumbs that remain on baking sheets on top of the chicken breasts. Cover and keep warm until serving time.
In a small saucepan, combine the reserved spice mixture with vinegar. Bring to a boil over high heat. Turn heat to low and cover saucepan with a lid.
Toast waffles according to box directions. Keep waffles warm until serving time.
Just before serving, drizzle half of the hot sauce on the chicken on the platter.
To serve, place a piece of chicken on top of a waffle. Drizzle with some maple syrup. Then garnish with a couple of hamburger dill chip pickles.
Keep extra hot sauce and maple syrup on the table so everyone can add more to their plates if they wish.
Serving size:

Serving size 1-2 waffles plus chicken pieces per person