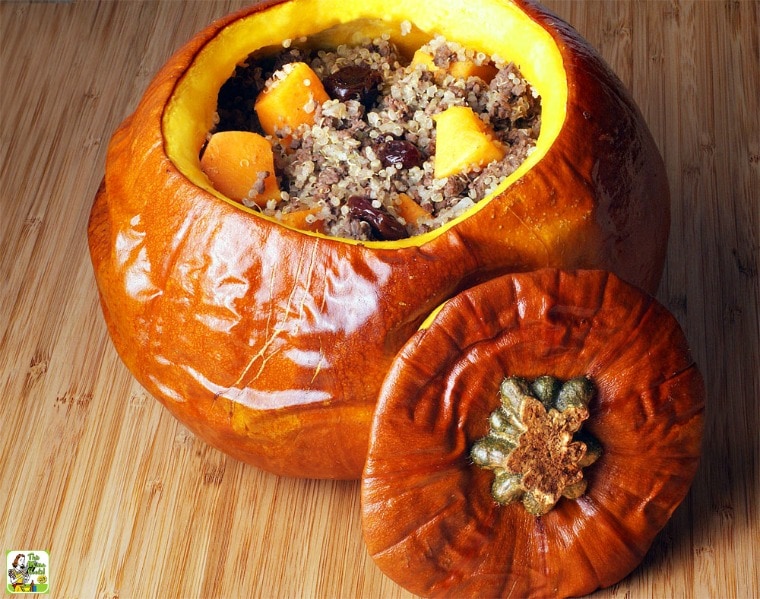 If you're searching for a show stopping fall recipe for your holiday table, check out this Baked Stuffed Pumpkin recipe.
This quinoa stuffed pumpkin recipe was inspired by a recipe I saw in the Spirit of the Harvest: North American Indian Cooking cookbook – Hidatsa Stuffed Sugar Pumpkin. I made it for my family several years ago and loved the idea of stuffing sugar pumpkins with a mixture of wild rice, vegetables, and ground meat.
This time instead of wild rice, I decided to use quinoa and a mixture of ground venison, dried cherries, and butternut squash.
The result is a sweet and savory stuffed pumpkin recipe that's impressive to look at but surprisingly simple to make. It's truly one pot cooking where you can eat the pot!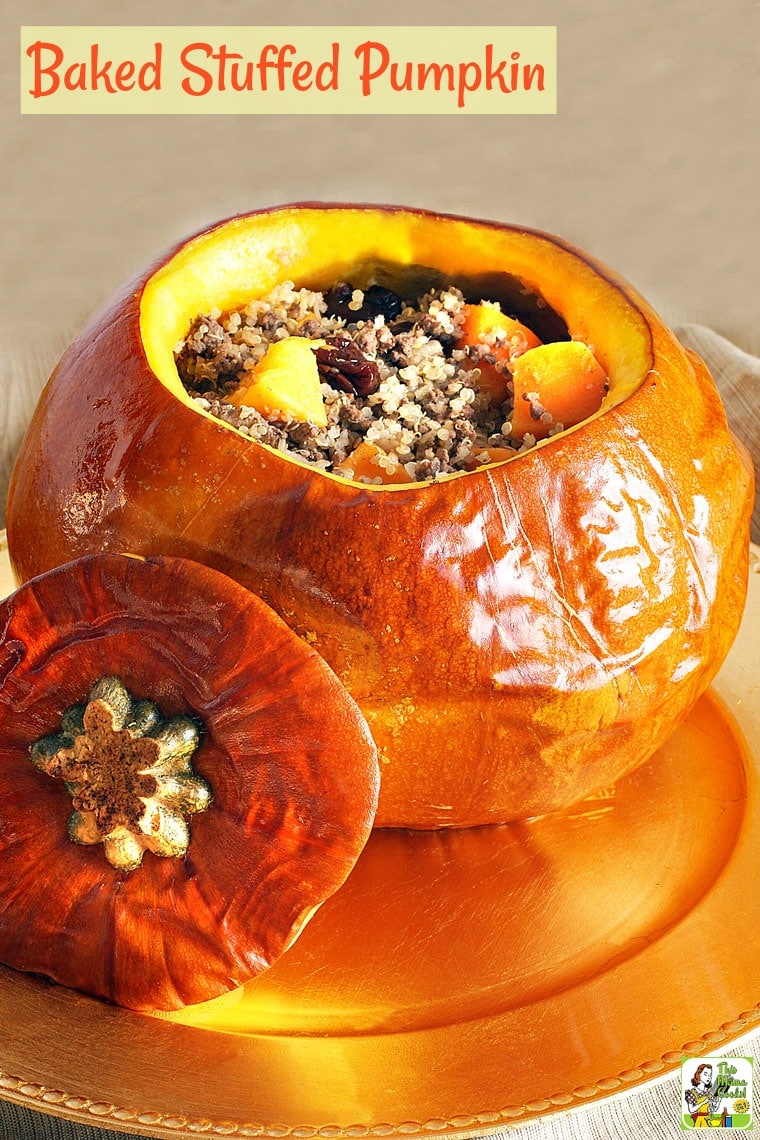 This Baked Stuffed Pumpkin recipe packs a nutritional wallop
Not only is this Baked Stuffed Pumpkin recipe delicious, it's also good for you!
Quinoa – Contains a balanced set of essential amino acids and is a good source of protein. Quinoa's also a good source of dietary fiber, phosphorus, magnesium and iron. It's gluten-free and considered easy to digest, too.
Cherries – According to the Cherry Marketing Institute, compared to other fruits, tart cherries have among the highest levels of disease-fighting antioxidants, and contain 19 times more beta carotene than blueberries or strawberries.
There's also some evidence that links cherries to many important health benefits from helping to ease the pain of arthritis and gout, to reducing risk factors for heart disease, diabetes and certain cancers.
Venison – A super lean protein that is high in iron, but low in saturated fat. Venison is also a very good source of vitamin B12, providing 60.0% of your recommended daily value as well riboflavin (40.0% of the RDV), niacin (38.0% RDV) and vitamin B6 (21.5% of the RDV).
Butternut Squash – Squash high in dietary fiber, heart healthy, and has significant amounts of potassium, vitamin B6, and folate. It's also rich in phytonutrients and antioxidants, which may give it an anti-inflammatory effect.
Pumpkin – Full of fiber and vitamin A and low in calories.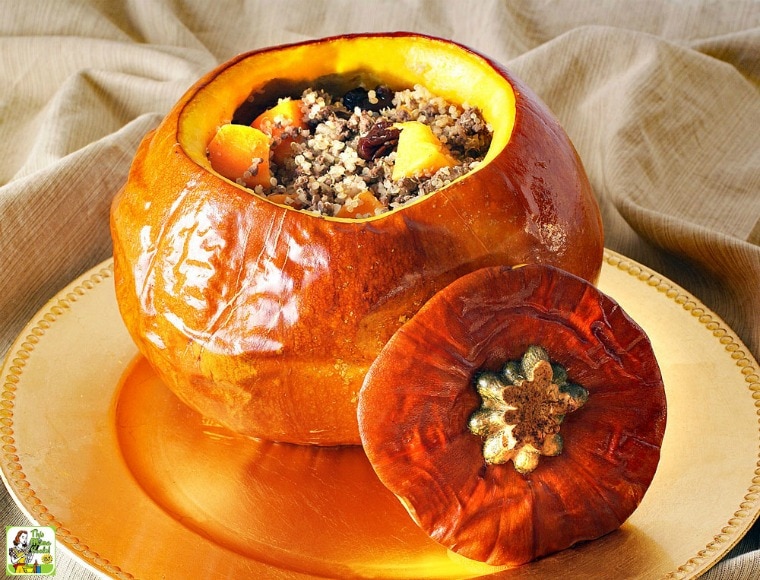 This Mama's tips for making Baked Stuffed Pumpkin
Do not use a regular pumpkin when making your Baked Stuffed Pumpkin recipe. You know, the kind you use for Halloween decorating! Instead, look for sugar pumpkins, which are sweeter and less stringy. They're usually smaller and can be found next to the squash.
For this sweet and savory stuffed pumpkin recipe, you can use ground lean beef, ground turkey, or ground buffalo instead of ground venison.
If you want to make a vegetarian stuffed pumpkin recipe, leave out the ground venison and double the quinoa, squash and cherries. Or you can use ground tofu crumbles instead of the venison.
If you can't find dried unsweetened cherries, use dried cranberries, chopped up dates or sliced up dried plums (prunes).
Instead of quinoa, you can substitute farro, brown rice, whole wheat tabouleh or wild rice. However, note that farro and tabouleh aren't gluten free.
If there's too much stuffing, any extra can be put into a casserole dish and baked along side your pumpkin. Cover with foil and add some water or broth to keep the extra stuffing moist.
You may find that you have a lot of pumpkin left over, especially if your kids gobble up the venison and quinoa, and won't touch the pumpkin, like mine tend to do. If that's the case, peel off the skin, and cut pumpkin up into chunks.
You can serve the reheated pumpkin with a little bit of grated Parmesan cheese. Or you can add the pumpkin chunks to soups, chili, and stews.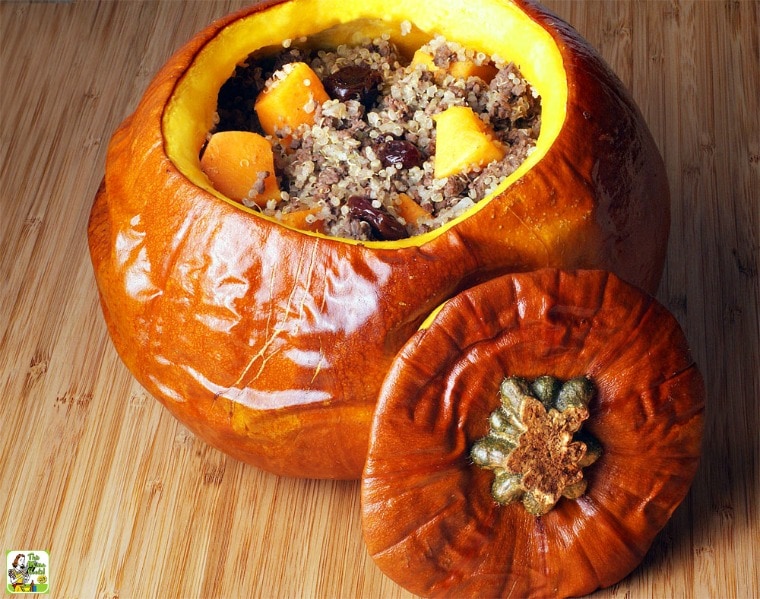 Ingredients
1

medium to large sugar pumpkin (also called a pie pumpkin) 4-5 pounds

1

medium onion, chopped (about 1 cup)

1

clove garlic, minced

1 teaspoon

salt

1 teaspoon

canola oil

1 pound

ground venison

2 teaspoons

ground cumin

2 cups

cooked quinoa

1/2 cup

dried unsweetened cherries

2 cups

butternut squash, cubed
Directions
Prepare quinoa per package instructions. Usually 1 cup of dried quinoa equals three to four cups of cooked quinoa.
Preheat oven to 350 degrees F.
Cut the top off the pumpkin and remove strings and seeds. Put top aside. Reserve the pumpkin seeds for another use.
Prick the cavity with a fork and rub with 1 teaspoon salt.
Rub the outside of the pumpkin with the oil.
Place the pumpkin on a rimmed baking sheet and set aside.
Add ground venison, chopped onion, minced garlic and ground cumin to a heated sauté pan. Cook until venison is browned.
Turn off heat and add cooked quinoa, cherries and butter nut squash. Stir until evenly mixed.
Stuff pumpkin with the venison and quinoa mixture and cover with the lid to keep it moist.
Place 1/2″ water in the bottom of the rimmed baking sheet and place in the oven. (As it cooks, add more water to the pan as necessary to avoid sticking.)
Bake for 45 minutes to an hour until the pumpkin skin starts to "bubble" and is tender. Do not over cook as the pumpkin will collapse.
To serve, cut pumpkin into wedges, giving each person a slice of pumpkin and the venison and quinoa stuffing. Or you can scoop the sides of the pumpkin while scooping out the venison and quinoa mixture. Make sure to mix in the pumpkin before serving.
Cook Time:
1 Hour 30 Minutes
Serving size:

1/8 of recipe
Originally published on November 10, 2010. Updated with new pictures and information.