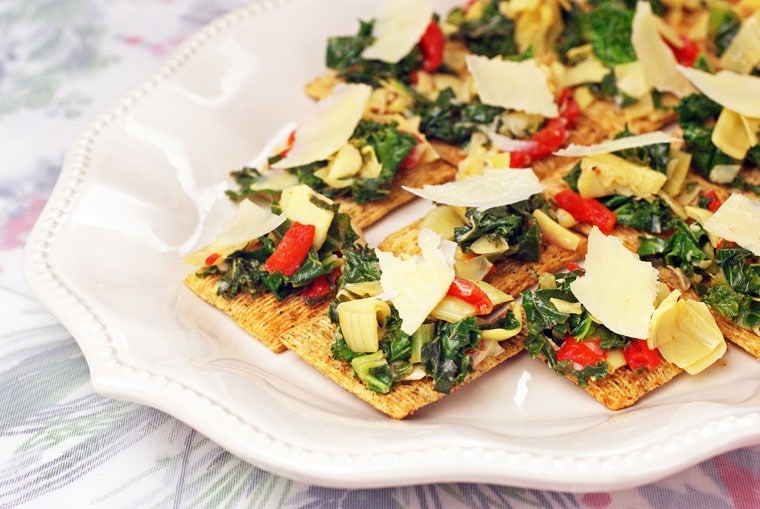 This is a sponsored post written by me on behalf of NABISCO Cookies and Crackers for IZEA. All opinions are 100% mine.
Since I live in the South, it doesn't feel like the holidays until I start making holiday-themed red and green appetizers like Artichoke & Kale Bruschetta Toppers, and decorating the house. Since it's such a busy and stressful time of year, I hope this appetizer recipe and my holiday decorating tips give you some ideas for making holiday entertaining easier.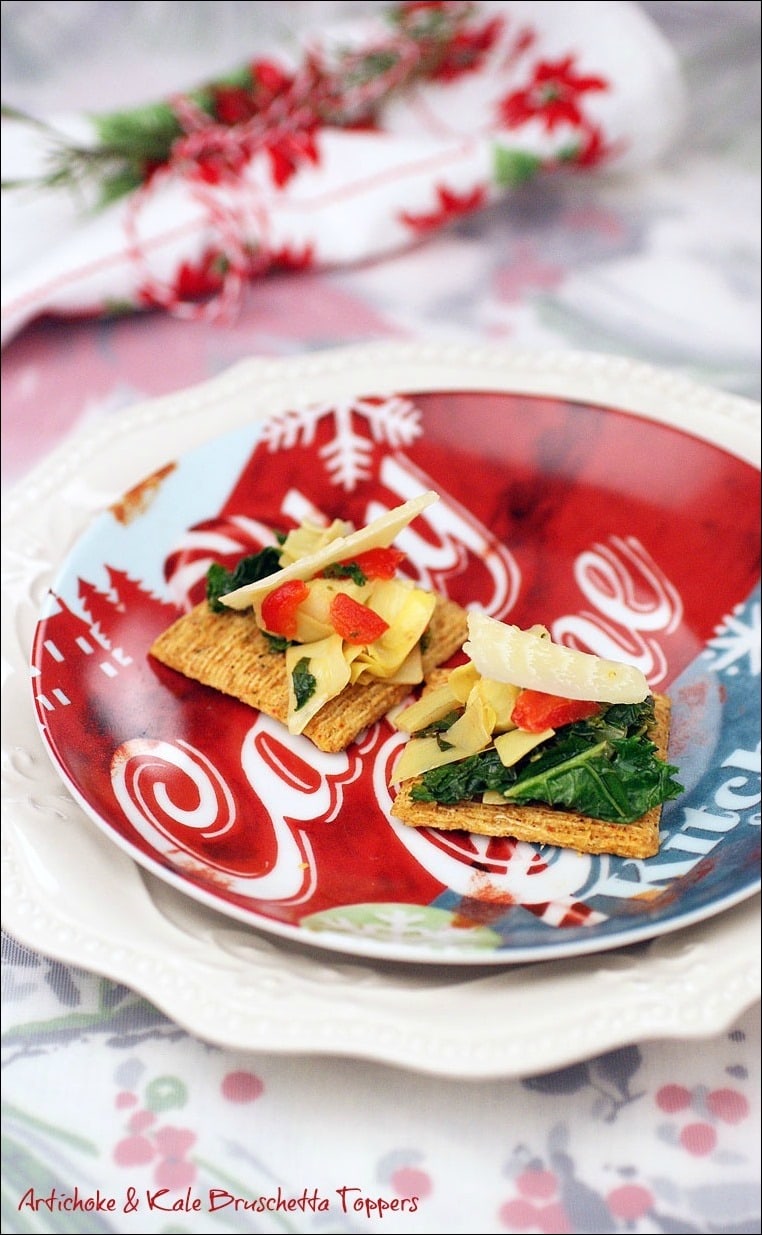 Easy Holiday Decorating Tips
There are two things everyone is short on during the holidays – time and money! So I hope some of these easy holiday decorating tips and easy appetizer recipes like Artichoke & Kale Bruschetta Toppers will help you during this crazy time.
1. Pick a decorating theme
Once I had a theme, everything else fell into place, which saved me so much time. This year's table theme is Red, White and Country. I loved the country feeling of the dishes and the Mason jar candle holders. I made napkin "rings" out of wrapping twine and some rosemary from the garden. I also used the rosemary on the table and in the mason jar candle holders.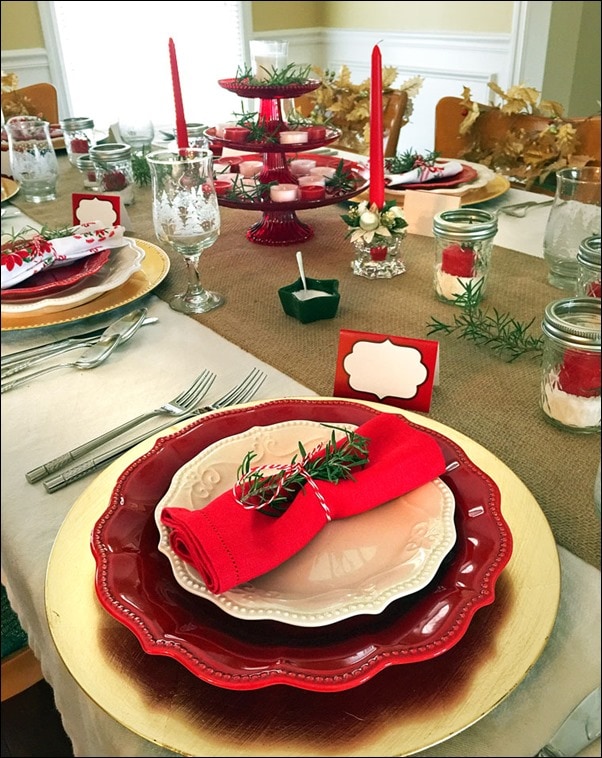 (Note on the rosemary: I have a bunch of it in the garden and it lasts forever out here in Georgia, no matter what the season. I've seen bushes as big as Volkswagens! I like using rosemary rather than holly or pine, since holly berries are poisonous and pine tar is sticky. Rosemary, if ingested, is A-OK. Plus, the smell is divine!)
Since I didn't have enough matching silverware or glassware, I made my table "mismatched on purpose," too. For example, I combined the formal silverware and gold plate chargers with the informal burlap table runner and Mason jars.
The cake stands were a mix of Victorian formal and red, but the way I used them – stacked and with candles instead of food – I made them informal or "country." And for fun, I added some little star shaped bowls I had, which I turned into salt cellars.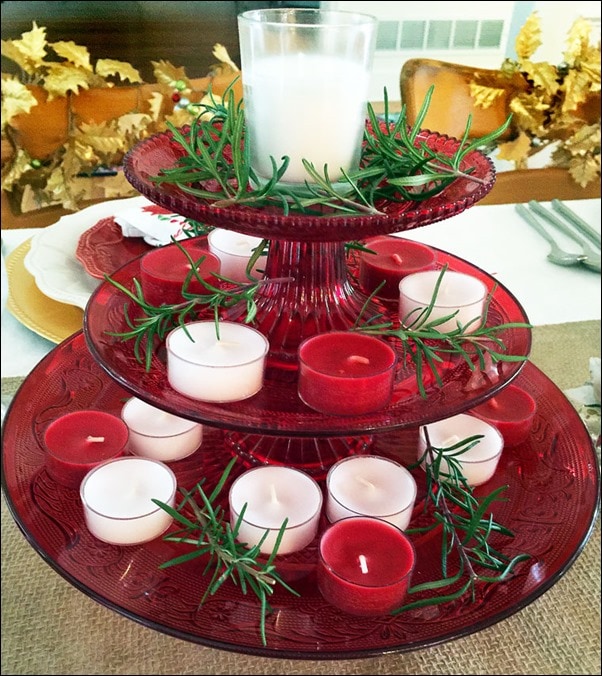 2. Invest in entertaining dishware
Unlike my mom, you may not have a full set of Spode Christmas china for your party or sit down Christmas meal. You may not want to go the paper plate route, your every day set won't do, and you're not going to drive cross country to borrow your grandma's fine china.
Maybe it's time to invest in a good set of entertaining dishware, depending on the size of your family and how often you entertain. You may want to look into purchasing an inexpensive set of celebrity TV cook's dishware like I did just for Christmas. Or you could invest in a vintage set that would work for all the holidays. Local antique stores will have your best deals, and you can negotiate a discount, especially if you pay in cash.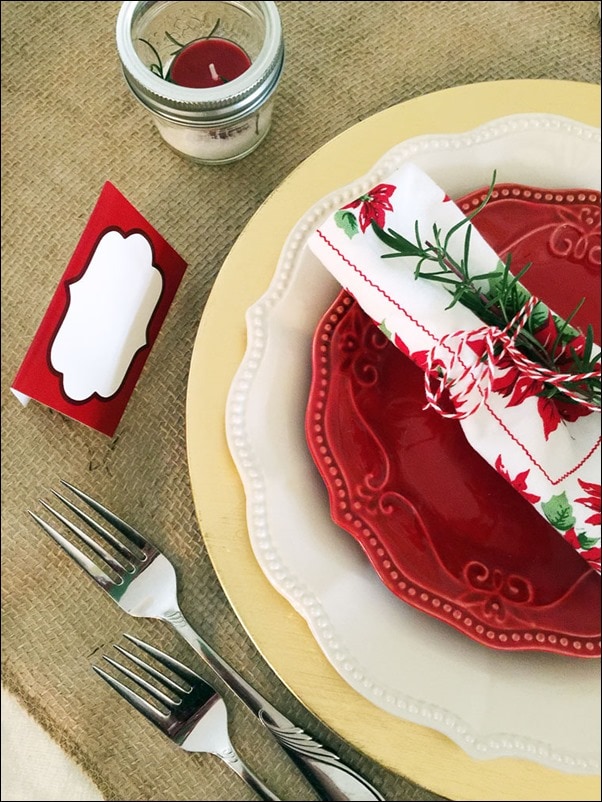 Or maybe you just need a few big platters for serving up appetizers like Artichoke & Kale Bruschetta Toppers. I find terrific platters at thrift stores, discount stores, and off price retailers. I have ones just for the holidays that are packed away with the ornaments and neutral ones that work year round.
3. Reuse, recycle, upcycle
Mason jars! Need I say more? Yep, I already had them all from various canning projects. All I had to do was fill them part way with kosher salt for "snow," add a red tea candle, and a sprig of rosemary. I also liked how the Mason jars would catch any drips of the candles and made the candles a bit safer when lit.
If you do buy something special for Christmas, like red cloth napkins, try to find something that can be used again for Valentine's Day and Fourth of July – maybe a neutral pattern or a solid. Items that are green can be used for St. Patrick's Day and maybe Easter. Also, general purpose items like plate chargers, solid colored table cloths, candles, serving bowls, vases, accent pieces, etc. could be used for other holidays and parties.
Do you get vases with flower deliveries? Don't throw them away! I'm using a red vase as a Christmas décor item and a green square shaped vase to hold candies. Again, I can use the red vase for Valentine's Day and Fourth of July and the green one for St. Patrick's and Easter.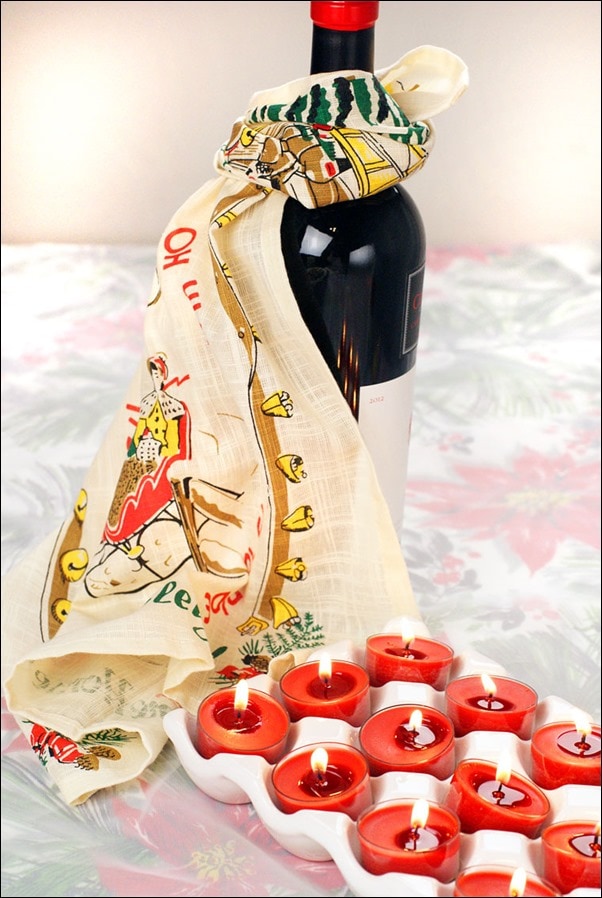 Use a Christmas tea towel and wrap it around a wine bottle to "dress it up." Then use it as a side table display before serving. Use an egg holder from Easter to hold candles.
Candle safety note: Some candles are for show and some are meant to be lit. If you have children and pets, you may want to consider only having the LED battery lit candles. Yes they're more expensive, but they can be reused! Or just have the candles out for show and don't light them. I found out that the red candles I bought, while pretty, were super drippy and melted almost instantaneously.
4. Pinterest for inspiration ! Or frustration?
Visit my Decorating Ideas for the Holidays Pinterest board to get inspired this holiday season! But not everyone is up to awakening their inner Martha. (I'm not a crafter. I'm better at buying stuff that's cool on sale.)
Read the directions carefully, watch the videos, and make sure you have the details down before you head out and realize the cute wreath craft you love is going to cost $75 in materials. While many ideas can be done at home, some are best left to the experts.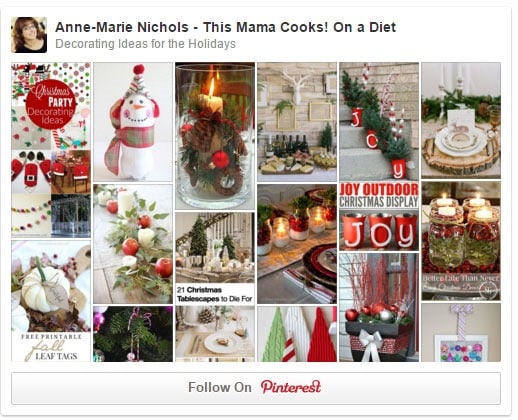 5. Shop the sales
If you wait until closer to Christmas or New Year's, the discounts on décor and entertaining items get bigger and bigger. Don't forget about coupons and online discounts, too. Stock up during the after the holidays sales for decorating items, serving dishes, flatware, extra candles, etc. Think about items that will work for other holidays or future parties, too!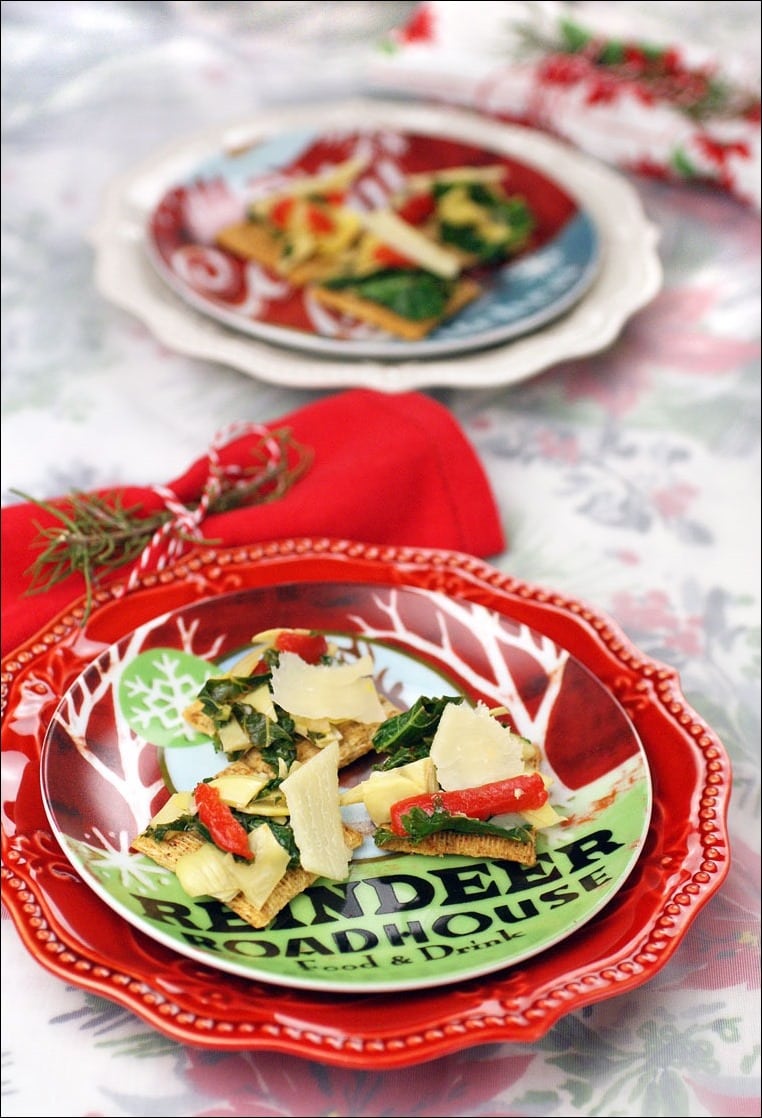 Preparing the Artichoke & Kale Bruschetta Toppers
With the holidays here, you'll want a few go to recipes that you can quickly make either ahead of time or almost on your way out the door for those last minute potlucks. Artichoke & Bruschetta Toppers appetizers are ideal. You can make the bruschetta topping ahead of time. Cool, then refrigerate up to 24 hours. When ready to put together, microwave in a covered microwaveable bowl on high for 1 minute or until heated through. Stir then spoon onto crackers and top with cheese as directed.
You can make these at home and do the final step at the potluck or you can heat and put them together at the party so they don't get soggy on the way there.
These are also easy to make as your guests arrive. Have everything chopped and ready to go. Then sauté the vegetables, and begin spooning them on the crackers as everyone arrives. You can even have a few of your guests help you if it's a more casual party. (People love helping out in the kitchen. Kids, too!)
If you don't have wine on hand or want to keep the recipe alcohol free, use chicken broth instead.
Variations on a Artichoke & Bruschetta Toppers theme!
This appetizer recipe is from the NABISCO Party Planner where you can find many terrific cracker appetizer recipes and coupon savings exclusively at Publix such as saving .55 cents when you buy one box of TRISCUIT Crackers.
You can triple the Artichoke & Bruschetta Toppers recipe and serve the Artichoke & Bruschetta Topper on grilled chicken breasts. Serve the yummy TRISCUIT Fire Roasted Tomato & Olive Oil Crackers on the side.
Or you can bread the chicken breasts with crushed TRISCUIT Fire Roasted Tomato & Olive Oil Crackers, grill them, and serve the Artichoke & Bruschetta Topper on pasta. So many ways to serve up this fantastic recipe!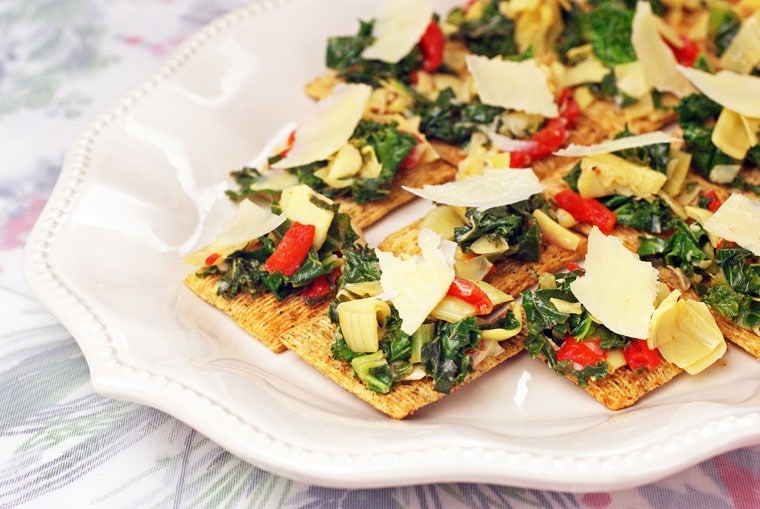 Artichoke & Kale Bruschetta Toppers
Ingredients
1 tablespoon

olive oil

1 (14 ounce) can

artichoke hearts, drained, chopped

1/2 cups

tightly packed kale, stemmed, coarsely chopped

1/4 cup

thinly sliced roasted red peppers

2

cloves garlic, minced

1/4 cup

dry white wine

40

TRISCUIT Fire Roasted Tomato & Olive Oil Crackers

2 tablespoons

shaved Parmesan cheese
Directions
Heat oil in large skillet on medium-high heat. Add next 4 ingredients and stir. Cook 3 to 5 minutes or until kale is wilted, stirring frequently. Remove from heat.
Add wine to artichoke mixture. Mix well. Cook 2 to 3 minutes or until wine is cooked off, stirring frequently.
Spoon artichoke mixture onto crackers. Top with cheese.
Serving size:

2 topped crackers each

Calories:

70

Total Fat:

2.5g

Saturated fat:

0.5g

Unsaturated fat:

2g

Sodium:

110mg

Total Carbohydrates:

9g

Sugar:

1g

Fiber:

1g

Protein:

2g

Cholesterol:

0mg