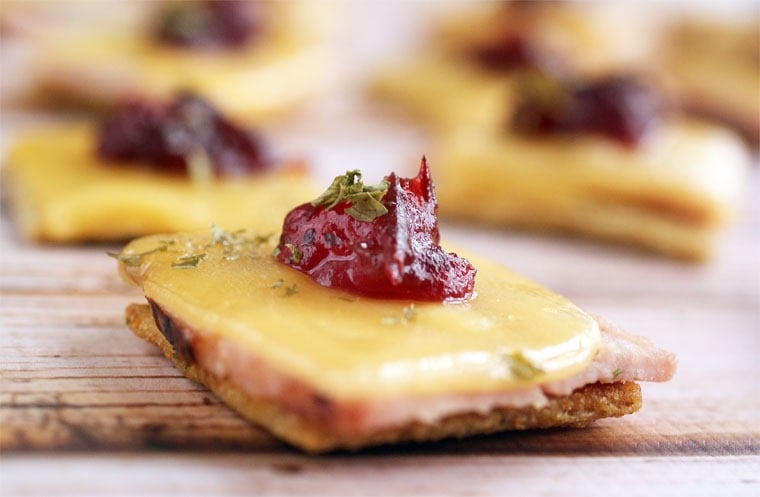 I've come up a Ham & Gouda Triscuit Topper appetizer recipe for your guests to nibble on while you finish up any last minute plans.
When I entertain, usually friends show up in the early afternoon to watch football and we sit down for dinner in the late afternoon or early evening.
I like to have some appetizers on hand, like this Ham & Gouda Triscuit Topper appetizer recipe.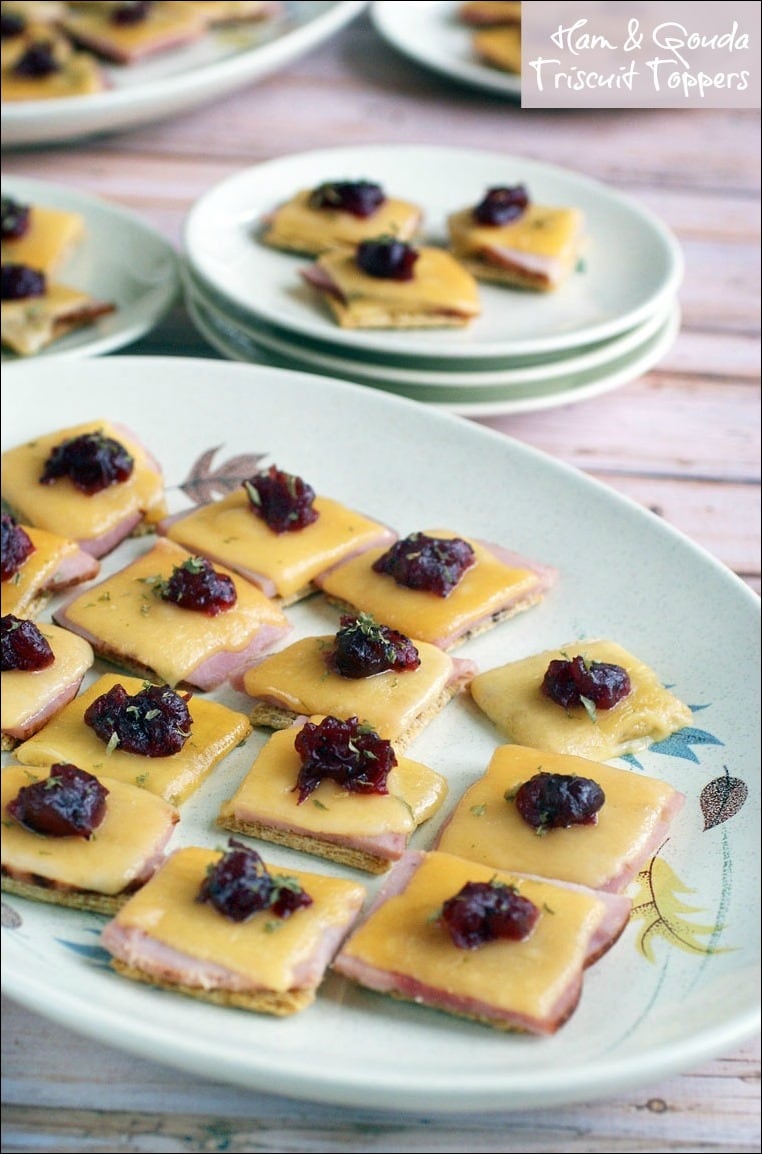 Preparing Ham & Gouda Triscuit Toppers
Great way to use up leftovers
Ham & Gouda Triscuit Toppers appetizers are a great way to use up leftover ham and cranberry sauce.
Try this appetizer recipe with leftover turkey instead of ham, too.
Deli cheese vs. hand cut
I found using thin deli slices of gouda cheese was the way to go.
Just fold in half, then fold again and you have four pieces of Triscuit sized cheese!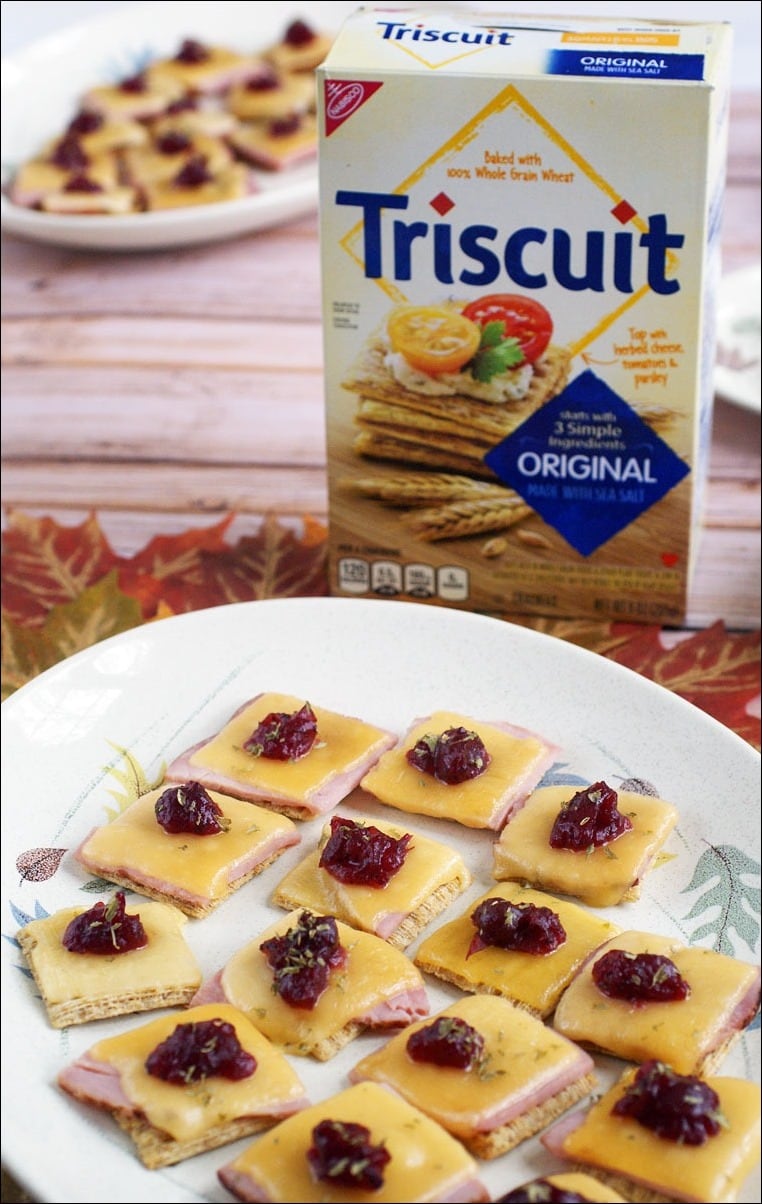 Different flavor crackers: Try this recipe with other Triscuit flavors. Besides original Triscuit, I tried it with Sweet Potato & Roasted Onion, too, one of the Triscuit brown rice varieties.
Keep them warm: To keep the Ham & Gouda Triscuit Topper appetizers warmer longer, assemble the entire cracker recipe, then put it in the oven for 5 minutes.
Or serve immediately: You can also make them in smaller batches or keep them in a warm oven until serving time.
Different cheeses: While the smokiness of the gouda cheese makes this an out of this world appetizer recipe, try other varieties of cheese. I bet Swiss or Provolone would also be just as delicious!
Gluten free? If you're gluten free, try this on Nabisco's Gluten Free Rice Thins.
No fresh parsley? If you don't have fresh parsley, a sprinkle of dried parsley will do, too!
Or try another fresh herb, like thyme or something else you have leftover from preparing the Thanksgiving meal.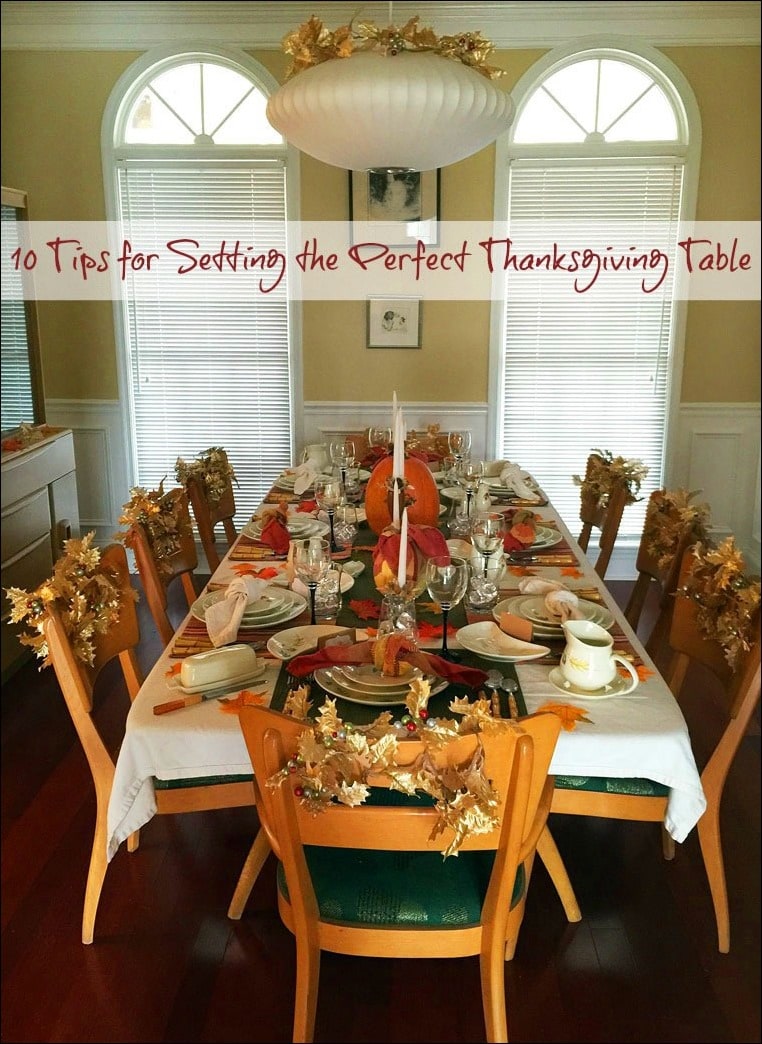 10 Tips for Setting the Perfect Thanksgiving Table
1. Don't worry about not having "good china." Since my husband and I have been hosting Thanksgiving dinners for friends since college, I've amassed a large collection of vintage dishware. It's become my every day set, but I don't allow that to stop me from getting out all the pieces for Thanksgiving.
If you don't have good china from your wedding or family to borrow for entertaining, look into getting something festive, but inexpensive, just for the holidays.
Several celebrity TV chefs sell their own brands at discount stores that you can mix with bowls and glassware that you may already own. Don't be afraid to mix vintage pieces with contemporary sets, too.
2. Layer your table. If you want a professional look straight out of a magazine, create a layered effect by using a tablecloth, a runner, placemats, chargers, napkins, and several layers of plates. I tried it this year and was thrilled with the results.
3. There's no need to spend a fortune. It's hard to believe from these pictures, but the only thing I bought this year was the garland on the chairs (to hide damaged varnish), the place cards, and the paper leaves on the table – all for less than $30.
Everything else I've collected over the years and much of what's on the table I use every day – the dishes, the place mats, and the wine glasses. Look for sales, go to thrift stores, raid your mom's and grandmother's homes, hit the antique stores, and don't forget to shop the sales at the end of the season for next year, too!
4. Go eclectic with your table settings. Branches from a tree in the yard, scented pinecones from the craft store, gourds from the grocery store, or shells from your trip to the beach – get creative with all those glass vases and Mason jars you've been saving! Mismatched candle holders, white candles, and leftover Halloween pumpkins was my theme this year.
5. Get table decorating inspiration from Pinterest! Many of the ideas on Pinterest are inexpensive and easily replicated at home with just a trip to your local craft shop.
6. Look for double duty items. If you're decorating for more than one party this holiday season, try to find some items that will do double or triple duty or work year round, such as neutral colored linens, glassware, tableware, candles, napkin rings, or other accessories. This will help with your overall entertaining budget, too.
7. Use place cards. Place cards make guests feel welcome, keeps fighting kids separated, gives the table an elegant touch, and keeps your teenage son from accidentally sitting at the head of the table. (Yes, my son sat in his father's chair one year and we had to explain what the "head of the table" meant.)
8. Keep food items accessible. Place items like the gravy boat, the butter holder, and a few salt and pepper shakers around the table to be more accessible to your guests.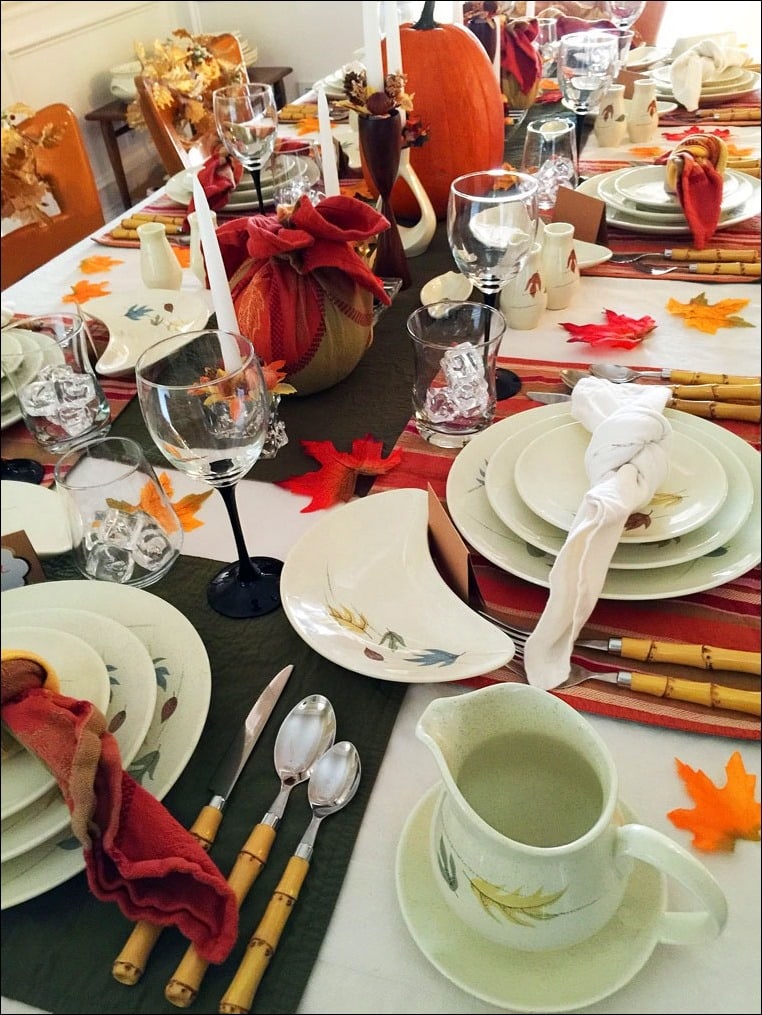 9. Use cloth napkins. Using a cloth napkin makes the dinner much more elegant. However, it's a total pain to keep cloth napkins spot and wrinkle free.
So buy either white napkins that you can bleach or ones with darker or busy patterns. After guests have left, treat stains.
You will want to wash, dry and then fold napkins just before setting your table. (Napkins always get wrinkled in the drawer.)
This year I was so frustrated with my napkins that I folded and then knotted mine instead of using a napkin ring, so it didn't matter if they were a bit wrinkly. (Feel free to use this trick!)
Otherwise, for more formal place settings, you'll need to iron and use a napkin ring.
10. Learn how to place silverware. I learned in home ec way back in the day, but here's a table setting guide from Emily Post in case you didn't!
Yield: 18 SERVINGS
Ham & Gouda Triscuit Toppers Recipe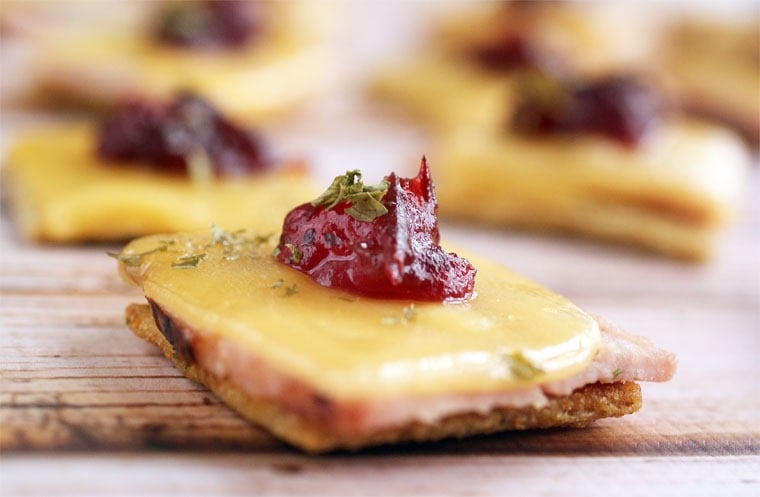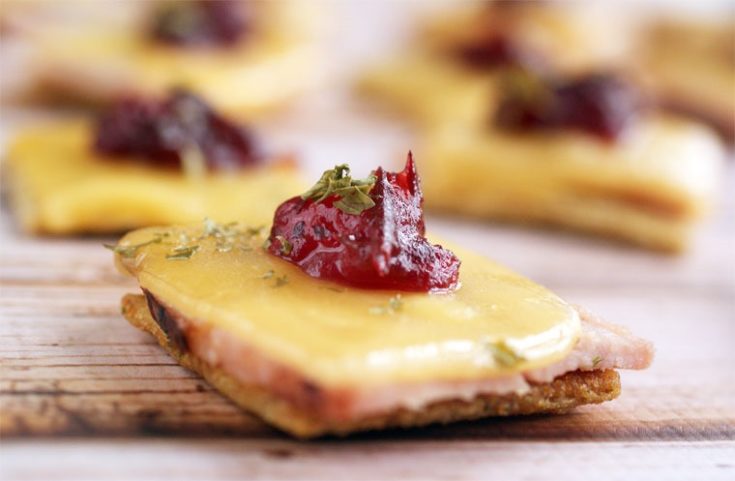 Serve up a platter of this easy ham and gouda Triscuit cracker appetizer recipe.
Ingredients
36 Triscuit Crackers
4 slices deli honey ham (6 ounces), each cut into 9 pieces
6 ounces smoked gouda cheese, cut into 36 pieces
3 tablespoons whole berry cranberry sauce
1 tablespoon finely chopped fresh parsley
Instructions
Heat oven to 350°F.
Place crackers in a single layer on the baking sheet. Top with ham and cheese.
Bake 5 minutes or until cheese is melted.
Top with remaining ingredients.
Nutrition Information:
Yield:
18
Serving Size:
1
Amount Per Serving:
Calories:

107
Total Fat:

4g
Saturated Fat:

2g
Trans Fat:

0g
Unsaturated Fat:

2g
Cholesterol:

12mg
Sodium:

201mg
Carbohydrates:

14g
Fiber:

1g
Sugar:

5g
Protein:

5g
Nutritional information is automatically calculated per the ingredients list. Serving size may not be accurate. Please double-check with your preferred nutritional app for the most accurate information.