Shakshuka (or shakshouka) is a staple of Middle Eastern cuisine. It's traditionally done in a cast iron pan with a tomato based sauce and eggs as the main ingredients. I've seen it made with everything from chickpeas to potatoes and done with Middle Eastern or Mediterranean spices, meats and cheeses.
However you make it, it's a show stopper – gorgeous yellow yokes, beautiful green leaves and the red sauce served in a skillet are sure to have everyone oohing and awwing. Since shakshuka features eggs, it's often served as a breakfast or brunch dish and served with pita, gluten free toast, or crusty bread to sop up the sauce. You could also serve it for lunch or dinner with a side salad. And it's perfect for the holidays since it's red and green!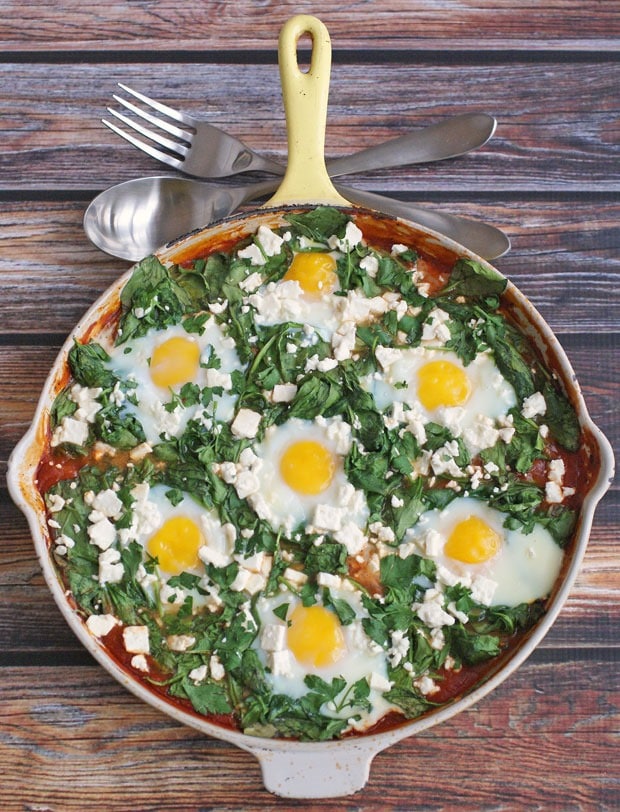 I've decided to make my shakshuka recipe as easy and healthy as possible. However, some people may not like runny eggs.
If you have a mixed group, serve  the "runny" people first, then stick your skittle back in the oven for a few more minutes. Or serve the shakshuka in oven safe bowls and put those back in the oven for a couple of minutes to firm up the eggs. Either way, everyone's happy.
Ingredients
1 tablespoon

olive oil

4 ounces

pancetta, meaty bacon or country ham, finely chopped

1

medium onion, finely chopped

4

garlic cloves, finely chopped

2 (15 ounce) cans

tomato sauce

1/2 teaspoon

dried basil

1/2 teaspoon

dried oregano

pinch

crushed red pepper

1/2 teaspoon

salt

1/4 teaspoon

ground black pepper

1 (10 ounce) container

baby spinach leaves

6-8

large eggs (depending on sized of skillet)

1/2 cup

feta, crumbled

2 tablespoons

flat leaf parsley, chopped

Pita, gluten free toast, or crusty bread
Directions
Preheat oven to 350 degrees F.
In a large oven safe skillet, heat the olive oil over medium heat. Add the meat, onion and garlic, stirring occasionally, until the onion is translucent – about 5 minutes.
Add the tomato sauce, dried basil, dried oregano, crushed red pepper, salt and ground black pepper. Simmer until the sauce is thickened – about 15 minutes.
Meanwhile, using a steamer basket over boiling water, steam spinach leaves until wilted – about 3 to 5 minutes. Remove steamer basket from boiling water and rinse spinach with cold water. Drain leaves and set aside.
When sauce has thickened, removed skillet from stovetop. Add spinach leaves a handful at a time to the skillet, creating a "nest" for the egg with a hole in the center. Depending on the size of the skillet (I used a 11 3/4 inch one) you should be able to create 6 to 8 nests.
Carefully crack eggs one at a time into each nest. Transfer the pan to the oven and bake the eggs for 10 to 12 minutes until the egg whites are just starting to set.
Slide the skillet from the oven rack and sprinkle with feta and parsley. Place back in the coven and cook for 3 more minutes until egg whites are set and the yolks are still runny.
Serve with pita, gluten free toast, or crusty bread.
Serving size:

1 to 2 eggs