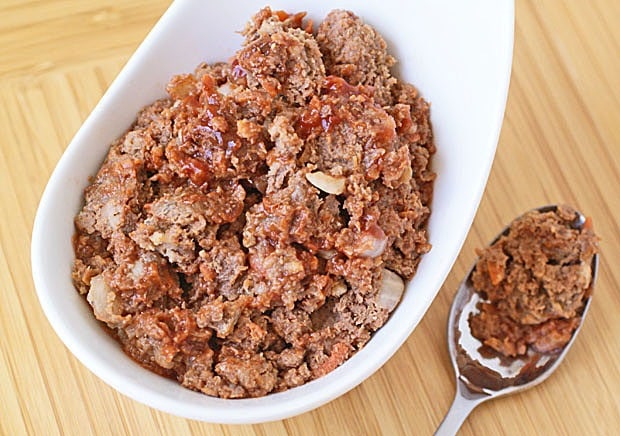 What do you do when you cook up a meatloaf that's delicious, but falls apart when you slice it? Make meatloaf hash! Just chop up the meatloaf with a spoon and add some healthy mix-ins like rice or vegetables or just a bit of ketchup, like I did above.
That's what I'm making until I've perfected my Smoked Meatloaf recipe. It's almost there but needs a little more work. I want a meatloaf that slices up perfectly when it's hot out of the oven – or in my case the smoker. I've made it twice – and it's good enough to share – but maybe you can give me some help on perfecting it by commenting your suggestions below.
How to smoke a meatloaf
Well, you find a big pipe and…
Seriously though, I first heard about smoked meatloaf when my husband came home raving about the taste after sampling it at a local restaurant. I did a search and found My Smoked Meat Loaf Recipe from Smoking-Meat.com. (If you own a smoker, you must sign up for Jeff's Smoking Meat enewsletter.) I liked his recipe but wanted to combine it with my recipe for Boulder Firefighters Meatloaf.
Also, I wasn't crazy about how Jeff set up his uncooked loaves. The first time I made smoked meatloaf, I didn't use a loaf pan. I ended up with a flat, squishy meatloaf that was delicious – thus the Smoked Meatloaf Hash.
The next time I made it, I knew I would have to smoke it in a loaf pan. But how?
Preparing your loaf pans
There's two problems using a loaf pan:
The meatloaf won't get exposed to the smoke.
It will cook in it's juices and stay mushy.
After discussing it with Paul, he came up with an idea of taking a metal loaf pan and drilling holes in it. He drilled two holes on the ends, three on the sides, and seven on the bottom. Then he sanded off the burs.
You could also do this with a disposable aluminum loaf pan. However, since metal loaf pans were only $6 at WalMart, he went out a bought a couple just to make smoked meatloaf in. (He obviously wants me to make this all the time.) You can pick up few loaf pans for a  buck or two at thrift stores or garage sales, too.
Smoking your meatloaf
Now that the pans will drain, I needed something to catch the juices. I decided the easiest method would be to place the meatloaf pans on the bottom rack of the smoker so it would drain directly into the water dish at the bottom. Easy!
This worked pretty well until we realized that as the ground meat cooked, it would expand and block the holes. About half way into the cooking process, I had to tip to the pans and empty out some of the juices from the top and sides. Maybe we need more drill more holes in the pans. Or maybe just emptying the juices a few times will do the trick.
The other issue was cooking time. If I put all the meat (2 pounds) into one loaf pan, it would take three to four hours to cook. Since I didn't have time, I opted to divide the recipe in half to cut back the cooking time to about 90 minutes. Smoking food is all about planning, so next time I'll make sure I have enough time to cook just a two pound meatloaf in one pan. I've a feeling a bigger loaf will be more solid and sliceable.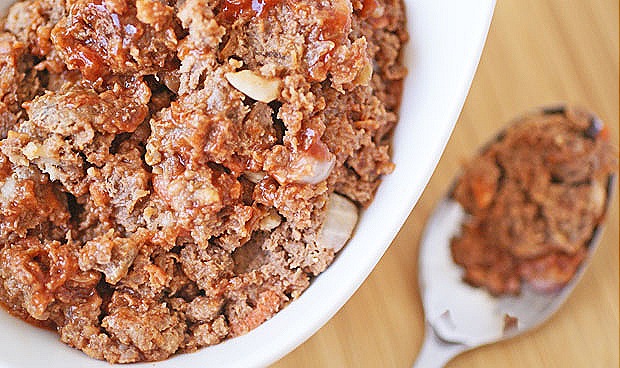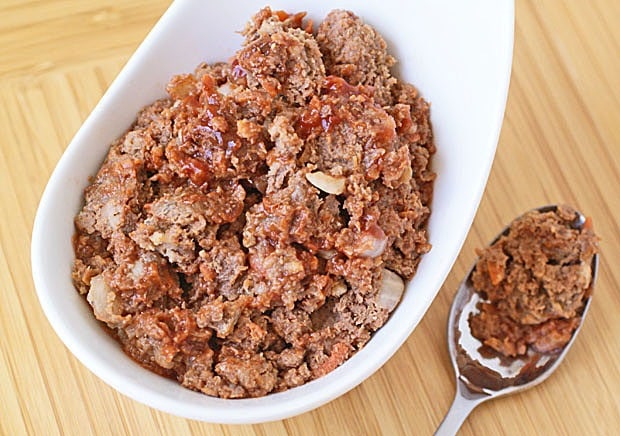 Smoked Meat Loaf
Nutritional information based on using ground venison.
Ingredients
2 pounds

ground venison, lean beef or turkey ((The leaner the beef, themore likely the meatloaf will fall apart. But the lower the calories and fat grams!)

1

onion, finely chopped

1/2 cup

carrots, grated

2

cloves garlic, minced

2 pieces

whole wheat or gluten free bread

1

egg

1/4 cup

egg whites

3/4 cup

ketchup

1/4 cup

ketchup or barbeque sauce
Directions
Set smoker for 250 degrees.
Soak the bread in warm water in a small bowl – enough to moisten the bread but not too much so it turns into mush
Place the ground meat in a large bowl.
Add softened bread, onion, carrots, garlic, egg, egg whites, and ketchup. Mix with your hands until all the ingredients are incorporated.
Put meat mixture into a specially prepared loaf pan (see above).
Place loaf pan on lower rack, just above the water pan.
Add mesquite wood chips and smoke for 3 to 4 hours until the center registered 160 degrees.
If necessary, pour off extra juice that gathers on top of the loaf pan every hour.
You can finish the top with ketchup or barbeque sauce about 30 minutes before the meatloaf is finished smoking. Some people like to use bacon instead.
Total Time:
3 Hours 15 Minutes
Serving size:

1 slice

Calories:

190

Calories from Fat:

18

Total Fat:

2.0g

Saturated fat:

0.1g

Unsaturated fat:

1.9g

Sodium:

393mg

Total Carbohydrates:

12.7g

Sugar:

8.2g

Fiber:

1g

Protein:

28.2g

Cholesterol:

23mg