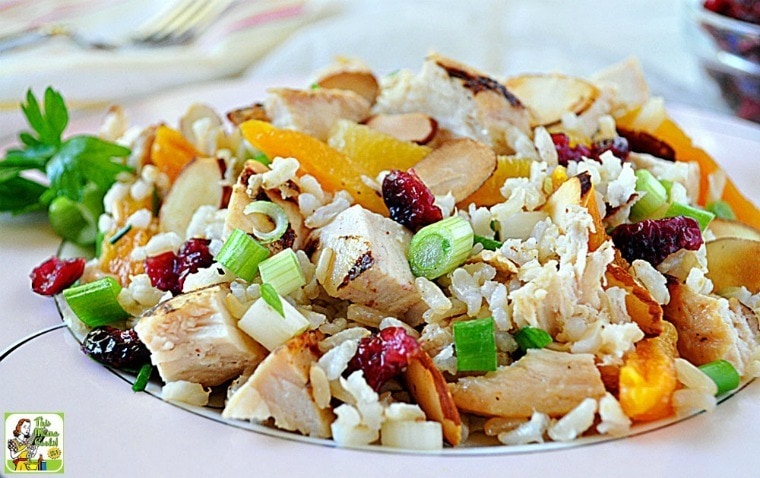 This Turkey Apricot Rice Salad recipe is a wonderful leftover turkey idea for eating better after an indulgent holiday.
If you're looking for leftover turkey recipes, you'll love this easy rice salad recipe from my frequent contributor, Holly Clegg.
It's featured in her cookbook, Eating Well To Fight Arthritis.
What I love about easy leftover turkey recipes like this one is that it uses up other leftovers after cooking up the feast like rice, dried cranberries, and sliced almonds.
You can make Turkey Apricot Rice Salad with wild rice, regular rice, or brown rice.
If you're nut free, just leave the almonds out or substitute sunflower seeds or pine nuts (which are also seeds).
You can find more of Holly Clegg's trim& TERRIFIC® recipes at The Healthy Cooking Blog.
Check out Holly's trim & TERRIFIC™ cookbooks on Amazon, too!
Turkey Apricot Rice Salad, a delicious Thanksgiving leftover recipe!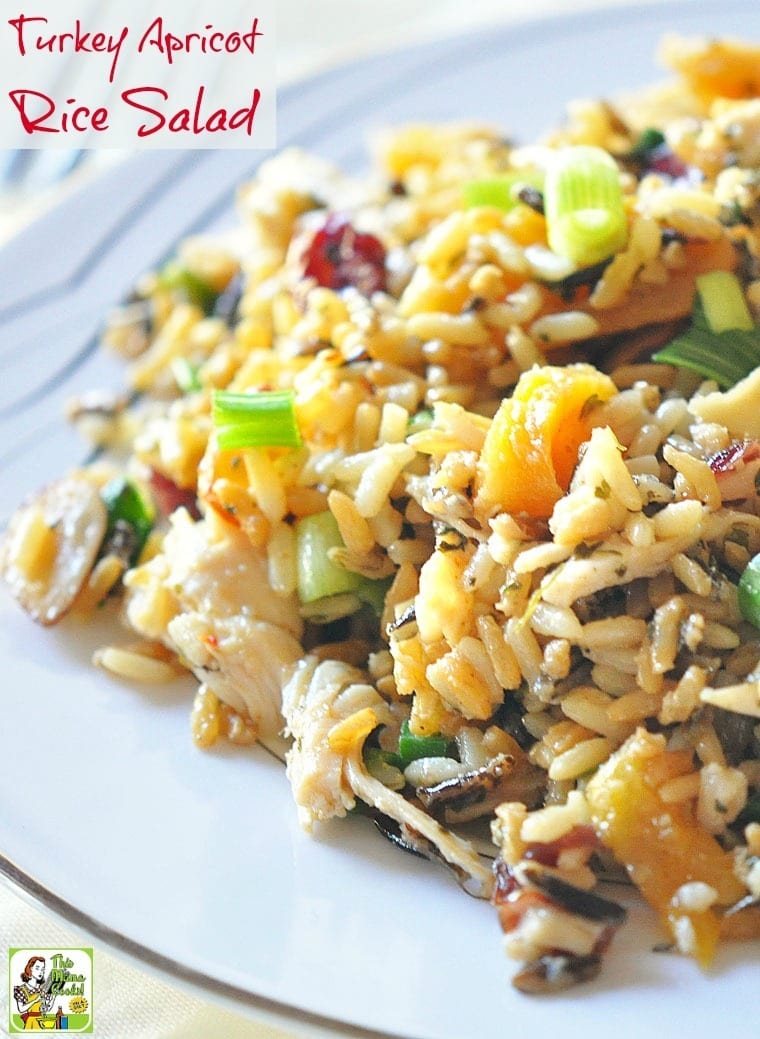 Holiday time and have extra wild rice and turkey? Turn leftovers into tomorrow's dinner by spiking the rice with vivid colors, flavors, and toasty crunchy almonds for an undemanding and unforgettable salad.
After all the heavy eating, you'll enjoy this diabetic-friendly and gluten-free recipe that is super satisfying!
Classic turkey turns trendy with a few ingredients making your family look forward to your next meal.
Turkey Apricot Rice Salad from Eating Well To Fight Arthritis cookbook is a simple dinner solution that combines leftover wild rice and turkey with dried fruit, tossing everything together for a light and delicious entrée salad.
This good for you Thanksgiving leftover recipe also uses one of my favorite kitchen tools – kitchen shears , which makes cutting dried fruit into strips or even meat so easy!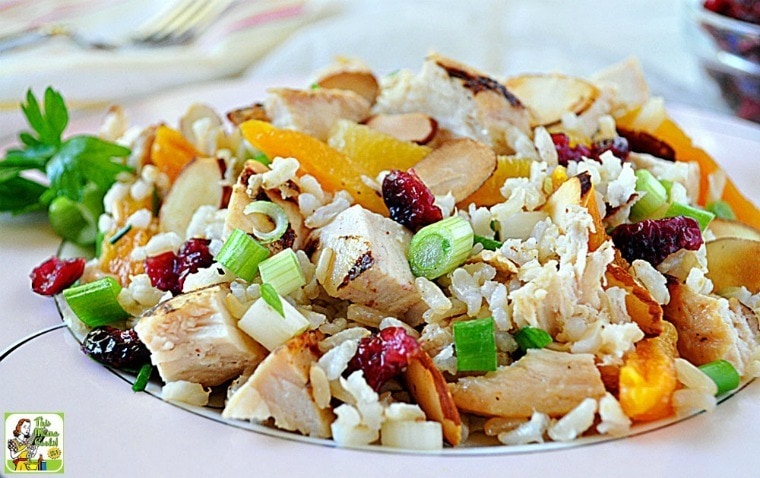 Turkey Apricot Rice Salad Recipe
Ingredients
2 tablespoons

lime juice

2 tablespoons

roasted garlic seasoned rice vinegar

2 tablespoons

olive oil

1 tablespoon

honey

1/2 teaspoon

ground ginger

4 cups

cooked wild, white or brown rice

2 cups

chopped boneless skinless cooked turkey

1 cup

dried apricots strips

1/2 cup

dried cranberries or mixed berries

1 cup

chopped green onions

1/3 cup

sliced almonds, toasted
Directions
In small bowl, whisk together lime juice, vinegar, oil, honey and ginger; set aside.
In large bowl, combine remaining ingredients except almonds. Combine with dressing and toss with almonds. Serve.
Servings
:
Makes 8 servings
Serving size:

1 cup

Calories:

277

Calories from Fat:

64 (23%)

Total Fat:

7g

Saturated fat:

1g

Unsaturated fat:

6g

Sodium:

111 mg

Total Carbohydrates:

39g

Sugar:

19g

Fiber:

4g

Protein:

16g

Cholesterol:

30mg
Dietary Exchanges: 1 1/2 starch, 1 fruit, 2 lean meat
Recipe and photo used with permission of the author.
Originally posted November 11, 2016. Updated with new information.