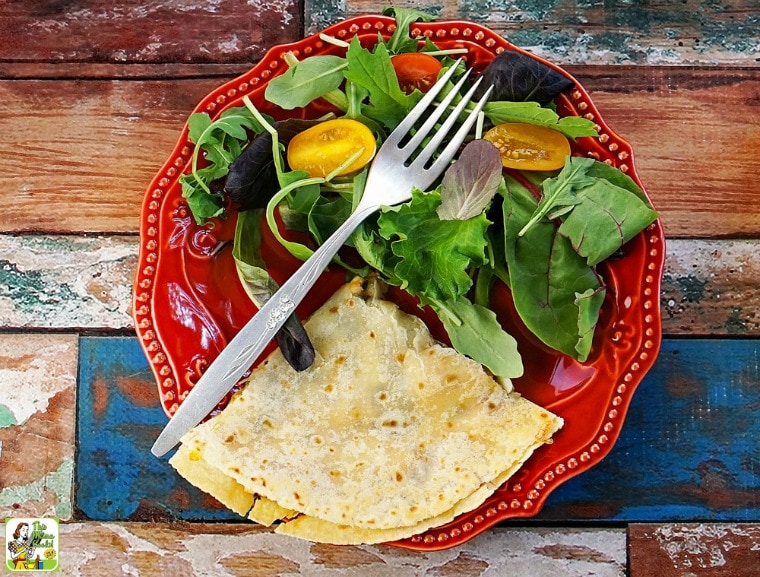 Do you love barbecue chicken pizza, but stopped ordering them when you dine out because you're gluten free? Or maybe you love snacking on chicken quesadillas, but never eat them now that you follow a gluten free diet.
Well, I've got a great Easy Barbecue Chicken Quesadillas recipe for you that will satisfy your cravings! Best of all it's gluten-free and delicious enough that everyone in your family will enjoy it.
This BBQ Chicken Quesadilla recipe is easy to make for dinner along with a wholesome side salad.
Or, serve this easy chicken quesadillas recipe as a party appetizer to your friends while watching football this weekend.
My favorite way is taking rotisserie chicken from the store, my favorite gluten-free barbecue sauce, a little fresh basil, some shredded mozzarella pizza cheese and one special ingredient from Mission® that you'll be excited about if you or a family member live a gluten-free lifestyle.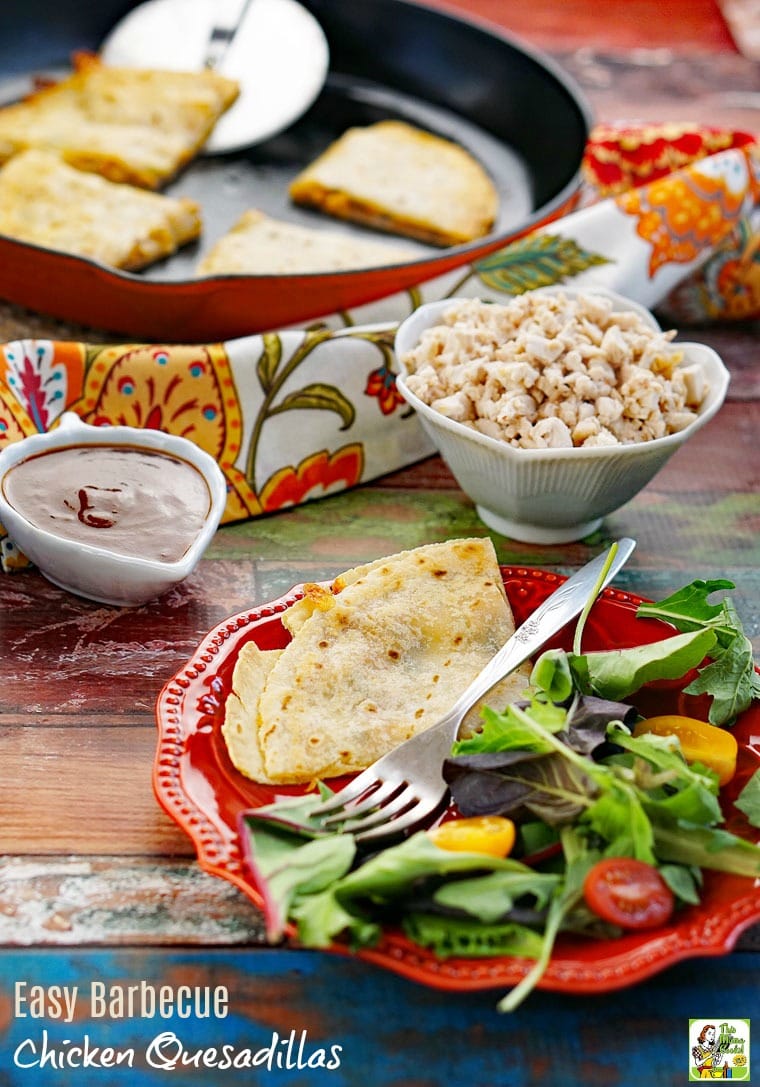 Make this Easy Barbecue Chicken Quesadilla recipe with Mission Gluten Free Tortillas
If you're gluten free, you're going to fall in love with Mission Gluten Free Tortillas. If you're like me, you've put up with other brands of gluten-free tortillas that were disappointing to downright awful. Usually, they were brittle and broke if you tried to make them into a burrito. None of them tasted all that great and some were as tough as leather or crunchy like crackers.
So, when I saw that Mission, a name I've trusted for years, was selling gluten free tortillas at my grocery store, I was super excited. Would they be as good as their other tortillas?
First, I liked that Mission Gluten Free Tortillas were with the other tortillas and not in the health food or the freezer sections. Super easy to find and you don't have to refrigerate them at home.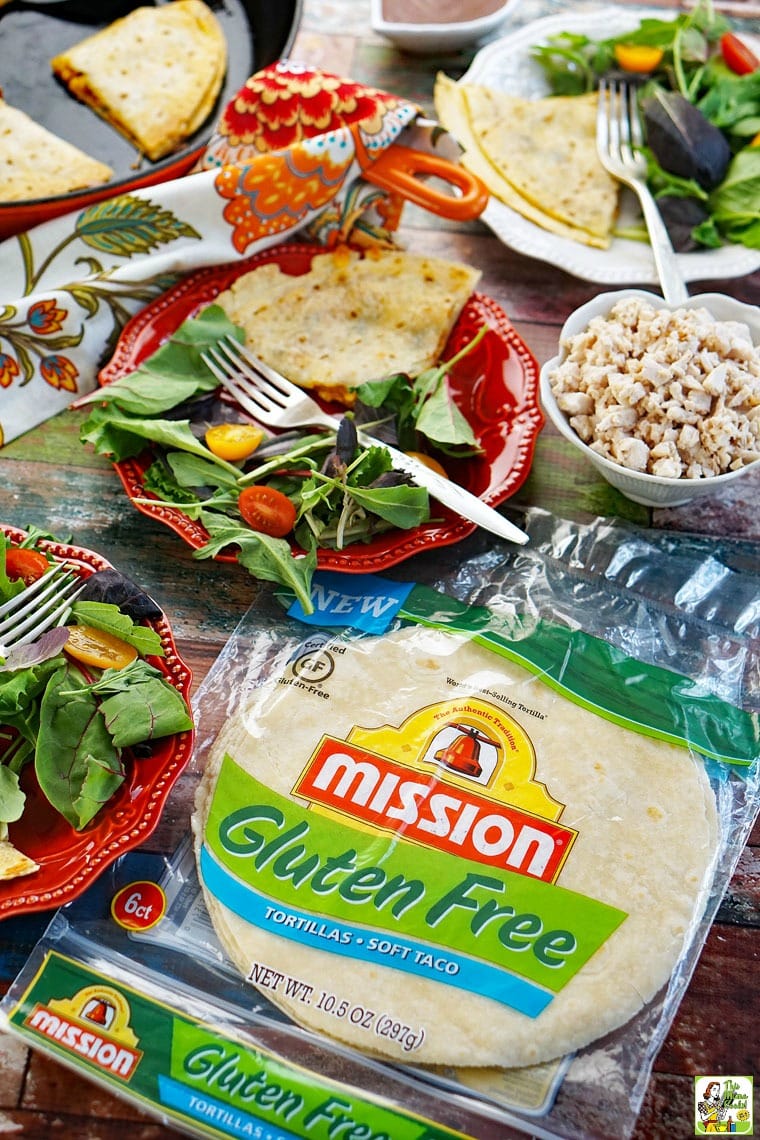 Second, Mission Gluten Free Tortillas are soft, so you can use them to make wrap sandwiches or burritos. For best results, heat the gluten-free tortillas on an ungreased skillet over medium-high heat for 10 to 15 seconds, then flip and heat for another 5 to 10 seconds. To heat in the microwave, place 4 to 6 gluten free tortillas between two damp paper towels and heat for 30 to 45 seconds until heated through.
However, I didn't find that heating was always necessary. I've actually eaten Mission Gluten Free Tortillas unheated right out of the package as a wrap with a few slices of ham, some salad, and a little dressing or mayonnaise. Perfect for a quick lunch!
I've also used Mission Gluten Free Tortillas to sop up runny eggs and bacon grease off my breakfast plate instead of a piece of gluten-free bread. I love the freedom and versatility these gluten-free tortillas give me at meal time.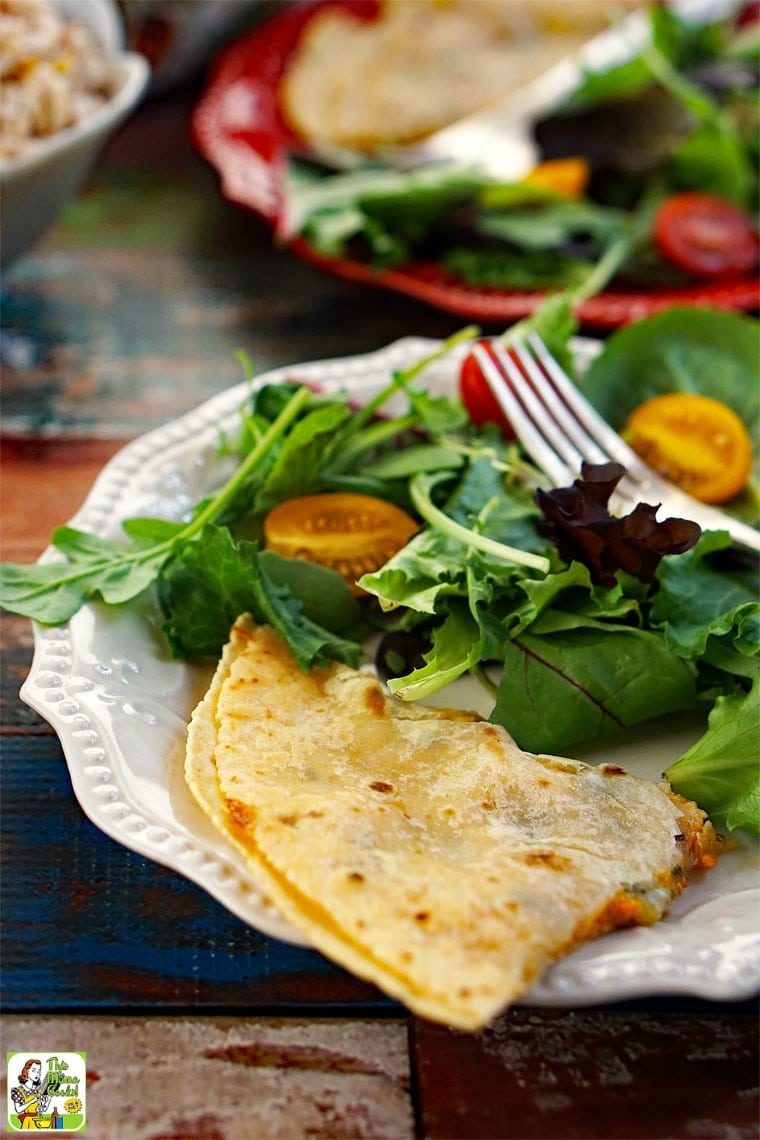 This Mama's tips for making this Easy Barbecue Chicken Quesadillas recipe
When making these Easy Barbecue Chicken Quesadillas, make sure you use an oven safe skillet and that the handle won't melt or catch fire. If you're not sure, you can also try making this on the stove top. Cook over medium and keep an eye out not to burn your gluten free tortillas!
Don't assume that all barbecue sauces are gluten free. Check the label.
Same goes when buying shredded cheese. Shredded cheese is dusted with anti-caking agents to prevent it from sticking together. If it's cellulose or potato starch, those are OK and gluten free. Anything containing wheat isn't gluten free. Don't assume and check the label!
If you like onions, add some to your Easy Barbecue Chicken Quesadilla recipe. I didn't use any due to a food allergy, but you can if you wish..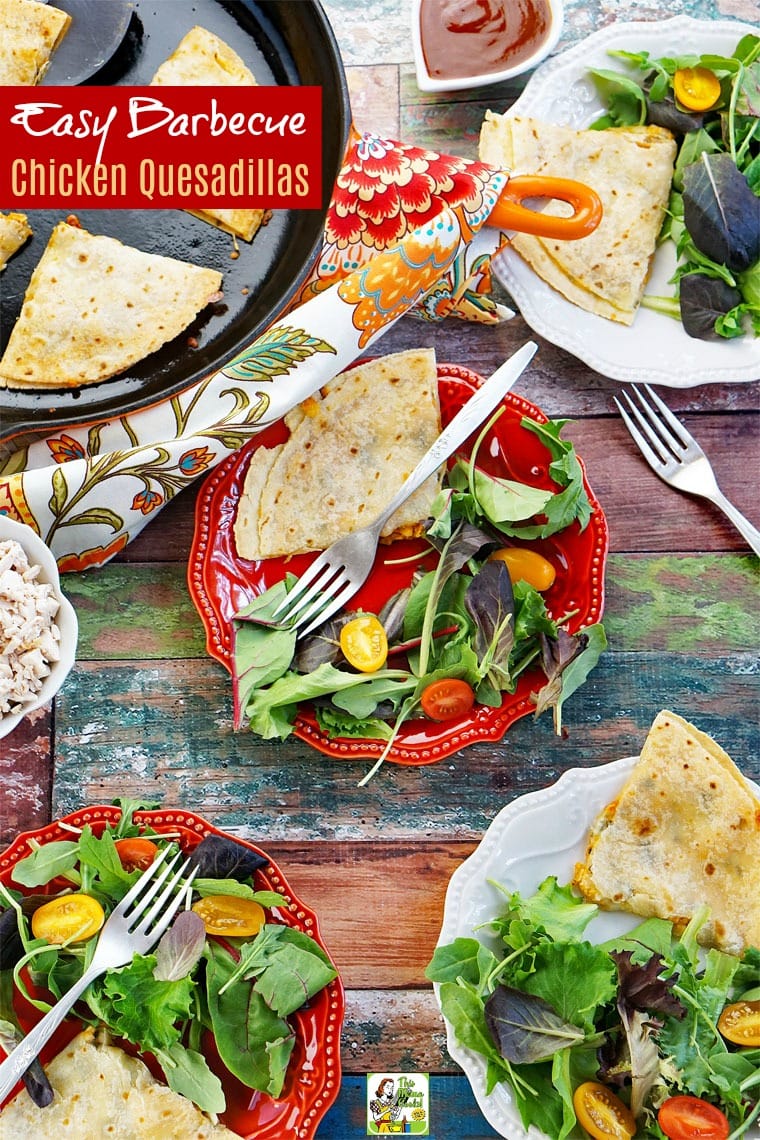 More about Mission Gluten Free Tortillas
To learn more about Mission Gluten Free Tortillas and to sign up for coupons and recipes, to go to glutenfreemission.com. There you can find their Store Locator to learn where Mission Gluten Free Tortillas are sold near you. (I've found them at my Kroger grocery store.)
You can also connect with Mission Gluten Free Tortillas on:
Finally, if you're one of those people who takes gluten-free bread in your luggage, purse or backpack when you travel or dine out, won't it be nice to have a flat package of Mission Gluten Free Tortillas that you can roll up instead of bulky loaf of gluten free bread? LOVE IT!
Looking for more quick and easy recipes? Try this Easy Chicken Salad Recipe!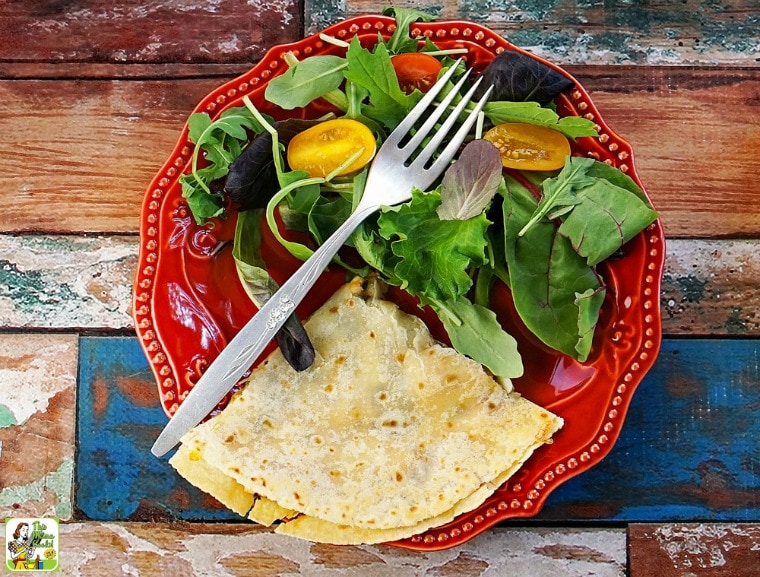 Easy Barbecue Chicken Quesadillas
Ingredients
1 1/2 tablespoons

gluten free barbecue sauce

1/4 cup

chopped rotisserie chicken

1/2 cup

shredded pizza blend or mozzarella cheese

5-6

fresh basil leaves, finely chopped

Cooking spray

2

Mission® Gluten Free Tortillas
Directions
Preheat oven to 350 degrees F.
Place an oven safe skillet in the oven for 10 minutes until heated through. While skillet is heating, chop chicken. Add 1 tablespoon of barbecue sauce to chicken and mix thoroughly. Set aside.
Add finely chopped basil to shredded cheese. Mix thoroughly and set aside.
Remove heated skillet from oven and set on a trivet. Lightly spray with cooking spray. Place 1 Mission Gluten Free Tortilla in skillet. Evenly sprinkle half of cheese on tortilla. Then spread chicken on top of cheese and remainder of cheese.
Take second tortilla and brush one side with remaining barbecue sauce. Place sauce side down on top of cheese layer. Place skillet back in oven for 5 minutes.
Remove skillet from oven. Carefully flip quesadilla. Place skillet back in oven and cook quesadilla for another 5 minutes until golden brown.
Remove skillet from oven. Cut quesadilla into four pieces. Serve with a side salad.
Serving size:

1/2 quesadilla