Just a reminder that my Win a Butterball turkey for Thanksgiving contest ends tomorrow night at midnight. (That's November 18, 2008 at midnight MT.)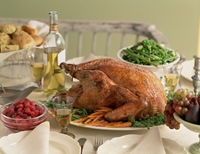 Holiday season is a challenging time for dieters or for anyone who is just trying to eat healthfully. I'm a great believer that an occasional indulgence is good for the soul, if not the waistline. However, for many people it's hard to get back on the "lean and healthy bandwagon" after a holiday slip up.
With this in mind, I've been collecting tips on how to have a healthy Thanksgiving from various experts. Here are a few.
Holidays are a time to enjoy – you can still indulge on Thanksgiving without straying from your diet. Make turkey the centerpiece of your Thanksgiving meal since turkey is a perfect protein – it's high in protein, and low in fat and cholesterol. In addition, try the following tips to help you stay on track:
Eat side dishes in moderation or modify them to make more diet-friendly.
Lighten up after Thanksgiving by using leftover turkey in a salad.
Use smaller plates to help with portion control.
Ten Tips for Cooking Healthy over the Holidays from Jonny Bowden, Ph.D., C.N.S., author of Healthiest Meals on Earth: The Surprising, Unbiased Truth About What Meals to Eat and Why
Replace some butter with some olive oil, for a better balance of healthy fats. Try a 50/50 mix.
Replace heavy carbs such as potatoes and stuffing with herbs that can flavor up a turkey or vegetables.
Go organic to avoid hormones, pesticides, and antibiotic residues in meat or produce.
Replace mayonnaise with low-fat yogurt for tasty dressings without the extra fat and artificial stuff. (Note: There's nothing wrong with mayonnaise, especially homemade from real eggs, but you'll save some calories this way.)
Trim all visible fat from meats. Stick with lean cuts and white meat.


Consider more nutrient-dense foods for desserts such as sweet potatoes, pecans, and pumpkin. You'll feel better about doing a little overindulging if the choices are healthier.


Check ingredients on any cans that you use. High-fructose corn syrup can reside in any package or can, and it is certain to be in canned cranberries. Avoid the bad sugars and look for fresher ingredients.
When choosing honey, try to find raw, unfiltered, cold-pressed organic honey.
Don't overdo the number of courses. Stick with a few basics for a satisfying meal that doesn't overstuff your guests.
Consider serving a salad as the last course (or dessert).
For more tips, see my post 5 ways for dieters to deal with holiday feasts.