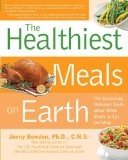 Why not create a healthy polymeal feast this Thanksgiving? Jonny Bowden, Ph.D., C.N.S, is a nationally known expert on weight loss, nutrition, and health. His new book Healthiest Meals on Earth: The Surprising, Unbiased Truth About What Meals to Eat and Why
shows how to combine ingredients – what he refers to as "polymeals" – that promote long-term health to create meals that will literally save your life.
A polymeal is a meal composed of ingredients that enhance heart and blood vessel health. The seven magic ingredients are red wine, chocolate, almonds, garlic, fish, fruits and vegetables. Though every meal doesn't contain them all, Dr. Bowden's intention is to include ingredients in every meal that mimics the effects of those seven touchstone ingredients and that duplicates their health effects.
By eating the vital ingredients featured in Healthiest Meals on Earth as part of a balanced diet, Dr. Bowden claims you can cut the risk of heart disease by 75%, boost overall heart health, and add years to your life. The book has been endorsed by a virtual who's who in the world of integrative medicine and nutrition, including Mehmet Oz, M.D., Christiane Northurp, M.D., and Barry Sears, Ph.D.
The Healthiest Meals on Earth – not just a cookbook
When the folks at FSB Associates emailed me about the book, I was reluctant to accept a review copy since I'm overwhelmed with too many cookbooks. But Healthiest Meals on Earth is so much more. It's a nutrition textbook with beautiful photographs and yummy looking recipes. The only failing in the book is that nutritional information (calories, etc.) aren't listed along with the recipes. Still, you can go over the ingredients list, guesstimate calories, fiber and fat grams from a similar recipe, then figure the POINTS by typing it into a Weight Watchers POINTS Calculator.
I've been dipping into Healthiest Meals on Earth and have been enjoying looking over the recipes and the nutritional and health information. I'm very intrigued with the polymeal idea. (The book is divided into three sections: Four-Course Polymeals, One-Pot Polymeals with Simple Sides, and Delicious Drinks: The Liquid Polymeal.)
I'm so excited by this that I'm considering making his Healthiest Holiday Meal for Thanksgiving:
Citrus-Stuffed Herbed Turkey (recipe below)
Roasted Brussels Sprouts, Asparagus and Broccoli with Toasted Hazelnuts
Holiday Waldorf Salad
Cranberry-Orange Relish
Sweet Potato Pie with Almond-Oat Crust
The challenge will be to use roasted pine nuts instead of tree nuts since my daughter has a nut allergy. (Pine nuts are not nuts. They're seeds.) Also, I can make the Sweet Potato Pie without the crust, which make it nut-free and gluten free for my mother-in-law.
Wow, I'm getting excited about polymeal cooking! Check out Healthiest Meals on Earth and join me.
Safety First
The Food Safety and Inspection Service recently changed the recommendations for how high a temperature cooked poultry should be cooked to. Previously, experts recommended cooking whole turkeys to 180°F (82°C) and turkey breasts to 170°F (77°C). The new cooking recommendation is 165°F (74°C) for both. Check the internal temperature in the innermost part of the thigh and wing and the thickest part of the breast with a meat thermometer.
Ingredients
Brining Solution:
You will need 2 to 3 gallons (8 to 12 L) of brining solution for an 18- to 20-pound (8- to 9-kg) turkey.
Per gallon (4 L) of water:
1 cup (300 g) sea salt or kosher (not table salt)
½ cup (170 g) raw honey
2 teaspoons (4 g) finely grated lemon peel, optional
2 teaspoons (4 g) orange peel, optional
½ tablespoon cardamom pods, optional
1 teaspoon dried thyme, optional
Turkey
1 18- to 20-pound (8- to 9-kg) free-range, not self-basting, turkey
8 sprigs each of fresh rosemary (young and tender, not woody), sage, and thyme (or other herbs of your choice), rinsed and lightly dried (should total 1¼ to 1½ cups or 55 to 90 g when coarsely chopped)
2 shallots, peeled and halved
1 whole head garlic, peeled and crushed
1 lemon
1 orange
4 tablespoons (½ stick, or 55 g) butter, softened
2 tablespoons (28 ml) extra virgin olive oil
Salt
Ground black pepper
½ cup (120 ml) sherry
Prep Time: Overnight to brine, overnight again for optional drying, and 30 minutes to prepare for cooking.
Cook Time: 3 hours and 45 minutes to 4 hours and 15 minutes, plus 20 minutes to rest before carving
Starting with 2 gallons (8 L) of water, mix the brining solution in your roasting pan by combining all ingredients in correct proportions and stirring until the salt and honey are dissolved.
Rinse the turkey in plain water and pat it dry. Place the turkey in a lobster pot or large stockpot. (You can also use a plastic bucket if you line it with 2 or 3 clean garbage bags.) Pour in the brining solution to cover the turkey. If you need more brine to completely immerse the turkey, mix up another gallon. Place the turkey in the refrigerator for 12 to 24 hours. Remove the turkey from the brine, rinse very well under running water to remove all the brine, and dry thoroughly, including the cavity.
Preheat the oven to 400°F (200°C, gas mark 6).
Stem and coarsely chop the herbs, setting aside about three-quarters of them (⅔ to 1 cup or 40 to 60 g herbs). Mince the remaining one-quarter (about ½ or 30 g) and put into a medium bowl. Add the shallots and garlic.
Quarter but do not peel the lemon and orange and squeeze them gently to make a little juice, tossing the fruit and juice together with the herb mixture.
In a small bowl, using your hands, mix the butter with the oil until creamy. Moving carefully so as not to puncture the skin, work your hand between the turkey skin and the breast as far as you can go to create a pocket over both breasts. Smear half of the butter-oil mixture over the breasts, covering as much meat as you can reach. Place half of the reserved, coarsely chopped herbs in each pocket (on top of each breast). Do this carefully and when complete, gently reshape (from the outside) the herb "pouches" above each breast to look rounded and smooth. Salt and pepper the inside of both cavities and stuff them with the fruit and herb mixture. Tuck the wings behind the back, tuck the skin folds over the cavities to close, and truss the legs. Smear the entire bird with the remaining butter-olive oil mixture and sprinkle with salt and pepper. Slowly pour the sherry inside of the breast pockets, working it around to the leg joints.
Place a V rack inside of a roasting pan and cover it with foil. Poke about 15 holes into the foil. Place the turkey on the V rack, breast side down. Bake for 45 minutes, then reduce the oven temperature to 325°F (170°C, gas mark 3). Turn the turkey bird breast side up, baste (you can supplement the juices with a few tablespoons of sherry if you wish), cover with foil, and continue to cook for 2½ to 3 hours more, depending on the size of the turkey.
Remove the foil to brown the breast and continue to cook for another 30 to 40 minutes, or until the thickest part of the breast and innermost parts of thighs and wings register 165°F (74°C) on a meat thermometer. (When the turkey is done, the legs should roll loosely on the joint, and the leg juices should run clear.)
Let the turkey rest on a cutting board for about 20 minutes before carving.
Yield: For turkeys weighing more than 12 pounds, allow ½, to ¾ pound (225 to 340 g) per person, so an 18-pound (8-kg) turkey can serve between 24 to 36 people.