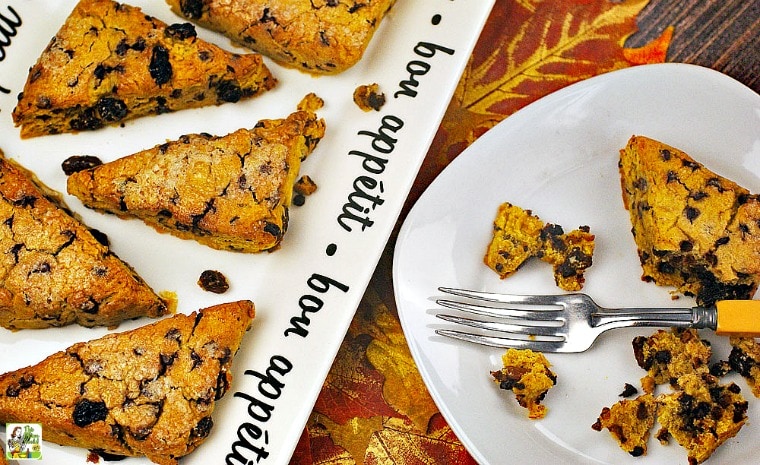 These Pumpkin Gluten Free Scones are perfect for fall. I used to bake up a batch for Thanksgiving week when my mother-in-law came to visit since she has celiacs.
However, this gluten free scones recipe is so flavorful that anyone who's not gluten free will love it.
So treat your coworkers at the office or the staff at the teacher appreciation breakfast!
After all, who doesn't love the combination of pumpkin and chocolate this time of year ?
Plus the raisins give these gluten free scones a nice chewiness!
So sit back, brew up a cup of coffee or tea, and bake up a pumpkin scone everyone will enjoy!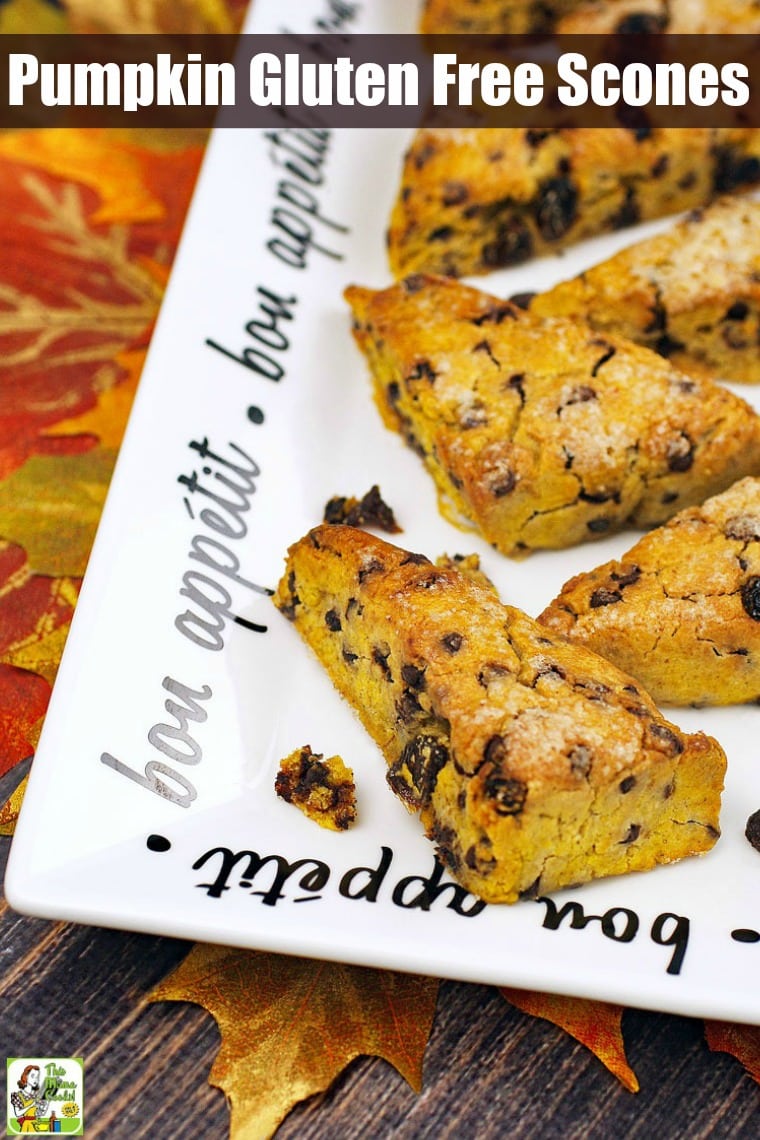 How to make (almost) sugar free pumpkin scones
I wanted to make as almost sugar free pumpkin scones as possible since the holidays are coming up. We're tempted by all those sweet treats and I wanted to cut back on the sugar.
(Remember, there is sugar in the chocolate chips.)
So, I used monk fruit sweetener instead of sugar in this easy gluten free scones recipe. You can also use Swerve Sweetener (Granular). Both monk fruit and Swerve cook up just as well as regular sugar.
However, I used Bob's Red Mill Simply Sweet Decorative Sparkling Sugar on outside of the scones, for the look and texture.
You can eliminate the decorative sugar if you want to make the scones completely sugar free. Or you can use Powdered Swerve Sweetener to add a light dusting or to make a sugar glaze.
To make a sugar-free scone glaze:
● 1 1/2 cups Powdered Swerve Sweetener
● 3 to 4 tablespoons milk, milk alterative (coconut milk or soy milk) or water
● 2 teaspoons vanilla extract
Place the powdered Swerve Sweetener in a medium bowl. Slowly stir in the milk (or water) and vanilla, a little at a time, to make a smooth, pourable glaze.
You can glaze the baked scones with a pastry brush or drizzle the glaze over the scones with a spoon.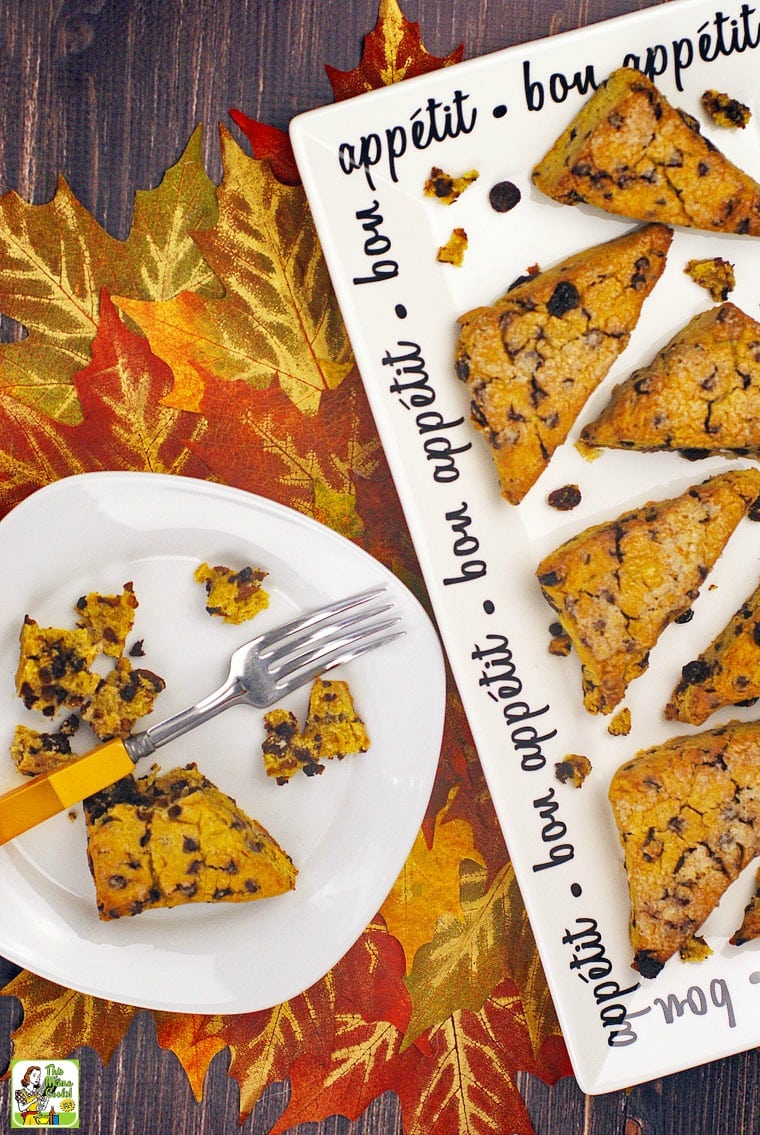 How to make dairy free scones
To make dairy free pumpkin scones, I used a vegan buttery spread. My favorite is Earth Balance.
I also used full fat unsweetened coconut milk from a can. Don't use sweetened from a carton and don't use the lite can version as it won't be creamy enough and your scones will turn out too dry.
Additionally, I used Enjoy Life Semi-Sweet Chocolate Mini Chips, which are dairy free, gluten free, and vegan.
Now, if you want to make vegan gluten free scones, you can try an egg substitute like VeganEgg. I haven't tried it myself. But if you do, comment below and let us know how it went!
What kind of gluten free flour makes the best gluten free scones?
Frankly, not all gluten free flours are alike. When I first made Pumpkin Gluten Free Scones, I used any type of gluten free all purpose flour and had pretty good luck.
But now I swear by Bob's Red Mill Gluten-Free 1-to-1 Baking Flour, which bakes up just like regular flour.
Check out my  Best Gluten Free Products List to find more of my favorite gluten free baking products!
Here's the best way for measuring gluten free flour:
Believe it or not, you shouldn't scoop flour directly out of the bag with a measuring cup. It packs down the flour and you end up with a bit too much in your cup.
Instead, spoon the flour from the bag (or the container you keep your flour in) into your measuring cup. Then use the back of a spatula or knife to level off the top of the cup.
That way the flour is given a mini-sift and isn't packed down.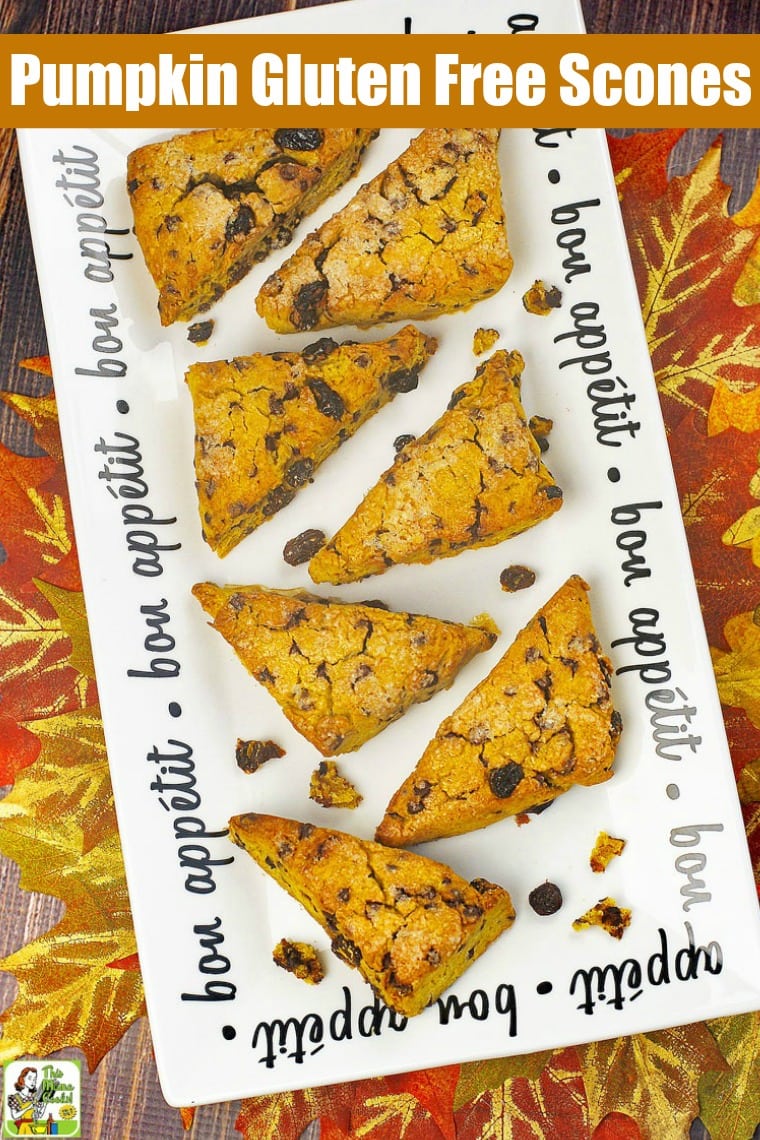 Must have kitchen tools to make gluten free dairy free scones
To successfully make these easy gluten free scones, it's best if you have a pastry blender and a bench scraper on hand. Believe me, having the right kitchen tools makes things so much easier!
Pastry blenders are a must-have kitchen tool when making biscuits, pie crust, pizza dough, scones, and pastries. A pastry blender works much better than using a fork or potato masher when combining butter and flour.
And remember, pastry blenders aren't just for baking. Some people like to use them for chopping up fruit and soft vegetables, mashing up baby food, and making salsa and guacamole.
I bought Rachael Ray's Bench Scraper just to make this gluten free recipe for scones. I love how they come in different colors to match your kitchen décor.
Since then I've found it handy for scooping up veggies, herbs and meat that I've been chopping up on my cutting boards. It's become one of my favorite kitchen tools!
Can you freeze gf pumpkin scones?
Yes, you can freeze the scone dough before baking. Freeze the cut scone dough for 45 minutes on a baking sheet lined with parchment paper.
Then place the dough in a freezer bag, squeeze out as much of the air of the bag as possible, and place back in the freezer. (Label the bag with the date and baking instructions.)
Bake the FROZEN scones for 20 to 25 minutes at 425 degrees F. Since every oven bakes differently, keep an eye on your scones. That way you don't over or under cook them.
More tips for amazing pumpkin gluten free scones
As we come closer to the holidays, you may want to substitute dried cranberries or cherries for the raisins.
Adding some diced candied ginger would be delicious, too!
Enjoy these GF scones within a day or two. Like most freshly baked gluten free goodies, they'll get stale pretty quickly.
More gluten free baked goodies
● Eggless Chocolate Chip Cookies with Pumpkin 
● Gluten Free Strawberry Muffins 
● Gluten Free Peppermint Blossom Cookies 
● Gluten Free Banana Oatmeal Muffins with Banana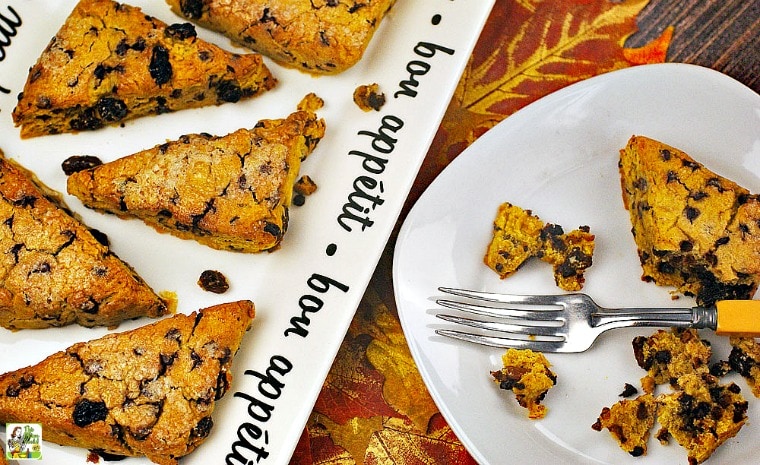 Pumpkin Gluten Free Scones
Directions
In a large bowl, using the pastry blender, mix together the gluten free flour, monk fruit, baking powder, salt, cinnamon, allspice, nutmeg, ginger, and cloves.
Cut the butter spread into small pieces and add it to the bowl. Use the pastry blender to mix the buttery spread into the dry ingredients. Blend until you have pea sized pieces.
Using your hands, mix in the chocolate chips and raisins. Make sure to break up any clumps of raisins.
In a small bowl whisk together the pumpkin, eggs, and1 teaspoon of the vanilla. Add this to the dry and mix until just combined. Then use your hands to lightly knead the dough together into a ball.
Divide the dough in half and place one half on a parchment lined baking sheet. Shape the dough into a long rectangle with greased or floured hands.
Taking your bench scraper, divide the rectangle into three squares. Then use the bench scraper to cut each square diagonally into two triangles. Gently move the triangles away from each other. Repeat with the other half of the dough on a second baking sheet.
In a small bowl, combine the coconut milk and 1 teaspoon of vanilla. Liberally brush the top of each scone with the mixture. Then generously sprinkle with Sugar in the Raw.
Place the baking sheets and scones in the freezer for 30 minutes. Preheat the oven to 425 degrees F at this time.
Bake the scones for 20-25 minutes or until golden brown.
Cool slightly on a wire rack before eating.
Servings
:
Makes 12 scones
Originally published on October 13, 2014 and October 30, 2017. Updated with new photos and information.