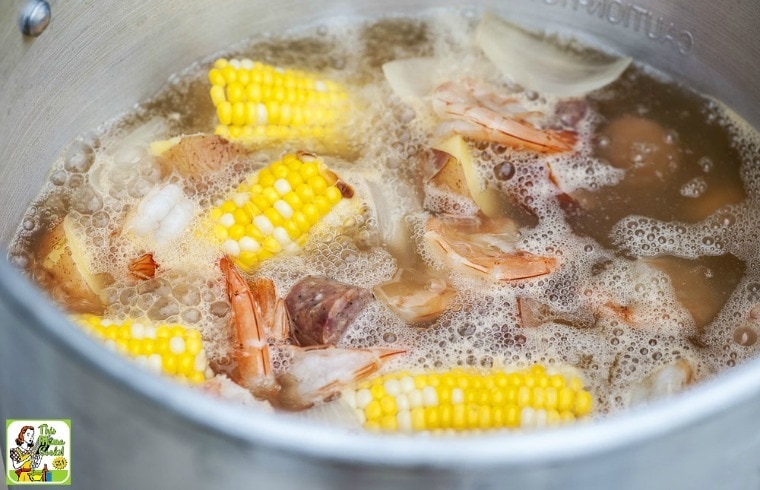 Our summer tradition of having a Cajun Seafood Boil Party started when a coworker invited me to his Louisiana crawfish boil. It was so much fun!
Dennis and his roommates bought 100 pounds of crawfish, which they had flown into Denver from Louisiana.
They kept the crawfish on ice in the bathtub along with a few lobsters some guests had brought with them.
Each guest was asked to bring beer and $10 to share in costs, which helped since we were young and didn't have a lot of money back then.
Preparation for his Cajun seafood boil party was simple.
Dennis draped each table in newspaper and placed large baguettes of French bread, butter, salt and pepper shakers, a bottle of Louisiana hot sauce, and a roll of paper towels.
Once a batch of crawfish, potatoes, and corn was done, they drained the seafood boil pot on the lawn and dump the food straight onto the tables.
We stood around the tables eating, and push the used corn husks and crawfish shells to one side.
Once everything was consumed, we gathered up the dirty newspapers, and throw the whole thing in the trash.
As party went on, the seafood kept getting hotter and hotter due to the addition of more crab boil seasoning. So we just drank more beer to cool off and had a great time.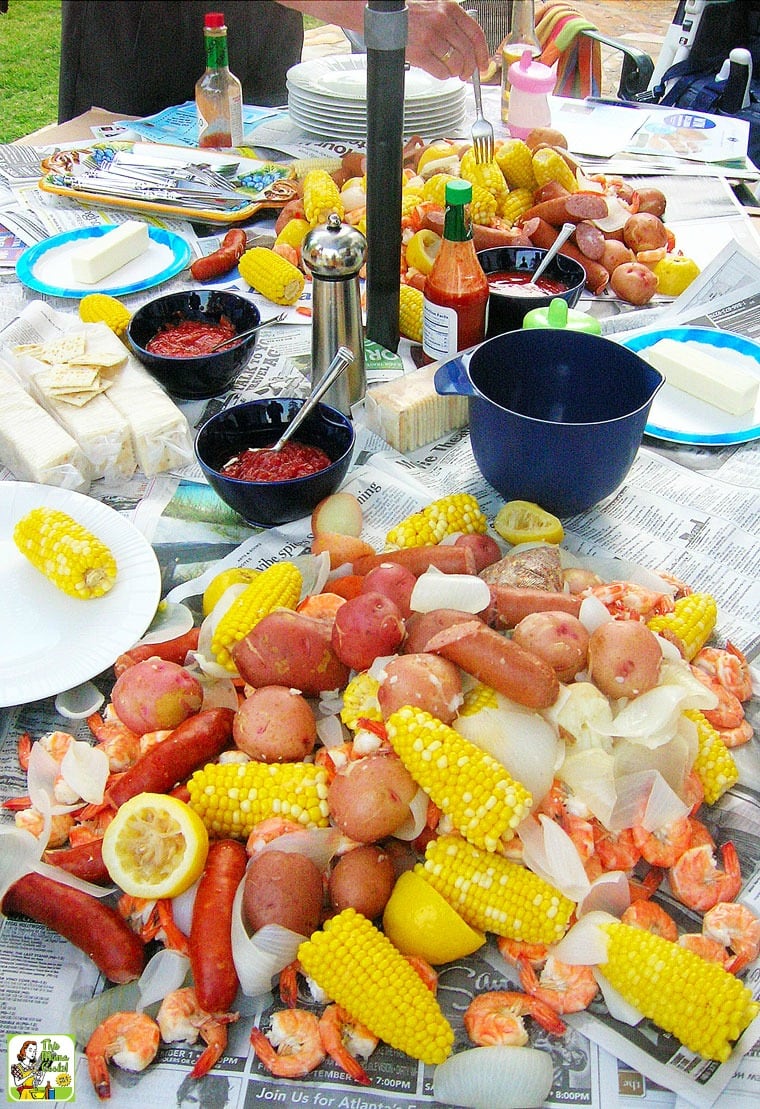 Equipment needed for your Cajun seafood boil
Planning for a boil party is easier than you think. First, you need some basic equipment to cook up a Cajun seafood boil recipe.
Jet Cooker
First, we use a Bayou Classic Double Jet Cooker with Hose Guard, which connects to the kind of propane tank you use on a gas grill.
We've also used the jet cooker for other parties, like our fish fry to heat up the frying oil pot.
If you RV camp or have backyard grilling parties, I'm sure you'll find other uses for the jet cooker.
Stockpot with Boil Basket
I recommend getting a Bayou Classic 62-Quart All-Purpose Aluminum Stockpot with Steam and Boil Basket.
Having the basket makes it much easier to lift out your seafood boil and dump it on to a newspaper covered table for your seafood boil party.
Since we cooked up our Cajun Seafood Boil in an enamel pot with no basket, we used tongs to pick out the pieces of seafood, corn and potatoes into a bowl. It was kind of a pain.
Besides using the Bayou Classic Stockpot for your Cajun seafood boil, it can be used to fry a turkey in at Thanksgiving.
You can also use the stockpot on your kitchen stovetop for canning, making a big batch of freezer soup, steaming lobsters, and making beer.
It's worth the investment and makes a great Mother's Day or Father's Day present!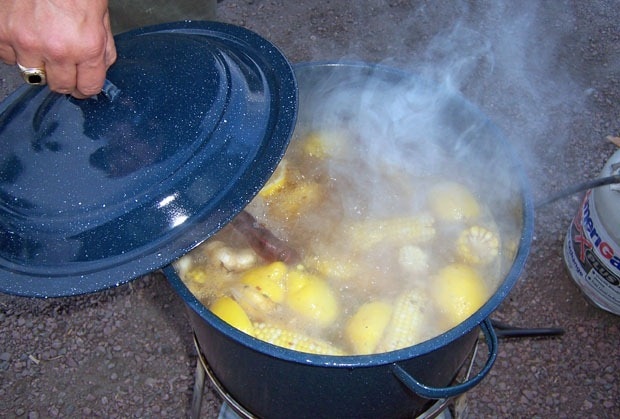 Ordering crawfish for your seafood boil party
The manager of your local grocery store may be able to order the crawfish for your depending on what part of the US you live.
Or they may have a suggestion of a local seafood place to order your crawfish.
You can also try an Asian or ethnic market with a fresh seafood section.
Or order online from a websites like LA crawfish.com or cajuncrawfish.com.
Plan on ordering about 2 to 3 pounds of crawfish per person.
If your friends and family are big crawfish fans (or just big eaters) you may want to order 4 to 5 pounds per person for your seafood boil party.
To use my boil recipe below with crawfish, substitute it for the lobster, mussels and/or clams.
Or combine them all – the more the yummier!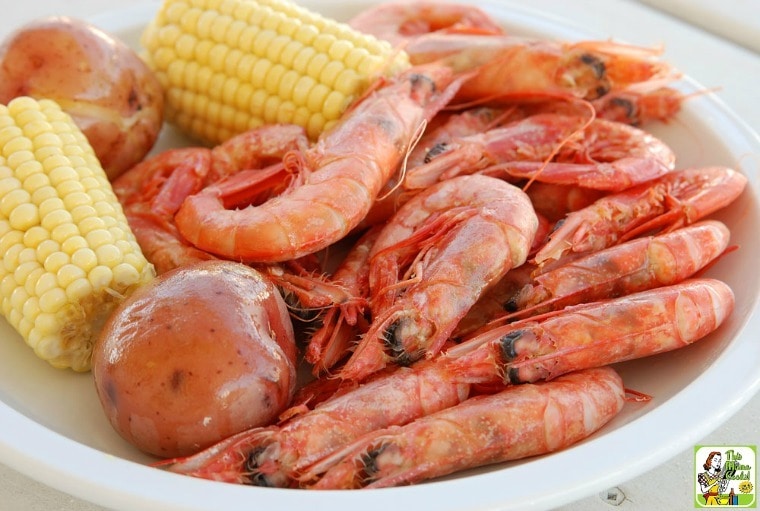 Tips for picking seafood boil seasoning
So what seafood boil seasoning should you use? I swear by Old Bay.
You can also use Old Bay, Hot and eliminate the two dried chilies.
However, other people love crab boil seasoning like:
● Slap Ya Mama Cajun Seasoning
● Louisiana Crawfish, Crab and Shrimp Boil
● Cajun Land Complete Crab Shrimp Crawfish Boil
Ask around and see what your friends recommend or what's used in the seafood boil at your favorite Cajun style restaurants. You could probably ask the chef what they use.
If you feel ordering crawfish is too much of a hassle – or trying to eat crawfish is! – then just go by my Cajun Seafood Boil recipe below.
I'd rather eat lobster than crawfish any day in my seafood boil!
Not much of a clams or mussels person? Then omit them and add more shrimp and lobster.
Don't forget to throw in some spicy Andouille sausage into the seafood boiling pot for those picky kids who don't like seafood.
However, most kids I know will try a shrimp or two after enjoying the spicy potatoes and corn. Yum!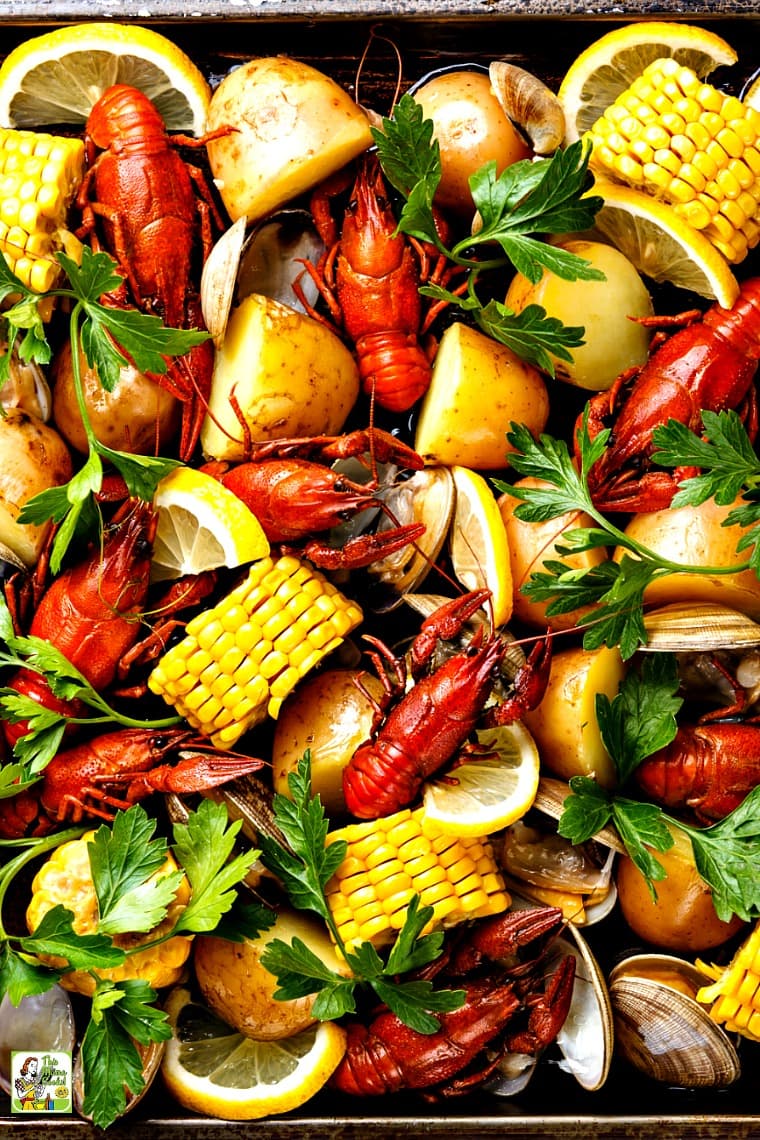 Fun desserts for your Seafood Boil Party
Looking for easy dessert recipes to serve at your party? Try these:
This No Bake Almond Butter Pie Recipe is creamy like ice cream, but dairy free.
These Gluten Free Chocolate Bacon Cupcakes will be a hit with anyone who loves bacon or chocolate.
M&M Chocolate Chip Cookies will be a big hit with the kids.
This Gluten Free Chocolate Cupcakes Recipe with Dulce de Leche Frosting tastes just as good as something you get at a professional bakery.
I love these Ice Cream Cone Cupcakes because they won't melt at your party, since the "ice cream" is made of frosting.
This Easy Buttermilk Pie is a tasty take on a Southern classic.
This Vegan Key Lime Mousse is dairy free and gluten free.
Serve this Apple Peach Pie with a scoop of dairy free ice cream. Delish!
Yield: 10 SERVINGS
Cajun Seafood Boil Recipe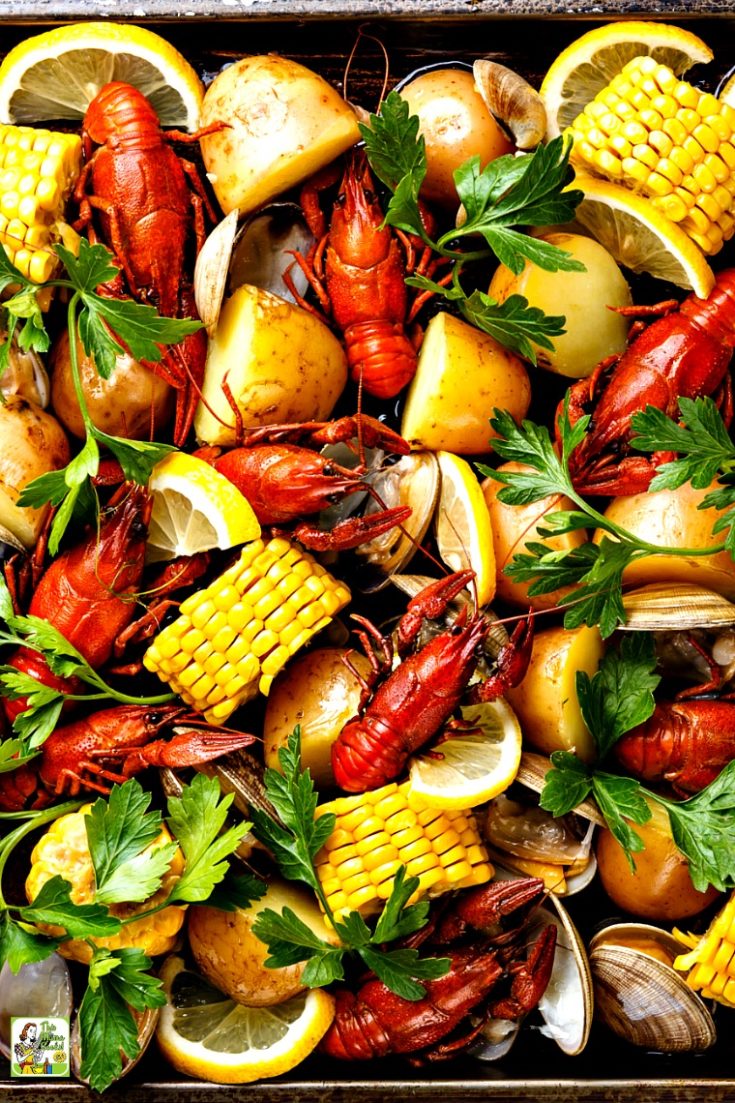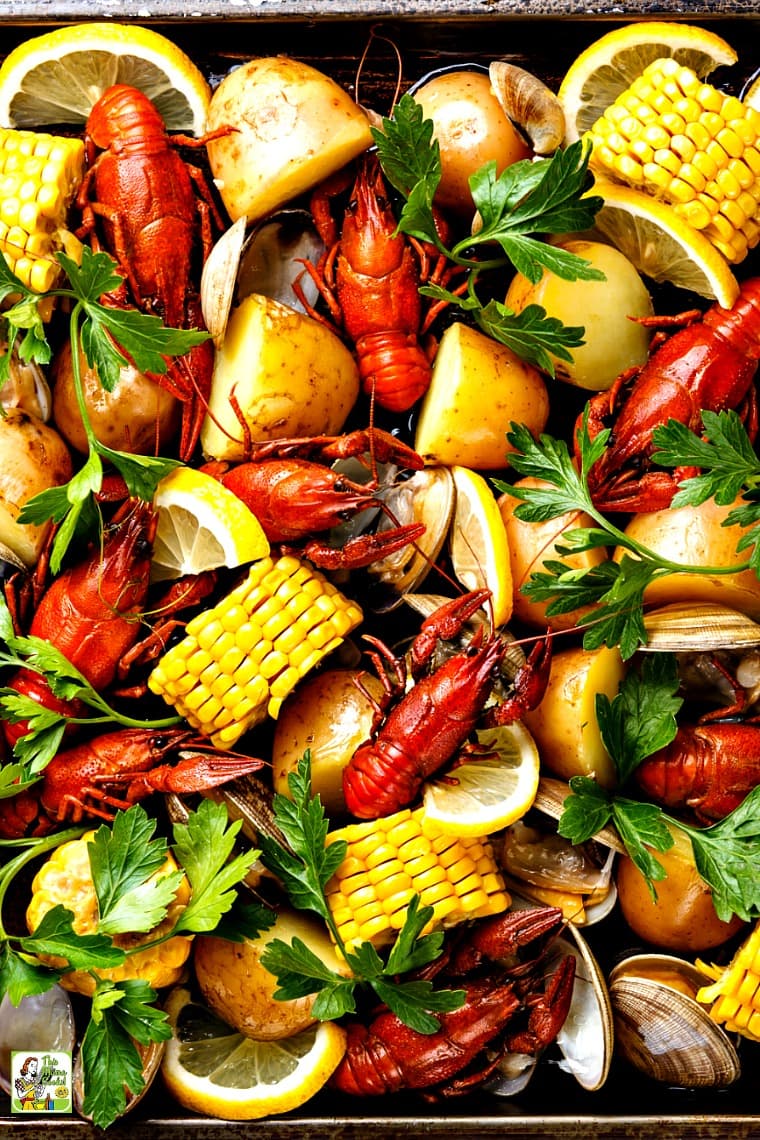 Throwing a Cajun seafood boil party is easy. Includes tips on how to buy a seafood boil recipe stockpot and seafood boil seasoning.
Ingredients
4 lemons, halved
6 bay leaves
1/2 cup plus 2 tablespoons Old Bay seafood seasoning
2 large garlic heads, halved horizontally
6 medium onions, peeled and quartered
2 dried chilies
1 1/2 teaspoons sea salt
16 sprigs fresh thyme, tied together with kitchen twine
1 pound clams
1 pound mussels
2 pounds new red potatoes, unpeeled, halved if large
8 ears fresh corn, shucked and broken in half
2 pounds tail-on shrimp, uncooked (frozen is OK)
6 lobster tails, uncooked (frozen is OK)
2 pounds spicy Cajun-style Andouille sausage (whole)
Butter, salt and pepper, hot sauce, and French bread for serving
Instructions
Fill a 6-quart stockpot with 4 1/2 quarts of water. Squeeze lemons into water and add rinds. Add bay leaves, seasoning, garlic, onions, chilies, 1 1/2 teaspoons of salt, and thyme.
Bring water to boil. Reduce heat, and simmer 10 minutes.
Add potatoes and simmer 12 minutes.
Add corn and simmer 5 minutes.
Add shrimp, lobster, clams, and mussels to the pot. Add whole Andouille sausage. Cover, and simmer until lobster is opaque and sausage is cooked through (if not precooked) – about 5 minutes.
If using a steam basket, remove it from the stockpot and serve food right from the basket or dump food onto a newspaper-covered table or onto trays. Otherwise, use tongs to pick out the pieces of seafood, corn, sausage, and potatoes into a large bowl.
Serve seafood boil with melted butter and/or hot sauce. Squeeze and spread the cooked garlic on French bread. Serve the corn and potatoes with butter and salt and pepper.
Recommended Products
As an Amazon Associate and member of other affiliate programs, I earn from qualifying purchases.
Nutrition Information:
Yield:
10
Serving Size:
1 pound seafood & sauage plus corn & potatoes
Amount Per Serving:
Calories:

678
Total Fat:

21g
Saturated Fat:

6g
Trans Fat:

0g
Unsaturated Fat:

11g
Cholesterol:

324mg
Sodium:

2868mg
Carbohydrates:

54g
Fiber:

5g
Sugar:

9g
Protein:

68g
Nutritional information is automatically calculated per the ingredients list. Serving size may not be accurate. Please double-check with your preferred nutritional app for the most accurate information.
Originally published May 12, 2012 and May 20, 2016.
Updated with new pictures and information.