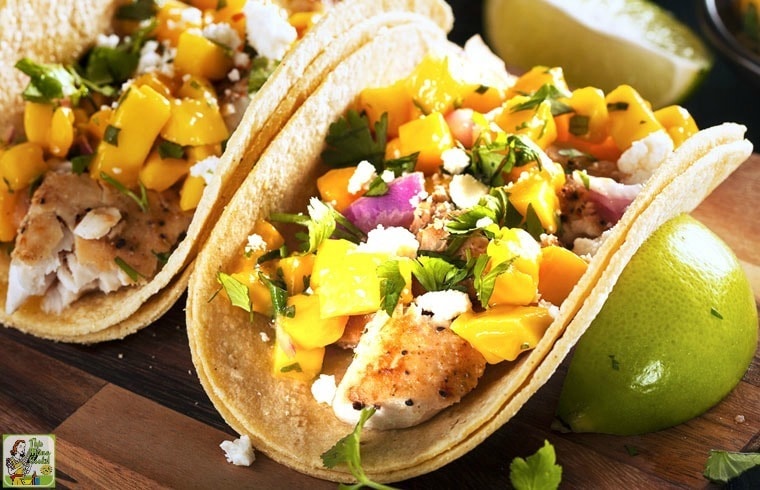 The Master Your Metabolism Cookbook
Fish tacos recipes get a bad rap because usually the fish is battered, fried and served with a high calorie mayonnaise or sour cream sauce.  Yuck! Instead, these mahi mahi fish tacos from Jillian Michaels' The Master Your Metabolism Cookbook are marinated in citrus juices and spices. Then the mahi mahi fish tacos are cooked in a pan on your stove top, and topped with a mango salsa. Since there's no need to fire up the grill, this mahi mahi fish taco recipe is so easy to make. It's become one of my favorite Jillian Michaels recipes.
Jillian claims that these types of healthy fish taco recipes have several nutritional benefits like being heart healthy, an immunity booster, and anti-cancer. She also claims it improves your digestion and gives you healthy skin. All I know that these mahi mahi fish tacos taste great! Now if I could only get my kids to eat them. (What is it with kids and fish?)
If you cannot find mahi mahi, tilapia is a good substitute. Tilapia fish tacos are just as lean as mahi mahi, and a little easier on the budget! I don't think Jillian Michaels would mind, though she'd probably prefer that the fish you use in your fish tacos recipe are ocean caught and not farm raised.
I'm shocked that originally there was no cilantro in this recipe, so I took the liberty of adding some for you! In The Master Your Metabolism Cookbook, Jillian Michaels writes that cilantro is a "form of natural chelation therapy, helping to detox the liver and remove heavy metals from the body." So I didn't think she'd mind. However, if you don't like cilantro, you can leave it off your Spicy Mahi Mahi and Mango Fish Tacos.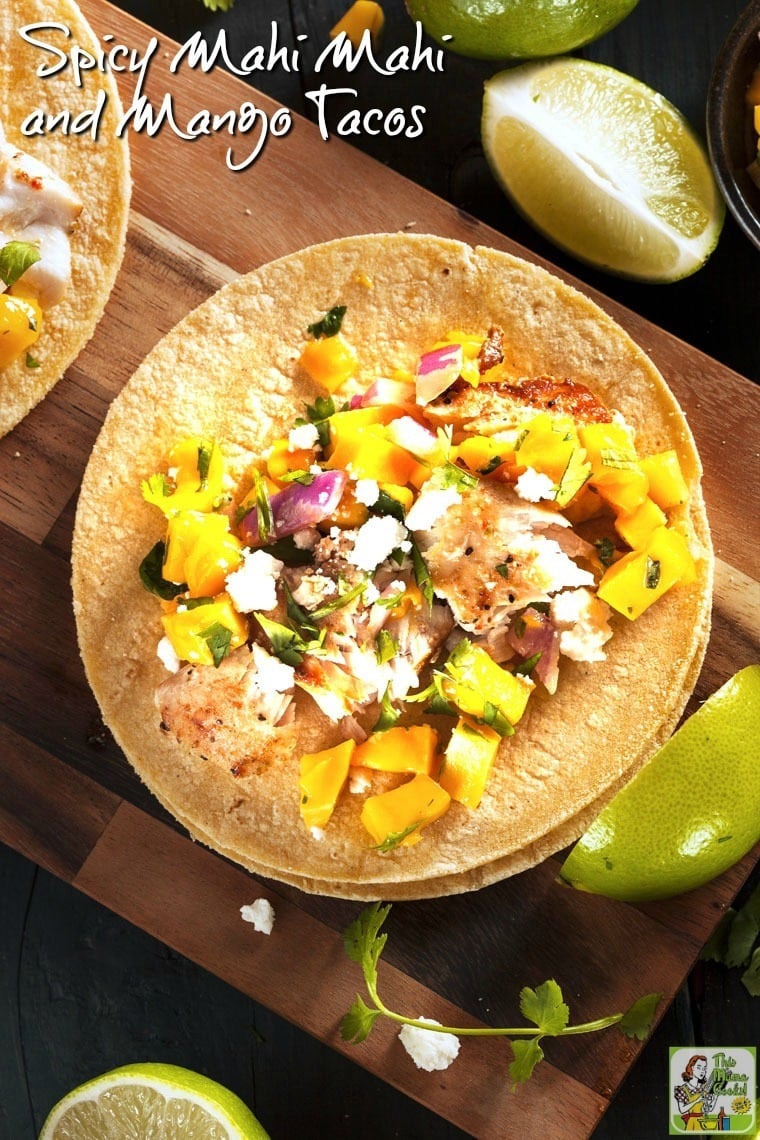 This Mama's tips for making Spicy Mahi-Mahi and Mango Fish Tacos
Tortilla Warmer - Insulated Microwave Pouch Holds Heat For 1 Hour - 12" inches
Personally I prefer corn tortillas over whole wheat. Not only do they taste better, but they're more authentically Mexican. However, Jillian Michaels wants you to avoid starchy vegetables like corn, so I completely understand why she uses whole wheat tortillas instead. If you're gluten free, use corn tortillas.
Speaking of tortillas, have you used a fabric pouch tortilla warmer for heating tortillas in the microwave? Such an awesome product! You can heat up a bunch and keep them warm in the pouch while you're making your Spicy Mahi-Mahi and Mango Fish Tacos. The tortillas stay warm and don't dry out. I have a 12" Tortilla Warmer Pouch and use it all the time! They also come in a variety of designs to match your kitchen décor. LOVE IT!!
If you can't find virgin coconut oil, use extra virgin olive oil or organic grapeseed oil instead.
Does cutting up onions make your cry. You have to get a pair of onion goggles. Trust me on this. You'll even get the kids to chop onions for you just because they'll want to wear your super cool onion goggles.
More Jillian Michaels recipes from Master Your Metabolism
If you want to try a couple of Jillian Michaels recipes before getting her The Master Your Metabolism Cookbook, here are two more you can check out:
Both of these Jillian Michaels recipes are incredibly popular with my readers and get rave review, so check them out!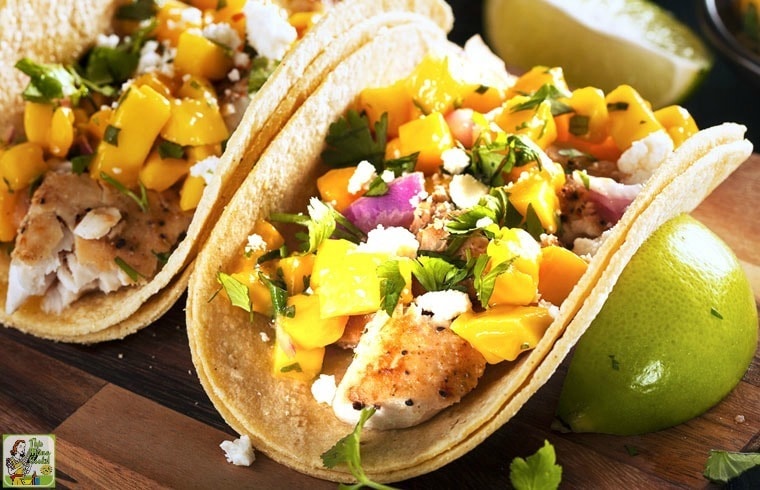 Spicy Mahi Mahi and Mango Tacos
Ingredients
3 tablespoons

fresh lime juice

3 tablespoons

fresh orange juice

1

garlic clove, chopped

2 teaspoons

chili powder

1/4 teaspoon

salt

1/4 teaspoon

ground black pepper

1/8 teaspoon

cayenne pepper

1 pound

mahi mahi, rinsed and patted dry, cut into bite- size chunks

1

large ripe mango, peeled, pitted, and coarsely chopped (about 2 cups)

1 tablespoon

chopped red onion, rinsed and drained

1/4 cup

fresh cilantro leaves, chopped

1/2 teaspoon

seeded, chopped fresh red chile

2 teaspoons

virgin coconut oil

4

(8- inch) whole-wheat or corn tortillas

1

ripe avocado, pitted, peeled, and coarsely chopped

Lime wedges, for serving
Directions
In a medium bowl, whisk together 2 tablespoons of the lime juice, 2 tablespoons of the orange juice, the garlic, chili powder, salt, black pepper, and cayenne pepper.
Add the fish and gently stir to coat.
Let stand for at least 10 minutes, or cover and place in the refrigerator for up to 4 hours.
In the meantime, in a medium bowl, combine the mango, onion, cilantro, chile, and remaining 1 tablespoon each lime and orange juice. Stir gently until well combined.
Set aside in the refrigerator if you are marinating the fish longer than a few minutes. Let stand at room temperature for at least 20 minutes before serving.
In a large skillet, heat the oil over medium-high heat. Add the fish and its marinade and cook for 3 to 4 minutes, turning frequently, until the fish is opaque.
While the fish cooks, wrap the tortillas in damp paper towels and microwave on high power for 30 seconds.
Gently fold the avocado into the mango mixture.
Divide the fish evenly among the tortillas. Divide the mango mixture among the tacos, spooning it on top of the fish. Serve with lime wedges.
Prep Time:
4 Hours 30 Minutes
Total Time:
4 Hours 35 Minutes
Serving size:

1 taco

Calories:

405.2

Total Fat:

13.9g

Sodium:

409.2mg

Total Carbohydrates:

43.9g

Protein:

26.8g
Originally published on July 29, 2010. Updated with new pictures.
Nature's Way Extra Virgin Organic Coconut Oil, 32-Ounce
Now Foods Grape Seed Oil, 16 Ounce
Master Your Metabolism: The 3 Diet Secrets to Naturally Balancing Your Hormones for a Hot and Healthy Body!
ORBLUE Onion Goggles
&