Most people make chocolate bark candy during the holidays since it's perfect for cookie exchanges or as a homemade gift. However, I love making candy bark year round as it's such an easy way to get rid of those odd little bits of dried fruit, nuts, seeds, and whatever else I have in the pantry. Besides, using dried fruit and nuts makes Easy Gluten Free Chocolate Bark Candy somewhat of a healthy bark recipe.
Since I also had gluten free Frosty Cheerios in my pantry, I wanted to include cereal in this easy chocolate bark recipe. Perfect since today is National Cereal Day and the inspiration for this candy bark recipe is a bowl of cereal with fruit!
(Check out the other ways you can celebrate National Cereal Day from Food Network chef Justin Warner, and the folks at General Mills. You just may see a picture of me raising a glass of Fruity Cheerios Colada!)
What type of chocolate for bark candy?
Normally, I'd suggest you pick the best dark chocolate to make your Easy Gluten Free Chocolate Bark Candy with. However, working with regular chocolate can be tricky since you must temper it when you melt it to make candy. If you don't, it may not set up properly, could get blotchy (called "bloom"), or will have an uneven, matte appearance. Midwest Living has a Cheater's Guide to Tempering Chocolate, if you're interested in working with dark, high quality chocolate.
However, if that's too intimidating, you can use chocolate bark coating (also called almond bark) or candy melting wafers. I highly recommend Ghiradelli Melting Wafers. Ghiradelli's chocolate wafers comes in dark chocolate and white chocolate varieties. Not only are the melting wafers easy to measure out for your Easy Gluten Free Chocolate Bark Candy recipe, they taste great!
WARNING: However as a reader pointed out to me, according to the label, Ghiradelli *may* contain wheat. My guess is because it's made on machinery that is used to manufacture products that contain wheat.
If you have celiacs or a wheat allergy, avoid Ghiradelli Melting Wafers and use another brand or an allergy free chocolate like Enjoy Life Semi-Sweet Chocolate Mini-Chips.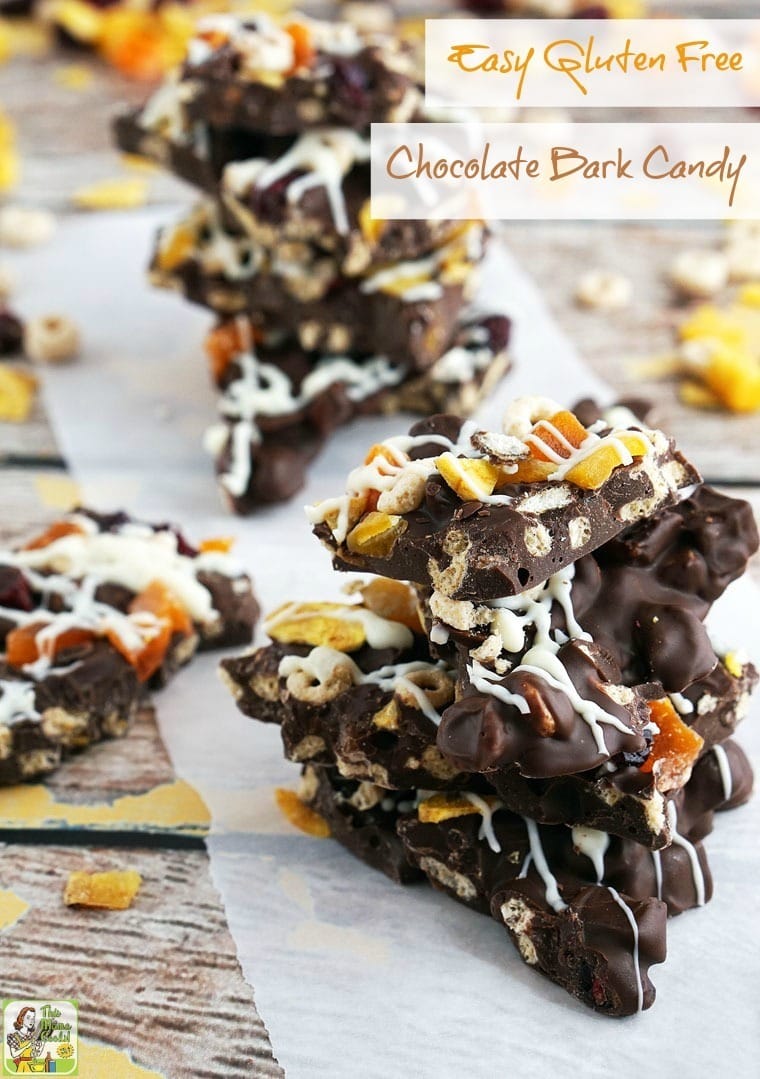 Tips on how to make Easy Gluten Free Chocolate Bark Candy
Can't find salted plantain chips at your supermarket for this bark candy recipe? (Look in the "bag your own" dried fruit, candy and nuts section.) Then make your own homemade chips using my Healthy Baked Plantain Chips Four Ways recipe or use banana chips instead.
The chopped dried fruit should be the size of the cranberries and Cheerios. If they're too big, it'll be hard to break the candy bark into pieces.
If you've never drizzled melted chocolate before, you have to use The Kitchn's plastic bag technique. It works like a dream! Make sure to use a thick freezer baggie and take it slow – 30 seconds at 50% power – to melt the chocolate wafers. You'll find this works so well that you'll want to start drizzling chocolate on more than chocolate bark candy.
Have you tried parchment paper sheets? They're precut and fit your cookie baking sheet perfectly. I always tear either too much or too little parchment paper off the roll when I'm baking. Since they're precut, I don't waste any paper. LOVE IT!
Reynolds Kitchens Cookie Baking Sheets Parchment Paper (Non-Stick, 22 Sheets)
Giving Easy Gluten Free Chocolate Bark Candy as a homemade gift
Here are a few ways chocolate bark candy is perfect for a homemade gift giving any time throughout the year
Buy some cute treat gift boxes at the craft store for friends, relatives and/or teachers.
Fill a Mason jar with the bark candy. Attach a gift paper tags with twine to the lid.
Put the pieces in a ziplock baggies or cellophane party bags tied with ribbons. Then print out labels and attach them to the baggies or bags. For more packaging ideas, check out my Wrapping Ideas for Edible Gifts board on Pinterest.
Fill a coffee mug with the Vanilla Candy Bark. Attach a gift paper tags with twine to the handle.
Click on the "Print Recipe" icon and include the Easy Gluten Free Chocolate Bark Candy recipe in your card along with your homemade gift. Teachers, friends and relatives love recipes!
Easy Gluten Free Chocolate Bark Candy
Ingredients
1 cup

gluten free Frosted Cheerios

1/2 cup

chopped salted plantain chips

1/2 cup

chopped dried mango

1/2 cup

dried cranberries

1/2 cup

chopped dried papaya

24 ounces

chocolate bark candy coating

1/2 cup

white chocolate melting wafers
Directions
Place a large cookie sheet in your freezer for an hour until well chilled.
In a large bowl, mix Frosted Cheerios, plantain chips, dried mango, cranberries, and papaya.
Remove 1 1/2 cups of cereal and fruit mixture and set aside.
Remove cookie sheet from freezer and line with parchment paper.
Melt candy coating according to directions.
Stir melted chocolate candy coating into the cereal and fruit mixture.
Spread mixture onto the parchment lined baking sheet. Use the back of a spatula to spread the mixture to the edges of the baking sheet.
Once spread, sprinkle on remaining cereal and fruit mixture and gently press on to the surface with your hand.
Melt white chocolate. Drizzle over bark.
Place finished bark into freezer until solid – 30 minutes.
Break into pieces.
Total Time:
2 Hours 4 Minutes
Servings
:
2 pounds bark candy