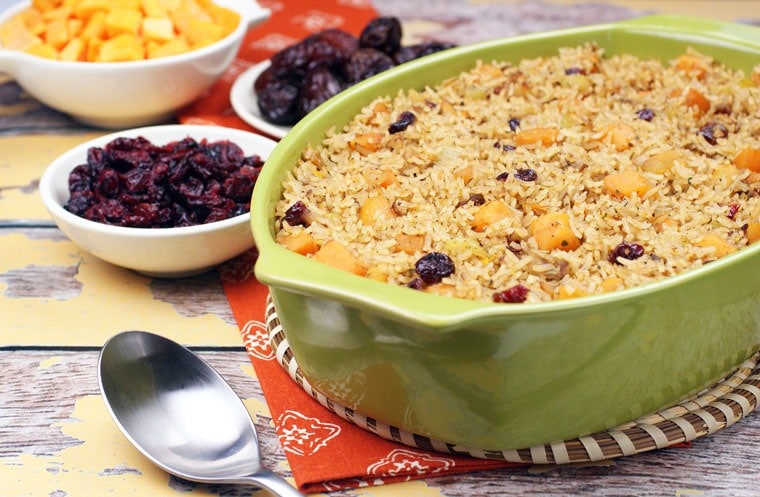 When I was coming up with my recipe for Jasmine Rice Stuffing with Butternut Squash, Dates & Cranberries, I wanted to try a stuffing that didn't rely on bread. As someone who's gluten free, I'm always faced with the challenge of Thanksgiving stuffing. Do I make a special gluten free stuffing just for me and then another stuffing for the non-gluten free people in my house?
However, most rice based stuffings call for wild rice, which actually isn't rice but a grain. You see, my kids don't like wild rice, and it can be expensive. Instead, why not use a nicer variety of rice like basmati or jasmine? For my rice stuffing recipe, I thought to try jasmine rice. It's a long grained rice, but a bit stickier than wild rice. So to make it drier, I cooked it with less water per the package instructions.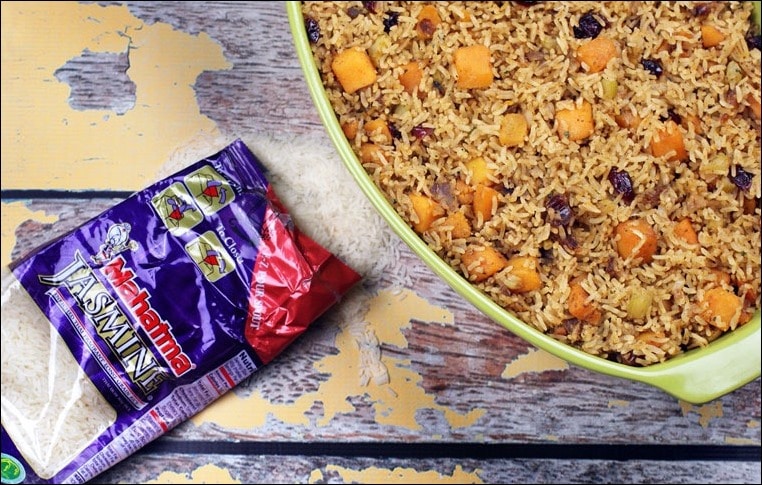 Making a jasmine rice stuffing recipe for Thanksgiving
I believe that you must have certain things in your Thanksgiving stuffing. First, dried fruit. Second, a vegetable. Third, chicken broth.
I love anything with dried fruit, and often sprinkle my breakfast oatmeal with some each morning. Of course, Thanksgiving isn't Thanksgiving without cranberries. Not only do they add great flavor to the Jasmine Rice Stuffing, but some gorgeous color, too. I also love Medjool dates and can eat them all day long. I've used dates in other holiday dishes like Roasted Brussels Sprouts with Medjool Dates. Cranberry and dates are two holiday favorites I go back to time and time again, and I knew they'd combine well with the jasmine rice.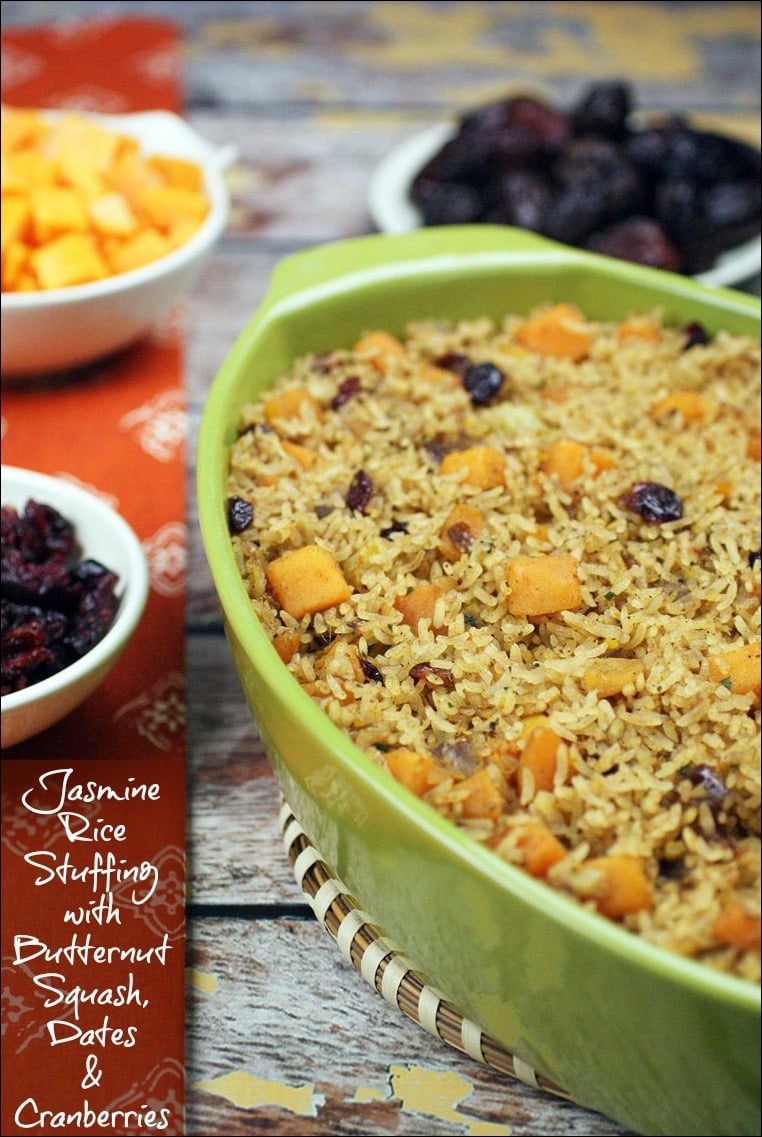 Butternut squash always says fall time to me. I use it in recipes like butternut risotto. However, it's a pain in the neck to peel and cut up a butternut squash. Afterwards, the skin on your hands feels funny and it takes forever just to cut up one or two squashes. Luckily, you can now buy it already cut up at most grocery stores. Unless you have a kitchen full of minions, pay a few extra dollars and buy the already cut up butternut squash. This is my idea of convenience food!
To tie the Jasmine Rice Stuffing with Butternut Squash, Dates & Cranberries, I used homemade chicken stock. You, of course, can use chicken broth from the store. (If you're gluten free, make sure to check the label for hidden sources of gluten or to see if the broth is certified to be gluten free.) I used chicken broth instead of water when cooking up the jasmine rice. The stock will make the fragrant jasmine rice even more delectable and the Jasmine Rice Stuffing even better!
This Mama's tips on jasmine rice stuffing
I used a rice cooker to cook up my jasmine rice. I love using rice cookers since you get perfect rice every time. If you plan to cook rice frequently, invest in one. You can get rice cookers online, at discount stores, and at home goods stores. If you want a high end model, check out the rice cookers at your local Asian markets.
If you want to make the Jasmine Rice Stuffing vegetarian, use a vegetable stock. If you want to make this vegan, use a vegan buttery spread, a vegan vegetable stock. If you want to make this stuffing recipe dairy free, make sure your buttery spread is also dairy free.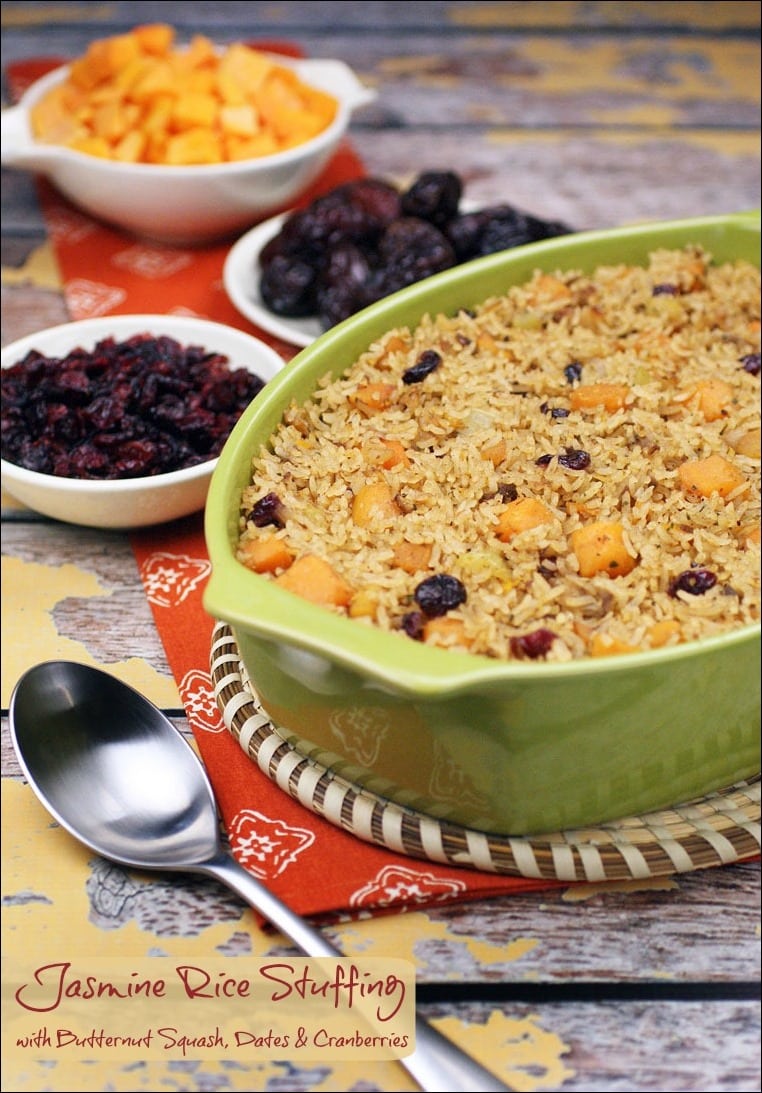 If you don't have poultry seasoning in your spice rack, you can make your own! The Kitchn has a Basic Poultry Seasoning Recipe here.
Many stuffing recipes use sausage. I decided to keep the Jasmine Rice Stuffing with Butternut Squash, Dates & Cranberries on the lighter, vegetarian side by not adding any. However, a spicy chorizo sausage would be a fantastic addition. You can get my recipe for How to Make Homemade Chorizo here. Cooking up some Italian sausage and adding it to the Jasmine Rice Stuffing would also be amazing. You can get my recipe for How to Make Homemade Italian Sausage here. In either case, just cook up the sausage, crumble or chop it up, and add it to the rice, vegetables, and dried fruit before it goes into the oven.
If you love nuts in your stuffing, you may also wish to add some chopped pecans or slivered almonds to this. There are nut allergies in my family, so I skipped it. If you have nut allergies, pine nuts are a good choice, but beware of potential cross contamination issues.
Love rice dishes? Wild Mushroom Risotto makes a great side dish!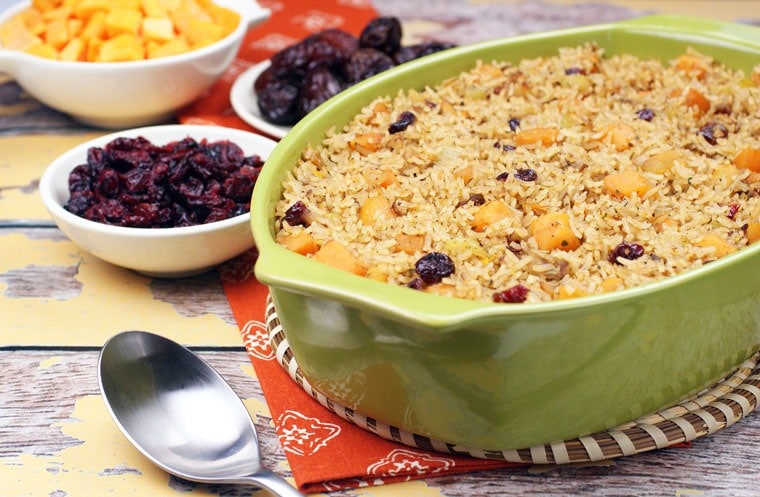 Jasmine Rice Stuffing with Butternut Squash, Dates & Cranberries
Ingredients
Cooking spray

2 cups

jasmine rice (uncooked)

3 1/2 cups

chicken or vegetable broth or stock, divided

2 tablespoons

butter or buttery spread

2 tablespoons

olive oil

4 cups

cubed butternut squash

1 cup

chopped celery

1 cup

chopped onion

1/2 cup

chopped Medjool dates

1/2 cup

dried cranberries

1 tablespoon

finely chopped fresh parsley

2 teaspoons

poultry seasoning

1 teaspoon

dried rubbed sage ground black

1/4 teaspoon

ground black pepper
Directions
Preheat oven to 350 degrees F. Coat a 13x9inch baking dish with cooking spray and set aside.
Cook Mahatma Jasmine Rice with 2 cups stock according to package directions. Set aside when done.
Put olive oil and butter in large skillet on medium heat. When butter is melted, add squash, celery and onion. Stirring frequently, cook for 15 to 20 minutes until squash is fork-tender and starting to brown.
While squash is cooking, place chopped dates and cranberries in a small bowl. Pour hot water over dried fruit until covered. Soak for 15 minutes then drain in a fine mesh colander.
Add soaked fruit, parsley, and seasonings to skillet. Mix thoroughly and turn off heat.
Place cooked rice in large bowl. Stir in vegetable mixture.
Add remaining stock (1 1/2 cups) to skillet and turn heat to high. Using spatula, deglaze the skillet by scraping any brown bits so they dissolve into the stock. Turn off heat and add deglazed stock to rice and vegetable mixture.
Toss rice and vegetables until well mixed. Spoon into your baking dish and cover with aluminum foil.
Bake 30 minutes and keep warm and covered until serving time.
Total Time:
1 Hour 10 Minutes
Serving size:

1/8 of recipe