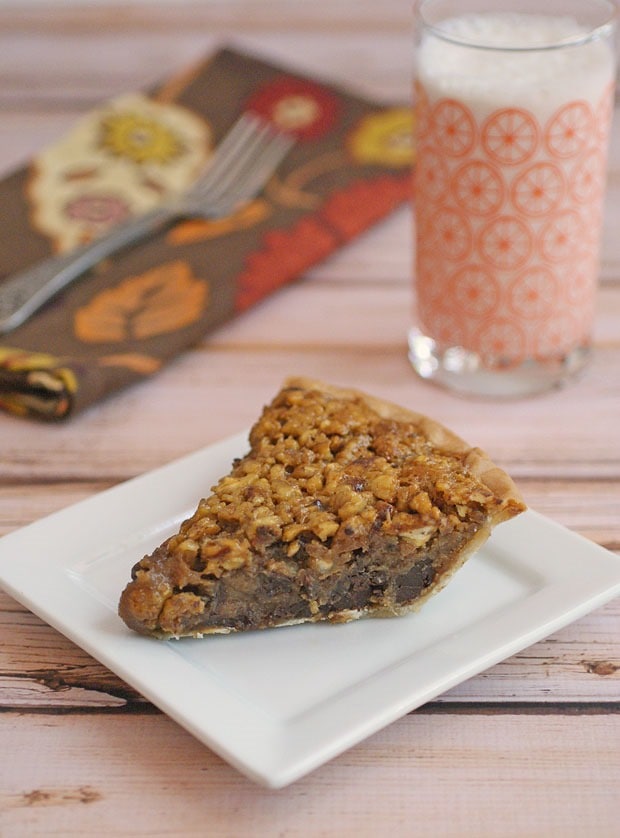 I'm always on the lookout for recipes that I can easily make gluten free – especially desserts! So I made this Gluten Free Bourbon & Chocolate Pecan Pie. We had a guest over recently who I wanted to make something special for to thank him for connecting me with my new kinesiologist. The doctor has done wonders for my shoulder and helped me avoid another surgery.
Since we had a bag of pecans in the freezer – courtesy of my husband's former landlord who has a pecan tree in his yard – I thought I'd make a gluten free version of Martha Stewart's Sorghum-Sweetened Chocolate Pecan Pie. I made this Gluten Free Bourbon & Chocolate Pecan Pie at Thanksgiving and loved the mixture of bourbon, sorghum, coconut palm sugar, and chocolate along with the pecans. Plus, it gave me an excuse to use some leftover chocolate!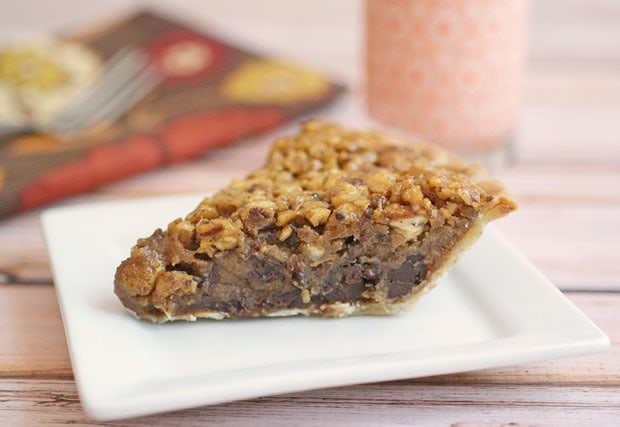 I used a premade gluten free crust from Wholly Wholesome for my Gluten Free Bourbon & Chocolate Pecan Pie. I recommend that you don't prebake the crust. Otherwise the crust ends up being too hard to cut. Feel free to use your favorite gluten free pie crust recipe, mix, or premade crust. Or try making a crust out of rice cakes like I did with my Chocolate and Almond Freezer Pie.
Like my freezer pie, Gluten Free Bourbon & Chocolate Pecan Pie is not a light dessert, so make sure to serve up small pieces! However, I promise not to come over with the Diet Patrol if you want to serve it up with a scoop of ice cream or some whipped cream. In my opinion, it's yummy and decadent enough without the added goodies. But it IS good warm, so zap it in the microwave for a few seconds!
You can find sorghum syrup online, at beer and wine making stores, and if you live in the south, maybe at your grocery store. If you can't find it near you and don't want to order it online, feel free to substitute maple syrup.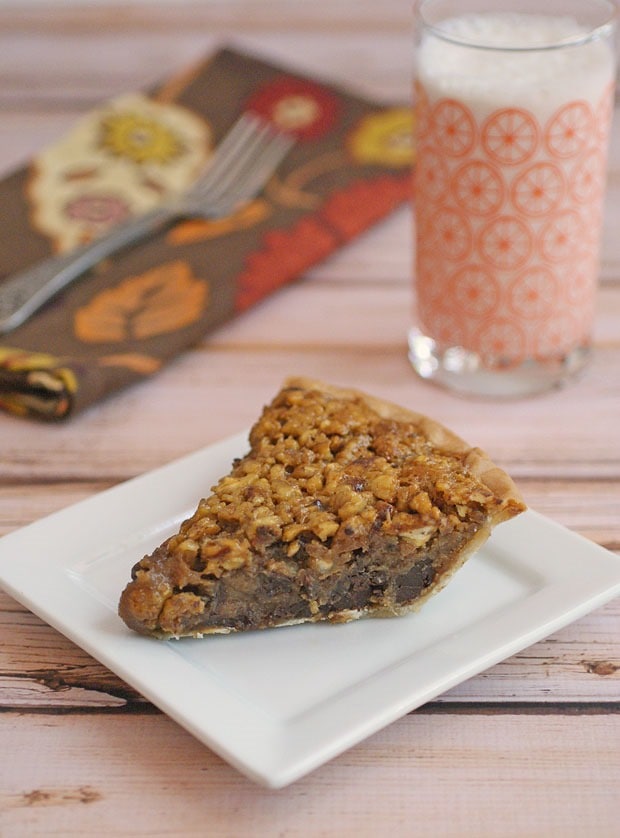 Ingredients
1

gluten free pie shell

1/3 cup

gluten free all-purpose baking mix

1/2 cup

organic coconut palm sugar

Pinch

salt

2

eggs, lightly beaten

3 tablespoons

bourbon (I highly recommend Breckenridge Bourbon Whiskey.)

1/2 cup

sorghum syrup

1 cup

pecans, toasted and roughly chopped

4 ounces

dark chocolate, roughly chopped (I used Green & Black's 70% organic dark chocolate.)

1/2 cup

buttery spread, melted
Directions
Preheat oven to 350 degrees.
In a large bowl, whisk together gluten free all-purpose baking mix, coconut palm sugar, and salt.
Stir in eggs just enough to combine all the ingredients.
Stir in bourbon, sorghum, pecans, and chocolate.
Pour melted buttery spread into bowl and stir until thoroughly combined.
Place pie shell on a baking sheet.
Pour pie filling into shell and bake for 35 minutes. The top should be set but the center may be slightly gooey. (Test by jiggling the pan. The center may move a bit, but the sides won't.)
Cool completely on a wire rack.
Serve at room temperature and store in the refrigerator.