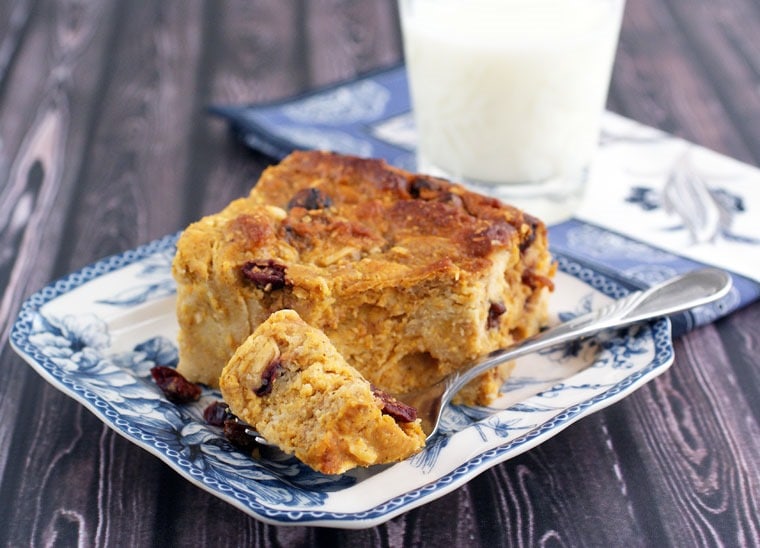 We're getting the house we've lived in for 11 years ready to be put on the market. After the movers left Tuesday (we're putting most of our stuff in storage so the house looks larger and can be "staged") I've been in a complete funk. All I've wanted to do sit in bed, watch The Walking Dead, and eat comfort foods like bread pudding.
Zombies and bread pudding? Well, since it's Halloween and pumpkin season, how about a heavenly Gluten Free Pumpkin and Cranberry Bread Pudding with some sweet yet tart cranberries?
Pumpkin bread pudding tips and tricks
This fall pumpkin recipe makes a huge amount of Gluten Free Pumpkin and Cranberry Bread Pudding. It's perfect for a Halloween or Thanksgiving party. It's also makes a decadent (but not too unhealthy) breakfast goodie when family is visiting from out of town. If you're making this for dessert for your immediate family and don't want a couple of weeks of leftovers, cut the recipe in half.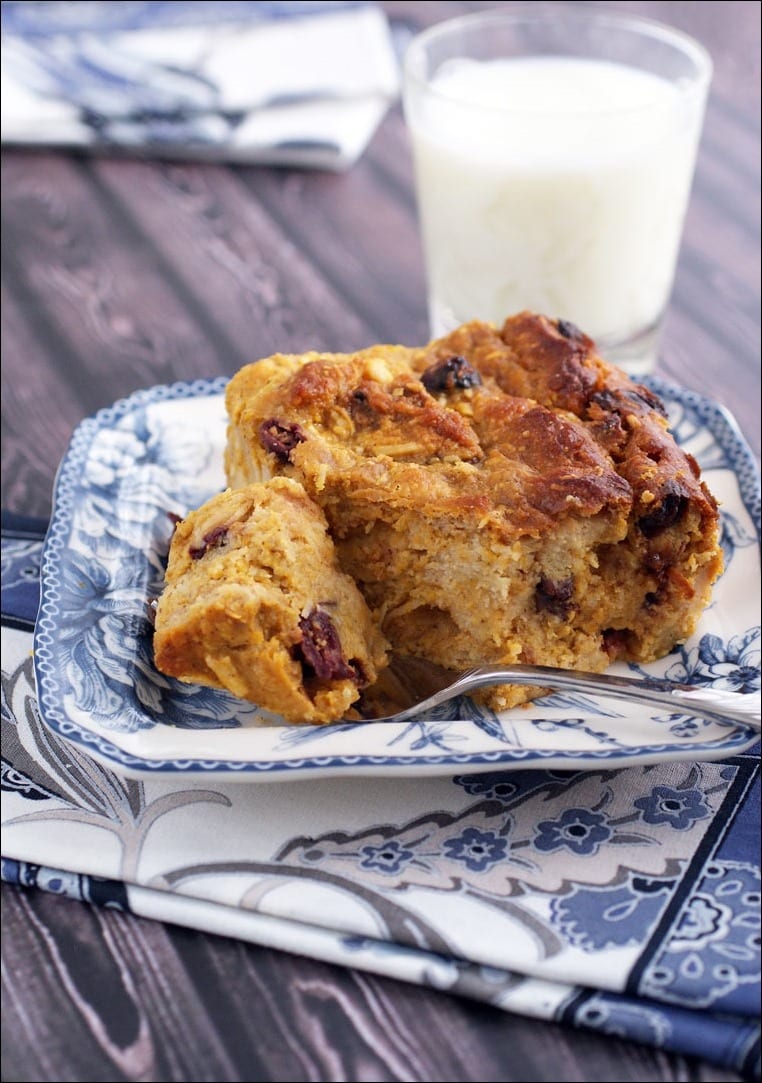 You can make this Pumpkin and Cranberry Bread Pudding gluten free or not depending on the type of bread you use. Also, it's a great way to use bread ends, if your family's like mine and refuses to eat them. (I freeze bread loaf ends and use them in meatloaf, Thanksgiving stuffing, French Toast, and bread pudding.)
Feel free to substitute raisins or dried cherries or raisins for the cranberries. Or you can use half shredded coconut and half dried cranberries or another dried fruit. Serve this Pumpkin and Cranberry Bread Pudding with whipped cream, a scoop of ice cream (soy, coconut or regular), or whiskey sauce if you're not watching the calories.
Pumpkin and Cranberry Bread Pudding reheats very well in the microwave, but it's delicious cold, too. You can also make it several days ahead. Just cover with aluminum foil, refrigerate, and reheat in a microwave (by the serving) or the whole pan in a 325 degrees F oven for 15 minutes.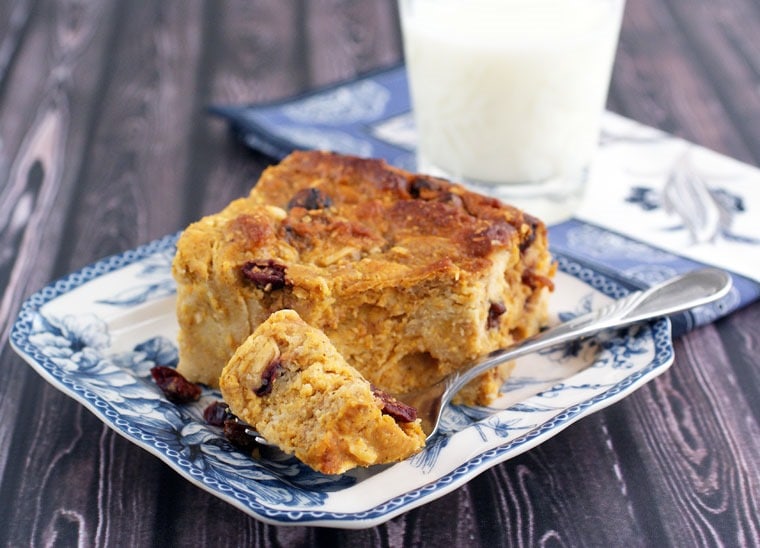 Gluten Free Pumpkin Cranberry Bread Pudding
Based on a recipe from the
Joy of Cooking
.
Ingredients
cooking spray

24 ounces

gluten free or whole wheat bread, stale but not hard

1 1/2 cup

dried cranberries

4

eggs

3/4 cup

egg whites

2 teaspoons

vanilla extract

1 tablespoon

pumpkin pie spice

1 teaspoon

salt

1 1/2 cup

stevia

3 cups

skim milk

1 12-ounce cans

fat free evaporated milk

2 15-ounce cans

pumpkin puree
Directions
Spray the inside of a 15x10x 2 inch rectangular baking dish and set aside.
Cut or tear bread into 1/2 inch pieces. You should have about 10 lightly packed cups of bread pieces. Place in a large bowl.
Cover bread with dried cranberries.
In a medium bowl whisk eggs and egg whites.
Add vanilla, pumpkin pie spice, salt , sugar, skim milk and condensed milk to eggs and whisk until blended.
Pour egg, spice and milk mixture over bread and cranberries. Mix together bread and liquids until bread is saturated. Let stand for 30 minutes periodically pressing the bread down with a spoon or spatula to help bread absorb the liquid.
Preheat oven to 350 degrees F.
Baked the pumpkin and cranberry bread pudding in a bain marie (water bath) until puffed and firm in the center - about 1 1/2 hours.
Serve warm or cold, either plain or with whipped cream or ice cream.
Serving size:

1/16 of pan

Calories:

263

Calories from Fat:

25

Total Fat:

2.8g

Saturated fat:

0.8g

Unsaturated fat:

2g

Sodium:

452mg

Total Carbohydrates:

47.1g

Sugar:

29.8g

Fiber:

4.1g

Protein:

13.2g

Cholesterol:

49mg