Last Updated on February 28, 2022 by Anne-Marie
www.thismamacooks.com/2020/11/crockpot-hot-chocolate-recipe.htmlThis oven baked French toast recipe made with pumpkin and bananas takes only 35 minutes to make.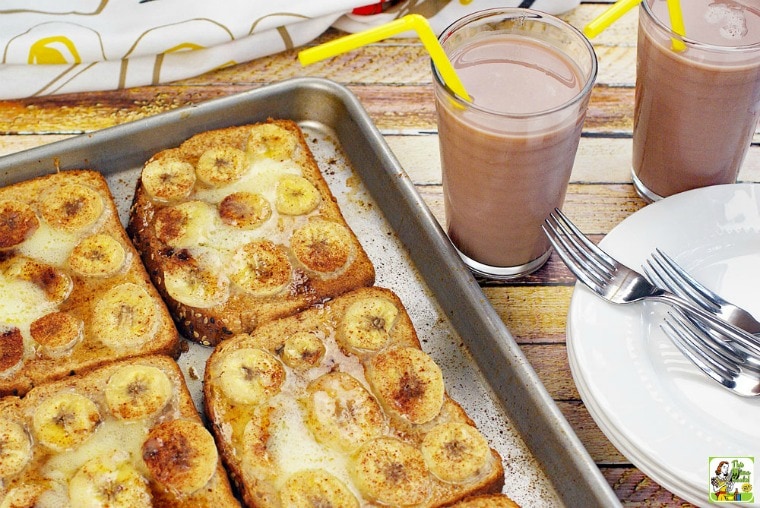 Why this recipe works
You'll love making this oven baked French toast recipe with pumpkin and bananas for a several reasons.
First, an oven baked French toast recipe is always better for you than one that has you frying up French toast in a bunch of butter or oil.
Second, the beauty of this baked French toast recipe is that everyone's meal is ready at the same time.
As a mom, I'm tired of watching everyone eat their breakfast while I'm cooking away at the stovetop. By the time I get to the table, everyone's done eating!
Third, this easy French toast bake takes only 35 minutes to make. So get it started – along with that pot of coffee – before everyone's up.
Then set the table and put the oven baked French toast on warm in the oven.
By the time your sleepyheads wake up, they'll have an awesome breakfast waiting for them!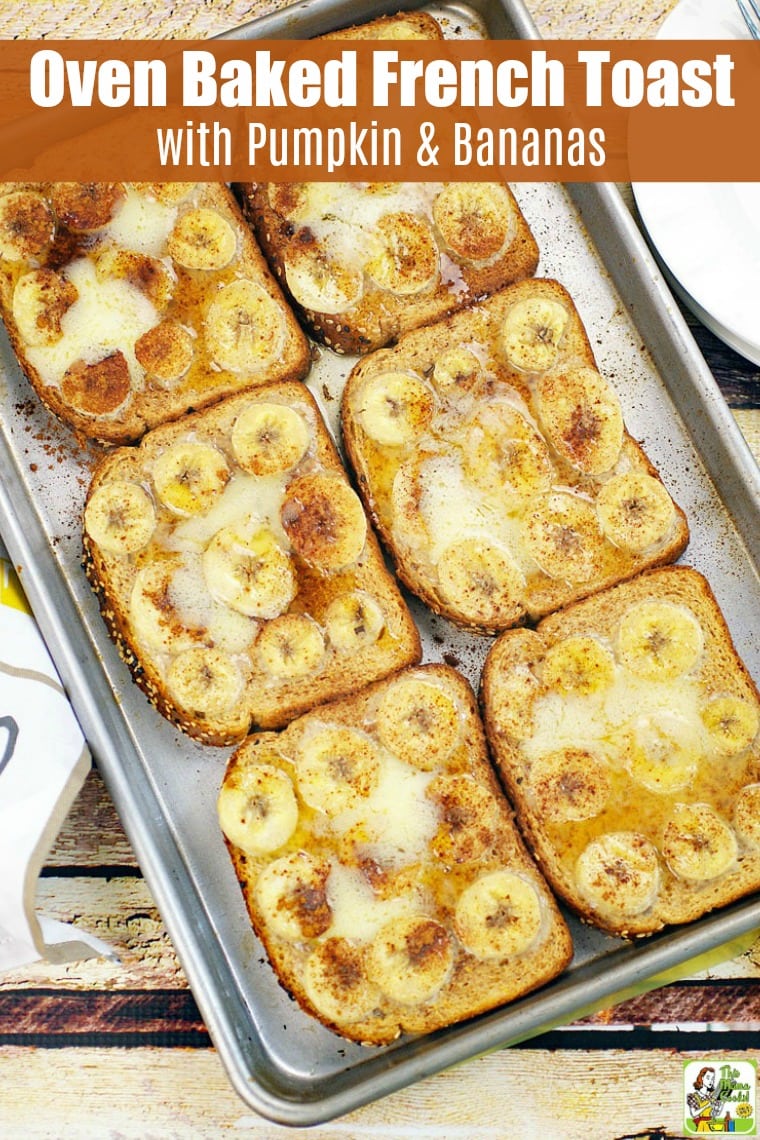 Baked French toast makes your weekend special
Do you love preparing a special breakfast on the weekend? This pumpkin French toast will certainly please everyone.
Plus, it's a lovely breakfast dish for Thanksgiving week when you have relatives or friends staying with you.
Yes, using chocolate milk instead of plain milk in this recipe may seem rather indulgent. However, it's a rather wholesome breakfast you can feel good about serving your family.
That's because you're using pumpkin puree, which full of antioxidants, fiber and potassium and has lots of terrific benefits.
In addition, bananas contain vitamin B6 and B12, as well as magnesium and potassium.
While I know many people cannot have French toast without a dab of butter (or vegan buttery spread for the non-dairy folks) and some syrup, you can keep it to a minimum.
That's because the bananas and chocolate milk add so much sweetness and creaminess that you won't need much of either.
So, just add the littlest dab of butter and a drizzle of real maple syrup.
Or check out these 14 Best Substitutes for Maple Syrup for more topping ideas.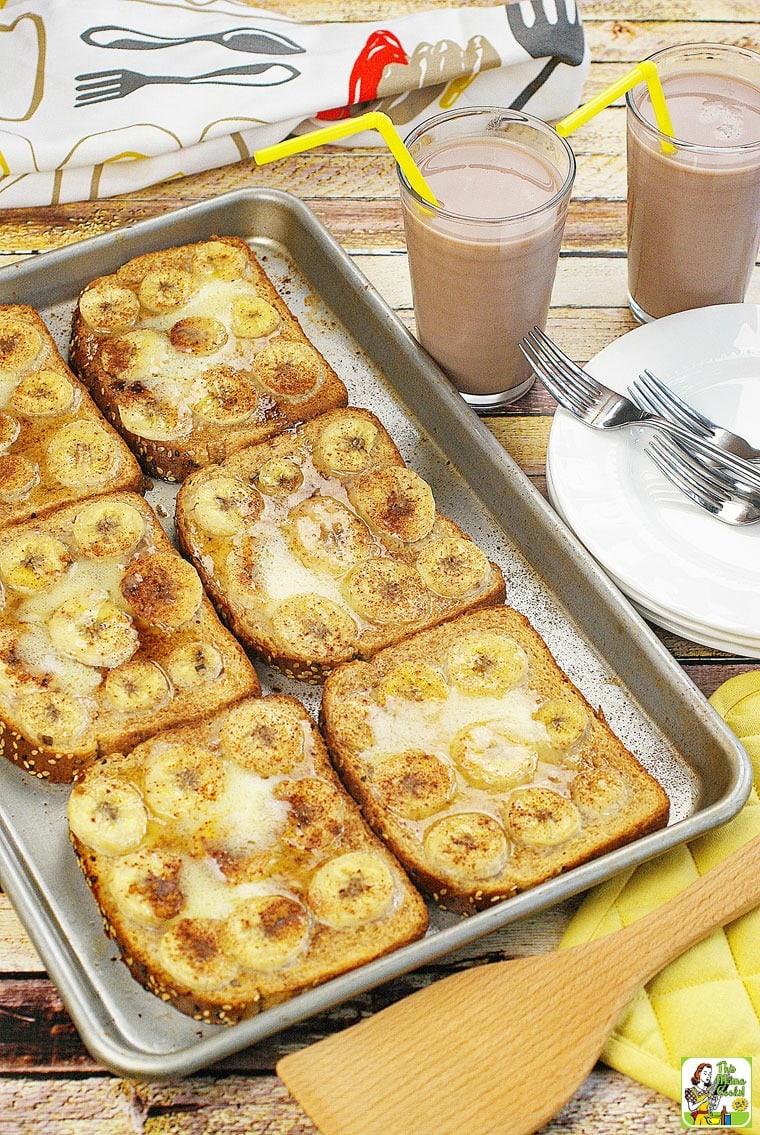 How to make baked French toast gluten free and dairy free
I like this recipe for pumpkin French toast because it's versatile enough to fit in with just about everyone's food allergies or preferences.
For example, you can use regular whole wheat bread or gluten free bread.
As an extra special treat, use raisin bread, either gluten free or regular.
If you have dairy free guests or family members, use chocolate soy milk or chocolate coconut milk.
(I like having leftover chocolate milk on the side with breakfast. This time of year, there's nothing like a mug of hot chocolate or adding some chocolate milk to your coffee, too.)
This pumpkin French toast recipe does contain eggs. But I did make it a bit more wholesome by substituting egg whites for some of the whole eggs.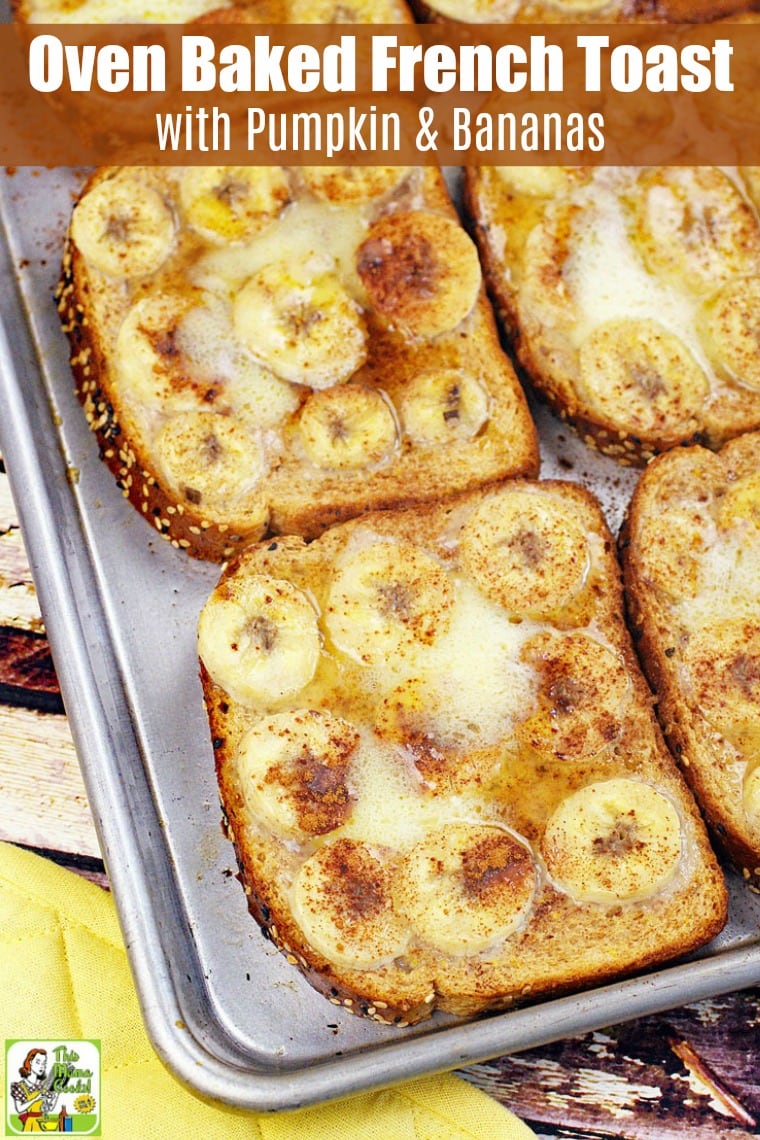 More gluten free breakfast recipes
Looking for more breakfast recipes? Try these favorites:
Baked Eggs with Skillet Potatoes in Pesto features ham, eggs, potatoes, sun dried tomatoes, and pesto. It's breakfast perfection, especially if you love skillet potatoes.
This Blueberry French Toast Casserole Recipe is super adaptable for weekend brunches or breakfast work meetings.
A Gluten Free Waffle Cake is something you'll love serving up at special holiday brunches or weekend breakfasts.
A Shakshuka with Feta is cooked in a cast iron pan with a tomato-based sauce and eggs as the main ingredients.
Got gluten free bagels? Make up a Ultimate Breakfast Bagel Sandwich recipe!
Yield: 6 SERVINGS
Oven Baked French Toast Recipe with Pumpkin & Bananas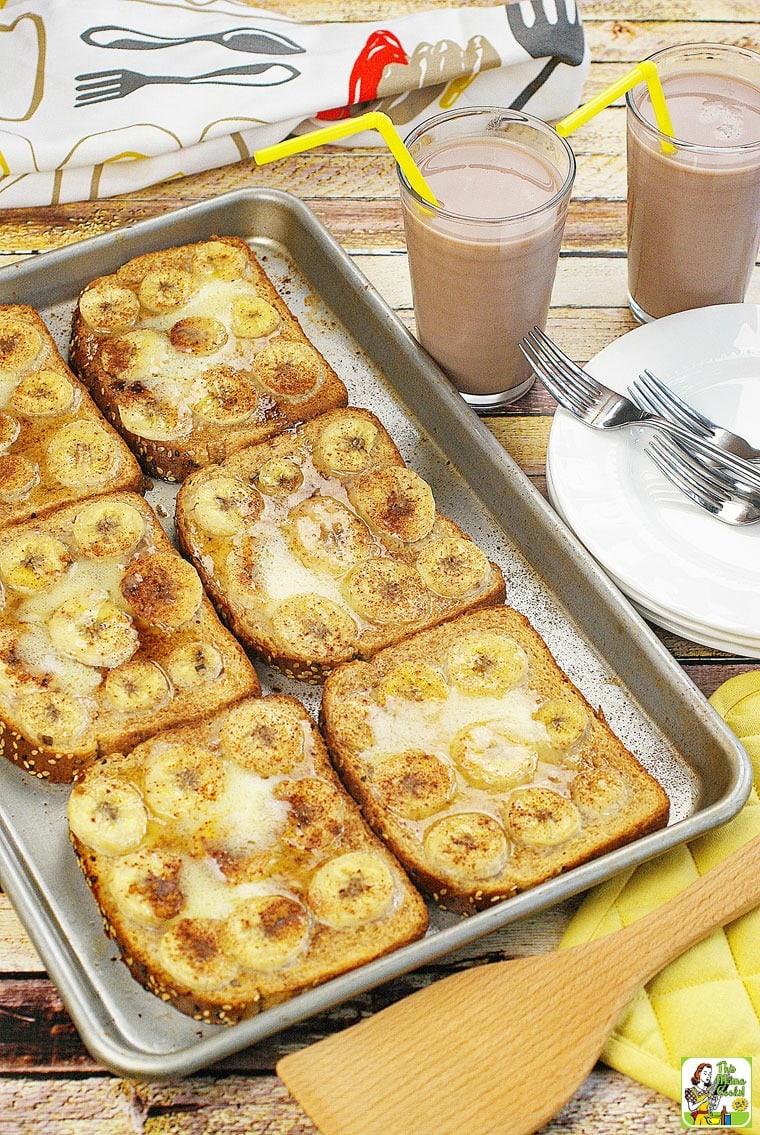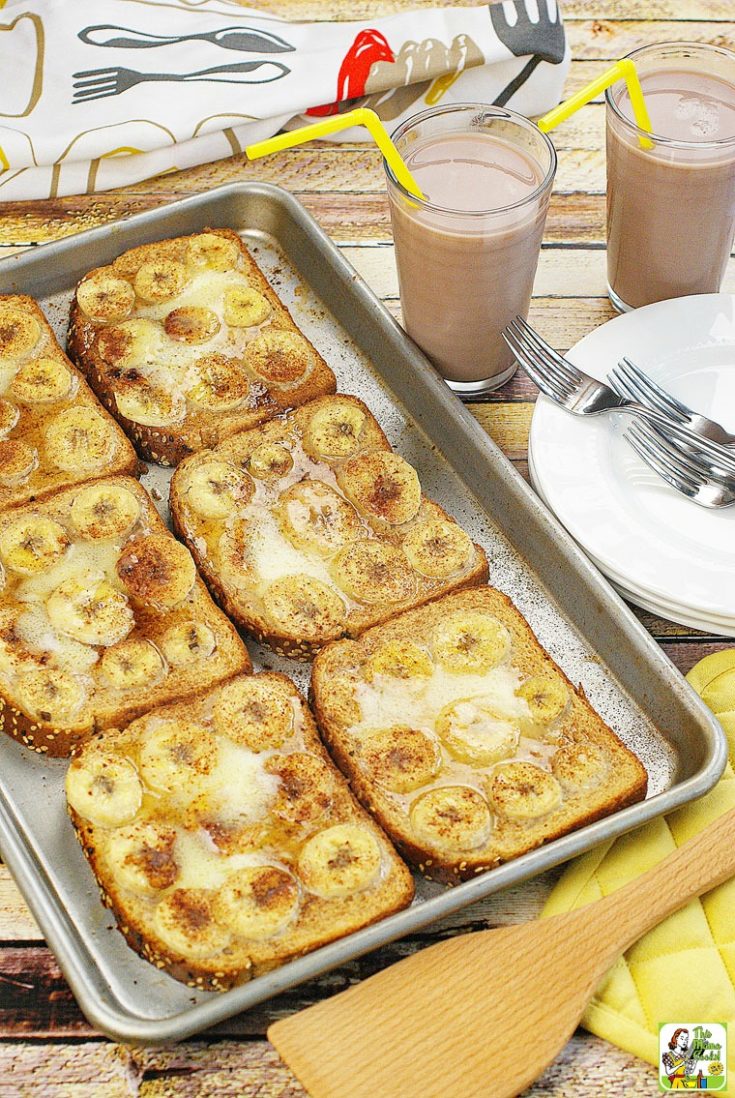 You'll love making Oven Baked French Toast with Pumpkin & Bananas. This oven-baked French toast recipe takes only 35 minutes to make.
Ingredients
Cooking spray
6 pieces gluten free or whole wheat bread
2 large eggs
1/3 cup egg whites
1/2 cup chocolate milk or chocolate alternative milk
1/3 cup pumpkin puree
1 teaspoon ground cinnamon, divided
2 medium bananas
6 small pats butter or buttery spread (optional)
Real maple syrup for drizzling (optional)
Instructions
Place rack at the top of the oven. Preheat oven to 350 degrees F.
Spray a large cookie sheet pan with cooking spray.
In a large bowl, whisk together eggs, egg whites, pumpkin puree, chocolate milk, and 1/2 teaspoon of cinnamon. Pour into a shallow dish or pie plate.
Dip each piece of bread (both sides) in the egg mixture. Place bread on a sheet pan. If there is any egg mixture left after all pieces of bread have been dipped, evenly pour it on to bread in the pan. Let the bread soak in the egg mixture for 5 minutes.
Slice bananas thinly and place pieces on top of the bread. Evenly sprinkle 1/2 teaspoon of cinnamon over bread slices.
Place pan in the oven and bake for 20 minutes until bread starts to turn golden and bananas start to get translucent. Bread will be a little crusty along the edges at this point.
Remove from oven and top with butter and maple syrup, if desired. Serve hot.
Nutrition Information:
Yield:
6
Serving Size:
1 toast
Amount Per Serving:
Calories:

254
Total Fat:

17g
Saturated Fat:

9g
Trans Fat:

0g
Unsaturated Fat:

6g
Cholesterol:

99mg
Sodium:

213mg
Carbohydrates:

20g
Fiber:

2g
Sugar:

10g
Protein:

7g
Nutritional information is automatically calculated per the ingredients list. Serving size may not be accurate. Please double-check with your preferred nutritional app for the most accurate information.
Originally published on October 14, 2014 and November 3, 2017. Updated with new pictures and information.