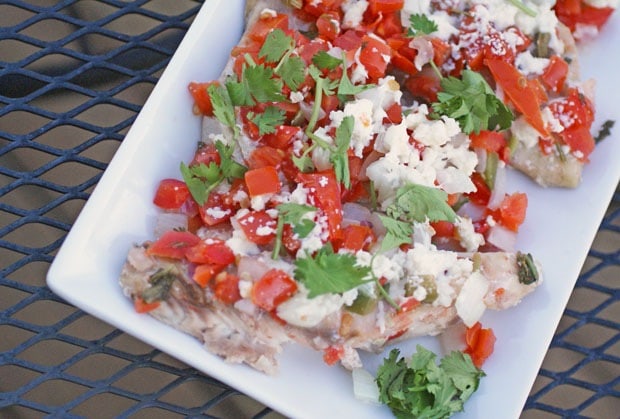 For my second post in my American Express Blue Cash® Preferred and Everyday cards Blue Cash Dinner@6 $600 giveaway I've chosen a fish dish. After I made it, I realized it's a bit like the Chicken with Feta and Sundried Tomatoes recipe I made last time. Not only does this fish dish contain six ingredients, it also contains the combination of tomatoes and cheese. Maybe I'll keep with that recipe combination for my final dish, too. Who knows?
A Mexican inspired fish recipe
This Fish Veracruz (Pescado a la Veracruzana) dish is a take on a recipe my husband used to make for me when we were dating. He worked at a sports fishing landing in San Diego while he was in graduate school, so he always had access to freshly caught fish that people didn't want or had too much of.
You can use any white, mild flavored saltwater fish – red snapper (pargo), Mahi Mahi (dorado), sole, tiliapia, and so on. I used pargo that my husband caught in Mexico. It was so mild that my daughter, Lucie, gobbled it up saying, "This is gooooood, Mommy!"
I recommend using Cotija cheese, a Mexican cheese similar to feta. If you can't find it, you could use a mild feta instead. I also recommend using a pico de gallo. Del Monte makes a nice version, which you should be able to find at your local grocery store. If you can't find it, you can use a spicy fresh salsa (salsa fresca) - just drain some of the extra liquid first. Another option is using a can of Muir Glen Organic's Fire Roasted Diced Tomatoes with Green Chilies.
See below to learn how submitting your favorite dinner recipes that use 6 ingredients or less can win you $600 in American Express gift cards!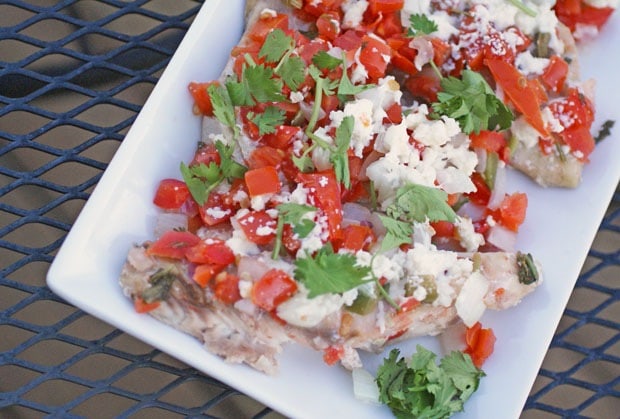 Easy Fish Veracruz (Pescado a la Veracruzana)
Ingredients
cooking spray

4-6 to 8 ounce

red snapper fillets

12 ounces

pico de gallo

1/2 cup

onion, chopped

1/2 cup

Cotija cheese, crumbled

1/2 cup

cilantro, chopped
Directions
Preheat oven to 350 degrees F.
Spray the inside of a large baking dish with cooking spray.
Place red snapper fillets in the baking dish and cover with pico de gallo and chopped onion.
Cover baking dish tightly with aluminum foil and place in oven.
Cook for 35 to 45 minutes until fish is done. (Cooking time will depend on how thick fish fillets are. Fish is done when you can easily flake fish with a fork.)
Remove foil and sprinkle Cotija cheese and cilantro on top of fish and tomatoes. Place back in oven for 10 minutes until cheese starts to melt a bit.
Remove from oven. Dish up and serve immediately.
Serving size:

1 fish fillet plus toppings

Calories:

296

Calories from Fat:

64

Total Fat:

7.1g

Saturated fat:

3.5g

Unsaturated fat:

3.6g

Sodium:

817mg

Total Carbohydrates:

7.4g

Sugar:

4.0g

Fiber:

1.6g

Protein:

48.9g

Cholesterol:

97mg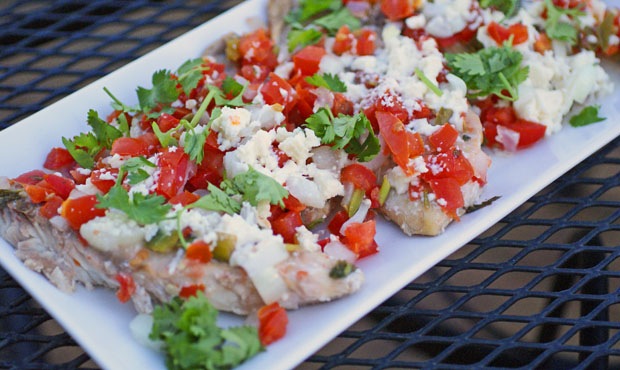 How to enter the Blue Cash Dinner@6 giveaway
Please submit any dinner recipes you have that include 6 ingredients or less to be entered to win $600 in American Express gift cards. You can leave up to 6 total recipes between now and Wednesday, August 24th at midnight MST on this post and or last week's post.
The recipe doesn't have to be original. You don't have to cook up something new. It can be from someone else's blog, website or cookbook. All you have to do is just share the recipe below!
On Friday, August 26th, I'll announce the winner of the $600 in American Express gift cards and post that recipe here at This Mama Cooks! On a Diet.
To earn additional entries (you can only do so if you have entered a recipe), leave a separate comment for each of the activities listed below. If you don't leave separate comments for each step, I won't be able to include them as entries.
Submit your favorite dinner recipe that features 6 ingredients or less. You MUST type or cut and paste the entire recipe into the comment form below. If you have a blog, please also provide a link to the post.
You may submit 6 recipes TOTAL on this post and the one next week. (Not six recipe per post.) However, you must leave each recipe in a separate comment.
If you have a blog or giveaways listing site/post/page, feel free to post about this contest on it for ONE additional entry.
Sign up for This Mama Cooks! Review's RSS feed for ONE additional entry.
Sign up for my enewsletter for ONE additional entry.
Spread the word about this giveaway by submitting a link to this post on Twitter for ONE additional entry. You must leave your Twitter username in your comment so I can check.
Follow @amnichols on Twitter for ONE additional entry.
Follow @americanexpress on Twitter for ONE additional entry.
If you have done any of these additional activities you MUST come back here and leave a comment telling me what you did. I will be checking!
Maximum amount of entries at This Mama Cooks! is 12.
You have until midnight MST on Wednesday, August 24th to enter.
ONE winner will be chosen at random.
You must be willing to send me your full name, mailing address and phone number so I pass your info on to American Express's PR people so they can send out your American Express gift cards.
I'll announce the winner on this blog. I won't share your mailing info with the public, just your name. If you have a blog, I'll link back to it when I announce the winner.
The giveaway is valued at $600 and is only open to legal residents of the United States, 18 years of age and older. No purchase required. Up to 12 entries per person. ONE prize of $600 in American Express gift cards will be given away. Void where prohibited by law. By submitting your name and email address, you agree to receive relevant promotional emails and contest follow up communications from This Mama Cooks! On a Diet in compliance with my privacy policy and giveaway rules.
___________________________
Disclosure: I was compensated for my time by American Express to create these series of posts and run the giveaway. All opinions are my own.