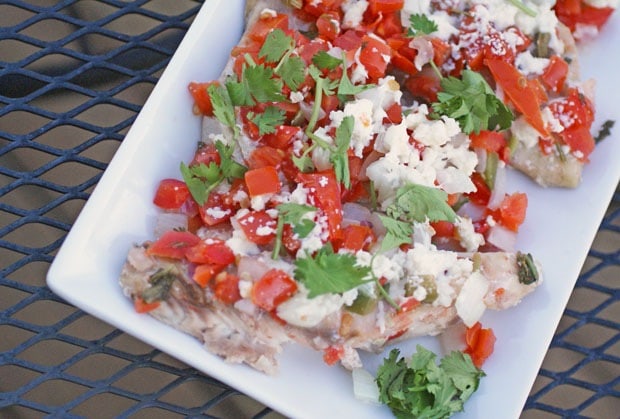 After I made this fish dish, I realized it's a bit like the Chicken with Feta and Sundried Tomatoes recipe I made last time. Not only does this fish dish contain six ingredients, it also contains the combination of tomatoes and cheese. Maybe I'll keep with that recipe combination for my final dish, too. Who knows?
A Mexican inspired fish recipe
This Fish Veracruz (Pescado a la Veracruzana) dish is a take on a recipe my husband used to make for me when we were dating. He worked at a sports fishing landing in San Diego while he was in graduate school, so he always had access to freshly caught fish that people didn't want or had too much of.
You can use any white, mild flavored saltwater fish – red snapper (pargo), Mahi Mahi (dorado), sole, tiliapia, and so on. I used pargo that my husband caught in Mexico. It was so mild that my daughter, Lucie, gobbled it up saying, "This is gooooood, Mommy!"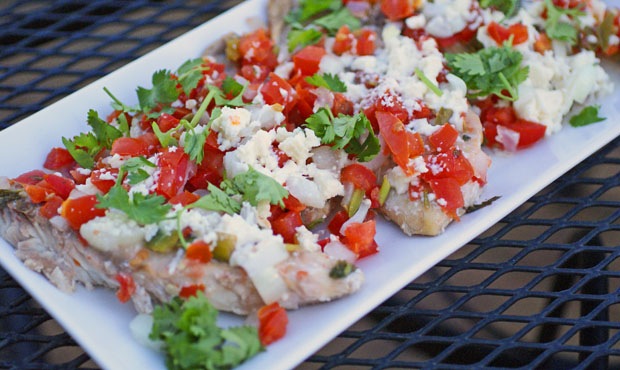 I recommend using Cotija cheese, a Mexican cheese similar to feta. If you can't find it, you could use a mild feta instead.
I also recommend using a pico de gallo. Del Monte makes a nice version, which you should be able to find at your local grocery store.
If you can't find it, you can use a spicy fresh salsa (salsa fresca) - just drain some of the extra liquid first. Another option is using a can of Muir Glen Organic's Fire Roasted Diced Tomatoes with Green Chilies.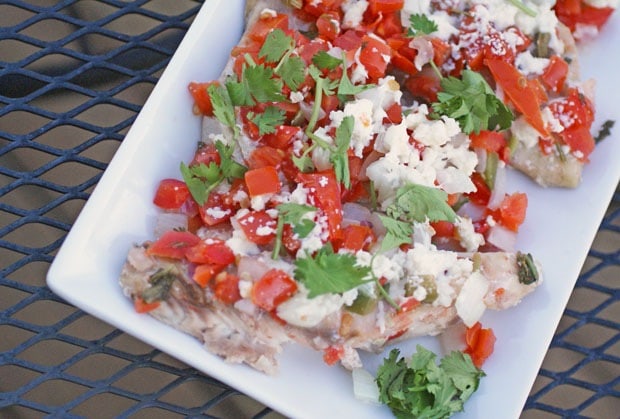 Easy Fish Veracruz (Pescado a la Veracruzana)
Ingredients
cooking spray

4-6 to 8 ounce

red snapper fillets

12 ounces

pico de gallo

1/2 cup

onion, chopped

1/2 cup

Cotija cheese, crumbled

1/2 cup

cilantro, chopped
Directions
Preheat oven to 350 degrees F.
Spray the inside of a large baking dish with cooking spray.
Place red snapper fillets in the baking dish and cover with pico de gallo and chopped onion.
Cover baking dish tightly with aluminum foil and place in oven.
Cook for 35 to 45 minutes until fish is done. (Cooking time will depend on how thick fish fillets are. Fish is done when you can easily flake fish with a fork.)
Remove foil and sprinkle Cotija cheese and cilantro on top of fish and tomatoes. Place back in oven for 10 minutes until cheese starts to melt a bit.
Remove from oven. Dish up and serve immediately.
Serving size:

1 fish fillet plus toppings