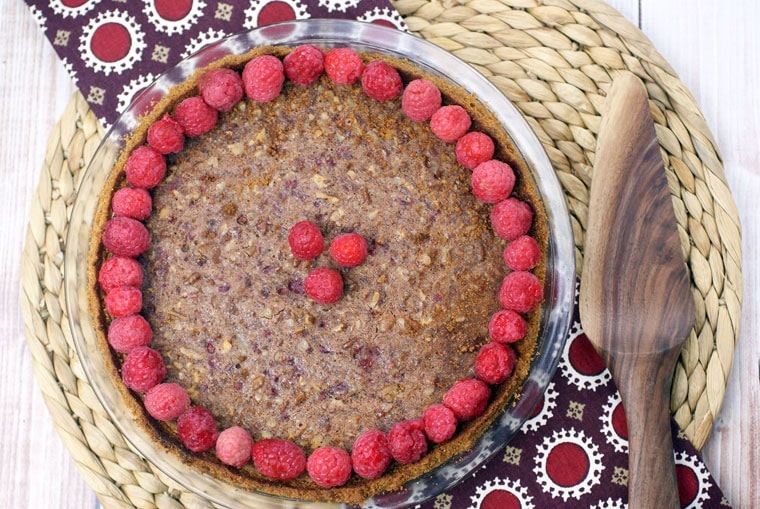 Raspberries are no longer just a summer time fruit. That's because Driscoll's grows their raspberries in Central and Southern California, Central Mexico and Baja year round. That's why it was easy finding Driscoll's raspberries at my supermarket to make my Gluten Free Raspberry Pecan Pie for Thanksgiving.
I love how Driscoll's raspberries add gorgeous color to a holiday table. Not only are Driscoll's raspberries great for Gluten Free Raspberry Pecan Pie and other desserts, you can put them in everything from cocktails to your turkey stuffing!
How to make an easy gluten free pie crust
I'm a decent cook, but my gluten free pie crust baking skills are limited. Even when I've used a mix, I've never been happy with the results. I always used store bought gluten free crusts. They're good, but can be pricey and sometimes they're hard to find. (When my grocery store started carrying them, I bought 10 and froze them!)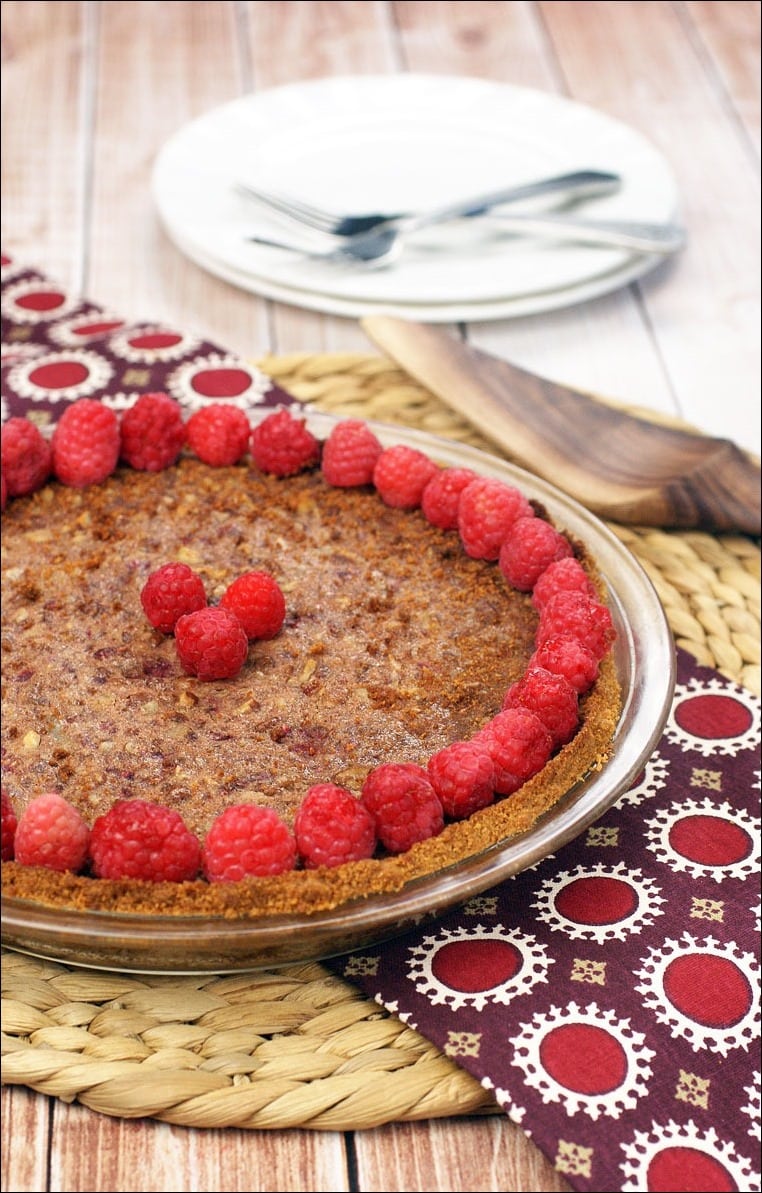 Then I realized it would be easy to make a crust with gluten free cookies similar to a homemade graham crackers crust. My local supermarket sells a tasty store brand of gluten free animal crackers that are not too expensive. One bag is perfect for one pie crust. You can use any kind of gluten free cookie – store bought or homemade – that you think would go with a raspberry pecan pie. Graham cracker, vanilla, ginger snap, or snickerdoodle are all delightful choices. You'll need enough cookies to make 1 1/2 cups of crumbs – about 8 ounces.
In my gluten free pie crust recipe, I used a dairy free buttery spread since I have a food sensitivity to whey. However, you can use real butter if you wish. I also used brown sugar, since I was using that for the pie as well. Why more sugar, since the cookies are already sweet? When the pie bakes, the crystals of the sugar melt and then crystalize as the pie cools, giving the crust a little more stability. Sort of like pie crust cement!
However, if you're pressed for time, go ahead and use a store bought gluten free pie crust. You can use either the dough like ones (found in the freezer section) or one of the graham cracker crust like ones that will be with the baking supplies. My grocery store carries both in the health food section. Your local health food store should carry some type of gluten free pie crust, too.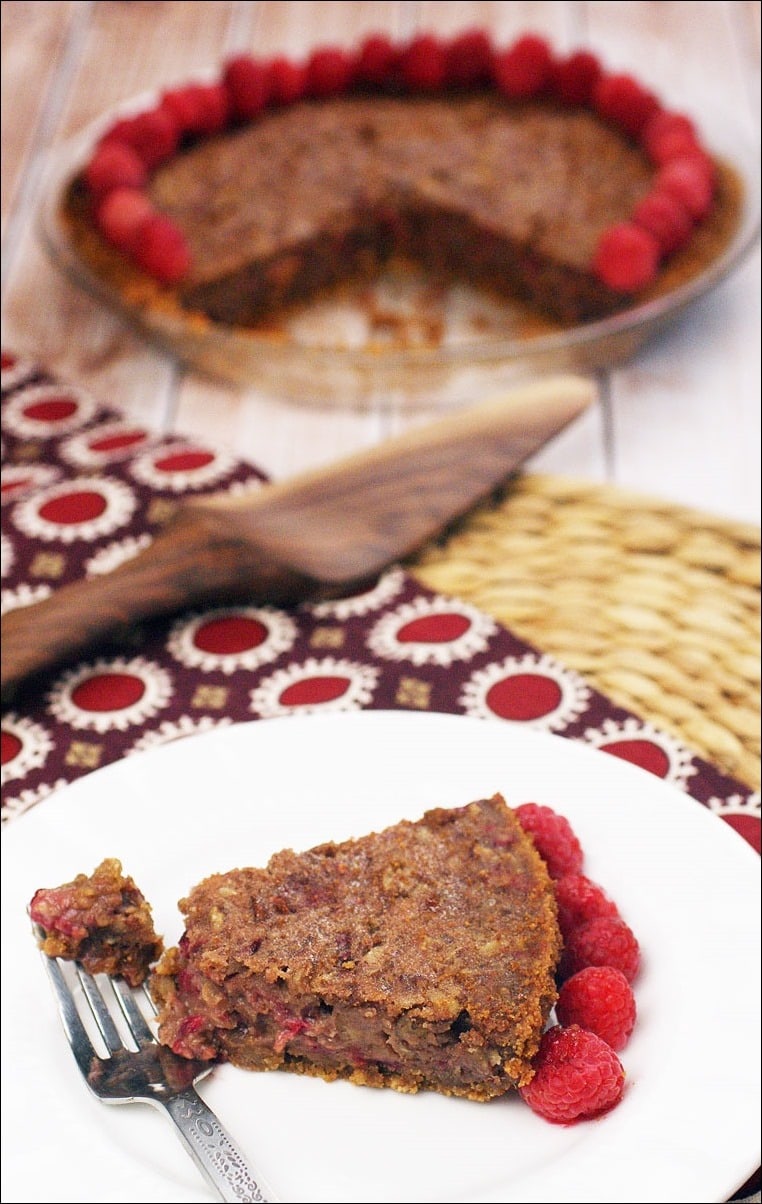 A Gluten Free Raspberry Pecan Pie for Thanksgiving
I love baking pecan pies like this Gluten Free Raspberry Pecan Pie because they're so easy. You just mix the ingredients together and bake. Well, pretty much. A few tips:
~ If you buy raw pecans, you should toast them. Whatever you do, do NOT walk away from the pan or you will burn the pecans and will have to go back to the store for more.
~ Make sure to bake the pecan pie long enough that it's completely set. It should NOT jiggle at all. If it's jiggling in the middle, put it back in and bake it some more. Otherwise, after it cools, you'll have a soupy Raspberry Pecan Pie! And back to the store for more ingredients for another try or ice cream for dessert.
~ If you're making Gluten Free Raspberry Pecan Pie for Thanksgiving, make it the day or night before Thanksgiving, so it has time to cool down and chill overnight in the refrigerator.
~ Serve your Gluten Free Raspberry Pecan Pie with more Driscoll's raspberries and if you wish, some ice cream or whipped cream. If you're dairy free, vanilla coconut ice cream would be marvelous! You could also try whipping up some chilled coconut cream (directions here).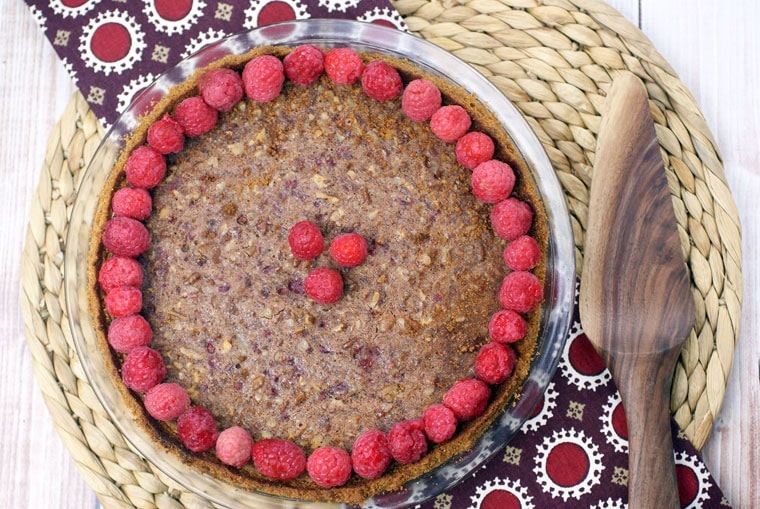 Gluten Free Raspberry Pecan Pie
Ingredients
For pie crust:
1 (8 ounce) bag

gluten free cookies

1/2 cup

brown sugar

1/2 cup

butter or dairy free buttery spread, melted
For pie filling:
1 cup

pecans, toasted and roughly chopped

1 pat

butter or dairy free buttery spread (enough to coat pan when melted)

1/3 cup

all purpose gluten free baking mix

1 pinch

salt

1/2 cup

brown sugar

2

eggs, lightly beaten

1 cup

Driscoll's raspberries

1/4 cup

maple syrup

1/2 cup

butter or dairy free buttery spread, melted

3 tablespoons

raspberry liqueur (optional)

1 cup

Driscoll's raspberries for garnishing
Directions
For pie crust:
Preheat oven to 350 degrees F.
Put cookies in blender or food processor and pulse until the cookies are crushed into fine crumbs. Put the crumbs into a medium sized bowl.
Add brown sugar and whisk until combined and there are no lumps.
Add butter. Stir until the mixture is crumbly.
Place the cookie crumb mixture into a Pyrex glass pie pan. (I feel these bake up the best.) Using the flat bottom of a glass or a Pyrex custard cup, pack down the crumbs and smooth out the surface. You can use your fingers, but the glass or custard cups makes a tighter and smoother surface. Put the pie crust aside.
For pie filling:
In a large bowl, whisk together the gluten free baking mix, salt and brown sugar until there are no lumps. Add pecans and mix until combined.
In a medium bowl, mash raspberries with a potato masher. Add eggs, maple syrup, melted butter (or buttery spread), and raspberry liqueur, if using. Stir until combined.
Pour liquid mixture into dry mixture and mix until thoroughly combined.
Place pie shell on a baking sheet.
Pour pie filling into shell and immediately bake for 40-45 minutes. The top should be completely set. The center should not jiggle at all.
Remove from oven and cool completely on a wire rack. Once cool, refrigerate until serving time. Garnish with raspberries before serving.
Total Time:
1 Hour 20 Minutes
Servings
:
Makes 1 raspberry pecan pie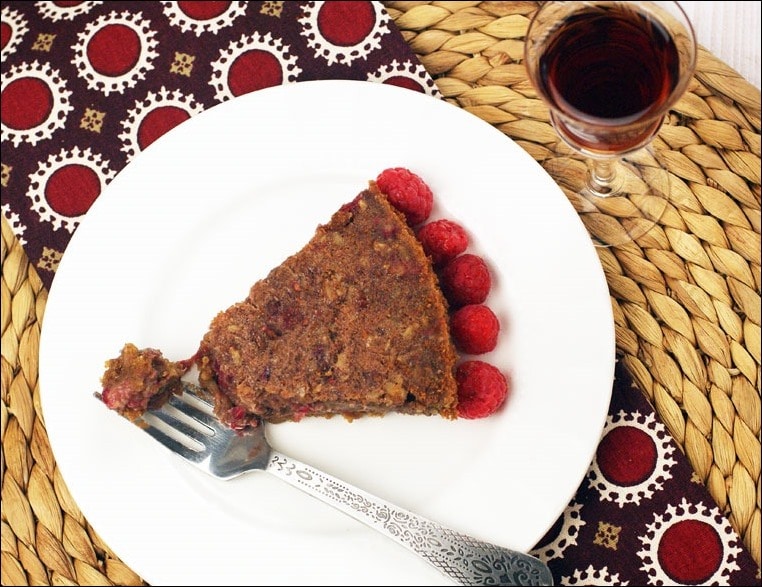 More about Driscoll's Raspberries
Driscoll's is always striving to make their berries better! A few years ago I met one of the professors at the University of Arkansas who was working with Driscoll's to breed their berries to be more resistant to diseases and pest, hardier for shipping, and more tasty and attractive in appearance. However, their raspberries are never genetically modified or subjected to irradiation.
You can find out more about Driscoll's raspberries on their website at driscolls.com/raspberry. You can connect with Driscoll's on Twitter, Facebook, Instagram, and Pinterest.