Last Updated on October 12, 2021 by Anne-Marie
A movie review of Nigel Slater's Toast: The Story of a Boy's Hunger and a recipe for lemon meringue pie from food stylist, Katharine Tidy.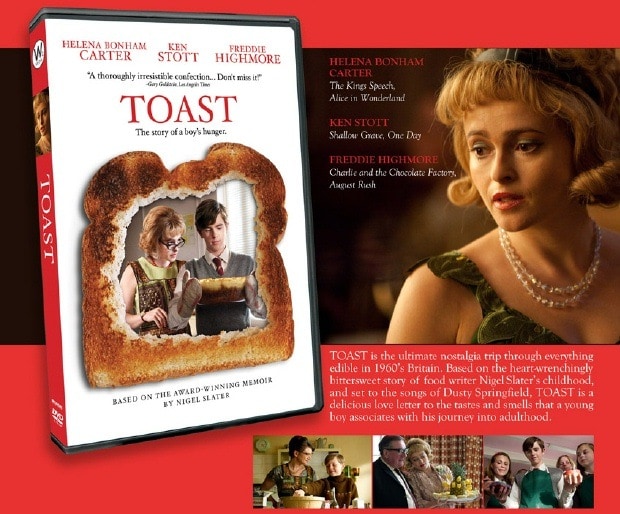 Why you should watch the movie and bake the pie
There hasn't been a good foodie movie since Julie and Julia came out in 2009. (Well, that was half of a good foodie movie as the parts with the blogger Julie were annoying.)
Now we have the movie, Toast: The Story of a Boy's Hunger, based on food writer, Nigel Slater's book of the same name.
In Toast, we quickly learn that Nigel's mum literally cannot cook just about everything but mince pies. Her idea of making dinner is taking canned food, placing the unopened cans in a pan of water, and boiling them until heated.
Poor Nigel is starving for a decent meal (he doesn't even like the milk at school), but at least has his mum's love – and toast with butter – to sustain him.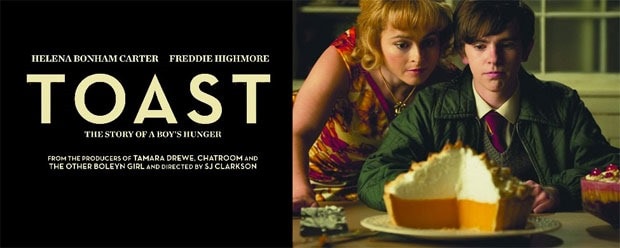 Nigel's mum passes away from severe asthma while he's still young. Nigel and his distant, sad father bumble through trying to care of each other. Nigel attempts to fill the void by cooking dinner himself.
Instead, he ends up with a very burnt dinner that his dad assures him is just fine. It's rather touching.
Life changes for these two sad blokes when their new cleaner (housekeeper) Mrs. Potter, played by the wonderful Helena Bonham Carter, shows up.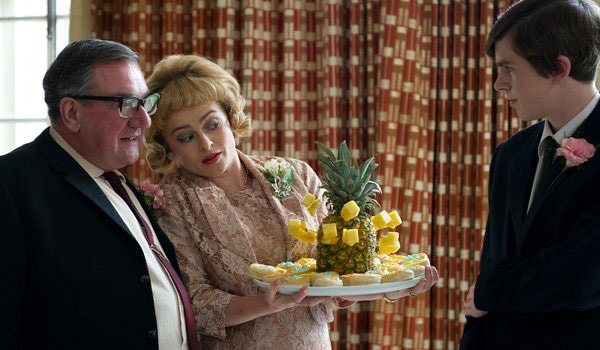 She's dressed like a tart and has the amazing ability to make enticing and picture perfect tarts, cakes, pies, roasts, and British classics like Toad in the Hole. Her cooking goes straight to Nigel's dad's heart and he moves them all out to the country, so he can live in sin with Mrs. Potter and her fabulous cooking.
There's something to be said for the way to a man's heart is through his stomach!
Meanwhile, Nigel discovers the Domestic Science (home ec) class at his new school and his talent for cooking. Nigel soon starts a culinary rivalry over scones and lemon meringue pie with Mrs. Potter for his dad's affections.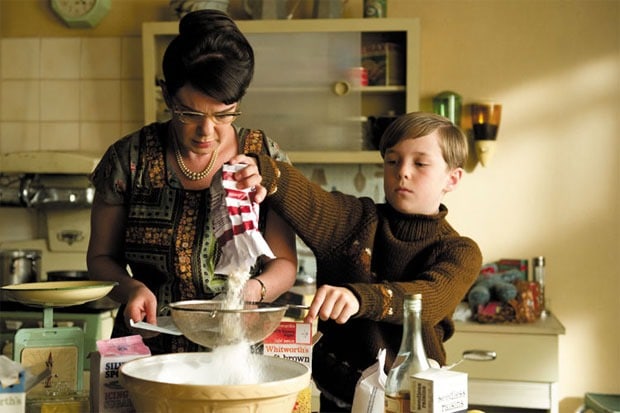 Instead, Mrs. Potter turns up the kitchen heat a notch until she literally feeds Nigel's dad to death. Fortunately, with his parents gone, cooking serves as a way for Nigel to leave all the madness behind him and start his adult life.
Toast is a lovely snapshot of England in the '60s and a sweet, funny story. However, I almost feel much of it is lost on American audiences as Toast's appeal is nostalgia for a lost time in British life.
Still, if  you're a food aficionado, you'll enjoy Toast's classic vintage food presentations while rooting for Nigel – and marveling at Mrs. Potter's wicked kitchen skills.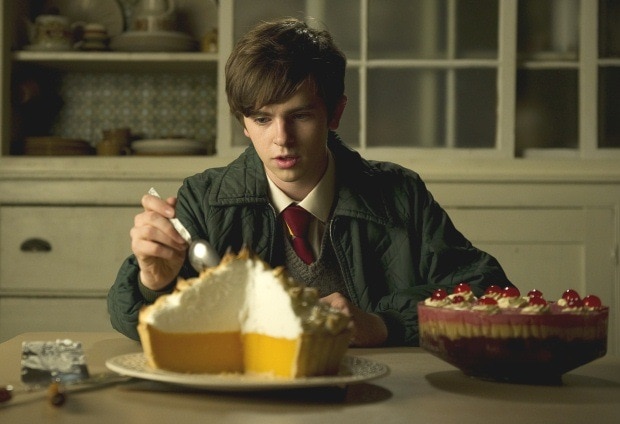 And now for a dessert recipe from Toast's food stylist, Katharine Tidy.
Yield: 8 SERVINGS
Lemon Meringue Pie Recipe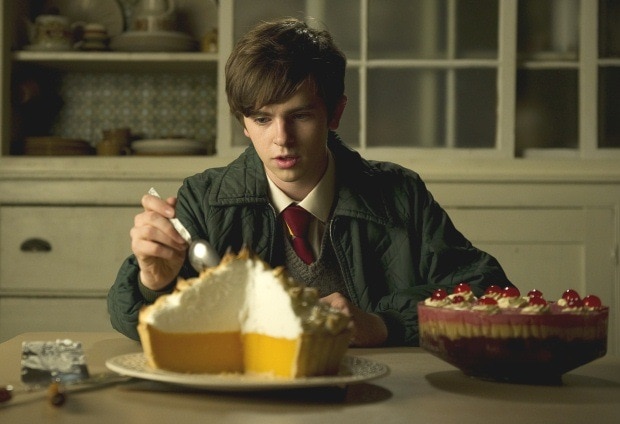 A movie review of Nigel Slater's Toast: The Story of a Boy's Hunger and a recipe for lemon meringue pie from food stylist, Katharine Tidy.
Additional Time
30 minutes
Total Time
1 hour
40 minutes
Ingredients
Pastry ingredients:
8 ounces flour
4 ounces butter
a pinch of salt
cold water to mix
Lemon layer ingredients for a 9-inch pie pan:
1 cup sugar
1/3 cup corn starch
pinch of salt
1 1/2 cups warm water
the peel of 1 lemon
1/2 cup lemon juice
4 eggs
10 grams of gelatin powder
yellow food coloring (optional)
Lemon layer ingredients adjusted for very deep pie pan or flan pan:
2 1/2 cup sugar
1 cup corn starch
pinch of salt
3 3/4 cups warm water
the peel of 2 lemons
1 1/4 cup lemon juice
10 eggs
10 grams of gelatin powder
yellow food coloring (optional)
Meringue ingredients:
4 egg whites for the 9-inch pie pan
100 grams caster (baker's) sugar
OR
10 egg whites for the deep dish
Instructions
Pastry Directions:
Sieve the flour into a bowl rub in the butter until the mixture looks like fine breadcrumbs.
Gradually add the water approx 2 tablespoons mixing with a knife then your hands until the mixture comes together.
Chill in the fridge for 30 minutes then roll out the pastry and line a flan case and bake it blind for approx 10 minutes. Line with baking paper and fill with rice or dried beans and cook until golden brown.
Lemon Layer Directions:
Put all the ingredients except the eggs into a saucepan and bring slowly to the boil, mixing slowly to combine allowing the sugar and cornstarch to dissolve and thicken.
When it has reached boiling point continue mixing for about a minute.
Separate the eggs and whisk the egg yolks and gradually add the thick lemon mix.
Return to the heat but do not allow to boil.
Sprinkle 10 grams of gelatin powder into a tablespoon of water leave for a few minutes until it looks spongy. Slowly heat until the gelatin has melted.
Add to the lemon mixture along with yellow food coloring for that total Toast effect.
Pour into the prebaked flan case and allow it to cool.
Meringue Directions:
Whisk the egg whites until thick and you can hold the bowl upside down without the egg whites falling out.
Gradually add the sugar.
Spread the meringues onto the lemon mix making sure to cover right to the edge then pile the rest of the meringue on top or pipe in a decorative design.
Bake in the oven at its highest heat for about 5-10 minutes until lightly colored.
Nutrition Information:
Yield:
8
Serving Size:
1 slice
Amount Per Serving:
Calories:

422
Total Fat:

11g
Saturated Fat:

5g
Trans Fat:

0g
Unsaturated Fat:

5g
Cholesterol:

178mg
Sodium:

211mg
Carbohydrates:

70g
Fiber:

1g
Sugar:

46g
Protein:

12g
Nutritional information is automatically calculated per the ingredients list. Serving size may not be accurate. Please double-check with your preferred nutritional app for the most accurate information.
A screener was sent to me to facilitate this review. Recipe and movie stills used with permission.