Last Updated on October 12, 2021 by Anne-Marie
A recipe for braised short ribs with hominy stew and a strategy on the best way to cook them.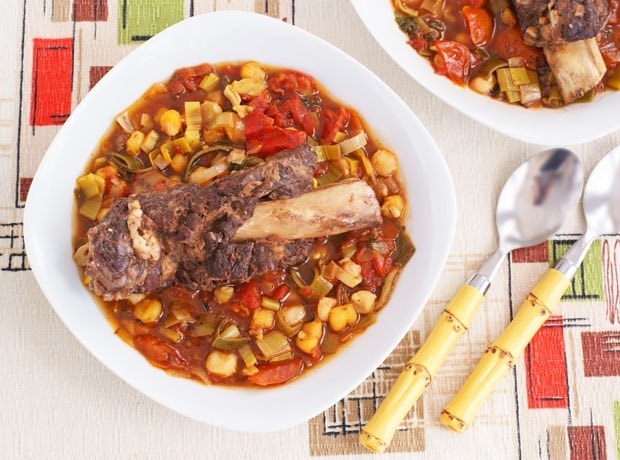 Why this recipe works
Braised Not-So-Short Short Ribs with Hominy Stew is from Hugh Acheson's cookbook, A New Turn in the South: Southern Flavors Reinvented for Your Kitchen.
It was another attempt to use up something we had in the freezer – a three pound rack of beef short ribs.
It was one of those "Manager's Specials" my husband purchased at the store. You know, the package of meat that's quickly approaching it's due date and has been drastically reduced in price.
I know my husband probably thought "barbeque!" but I thought braised short ribs instead.
However, these short ribs weren't very short. In fact, they were twice as long as what would be served in Hugh's restaurant. Lacking a band saw, I decided to make due and forge ahead with the ribs as is.
So instead of two little elegant rib pieces, I had to serve up Fred Flintstone sized ribs instead. No biggie.
So, when buying ribs, make sure you'd have enough to serve one rib to each person. (The rack I had consisted of six ribs and was three pounds, so I doubled the recipe.)
If I was buying ribs, I'd ask my butcher for four ribs weighing in at 1 1/2 pounds – and I would ask to have the ribs cut in half.
Weeknight cooking strategy for cooking braised short ribs
This recipe takes four to five hours to make for dinner,  so it's something you'd make on the weekend.
However, you could make it during the week with a little planning. Here's how:
Evening 1 – after dinner, prepare your "mise en place" – your chopped vegetables, measured seasonings, measured out liquids, etc. Place everything in small bowls or measuring cups, cover with plastic wrap and store in the refrigerator.
This will take you 30 to 45 minutes including clean up time.
Evening 2 – while cooking dinner (if possible) or after, cook up steps 1 through 10. Place ribs back in the Dutch oven and store in the pot in the refrigerator. Also, don't bother skimming the fat off the braising liquid.
By storing it in the refrigerator overnight, you'll have a thick, congealed layer of fat on the top, which you can spoon off. So much easier and better for you, too.
This will take 3 to 3 1/2 hours including clean up and storage time.
Evening 3 – cook up steps 11 through 17 and serve. You may need to heat ribs in the stew 5 minutes longer since they'll be cold from the refrigerator. This part will take 25 to 30 minutes.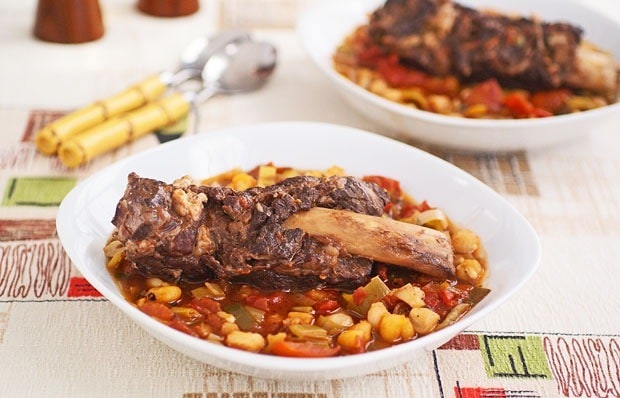 A note on hominy and Dutch ovens for cooking braised short ribs
Hominy is made from dried corn that's been soaked and cooked in an alkaline solution, usually limewater, and hulled. I was able to find canned hominy – both white and yellow variations – in the canned vegetable aisle near the beans.
If your store doesn't stock hominy in that aisle, try the Hispanic section or buy it at a Hispanic market as hominy is a popular ingredient in pozole soup.
Since the short ribs have to be cooked both on the stove top, then in the oven, you need to have cookware with a lid that will work in both. I used my two ancient Le Creuset 5 1/2-Quart Round French Oven
, since I doubled the recipe.
But secretly I would have loved to have a Le Creuset 7 1/4-Quart French Oven
or a couple of Le Creuset's 5-Quart Round Braisers
. If wishes were fishes…
If you don't have a Dutch oven, you can sear the ribs in a skillet and transfer them to a casserole dish with a lid for braising.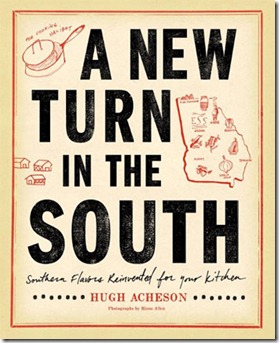 Yield: 4 SERVINGS
Short Ribs with Hominy Stew Recipe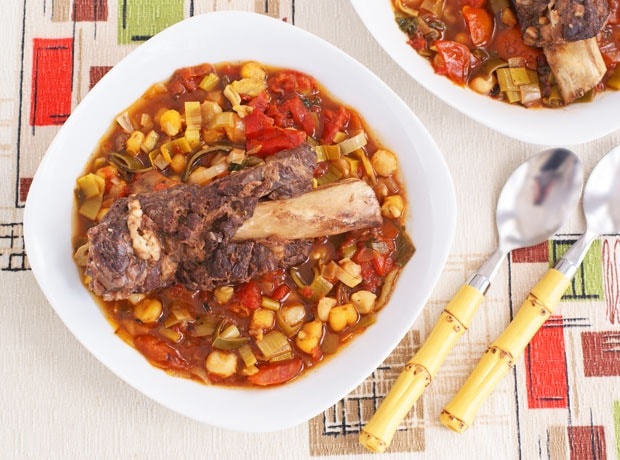 A recipe for Braised Not-So-Short Short Ribs with Hominy Stew based on the cookbook, A New Turn in the South by Hugh Acheson.
Ingredients
4 6-ounce portions short ribs, trimmed of connective tissue
1 1/2 tablespoons kosher salt, plus additional per taste
1 1/2 tablespoons black pepper
1 tablespoon olive oil
1 large sweet onion, peeled and coarsely cut into a large dice
1 large carrot, peeled and cut into 1-inch dice
1 celery stalk, leaves removed, cut into 1/2-inch dice
1 dried ancho chile
2 bay leaves
1 sprig fresh thyme
1 cup dry red wine
3 cups beef broth
1 15.5-ounce can hominy (yellow or white)
2 tablespoons butter
1 leek, cleaned and cut into 1/2-inch dice (use just the white and light green parts of the leek)
2 garlic cloves, peeled and thinly sliced
2 tablespoons canned roasted green chiles
1 28-ounce can diced tomatoes with juice
1/2 teaspoon ground cumin
1 teaspoon chopped fresh thyme
1 tablespoon chopped fresh flat-leaf parsley
Instructions
Preheat the oven to 325 degrees F.
On a large platter or cutting board, layout the short ribs and evenly rub all sides with salt and pepper.
Heat oil in a cast-iron Dutch oven over medium-high heat. Add ribs to the pan and sear on all sides – about 2 minutes per side. If needed, do the ribs in batches.
duce the heat to medium and cook for 2 minutes, stirring occasionally.
Add the chile, bay leaves, thyme sprig, and red wine. Cook to reduce the wine by half – about 15 minutes.
Add the beef stock and bring to a simmer.
Cover the Dutch oven and place in the preheated oven. Allow it to cook for 2 to 2 1/2 hours or until the meat is starting to pull away from the bone.
Remove the short ribs from the Dutch oven and place ribs aside on a large plate or bowl. (You'll be using the Dutch oven for the final step, so don't wash it! Instead, lightly wipe out any remaining fat or vegetable matter.)
Using a fine-mesh strainer, strain the braising liquid into a 2-cup or larger measuring cup. Discard the onion, celery, bay leaves, thyme, and chile.
Skim off all the fat from the surface. If there are less than 2 cups of braising liquid, add enough beef stock or water to bring it up to 2 cups.
Drain and rinse hominy, and set aside.
Place Dutch oven on the stove over medium heat. Add the butter, leek, and garlic. Sweat the vegetables for 5 minutes, while occasionally stirring.
Add the roasted green chiles, diced tomato, cumin, thyme, and the 2 cups of braising liquid. Simmer for 5 minutes and season with salt to taste. (While simmering, feel free to scrape the sides of your Dutch oven to add the "brown yummy goodness" from the braising to your vegetables.)
Add the hominy and cook for another 5 minutes.
Add the short ribs to the stew to reheat. Stir to cover the ribs in the stew and cook for 5 minutes.
Turn off heat and stir in the parsley.
Ladle the stew into 4 bowls, placing the ribs on top. Enjoy!
Recommended Products
As an Amazon Associate Affiliate and member of other affiliate programs, I earn from qualifying purchases.
Nutrition Information:
Yield:
4
Serving Size:
1
Amount Per Serving:
Calories:

878
Total Fat:

50g
Saturated Fat:

22g
Trans Fat:

3g
Unsaturated Fat:

27g
Cholesterol:

185mg
Sodium:

3913mg
Carbohydrates:

48g
Fiber:

10g
Sugar:

21g
Protein:

51g
Nutritional information is automatically calculated per the ingredients list. Serving size may not be accurate. Please double-check with your preferred nutritional app for the most accurate information.