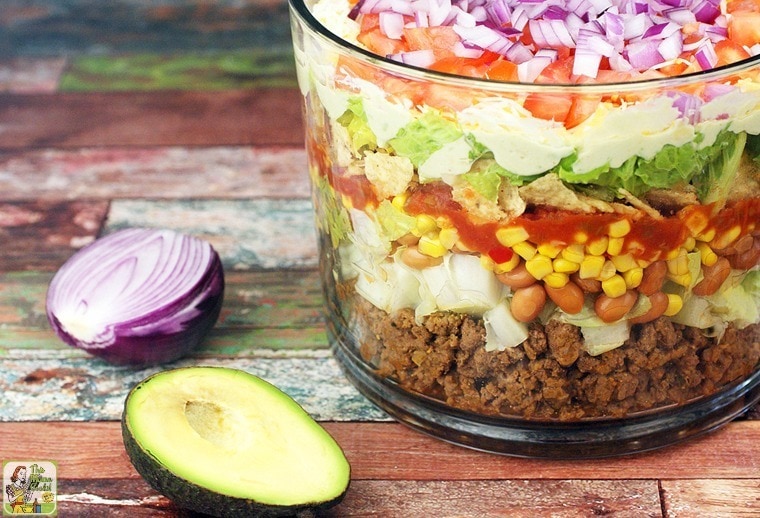 This post brought to you by Hormel Foods. The content and opinions expressed below are that of This Mama Cooks! On a Diet.
Anchor Hocking Presence Trifle Bowl
Even though my mom is an amazing cook in her own right, she'd expand her repertoire by adopting someone else's recipe, like her friend, Elizabeth's, Layered Taco Salad. It was one of those retro, faux-Mexican dishes that us kids loved. It combined cooked ground beef, taco seasoning, tubs of sour cream, crushed tortilla chips, shredded cheddar cheese, iceberg lettuce, and olives. I remember eating bowls of creamy taco salad as an afterschool snack.
I decided to recreate Elizabeth's Taco Salad as a Chopped & Layered Taco Salad. I wanted to make it pretty by serving it in a trifle bowl. I also wanted to turn it into a healthy taco salad by using wholesome ingredients I use in recipes like my Easy & Healthy Taco Soup and Best Slow Cooker Spicy Pulled Pork Tacos such as beans, corn, low fat shredded cheese, diced red onions, salsa, and homemade Greek yogurt guacamole.
This healthy taco salad recipe turned into such a hit with my kids that I make it at least once a month – and we rarely have leftovers. It's a shame, because I think Chopped & Layered Taco Salad tastes even better the second day.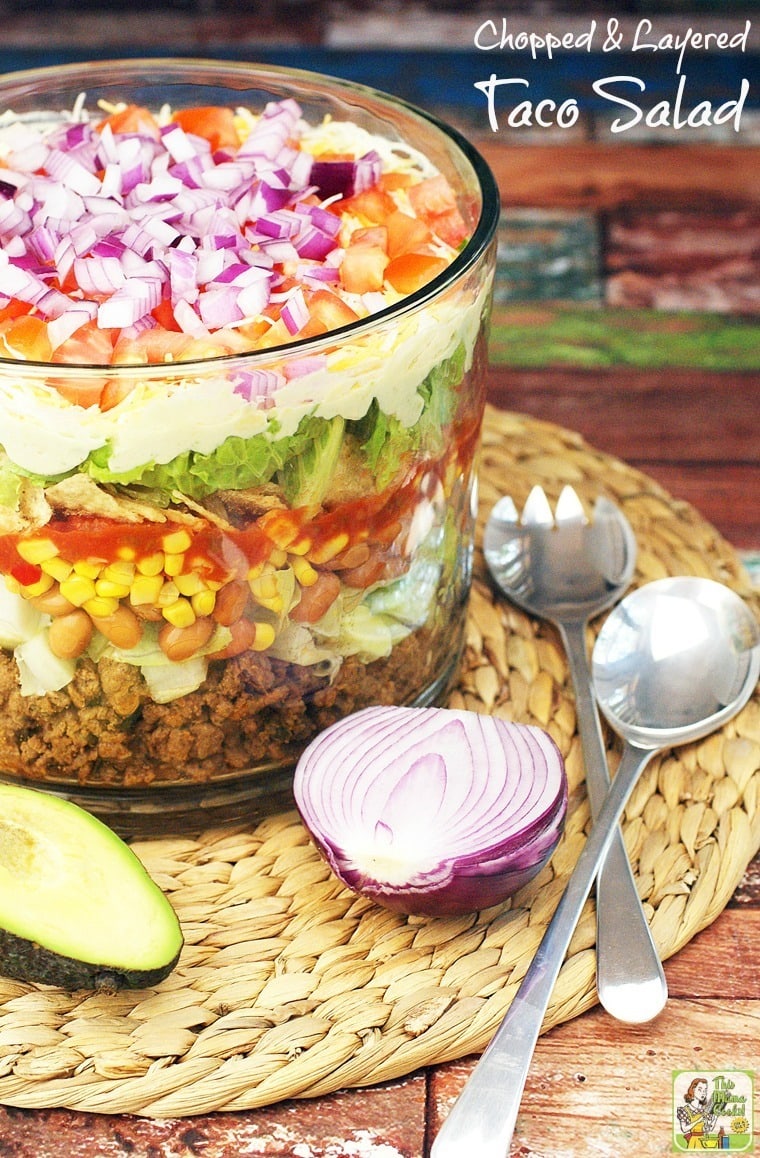 How to make Chopped & Layered Taco Salad even easier!
Along with canned beans and corn, I use HORMEL® Taco Meats Beef Crumbles to make Chopped & Layered Taco Salad even easier to assemble. What I love about Taco Meats Beef Crumbles is that it's already cooked and ready to be added to my layered taco salad. You don't have to spend time defrosting or cooking ground beef – or waiting for it to cool down in the refrigerator so it doesn't wilt the lettuce. Just open the package and add it to the layered taco salad recipe. So easy!
I usually buy several packages of HORMEL® Taco Meats Beef Crumbles at Walmart. I use one for dinner that week and freeze the rest to use in other recipes like like taco soup or picadillo. HORMEL® Taco Meats are also ideal for family taco nights. I find that the taco meat (there's also shredded beef and chicken) sells out quickly so you may want to grab one for that night's dinner and a few for the freezer, too!
Also, this easy taco salad recipe is a a great way to use up some of those broken up tortilla chips you're left with at the bottom of a bag. You'll want to keep your broken tortilla chips in a ziplock bag in the freezer so they don't get stale.

How to serve Chopped & Layered Taco Salad at home and on the go
Rachael Ray Expandable Lasagna Lugger in Red
It's time to dust off your trifle bowl and use it for something other than whipped cream, berries, and cake during the holidays! This healthy taco salad recipe looks best when layered in a trifle bowl or a punch bowl. However, any large bowl with high sides, like a mixing bowl, is good in a pinch, too!
This easy taco salad recipe is easy to double, so it's ideal to feed a party crowd. If you're taking it to a potluck, make it in a large lasagna pan with a lid and carry it to the party in a Rachael Ray Lasagna Lugger.
And don't forget those salad tongs!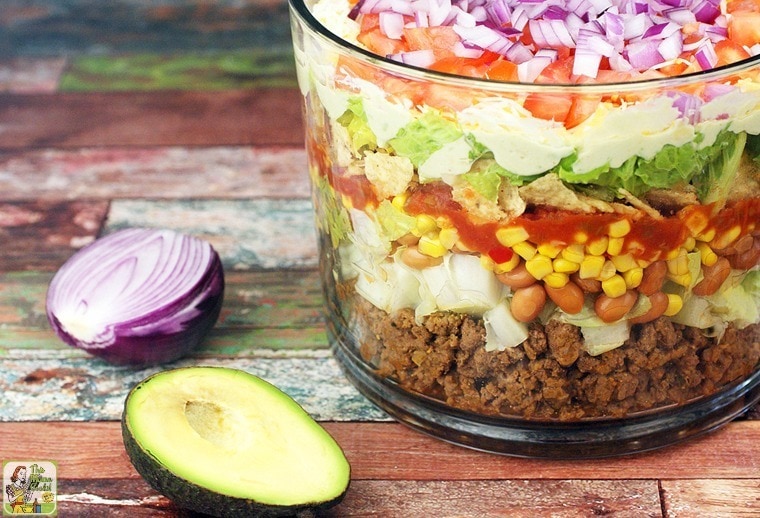 Layered Chopped Taco Salad
Ingredients
2

whole ripe avocados

1/2 cup

nonfat Greek yogurt

1 teaspoon

lime juice

1/2 teaspoon

salt

Hot sauce, to taste

1 (12 ounce) package

HORMEL® Taco Meats Beef Crumbles

4 cups

chopped Romaine lettuce, divided

1 cup

crumbled tortilla chips

1 cup

salsa (your favorite style)

1 (15 ounce) can

pinto beans, drained and rinsed

1 (15 ounce) can

corn with red and green peppers, drained and rinsed

1/2 cup

low fat Mexican style shredded cheese

3/4 cup

chopped tomato

1/3 cup

diced red onion
Directions
To make the guacamole, cut the avocado in half. Remove the pit and scoop out the flesh with a spoon into a small bowl. Add the Greek yogurt, lime juice, salt, and hot sauce (to taste). Mash with a fork to break up avocado and stir until ingredients are combined.
Assemble the taco salad in a glass trifle bowl in the following order. The beef crumbles go at the bottom. Follow with half the Romaine lettuce. Then add the pinto beans, corn, salsa, tortilla chips, and remaining Romaine lettuce. Finally, add the guacamole, shredded cheese, chopped tomato, and diced red onion.
Keep chilled until served.
Visit Hormel Foods for More Easy Recipe Ideas!
Originally published on August 12, 2015. Updated with new pictures.
Libbey Selene Punch Set
4.8 Quart Oblong Baking Dish with Red Plastic Lid
Oneida Raffia 11 1/2-Inch Stainless Steel Salad Tongs
Pyrex Easy Grab 4-Piece Glass Bakeware Set
&