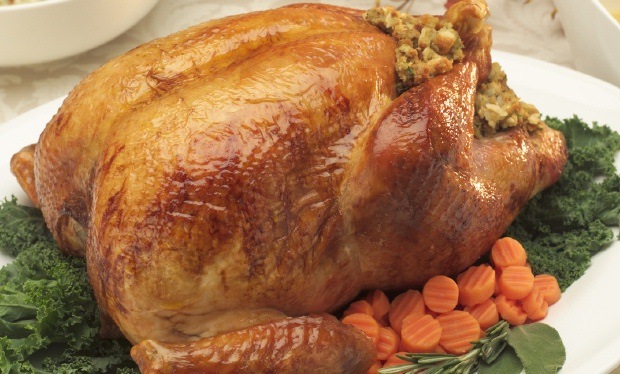 I've been brining and smoking Thanksgiving turkeys since 2007 when I saw Alton Brown make his Honey Brined Smoked Turkey recipe. I've also made a Citrus-Stuffed Herbed Turkey with a honey and citrus brine and a Savory Turkey Brine using Kikkoman Soy Sauce.
This year I found a maple and herb based brine from Robin Burnside's cookbook, The Homesteaders Kitchen – Recipes from Farm to Table to cook up in my Masterbuilt Electric Smoker. I've purchased a bigger turkey, so I'll probably need to double the recipe.
Brining and turkey smoking tips
If you're new to brining and smoking your Thanksgiving turkey, let me assure you it's pretty easy to do. Just read through the recipes and make sure you have enough supplies on had to double the brining recipe. (It never fails that I don't have enough brine to cover the turkey.) All of my brining recipes give tips on both bringing and smoking. Also, when it comes to smoking, make sure you give yourself plenty of time to cook the bird. Follow my Thanksgiving cooking safety tips since you'll be working with either a propane or an electric smoker or a grill.
Here are some other resources:
Smoked Turkey with Maple-Herb Brine
Makes 8-10 SERVINGS
Ingredients:
1 (12 to 15-pound) organic turkey
Brine:
2 1/2 gallons hot water

1 1/2 cups maple syrup

1 cup sea salt

2 whole bay leaves

10 cloves garlic, peeled and mashed

1 cup roughly chopped fresh sage

1 cup roughly chopped fresh thyme

1 cup roughly chopped fresh Italian parsley

1/2 cup fresh oregano or marjoram

1/2 cup fresh rosemary

1 teaspoon freshly ground white pepper
Rub:
4 tablespoons Ghee or olive oil

2 teaspoons sea salt

2 teaspoons paprika

2 tablespoon nutritional yeast
Seasoning mixture:
1 cup chopped apple

1 cup chopped onion

1 to 2 whole lemons

Several large sprigs of sage, thyme, rosemary, oregano, and parsley
Directions:
Wash the turkey inside and out and dry well with a paper towel.
Combine all the brine ingredients in a large pot and stir until the salt is dissolved.
Place turkey In a container that will allow it to stay submerged in the brine, a deep soup pot or food-grade bucket works well for this, and pour in the brine.
Cover turkey and refrigerate 24-36 hours. (Tip: place the turkey in a big insulated cooler with ice and save the refrigerator space.)
When you are ready to begin smoking the turkey, remove it from the brine, rinse inside and out with fresh water and dry well.
Place the brined turkey breast side up on a wire rack in a roasting pan that will fit Into your smoker or barbecue.
In a small bowl, combine the rub ingredients and rub the inside and outside of the turkey with the seasoned paste. Toss the seasoning mixture in a bowl and fill both cavities loosely.
Truss the brined turkey, securing the openings with skewers or a needle and thread, and place a meat thermometer in the thickest part of the thigh flesh.
Put the turkey into a 400-degree F smoker or barbecue for about 30 minutes. (If your smoker doesn't get that hot, put it at the highest setting possible.)
Bring the temperature down to 240-260 degrees F and maintain that temperature throughout the smoking time. Cook for about 30 minutes per pound, or until the meat thermometer reads 165 degrees F – approximately 6-7 hours for a 12-15 pound turkey.
Remove the turkey from the smoker when it is done and let sit for 20 minutes before carving to ensure a moist and flavorful bird.
This Mama's turkey brining tips
You can find nutritional yeast at your local health food store or natural grocery store. I found mine in the bulk food section at Sunflower Market.
Instead of sea salt, which can be a bit pricey, you can use kosher salt for brining.
This year, I'm brining my turkey in a large Styrofoam cooler I got from my butcher's. (They were going to throw it out.) It's a lot lighter than a cooler and much easier to clean. I use a bleach solution to disinfect the cooler and then I rinse with hot. And then rinse again. Then do the smell test to see if you can detect any bleach. Then rinse one more time with hot water.
If you don't want to bother with a cooler, try a brining bag. You can find them at Bed, Bath & Beyond. I tempted to try using a brining bag this year as clean up seems very easy. If I do, I'll put the turkey and brine filled bag in the cooler and fill it with ice to keep it cool overnight.
Keep the Butterball® Turkey Talk-Line® number handy just in case – 1-800 BUTTERBALL. They can help with any of your turkey cooking related questions whether you're brining, roasting, frying, grilling or smoking your Thanksgiving turkey this year. You can also find them on Facebook at and on Twitter @Butterball for real-time tips and turkey prep info.
B7GSY4DMFFF3