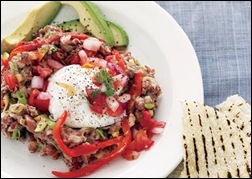 I'm off to San Diego this week to visit with the folks at Kashi. I grew up in the area and one thing I miss about not living there is good Mexican food. Still, we manage to make decent versions of fish tacos, fatijas, carne asada, and ceviche at home.
Of course, there's nothing like starting off the morning with huevos rancheros. A recent study found that eating eggs for breakfast at least give days a week can help you lose more weight, especially around your middle. (I'm guess it's because the fat and protein in the eggs made them them feel fuller.)
If you avoid adding cheese, use corn tortillas and add the MUFA from avocadoes, you have a pretty healthy dish.
Huevos Rancheros
30 minutes     4 servings 331 calories     MUFA : Avocado
Ingredients:
1 teaspoon ground cumin
1 can (15 ounces) no-salt added pinto beans, rinsed and drained
4 scallions, sliced
1 small red bell pepper, cut into thin strips
1/2 cup reduced-sodium chicken broth
2 cloves garlic, minced
4 eggs
1 cup sliced avocado
4 tablespoons fat-free Greek-style yogurt
4 tablespoons salsa
8 (6") corn tortillas, toasted
Dash of hot-pepper sauce (optional)
Directions:
Heat a 10" nonstick skillet over medium-high heat. Add the cumin and cook, stirring occasionally, for about 30 seconds or until fragrant. Add the beans, scallions, bell pepper, broth, and garlic. Bring to a boil, then reduce the heat so the mixture simmers. Cook for 8 minutes or until the vegetables are tender and most of the broth is evaporated. With the back of a large silicone or wooden spoon, smash the beans until they are lumpy.
Use the back of the spoon to make 4 indentations in the beans. Working one at a time, break each egg into a custard cup and pour in each indentation. Cover and cook for about 8 minutes or until the eggs are cooked to the desired doneness.
Scoop each portion of egg-topped bean mixture onto a plate. Scatter the avocado slices over and around the beans. Top each serving with 1 tablespoon of the yogurt and 1 tablespoon of the salsa. Serve with the tortillas and hot-pepper sauce, if desired.
Nutritional information
331 cal
16 g pro
42 g carb
12 g fat
3 g sat fat
1 mg chol
245 mg sodium
10 g fiber
Weight Watchers POINTS = 6
This Mama's tips
To lower POINTS, fat and calories, use 3 egg whites for 1 egg.
_____________
Disclosure: I received a review copy of this cookbook in order to facilitate this review.