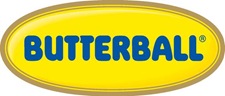 Last year the Denver Post dining critic Tucker Shaw held a blind tasting of turkeys to find out if there were any differences between supermarket brands and the more expensive natural varieties. He had two Johnson & Wales University students cook up six turkeys, then had a panel of food writers, family members, chefs and colleagues rate the birds. (You can see the full article at Turkey taste test.)
The winner? Butterball turkey!
Jorge de la Torre, dean of education at Johnson & Wales University who oversaw the taste test, said for inexperienced cooks going with a Butterball turkey is a safe bet. That's because they're in effect pre-brined and have more fat than the natural birds.
Thanks to the folks at Butterball, you can see if their turkeys are as good as they claim by entering my contest below to win one of five Butterball turkey gift checks good for one Butterball Turkey!
If you don't eat turkey or are planning to go organic this Thanksgiving, enter anyway. If you win, donate the turkey to your local food bank or a family in need.
Here's how to enter my giveaway:
Leave your name, email address, and blog address (if you have one) in the comments below for ONE entry.
If you have a blog, feel free to post about this contest on it for ONE entry.
Sign up for my RSS feed for ONE entry.
Sign up for my enewsletter for ONE entry.
If you have already signed up for my enewsletter or RSS feed in a previous contest, let me know. I will count those as entries in this and all future contests.
If you have signed up for my RSS feed and/or enewsletter and/or posted about my contest on your blog, come back here and leave a comment telling me what you did. I will be checking!
Maximum amount of entries at This Mama Cooks! is FOUR – leaving an comment here, posting about it on your blog, signing up for my RSS feed, and signing up for my enewsletter.
You must be willing to send me your full name and mailing address. I will be mailing your Butterball turkey gift checks to you via US Postal Service First Class Mail. If you do not feel comfortable giving me your mailing information, please do not enter this giveaway.
I will announce the winners on November 20, 2008 on this blog and mail out the gift checks by the end of the business day. I will not share your mailing info with the public, just your name. If you have a blog, I will link back to it when I announce the winners.
You have until midnight MT on November 18, 2008 to enter.
Since Thanksgiving is coming up and I need to get the prizes to everyone quickly, you have 12 hours to email me your mailing information. If I don't hear from you, I will pick another winner.
Prize valued at $15 or less. Open to legal residents of the United States 18 years of age and older. No purchase required. Up to FOUR entries per person. Void where prohibited by law. By submitting your name and email address, you agree to receive relevant promotional emails and contest follow up communications from This Mama Cooks! in compliance with our privacy policy and giveaway rules.